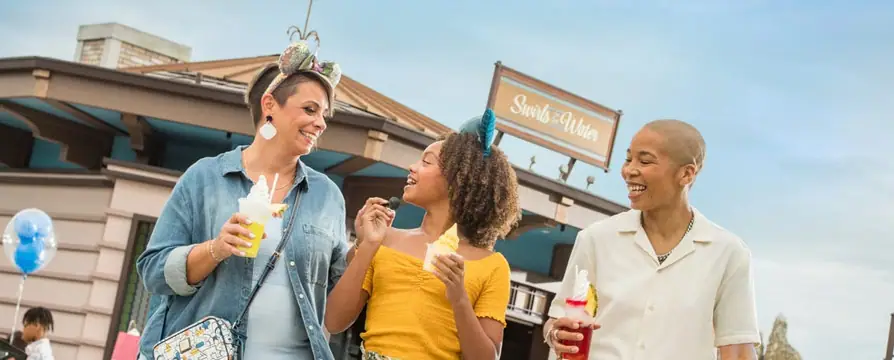 Find Resorts Near Disney Springs
Disney Neighborhoods Resorts Nearby FAQs
Disney Springs
Formerly known as Downtown Disney, Disney Springs is a vibrant district nestled in the heart of the Walt Disney property, just minutes away from the surrounding theme parks and water parks. Filled with unique shops and boutiques, themed restaurants, and lively entertainment, Disney Springs offers everything from simple souvenirs to high-end home items and exquisite artwork.
There is so much to enjoy at Disney World, and this guide will help you can get the most out of your next trip with a Walt Disney vacation package as you plan a trip to Disney Springs into your upcoming vacation. Let the magic of this historic and charming town, built around natural springs that once attracted settlers, captivate your imagination!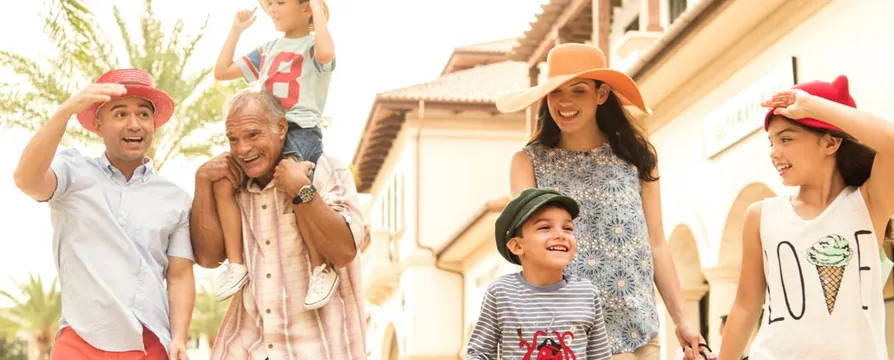 Discover Four Different Neighborhoods At Disney Springs
You and your family will enjoy a day of shopping, eating, and adventures around Disney Springs because the area is divided into four distinct neighborhoods, each offering its own unique attractions and entertainment. Based on a historic and charming town built around a series of natural springs that first attracted settlers to the area, Disney Springs features four distinct areas interconnected by the waterfront – the Town Center, The Landing, The Marketplace, and West Side.
Parking is complimentary at Disney Springs, with five state-of-the-art parking garages that have digital message boards to indicate when garages and parking spaces are full. You can also access Disney Springs by complimentary water taxi from several Disney Resorts.
Discount Disney packages are available now! Call 1-877-288-7422
The Marketplace
The Marketplace at Disney Springs is a vibrant shopping district, nestled within Walt Disney World Resort. Here, you'll find an eclectic mix of unique boutiques, world-class eateries, and Disney-centric shops where you can buy unique Disney-themed merchandise not available anywhere else. The open-air setting of this area with lush landscapes and waterfront views creates a delightful shopping and dining experience for all ages.
The Landing
The Landing at Disney Springs is an elegant waterfront district, boasting various gourmet dining options and high-end shops. Immerse yourself in the luxurious atmosphere while taking in the beautiful views of Lake Buena Vista. The Landing provides a unique, upscale experience amidst the magic of Walt Disney World Resort.
Town Center
Town Center at Disney Springs invites visitors to explore its Spanish Revival-style architecture, palm-lined promenades, and sparkling springs. A sophisticated blend of upscale brands and boutiques, it also offers an impressive range of dining options. It's a unique, contemporary destination for many guests visiting Disney Springs.
West Side
The West Side at Disney Springs is the heart of entertainment at Disney Springs at Walt Disney World. It's home to various live shows, trendy cafes, and innovative attractions. With venues like Cirque du Soleil and the Disney Springs Kids Club, the West Side offers thrilling entertainment for all ages.
Need Help? Contact Us!
---
MON-FRI:
9:00AM - 10:00PM EST
SAT
10:00AM - 6:00PM EST
SUN
Closed
Looking For Resorts Near Disney Springs?
What could be better than staying just moments away from the magic of the Disney Parks? We've got you covered with our resorts near Disney World that will put you right in the heart of it all.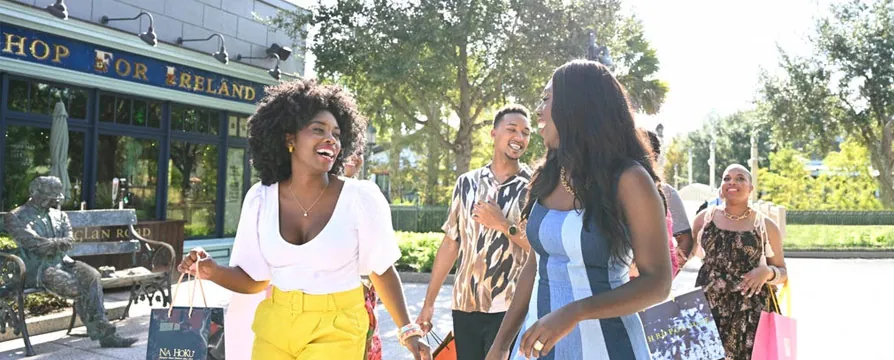 Shopping at Disney Springs
Explore over 100 shopping options, with stores offering brand names and Disney-themed merchandise ranging from the Art of Disney to the Art of Shaving. Whether you're looking for fun accessories, souvenirs, collector memorabilia, housewares, art, Disney pins, trendy clothes, candy, jewelry, or something else, you'll find it at Disney Springs. Disney Springs is also home to Bibbidi Bobbidi Boutique – an enchanted beauty Salon offering magical makeovers for princesses and knights ages 3 to 12.
What sets Disney Springs apart is the immersive experience offered in each neighborhood. Strolling through Disney Springs offers the ultimate shopping experience, and your shopping journey brings you through distinctive worlds, from the magical charm of Disney to the chic elegance of high fashion. This diverse array of shops combined with the unique settings makes Disney Springs a must-visit shopping destination, providing something for everyone.
Disney Tickets

Park Tickets For:
Magic Kingdom Park
Animal Kingdom
Hollywood Studios
Epcot
Purchase
Park Hopper option: Available
Park Hopper Plus option: Available
Water Park and Sports option: Available

Disney Springs Entertainment
Disney Springs offers interactive fountains where kids or adults - can dodge the spraying waters or jump right in and get wet. Love LEGOs? The LEGO Imagination Center offers a free play area loaded with LEGO blocks of all shapes, sizes, and colors. Build your own LEGO creation or take pictures in front of the various LEGO sculptures. Want to catch the latest movie? AMC Movies at Disney Springs 24 offers a full slate of the latest releases. For a bird's eye view of the area, take a ride on Characters in Flight, a tethered helium balloon ride that ascends 400 feet in the air above Disney Springs. Looking to cool off from the warm Florida sun, play in the water splash zone fountains.
Splitsville Luxury Lanes is an upscale bowling alley for kids and adults of all ages. Or you can check out the latest concert schedule at House of Blues or witness the amazing acrobatics at La Nouba by Cirque du Soleil. Disney Springs is also filled with a variety of stage areas featuring special live entertainment and fun-filled activities for the kids. You'll find a dance party with DJ nightly on the Waterside Stage or the Fountain Stage.
Marketplace Entertainment
The Marketplace at Disney Springs is a hub of non-stop entertainment for the whole family. From live music performances and captivating street shows to engaging interactive experiences, there's always something exciting happening that will leave you smiling and enchanted throughout your visit.
Here are a few of the favorite entertainment spots in Disney Springs Marketplace:
Classic Carousel: This amazing Italian carousel has 19 horses, two carriages, and a minimum height of 42". Don't worry if your little one doesn't meet the height requirements; they just need an adult with them.

Marketplace Stage: You and your family will love the live entertainment right in Disney Springs! Enjoy talented acts from around the world with new shows popping up throughout the day.

Marketplace Train Express: Kids can enjoy a mini train ride right in Disney Springs. This is a great photo spot for families who want to make memories that will last a lifetime!
West Side Entertainment
The West Side in Disney Springs offers an array of sensational entertainment options for all ages. From live music and energetic performances to interactive experiences, there's something to delight everyone.
Get ready to be immersed in the vibrant atmosphere of fun and excitement with some of our favorite attractions:
AMC Disney Springs 24: With 24 huge screens and over 5,400 comfy seats, this is one of the largest movie theaters in Central Florida. Families can enjoy great food and drinks while relaxing together to watch a movie right in Disney Springs.

Aerophile: This high-flying experience offers you and your family a bird's eye view of Disney Springs. Each trip is 8-10 minutes long, and guests reach 400 feet in the air.

Cirque du Soleil: Your family will be mesmerized by awe-inspiring acrobatics, captivating choreography, and enchanting music at each breathtaking show!
Need Tickets? Get Discount Disney Tickets Today
The Landing Entertainment
At The Landing in Disney Springs, you'll find a world of entertainment that will delight the whole family. From boat tours to water-side dining, there's always something exciting happening, creating lasting memories and moments of pure joy for everyone to cherish.
Here are some of the top entertainment experiences at The Landing in Disney Springs:
Romantic Italian Water Taxi Cruise: Take a ride on the 40-foot Italian water taxi and cruise around Lake Buena Vista. Guests can enjoy chocolate-covered strawberries and champagne in the one-of-a-kind experience.

Vintage Amphicar Ride: Three of your family members can enjoy a 20-minute tour on land and water with this unique vintage vehicle. Rides are available from 10 A.M. to 10 P.M., weather permitting.
Town Center Entertainment
Town Center in Disney Springs is a vibrant entertainment hub for the whole family. From live performances to immersive experiences, there's something for everyone. Discover talented street performers, captivating musicians, and interactive displays that bring joy and excitement to every corner. Little ones will love the lights and excitement, and adults will enjoy the stunning visuals while you enjoy a drink or one of the many dining options.
Dining Experiences At Disney Springs
Dining at Disney Springs is a culinary voyage across its four vibrant neighborhoods. Each of the four neighborhoods in Disney Springs offers a unique set of themed restaurants and dining options. You and your family will love the variety of dishes, plus you can partake in everything from quick service meals and lounges to table service and kiosks to ensure everyone gets something to eat that they will enjoy.
Our Favorite Disney Springs Dining Options
Disney Springs has something for every taste and budget, from waterside cafes and themed restaurants to world-class fine dining. In fact, you'll find more than 50 taste-tempting options for the entire family. Choose from a wide range of exquisite, full-service restaurants such as The Boathouse, Bongos Cuban Café, Cookes of Dublin, and Jock Lindsey's Hangar Bar. Or grab a quick bite or snack at venues like Aristocrepes, Blaze Fast-Fire'd Pizza, D-Luxe Burger, Dockside Margaritas, Earl of Sandwich, and Sprinkles Bakery. Whatever your taste, you're sure to find it at Disney Springs.
Regardless of your preference, there's a flavor experience waiting to tantalize your taste buds. Here are some of the top-rated dining options in Disney Springs for you and your family to enjoy:
Wine Bar George: Florida's only Master Sommelier-led wine bar is helmed by George Miliotes, one of 274 global experts. Savor meals from brunch to dinner, featuring dishes like hummus, salads, skirt steak, wine-braised chicken, grilled sea bass, and unique Californian wines.

House of Blues Restaurant and Bar: Experience the thrill of a concert with your dinner, featuring delights from Jambalaya and Voodoo Shrimp to a range of southern fare and daily drink specials. Sundays offer a renowned Gospel Brunch with live local performances.

Chef Art Smith's Homecomin': Savor Florida's agricultural legacy with handcrafted moonshine cocktails and farm-to-table cuisine. Enjoy comforting Southern classics like Hummingbird Cake, Hush Puppies, fried chicken, shrimp, and grits for an unparalleled culinary experience.

Enzo's Hideaway: This tunnel bar, reminiscent of prohibition-era speakeasies, provides an eclectic mix of rums and scotches alongside a variety of food, including pasta, pizza, and Tuscan burgers, complemented by specialty drinks and espressos.

Raglan Road: his award-winning Irish pub offers an unforgettable family dining experience featuring Fish & Chips and Shepherd's Pie. Complementing its world-class fare are spectacular performances by authentic Irish entertainers.
Looking for even more great dining options in Disney Springs? Check out our blog post that outlines the top Disney Springs restaurants based on reviews from several trustworthy review sites!
Frequently Asked Questions

Are there any tips for parking at Disney Springs? Disney Springs offers free parking in multiple garages. It's recommended to arrive at least 60 minutes early during peak times, especially on weekends. Valet parking is also available for an additional fee. Is Disney Springs just for shopping and dining? While renowned for its dining and shopping, Disney Springs also offers a variety of entertainment options, including live performances, movie theaters, and special events for all ages. How many restaurants & shops are at Disney Springs? With over 100 retail stores and more than 60 dining options, Disney Springs is known for its wide selection of dining and eating experiences. Can you see fireworks from Disney Springs? Technically, yes. The best view will be found at the upper deck of Paddlefish. Otherwise, there's a good chance you'll simply hear the fireworks. Where to buy Magic Bands at Disney Springs? MagicBands can be found in Disney Springs at Disney Pin Traders, Marketplace Co-Op, Star Wars Trading Post, and World of Disney. Can you use Disney gift cards at Disney Springs? Majority of stores at Disney Springs will accept Disney gift cards as payment. It's always beneficial to confirm with the store's staff beforehand! Unlock the magic of Disney with our Disney gift card offer.