Table of Contents
General Info
Authentic Cajun Cuisine
Concert Lineup
Mardi Gras Parade
There ain't no party like a Mardi Gras party -, especially at Universal Orlando Resort! Much like its namesake street party in New Orleans, the Universal Orlando Mardi Gras celebration features a rocking time for all, including a dazzling parade, beads, beads, and more beads, plus an amazing concert lineup featuring some of the biggest names in pop, rock, R&B, country and hip hop - performing live on the Universal Music Plaza Stage.
Welcome to the Bayou! During Mardi Gras, the Universal Studios Florida theme park becomes The Big Easy! And the entire family can join in the fun and excitement that includes the sights, sounds, and tastes of New Orleans' grandest annual party. You'll discover everything from street performers in festive and colorful costumes to Cajun cuisine in the French Quarter Courtyard.
---
Universal's Mardi Gras 101
One of the most popular annual events in central Florida, Universal's Mardi Gras is Florida's biggest family-friendly party and it runs for weeks on end! There's no better place to enjoy outrageous street performers, enjoy exciting big-name concerts, witness a mind-blowing parade and catch lots of those iconic Mardi Gras beads!
What is Mardi Gras?
Mardi Gras. The name itself conjures up images of one big, crazy party. There's music, parades, floats, food and excitement – lots of excitement. While Mardi Gras originated in medieval Europe way back around the year 1700, the first Mardi Gras parade wasn't held in New Orleans until Feb. 24, 1857. Today, that same New Orleans party remains one of the world's greatest and most famous celebrations – still offering music, parades and more, on a much grander basis.
The parade tradition of float riders throwing trinkets (doubloons, beads, cups and stuffed animals) into the crowds began in the 1870s. And it remains one of the most popular time-honored traditions, with revelers of all ages coming dressed in their craziest costumes and masks, wearing purple, green and gold while draping themselves in those same parade-tossed beads.
DID YOU KNOW?

Mardi Gras Colors: Purple stands for justice / Green stands for faith / Gold stands for power.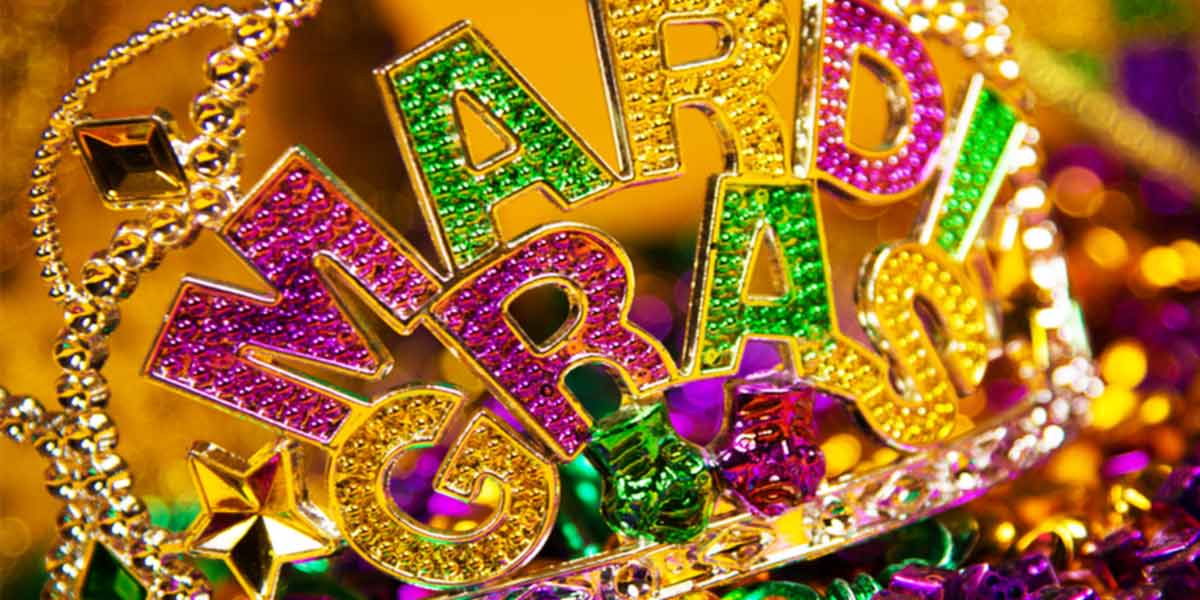 When is Mardi Gras?
The annual Mardi Gras bash corresponds directly to the Easter season. To make a long story short, Easter can fall on any given Sunday from March 23 to April 25 – the exact date coinciding with the first Sunday after the Paschal Full Moon following the spring Equinox. Yet, if that's not confusing enough, the Mardi Gras season officially kicks off on Fat Tuesday – which is the day before Ash Wednesday! And if you're wondering when Ash Wednesday is, it's always 46 days before Easter. Got it? If not, don't worry about figuring it out on your own. A quick look at the calendar can tell you this year's Fat Tuesday / Mardi Gras falls on Feb. 25, 2020!
When is Mardi Gras at Universal Studios Florida?
Mardi Gras is a special event celebration taking place at Universal Studios Florida theme park every night from February 1 thru April 2, 2020. On select nights, the party also features concerts from some of the biggest names in music.
How much is admission to Universal's Mardi Gras?
The entire Mardi Gras party, including 13 concert events, is included as part of your regular Universal Studios admission ticket or annual pass. Spend the day enjoying the theme park rides and attractions, then get ready to rock the night away with the excitement of Mardi Gras!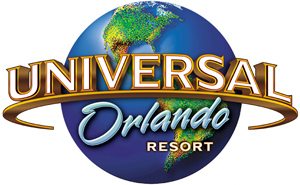 Save on Universal's Mardi Gras Tickets!
Call today and see how you can save big on Universal Orlando tickets and enjoy a discounted Orlando vacation package.
- 3-Day Stay + 2 Universal Orlando Tickets from $139 -
Book this Package
---
Is Mardi Gras appropriate for kids?
Yes! Unlike the raunchier New Orleans version, The French Quarter Courtyard, pre-party atmosphere and parade are designed for everyone. Kids will love the atmosphere as stilt-walkers and other street entertainers and characters pass out colorful beads and doubloons. You will also find plenty of unique and colorful photo opportunities. You'll even find a special parade viewing area for kids called the Little Jester's Parade Viewing Area. It's located next to the Terminator 2: 3-D attraction. The area opens an hour before the parade starts. It's also close to the park exit making it convenient to head home once the parade is done.
Authentic Cajun Cuisine in the French Quarter Courtyard!
During Mardi Gras, the New York area of Universal Studios Florida is transformed into New Orleans - a section uniquely dedicated to the Big Easy, featuring Cajun-style foods like spicy jambalaya, beignets, po boys, crawfish, frog legs, crab etouffee and shrimp gumbo as well as Southern music such as Louisiana jazz, blues and zydeco bands. Authentic New Orleans bands scheduled to appear include the Dirty Bourbon River Show, Naughty Professor Brass Band, Free Agents Brass Band featuring Honey Bannister, and the New Breed Brass Band. Food and drinks will be served in tasting sizes so you can try even more of the delectable treats.
Mardi Gras Concert Lineup
Every party needs some music and Mardi Gras won't disappoint. The Mardi Gras concerts bring some of the world's biggest names in rock, pop, country and R&B to the Universal Music Plaza stage. What a great way to see a top band perform, with no opening act and no special ticket to buy. But note, there is no seating and space around the stage is first come, first serve. You'll want to get there plenty early to be near the stage - especially for the bigger name concerts.
Don't worry about seating at the concerts because there is none! It's simply standing room only in front of the stage and personal chairs are not permitted. You can enjoy both the parade and the concert, but to do so, you might want to catch the parade from the parade route closest to the stage. That way you can easily move from the parade route to the stage area. Of course, if you care more about the band, feel free to get to the stage area early and hang out in your preferred spot near the stage. Show up early enough and you can be in the front row.
Not all concerts are geared for kids and the area surrounding the Music Plaza Stage gets crowded. But you may choose to enjoy the music from a distance.
| | |
| --- | --- |
| Artist | Dates |
| The Roots | February 1, 2020 |
| Karol G | February 8, 2020 |
| Bell Biv DeVoe | February 15, 2020 |
| +Live+ | February 16, 2020 |
| Kool & the Gang | February 22, 2020 |
| TLC | February 29, 2020 |
| REO Speedwagon | March 7, 2020 |
| Dustin Lynch | March 8, 2020 |
| Luis Fonsi | March 13, 2020 |
| The All-American Rejects | March 14, 2020 |
| Diana Ross | March 15, 2020 |
| Chris Young | March 20, 2020 |
| Earth, Wind & Fire | March 21, 2020 |
| Marshmello | March 22, 2020 |
| Why Don't We | March 28, 2020 |
| Gavin DeGraw | March 29, 2020 |
---
Everybody Loves a Parade!
Orlando's parks are filled with parades, but the Mardi Gras parade is one you won't want to miss! An elaborate production, the Mardi Gras parade is a colorful and wild menagerie of floats themed around "party animals" from the jungle, Arctic, swamps, oceans and sky. Experience the music, the stilt walkers, the dancers and the street performers. But the highlight of this event is the Mardi Gras beads. A seemingly endless stream of beads is tossed from floats - so be sure to grab your share! The parade is held every night of Mardi Gras and begins in the Hollywood area of Universal Studios. There is a "Little Jester's" viewing area for kids located near the front of the park and an ADA viewing area in front of the Macy's facade in New York by Revenge of the Mummy ride.
Universal's authentic parade floats are created by Blaine Kern, the company that has also created the New Orleans parade floats since 1947. Popular floats include King Gator, the Riverboat, Around the World in Eighty Days and the King & Queen floats. This year's parade also includes five new floats created to celebrate different cultures and festivals from around the world, such as the Venetian Carnival, Oktoberfest, 4th of July and the Rio de Janeiro Carnival.
The 25-minute long parade begins approximately 45 minutes before the scheduled concert time. So grab a good spot along the parade route and get ready to catch your share of those colorful Mardi Gras beads and doubloons as they are tossed from the floats. If you really love a parade, or simply want to grab even more beads, it's possible to view the parade twice. Simply line up in front of Mel's Drive-In along Universal's Hollywood Boulevard – a spot where the parade begins and ultimately ends.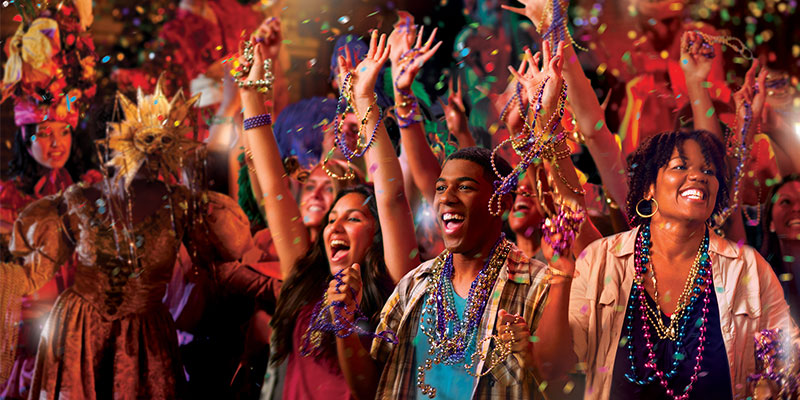 Keep the Party Going at CityWalk
Be sure to make your Mardi Gras celebration a full day of excitement at Universal Studios Explore the many other family-friendly rides and attractions including the Wizarding World of Harry Potter. And when the thrills finally die down at the end of the night, you'll still have time to keep the party rolling at Universal CityWalk!
On Mardi Gras event nights at Universal Studios, guests 21-and-older can use their Universal Studios theme park ticket or annual pass to receive complimentary admission to the shopping and entertainment district's array of unique night clubs and bars. Choose from The Groove, Bob Marley - A Tribute to Freedom, Pat O'Brien's (an exact replica of the famed New Orleans club), Red Coconut Club, CityWalk's Rising Star, and more.
---
Want to share our post on your blog or social medial?
Go ahead! All that we ask is that you include a link back to this post so your readers can view the full article.
You May Also Like: