Come join the party with a dazzling parade, beads by the handful, and the most amazing concert line-up ever, featuring some of the biggest names in pop, rock, R&B, country, and hip-hop performing live in the Universal Music Plaza Stage. And when the show's over, the party just keeps goin'! Head to Universal CityWalk®—the official Mardi Gras After-Party location—for more live music, food and fun.
The whole family can join the excitement as the sights, sounds, and even the tastes of the Big Easy come back to Mardi Gras at Universal Orlando. The Mardi Gras parties will take place on Saturdays and select nights from February 8 through April 19, 2014.

On Mardi Gras days, the celebration begins each evening as a variety of joyful street performers take to the streets of Universal Studios. You can also head over to the French Quarter Courtyard if you'd like to gobble up some authentic Cajun food like spicy jambalaya or shrimp gumbo. Live music from bands straight out of New Orleans add to the festive atmosphere.
Then get ready for the real highlight, a spectacular parade filled with dazzling floats, colorful costumes and, of course, beads, beads and more beads being tossed from the floats into the crowd.
If that's not enough, there's also an energetic concert on the theme park's Music Plaza Stage.
Mardi Gras at Universal Orlando - Concert Lineup:
Feb. 8 -- Daughtry
Feb. 15 -- Barenaked Ladies
Feb. 16 -- Thomas Rhett
Feb. 22 -- Robin Thicke
March 1 -- Collective Soul
March 8 -- Prince Royce
March 14 -- Cody Simpson
March 15 -- Foreigner
March 21 -- To be announced
March 22 – Gavin DeGraw
March 28 -- To be announced
March 29 -- To be announced
April 5 -- Skillet
April 12 – Lynyrd Skynyrd
April 19 -- Kool & the Gang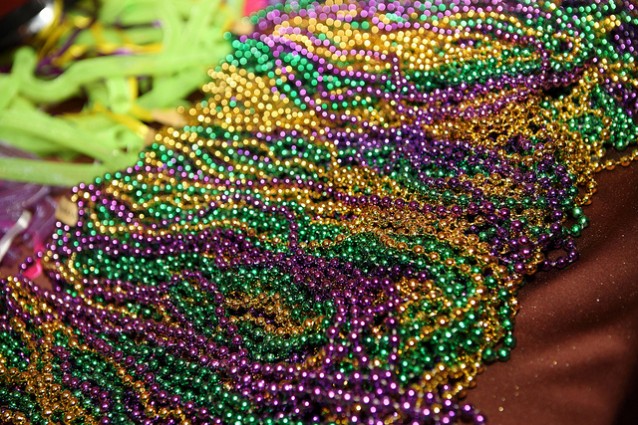 When the excitement finally dies down at Universal Studios, the party continues on at Universal CityWalk.
On Mardi Gras at Universal Orlando event nights, guests 21-and-older can use their Universal Studios theme park ticket or Annual Pass to receive free admission to the shopping and entertainment district's seven unique clubs and bars. That includes admission to Pat O'Brien's, an exact replica of the famed New Orleans club where it's Mardi Gras every day of the year. CityWalk is open nightly til 2 am.
All Mardi Gras parades and concerts are included with regular admission to Universal Studios.