Table of Contents
General Info
Authentic Cajun Cuisine
Concert Lineup
Mardi Gras Parade
There ain't no party like a Mardi Gras party - especially at Universal Orlando Resort! Much like its namesake street party in New Orleans, the Universal Orlando Mardi Gras celebration features a rocking time for all, including a dazzling parade, beads, beads and more beads, plus an amazing concert lineup featuring some of the biggest names in pop, rock, R&B, country and hip hop - performing live on the Universal Music Plaza Stage.
Welcome to the Bayou! During Mardi Gras, the Universal Studios Florida theme park becomes The Big Easy! And the entire family can join in the fun and excitement that includes the sights, sounds and tastes of New Orleans' grandest annual party. You'll discover everything from street performers in festive and colorful costumes to Cajun cuisine in the French Quarter Courtyard.
---
Universal's Mardi Gras 101
One of the most popular annual events in central Florida, Universal's Mardi Gras is Florida's biggest family-friendly party and it runs for weeks on end! There's no better place to enjoy outrageous street performers, enjoy exciting big-name concerts, witness a mind-blowing parade and catch lots of those iconic Mardi Gras beads!
When is Mardi Gras at Universal Orlando?
Mardi Gras is a special event celebration taking place at Universal Studios Florida theme park every night from February 9 thru April 4, 2019. On select nights, the party also features concerts from some of the biggest names in music.
How much is admission to Universal's Mardi Gras?
The entire Mardi Gras party, including 13 concert events, is included as part of your regular Universal Studios admission ticket or annual pass. Spend the day enjoying the theme park rides and attractions, then get ready to rock the night away with the excitement of Mardi Gras!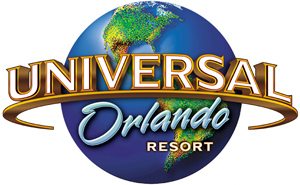 Save on Universal's Mardi Gras Tickets!
Call today and see how you can save big on Universal Orlando tickets and enjoy a discounted Orlando vacation package.
- 3-Day Stay + 2 Universal Orlando Tickets from $139 -
Book this Package
---
Is Mardi Gras appropriate for kids?
Yes! Unlike the New Orleans version, Universal Mardi Gras is entirely family-friendly. Kids will love opportunities to meet, interact and pose for picturs with street performers and stilt walkers. They'll also love the festive atmosphere and be thrilled by catching as many beads and other "treasures" as possible during the parade.
Authentic Cajun Cuisine in the French Quarter Courtyard!
During Mardi Gras, the New York area of Universal Studios Florida is transformed into New Orleans - a section uniquely dedicated to the Big Easy, featuring Cajun-style foods like spicy jambalaya, beignets, po boys, crawfish, frog legs, crab etouffee and shrimp gumbo as well as Southern music such as Louisiana jazz, blues and zydeco bands. Authentic New Orleans bands scheduled to appear include the Dirty Bourbon River Show, Naughty Professor Brass Band, Free Agents Brass Band featuring Honey Bannister, and the New Breed Brass Band. Food and drinks will be served in tasting sizes so you can try even more of the delectable treats.
Mardi Gras Concert Lineup
Every party needs some music and Mardi Gras won't disappoint. Check out the 2019 concert lineup for your favorite performer and get ready for a rocking and energetic concert on the park's Music Plaza Stage. There is no reserved seating. In fact, there is no seating at all - just general standing room. So get there early if you want to be closer to the stage. The music begins shortly after the parade, typically around 8:30 pm! The stage is located adjacent to the Despicable Me Minion Mayhem attraction.
| | |
| --- | --- |
| Artist | Dates |
| BUSH | February 9, 2019 |
| Gavin DeGraw | February 16, 2019 |
| Dan + Shay | February 17, 2019 |
| Macklemore | February 23, 2019 |
| Sabrina Carpenter | March 2, 2019 |
| Becky G | March 9, 2019 |
| Sean Paul | March 10, 2019 |
| Steve Miller Band | March 16. 2019 |
| Ziggy Marley | March 17, 2019 |
| NF | March 23, 2019 |
| Pitbull | March 24, 2019 |
| Bazzi | March 30, 2019 |
| Prince Royce | March 31, 2019 |
---
Everybody Loves a Parade!
Orlando's parks are filled with parades, but the Mardi Gras parade is one you won't want to miss! An elaborate production, the Mardi Gras parade is a colorful and wild menagarie of floats themed around "party animals" from the jungle, Arctic, swamps, oceans and sky. Experience the music, the stilt walkers, the dancers and the street performers. But the highlight of this event is the Mardi Gras beads. A seemingly endless stream of beads is tossed from floats - so be sure to grab your share! The parade is held every night of Mardi Gras and begins in the Hollywood area of Universal Studios. There is a "Little Jester's" viewing area for kids located near the front of the park and an ADA viewing area in front of the Macy's facade in New York by Revenge of the Mummy ride.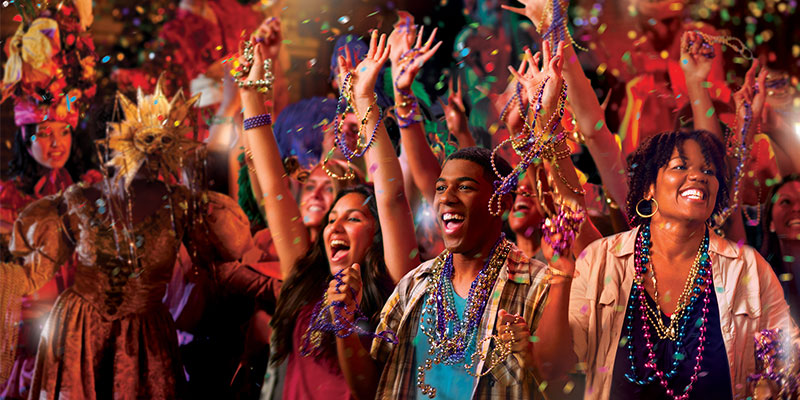 Keep the Party Going at CityWalk
Be sure to make your Mardi Gras celebration a full day of excitement at Universal Studios Explore the many other family-friendly rides and attractions including the Wizarding World of Harry Potter. And when the thrills finally die down at the end of the night, you'll still have time to keep the party rolling at Universal CityWalk!
On Mardi Gras event nights at Universal Studios, guests 21-and-older can use their Universal Studios theme park ticket or annual pass to receive complimentary admission to the shopping and entertainment district's array of unique night clubs and bars. Choose from The Groove, Bob Marley - A Tribute to Freedom, Pat O'Brien's (an exact replica of the famed New Orleans club), Red Coconut Club, CityWalk's Rising Star, and more.
You May Also Like: