Best Restaurants at Universal Orlando CityWalk: Explained
To reach the entrance of Universal Orlando's two action-packed theme parks – Universal's Islands of Adventure and Universal Studios – you must first enter Universal Orlando CityWalk. The shopping, dining options and entertainment complex seems quiet in the morning as guests are working their way to the parks. But as morning turns to afternoon and afternoon turns to evening, the energy grows and grows.
CityWalk features something for everyone (family vacation or not) with shops, restaurants and activities galore, all circling a small lake in the middle, as well as a variety of nightclubs that keep things hopping after the parks close.
With all the shopping and activities at CityWalk, you can work up a big appetite. But don't worry, you won't go hungry. That's because CityWalk offers an array of themed restaurants and eateries offering up just about anything you have a taste for throughout the day.
Need coffee? Try Starbucks. Got a craving for doughnuts? Explore the extraordinary creations at Voodoo Doughnuts. Grab a frozen yogurt at Menchie's, a giant hot pretzel at Auntie Anne's, ice cream at Cold Stone Creamery, a tasty treat at Cinnabon or visit quick-service restaurants and eateries like Panda Express, Moe's Southwest Grill, Red Oven Pizza Bakery, Burger King Whopper Bar, Bread Box Handcrafted Sandwiches or even the Hot Dog Hall of Fame. Park ticket or not, you can experience all the deliciousness above.
Thanks to Universal Orlando Resort, CityWalk also offers a variety of exclusive, full-service restaurants, each offering its own unique spin in food, ambiance and entertainment for the ultimate dining experience. This is where the Best Restaurants at Universal Orlando CityWalk come into play.
CityWalk's 11 Most Popular Full-Service Restaurants
---
#1. The Cowfish Sushi Burger Bar
Yelp: 4.0 | Trip Advisor: 4.5 | Google: 4.1
One of the most highly-rated CityWalk restaurants! Experience a whole new spin on surf & turf. Enjoy a cutting-edge fusion of burgers and sandwiches made with sushi – or sushi created with burger ingredients. It's all possible at The Cowfish. Of course, you can separate the burgers from the sushi, or try a little of both with a bento box. Even the drinks get inventive. Try a spiked milkshake, sake, a wide range of beers, one-of-a-kind martinis and even non-alcoholic specialty drinks.
OPEN: Mon - Sun | 10:30 AM - 11:00 PM
---
---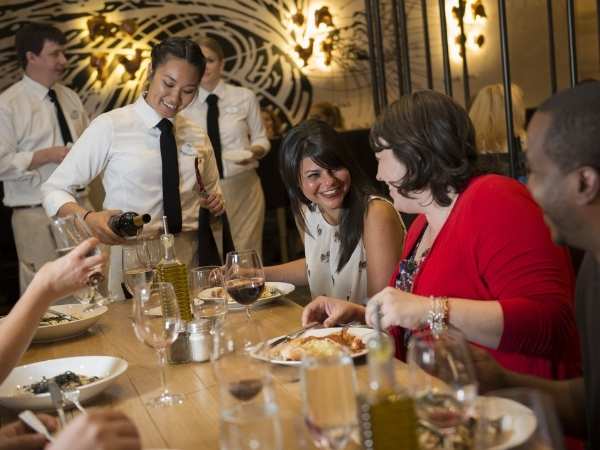 #2. VIVO Italian Kitchen
Yelp: 4 | Trip Advisor: 4.5 | Google: 4.1
Not only will you enjoy some fantastic Italian food at VIVO, but you can also watch while the food is prepared. Sit back with a glass of classic wine, specially paired with your entrée, and enjoy the view of the open Expo Kitchen where you'll see chefs tossing pizzas, baking fresh bread, and making various sauces, pastas and heirloom family recipes.
OPEN: Mon - Sun | 3:00 PM - 11:00 PM
---
---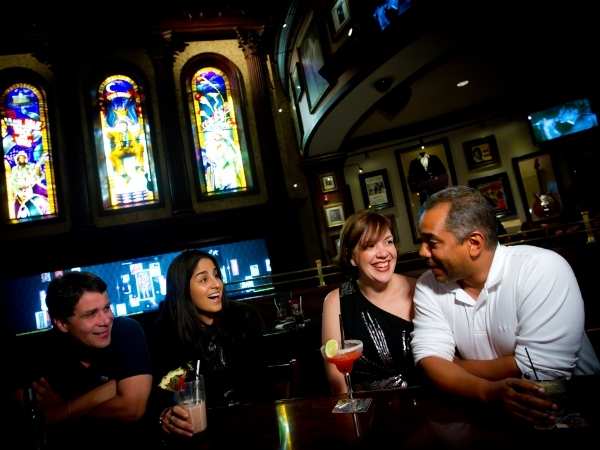 #3. Hard Rock Cafe
Yelp: 3.5 | Trip Advisor: 4.5 | Google: 4.5
There are 185 Hard Rock Cafes in 74 nations around the globe and this is the world's largest! Crank up the tunes, check out the amazing rock and roll memorabilia and enjoy a truly legendary meal – from burgers and sandwiches to fresh salads and decadent desserts. And you can shop for your own Hard Rock merchandise and collectible pins.
OPEN: Mon - Sun | 8:00 AM - 11:00 PM
---
---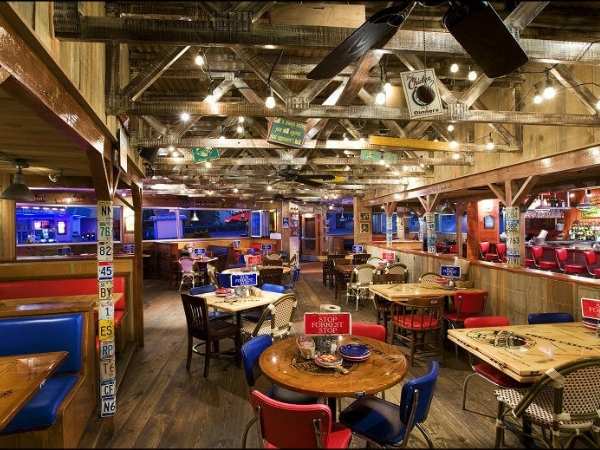 #4. Bubba Gump Shrimp Co.
Yelp: 3.5 | Trip Advisor: 4.0 | Google: 4.3
Straight out of the iconic movie, Forrest Gump, the Bubba Gump Shrimp Co offers up tasty shrimp dishes plus a wide variety of Southern favorites, including baby back ribs, fresh fish and homemade desserts. You can also test your knowledge of Forrest Gump related trivia and check out the movie-inspired souvenirs and merchandise.
OPEN: Mon - Sun | 11:00 AM - 11:00 PM
---
---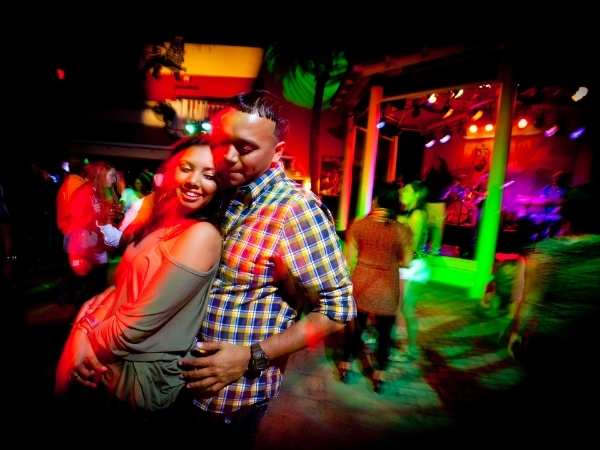 #5. Bob Marley - A Tribute to Freedom
Yelp: 3.5 | Trip Advisor: 4.0 | Google: 4.3
Enter a replica of Bob Marley's home in Kingston, Jamaica, and enjoy lots of photos, videos and artifacts from the iconic musician's career. Then enjoy a wide range of Jamaican tastes ranging from oxtail stew and Sun is Shining grilled chicken to a Jamaican platter loaded with jerk wings, yucca fries and veggie & beef patties.
OPEN: Mon - Sun | 4:00 PM - 12:00 AM
---
---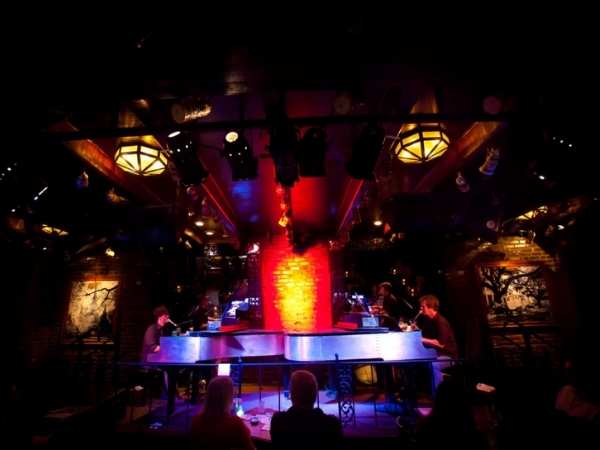 #6. Pat O'Brien's
Yelp: 3.5 | Trip Advisor: 4.0 | Google: 4.3
Straight out of New Orleans, this bayou style bar is a replica of the original located on Bourbon Street. You'll also find the same amazing Cajun tastes with specialties that include N'awlins Po'Boys, Louisiana Blackened Redfish, Crawfish Etouffee, beignets and more. And like New Orleans, the party goes into the night with Hurricanes, Mardi Gras beads and live music.
OPEN: Mon - Sun | 4:00 PM - 12:00 AM
---
---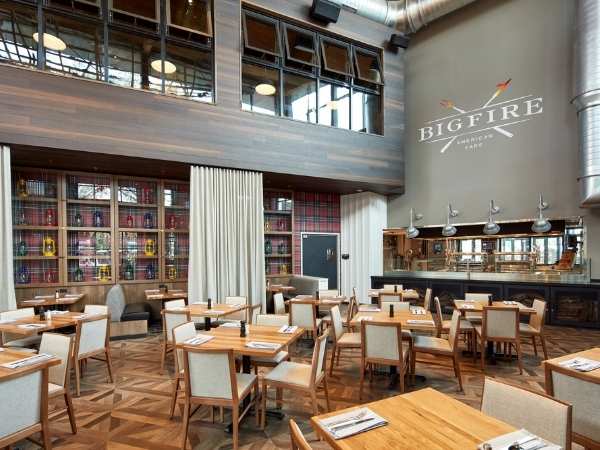 #7. Bigfire
Yelp: 3.5 | Trip Advisor: 4.0 | Google: 4.1
There's nothing quite like cooking over an open flame. Enjoy a lakeside summer house setting where open fire cooking is king. Choose from a wide selection of steaks, burgers and more, all grilled with the smoky accents of different woods. Then finish it off with some good old-fashioned s'mores prepared at your table.
OPEN: Mon - Sun | 3:00 PM - 11:00 PM
---
---
#8. Toothsome Chocolate Emporium & Savory Feast Kitchen
Yelp: 3.5 | Trip Advisor: 4.0 | Google: 4.1
Don't let the Chocolate name fool you. This restaurant, bar and confectionary offers up everything from brunch with quiche and crepes to dinner entrees like hearty steak and seafood. But you will want to save room for dessert – including one-of-a-kind milkshakes and sundaes with flavors like chocolate brownie bark and salted caramel flan.
OPEN: Mon - Sun | 10:00 AM - 11:00 PM
---
---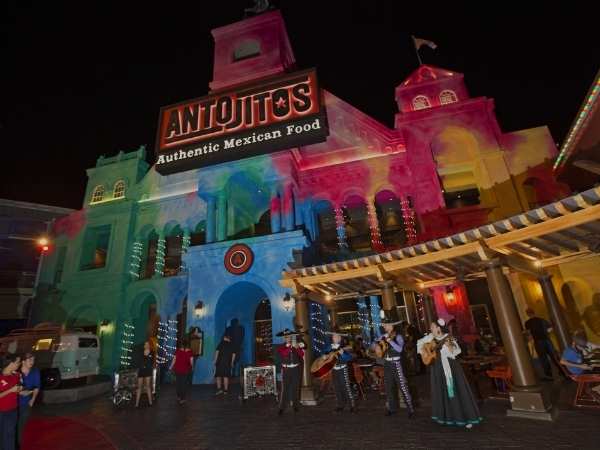 #9. Antojitos Authentic Mexican Food
Yelp: 3.5 | Trip Advisor: 4.0 | Google: 4.1
Head south of the border for a made-from-scratch Mexican fiesta featuring favorites like empanadas, tacos, fajitas plus traditional delights like the Mar y Tierra stew. Top it off with some warm tortilla chips, fresh guacamole and an icy cold cerveza, margarita or other tasty drink. Select nights even offer up the sounds of a live Mariachi band.
OPEN: Mon - Sun | 2:00 PM - 11:00 PM
---
---
#10. Jimmy Buffett's Margaritaville
Yelp: 3.5 | Trip Advisor: 4.0 | Google: 4.0
Kick back, relax and enjoy the island life while listening to a live band cranking out Jimmy Buffett cover songs and rock hits. Try a Cheeseburger in Paradise, grilled fish tacos, tasty coconut shrimp, tropical key lime pie or the amazing chocolate hurricane dessert. There's also an erupting margarita-filled volcano at the aptly named Volcano Bar where you can choose from 10 different margaritas!
OPEN: Mon - Sun | 10:30 AM - 11:00 PM
---
---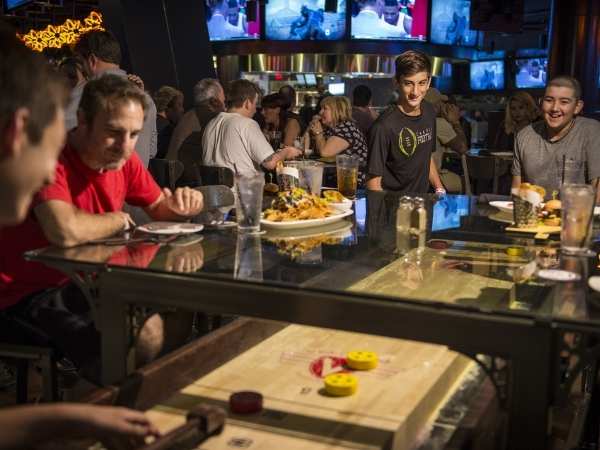 #11. NBC Sports Grill & Brew
Yelp: 3.5 | Trip Advisor: 4.0 | Google: 3.9
The ultimate in sports dining. Enjoy nearly 100 high-def TV screens streaming all the current sports action. A full menu offers everything from burgers and ribs to loaded chili nachos, Asian grilled shrimp salad and more. You can also choose from more than 100 bottled and draft beers, as well as local brews, unique imports, hard ciders and other tasty drinks.
OPEN: Mon - Sun | 10:30 AM - 11:00 PM
---
---
Discover the Most Popular Restaurants at Universal Orlando CityWalk
Here's a list of the 11 Best Restaurants at Universal Orlando CityWalk based on rankings and consumer travel recommendations compiled from Yelp, TripAdvisor and Google.
Related Posts