Orlando Valentine's Day Getaway
It's that time of year! Time to start planning that special occasion for Valentine's Day. If you'll be in sunny Orlando, FL, there are plenty of options for dinner and nightlife. Or you could visit any of the amazing theme parks like the iconic Magic Kingdom at Disney World.
But here are some other fun-filled alternatives to consider in your quest for a truly memorable Valentine's day experience!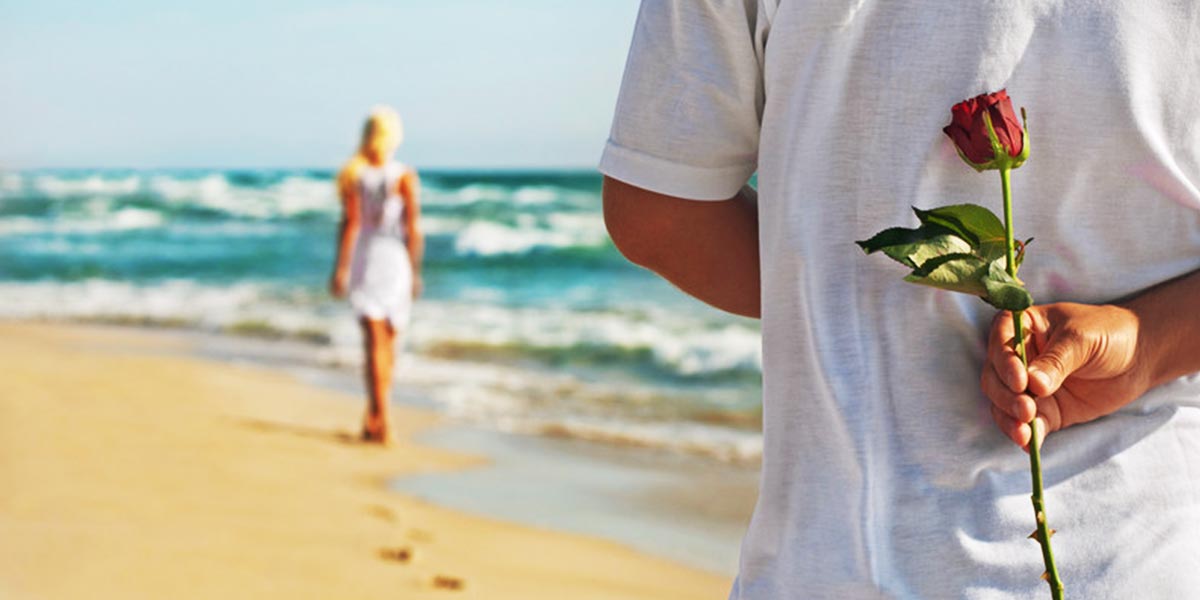 While much of the country will be mired in gray skies, cold temperatures, swirling winds and snow, Orlando's sub-tropical climate offers seasonably warm sunshine. Why not shed the jackets and get out and explore central Florida's many world class theme parks and attractions.
Here are some other options to make your Valentine's Day in Orlando a little more romantic:
1. Couple's Massage
Experience a romantic "couple's massage" at the world class Serenity Spa. This full-service, 10,000-square-foot Spa offers an exceptional escape from the daily stress. Relax and rejuvenate with a wide range of spa treatments including massages, body wraps, facials and more.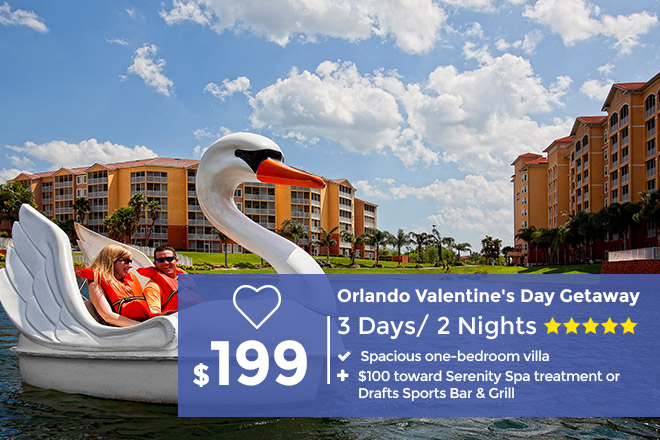 Orlando Valentine's Day Getaway!
Call today and see how you can save big on and enjoy a discounted Orlando vacation package. Package includes a 3-Day Stay + $100 toward Serenity Spa treatment or Drafts Sports Bar & Grill.
- From only $199 -
Book this Package
---
---
2. Ride The Wheel at ICON Park
Icon Park offers an array of entertainment options including shopping, dining at 40 restaurants, bars, live entertainment, amusement rides, an arcade, Madame Tussauds wax museum and the SEA LIFE Aquarium featuring more than 5000 marine animals from oceans around the world. But the centerpiece of the park is the Wheel – a towering, 400-foot-tall rotating observation wheel that provides majestic views of Orlando and central Florida. See it all from inside the comfortable, glass enclosed, and air-conditioned capsule with 360-degree views. See Disney World, Universal Studios, downtown Orlando, beautiful lakes, and other landmarks during the 20-minute ride.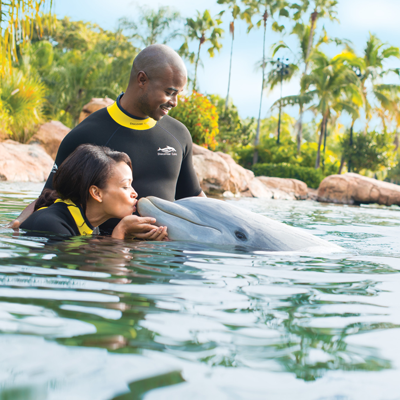 ---
3. Discovery Cove Dolphin Swim
Unlike Orlando's other theme parks, Discovery Cove comes without the long lines, but just might offer the best ride of all – a ride on a real live dolphin! This unique day offers an opportunity to swim with dolphins, swim with rays and tropical fish, feed birds while they sit on your arms, and enjoy other fun animal encounters. You'll also have plenty of fun in the 85-degree waters. This relaxing but fun day comes complete with everything – just bring a swimsuit. The park will provide towels, wetsuits, snorkeling gear, sunscreen and more. Your day also comes with a breakfast, amazing lunch plus snacks and drinks all day – including beer and wine! And if you want to propose or give your loved one a special message, you can even get it delivered with an assist from a dolphin!
---
4. Leu Gardens
Where better to walk hand-in-hand than through the stunning botanical gardens in downtown Orlando. Leu Gardens offers a 50-acre oasis of spectacular botanicals shaded by 200-year-old oak trees. You will discover aroids in the tropical stream garden, nearly 50 varieties of Azaleas (that should be blooming), almost 50 varieties of Bamboo ranging from inch tall plants to towering 70-foot giant timber bamboo. Other collections include an arid garden with cacti, succulents and more, banana plants, roses, herbs, magnolias, ornamentals, bromeliads, citrus, conifers, crape myrtles, cycads, ferns, and much more. You'll also want to wander through the butterfly garden.
---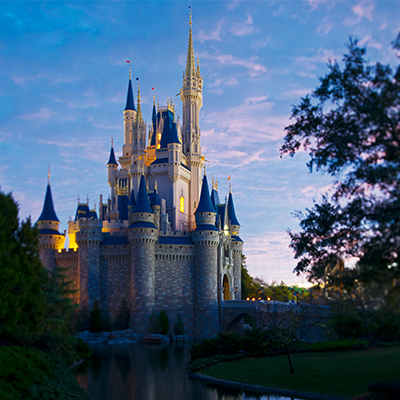 ---
5. Cinderella's Royal Table
Cinderella's Castle sits at the end of Main Street U.S.A., a shining and awesome centerpiece for Disney's Magic Kingdom. But if you really want your loved one to feel like a princess, take her inside the castle to Cinderella's Royal Table restaurant. There you can treat her to a truly sweet treat - a chocolate shell shaped as Cinderella's famous glass slipper and topped with some other tasty compliments. The Cinderella's glass slipper dessert also includes a personalized message tailored to your celebration. You can pre-order this unique treat.
---
6. Sunset Paddle in Winter Park
Experience the peaceful waters of Winter Park's beautiful chain of lakes with an extraordinary kayak trip. Enjoy the calm and shallow waters as you explore multiple lakes, and venetian-style canals lined with tropical plants and Spanish moss. On this tour, you will meander through scenic and historic Winter Park, led by an experienced guide. Your two-hour adventure will start at Dinky Dock Park next to spectacular Rollins College and take you to a spot where you will enjoy front row seats to the most picturesque sunset in the city. Or you can choose a "glow in the dark" kayak tour where the night skies will be lit up with LED-equipped kayaks.
7. Lakeridge Winery
Central Florida is known for its expansive areas of flat terrain. But head west of Orlando and you'll find the beautiful, rolling hills of Clermont. You'll also find a 127-acre estate that is home to the Lakeridge Winery & Vineyards. The area was once the state's epicenter for the grape industry, and today the winery still overlooks more than 80 acres of planted vineyards featuring native muscadine grapes. Lakeridge produces a wide range of premium and sparkling wines including Chardonnay, Pinot Grigio, Petite Sirah and Carbernet Sauvignon. Come explore the winery, enjoy a tour of the facility and some free wine tasting. Better yet, visit on the weekend and spread out a blanket in the green area around the winery to enjoy live entertainment and food from local food trucks – all while enjoying a glass of wine!
---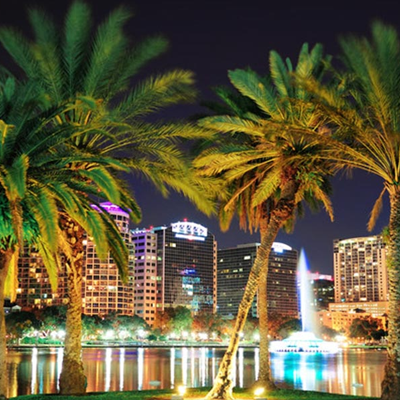 ---
8. Lake Eola Park
Located in the middle of downtown Orlando, beautiful Lake Eola Park offers a peaceful retreat in an upbeat urban setting. True to its name, the park surrounds Lake Eola, a serene waterway filled with an array of birds and the park's iconic swans including Trumpeter Swans, Whooper Swans, Black Neck Swans, Black Swans and Royal Mute Swans. A nearly mile-long paved trail circles the lake, perfect for walking, running or just sauntering around while enjoying the sites. Enjoy spectacular flower beds and sculptures. Grab some food from a local restaurant and have a picnic. Rent one of the swan-shaped paddle boats.
---
---
9. Farris and Foster's Chocolate Factory
Make amazing Valentine's Day memories with the sweetest event in town – by making your very own chocolates at Farris and Foster's Chocolate Factory! The 90-minute Friday date night special gives you a chance to create your own favorite chocolate confections in mild, dark and while chocolate. Bring your own favorite beverage and enjoy some romantic music, as well, while you make your chocolate desserts! You decide what to make – peanut butter cups, truffles, chocolate covered strawberries, marshmallows, and pretzels. Choose from a variety of molds, toppings and more. And at the end of the night, you'll have a full pound of amazing chocolate to take home!
10. Orlando Balloon Rides
Just about everyone's bucket list includes this one – so why not check it off for Valentine's Day?! Experience the ride of a lifetime, high in the sky over central Florida aboard a hot air balloon! This 3.5-hour, spectacular morning flight adventure includes 45-60 minutes in the air (maybe longer depending on weather). Feel the rush of adrenaline and enjoy incredible views as you glide peacefully over the landscape below. All balloon rides conclude with a special champagne or sparkling cider toast as well as some light refreshments. You will also receive a special, commemorative flight certificate.
You May Also Like: