Nestled in the Midwestern region of the United States lies a Missouri town bustling with diverse live entertainment, making it a famously-known family vacation destination. This town, located in the heart of the Ozarks, is Branson.
Branson has trended as a top location for a Thanksgiving getaway, a home away from home. During the Thanksgiving holiday, visitors get to celebrate the two greatest things in life: food, and those you love. Branson restaurants serve up the finest meals, with Thanksgiving buffet and by-plate options included. Resorts and hotels in Branson prepare their comfy quarters as visitors embark on their holiday journey. And, Branson live shows open their doors to all.
Looking to solidify a Branson vacation for Thanksgiving week? Use this guide as a personal assistant to help decide where you'll feast, find your lodging (some with fully-equipped kitchens to create your own Thanksgiving masterpiece if you so choose), and live entertainment for a memorable 2022 holiday vacation.
Food
A Thanksgiving feast is available at numerous restaurants in Branson, so be sure to show up with an empty stomach! Here are a few best restaurant options in Branson that help kick off the holiday season. Call ahead regarding reservations and to verify menu options and pricing.
---
---
Restaurants open on Thanksgiving in Branson: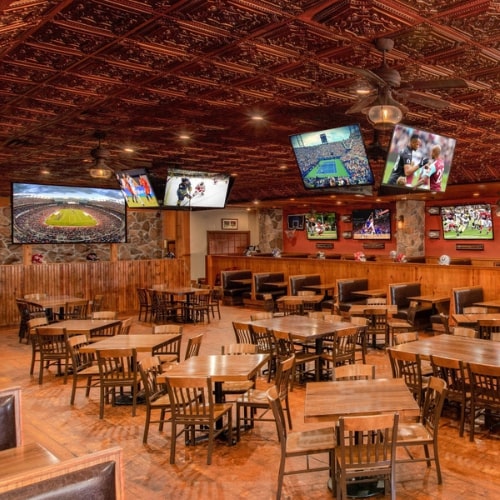 Source: Westgate Resorts
Drafts Sports Grill
Address: 2280 Shepherd of the Hills Expy, Branson, MO 65616 - Map to the Restaurant
Reservations: (417) 320-6045
Located at Westgate Branson Woods Resort, Draft Sports Grill offers guests an innovative approach to the American classics. With indoor and outdoor seating, you'll find flat screen televisions for the big Thanksgiving game, along with a creatively designed holiday menu.
Thanksgiving Feast To-Go is Available
---
---
Source: Big Cedar Lodge
Top of the Rock
Address: 190 Top of the Rock Road, Ridgedale, Missouri 65739 - Map to the Restaurant
Reservations: (800) 225-6343
Take in magnificent views of the Ozark Mountains and Table Rock Lake. Along with its spectacular sceneries, Top of the Rock offers 5 world-class dining venues on Thanksgiving day, catering buffet or by-plate options.
Adults - $64-$110
Kids - $28-$49
---
---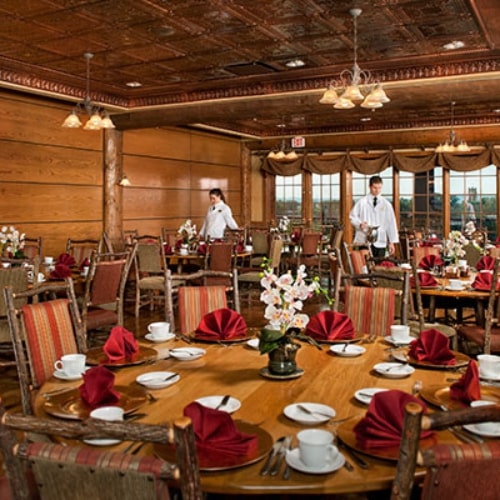 Source: The Keeter Center
The Keeter Center
Address: 1 Opportunity Ave, Point Lookout, MO 65726 - Map to the Restaurant
Reservations: 407-351-2210
Save your appetite for a delicious farm to table experience. The Keeter Center's 2022 Thanksgiving Brunch is available for reservation, with brunch buffet offerings like hot entrees and side dishes, carved meat, salad and cold cuisine, breakfast selections, and dessert.
Cost: Adults - $58
Kids: $29 (Ages 4-12)
Complimentary for kids 3 and under.
Reservations for Thanksgiving day are sold out. Thanksgiving Brunch still available.
---
---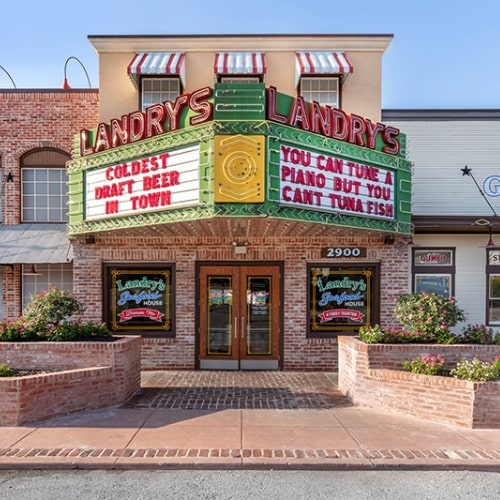 Source: Landry's Seafood House
Landry's Seafood House
Address: 2900 State Hwy 76, Branson, MO 65616 - Map to the Restaurant
Reservations: (417) 339-1010
Let Landry's Seafood House do the cooking for you! Enjoy their full menu, with chef recommendations like their Bayou Fishman's Stew, shareables for the table, and house specialties, plus a few holiday options this Thanksgiving.
---
---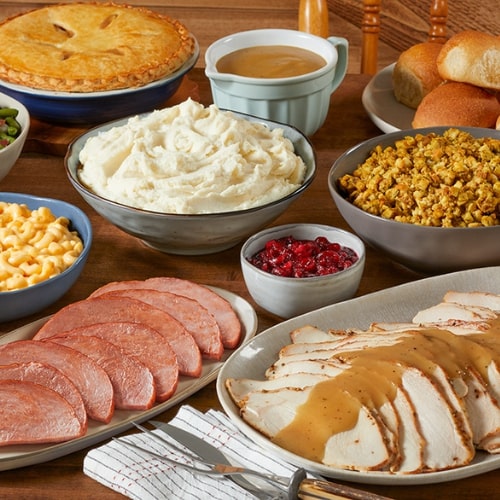 Source: Bob Evans
Bob Evans
Address: 801 W Main St, Branson, MO 65616 - Map to the Restaurant
Reservations: (417) 336-2023
Enjoy casual dining with a country vibe! For a limited time, hot, seasonal plates will be available to-go at Bob Evans for Thanksgiving. Their Holiday Hot Family Meal includes slow-roasted turkey, hickory-smoked ham, house-made bread and dressings, cranberry relish, mashed potatoes & gravy, green beans & ham, corn, baked dinner rolls, and a pumpkin pie. Single meals are also available.
---
---
Lodging
The pièce de résistance of your Thanksgiving vacation! Whether you're traveling to Branson by plane, train, or automobile, we also understand the importance of including our furry family friends. Below are pet friendly hotels and resorts in Branson.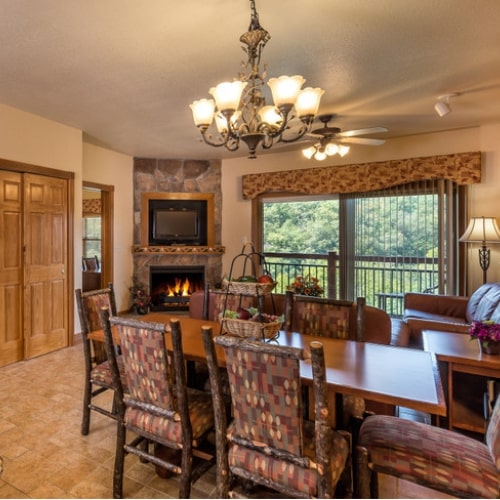 Westgate Branson Woods Resort
Map to the Resort
First, Westgate Branson Woods Resort takes center stage. With its recent $3.2 million resort renovation, your guest experience will include a fresh, updated look plus new amenity installments. Also included in the renovations were updated kitchen appliances, a major highlight if you choose to cook your own Thanksgiving meal. Accommodations offered at Westgate Branson Woods Resort range from Studios to Two Bedroom Deluxe Villas, but if you're looking for a fully-equipped kitchen, a One Bedroom Deluxe, Two Bedroom, and Two Bedroom Deluxe Villa will be your preferred lodging.
---
---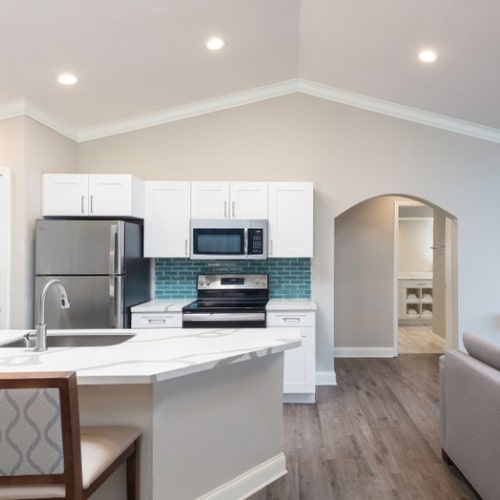 Westgate Branson Lakes Resort
Map to the Resort
After completing a whopping $8.2 million renovation project, Westgate Branson Lakes Resort shows off a redesign of its lobby, marketplace, pool, and fitness center, with over 150 guest villas upgraded to provide you the ultimate guest experience. Choose between One Bedroom, One Bedroom Deluxe, or a Two Bedroom Deluxe, all boasting with fully-equipped kitchens and plenty of space for guests. With dining reservations already filling up for Thanksgiving day at many nearby Branson restaurants, opting for a private setting filled with homemade (or takeout) classics is a great option to have your family excitedly gathering around the table.
---
---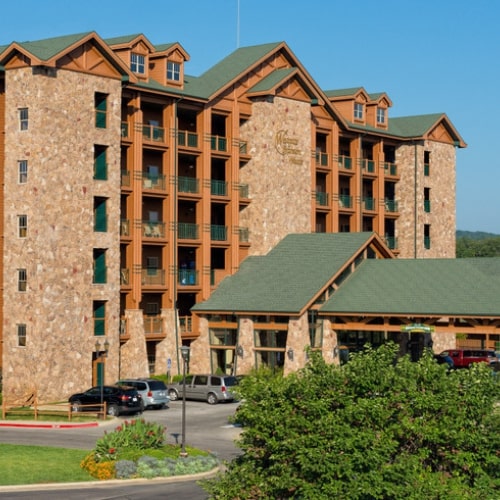 Westgate Branson Woods Hotel
Map to the Hotel
Leveling up from the standard hotel, Westgate Branson Woods Hotel offers comfortable hotel rooms with resort-style amenities. Outdoor pools, an indoor pool, miniature golf, campfire areas, private hiking trails, Drafts Sports Bar & Grill, Marketplace Deli, and a fitness center are just a few amenities to look forward to. If your plans include dining out or ordering to-go, Westgate Branson Woods Hotel is one of the finest hotels in Branson to check out (and most importantly, check in).
---
---
Live Shows
What's a holiday vacation without a little entertainment? If football game day isn't your style, try checking out some of the best shows in Branson.
Legends in Concert
Legends in Concert lets you into the world of Elvis Presely, Johnny Cash, Lady Gaga, Marilyn Monroe, the Blues Brothers, and other iconic stars of music. Step into your time machine and embrace the legends of American music history (of yesterday and today), located at the Dick Clark's American Bandstand Theater.
The Haygoods
Noted as Branson's most popular family-friendly show, The Haygoods belt out notes of pop, country, and rock music from today and prior decades. Expect production effects including thrilling light shows, flying guitarists and banjoists, along with a soaring robot guitarist (you read that right). Totaling over 20 instruments played during each performance, it's no doubt a spectacular experience worth purchasing a ticket for.
Dolly Parton's Stampede (Meal included with show!)
Hats off to Dolly Parton's Stampede in Branson for becoming the World's Most Visited Dinner Attraction! This powerful performance includes top-notch special effects, music, and 32 horses matched with professional trick riders in a massive, 35,000 square foot arena. Accompanied with the show's family-style tradition is a four-course family feast, which is a fantastic way to enjoy the best of both worlds - food and entertainment - on Thanksgiving Day.
Comedy Jamboree
Looking for a few extra laughs during your holiday vacation? Comedy Jamboree's name says it all. Once you find your seat, you'll be immersed in a rollercoaster of joy and belly laughs. This isn't the average comedy show either, as you, the spectacular, will enjoy other features of the show including dance and music, a true hysterical musical experience! Comedy Jamboree is a HOT ticket, and is performed daily at Grand Country Music Hall.
Amazing Pets
Another exciting show offered at Grand Country Music Hall is Amazing Pets, featuring acts and tricks from our favorite furry friends. Much of the cast have been rescued from animal shelters across the country, so as you watch these talented pets perform, expect lots of smiles, laughter, and a tear or two.
---
---
Other Things to Do on Thanksgiving in Branson
---
Frequently Asked Questions
You bet. Thanksgiving is a favorite among holidays for many, so whether your party consists of a large family or a small gathering, you'll be delighted to experience the magic of Branson. Celebrate Thanksgiving in the Ozarks with a $179 vacation package for 3 nights total!
Absolutely! As one of America's Top Theme Parks, the 1800s-themed amusement park is filled with 40 rides and Branson attractions, shows, a cruise & dine lake adventure aboard the Showboat Branson Belle, and their special event during the holiday season, An Old Time Christmas.
Branson Landing's Thanksgiving hours are 4:00PM - 11:00PM on Thursday, Nov. 24, 2022.
As we've covered, there is a hefty amount of things to do in Branson during the Thanksgiving holiday. As you map out your adventures, you'll soon realize you won't be able to see and experience it all, but if you plan your vacation to your advantage, you'll see plenty!
---
We can't stress the importance of reserving your lodging and Thanksgiving dinner reservations soon, as there are many couples and families who may have similar Thanksgiving vacation plans as you! With over 8 million travelers year-round, Branson, MO is looking like the top destination for you to enjoy the holiday with your family, loved one, or self.
You May Also Like:
Share these Thanksgiving ideas with all your friends!