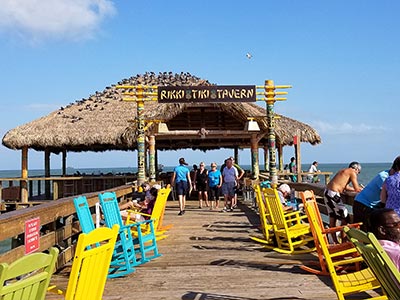 Along the heart of Florida's fabulous Space Coast, Cocoa Beach offers spectacular views, exquisite sand beaches, great waves for surfing, dozens of hotels and resorts and a long list of tempting Cocoa Beach restaurants and bars serving up delicious meals for breakfast, lunch and dinner.
Spending a day at the beach means you'll also be working up a big appetite, and the Cocoa Beach restaurants do not disappoint. Whether you are looking for a quick meal, a light salad, a gourmet hamburger, a delicious steak hot off the grill or amazing fish and seafood, you can find it in family-friendly Cocoa Beach, Florida.
---
Best Cocoa Beach Restaurants
When it comes to food, Cocoa Beach offers an array of restaurants and diners that go far beyond your typical chains and fast food stops. In fact, you'll find a local place to dine that is perfect for your tastes and budget.
---
Best Breakfast Diners & Restaurants
Simply Delicious Café & Bakery
Yelp: 4.5 | Trip Advisor: 4.5 | Google: 4.8
Experience the delights of a small eatery with big tastes! Serving breakfast & lunch, enjoy delicious pancakes, eggs benedict, homemade sandwiches, soups, salads, plus custom cakes and unique desserts.
---
Beachside Grill & Deli
Yelp: 4.5 | Trip Advisor: 4.5 | Google: 4.8
Serving breakfast and lunch, you'll find an exceptional array of deli favorites and everything from breakfast wraps and eggs any style to fresh made sandwiches and fresh salads to burgers and hot dogs.
---
Juice N Java Cafe
Yelp: 4.5 | Trip Advisor: 4.5 | Google: 4.6
It's more than just a coffee house! Along with a morning espresso beverage, enjoy bagel and panini sandwiches, breakfast wraps, soups, salads, and natural fruit smoothies.
---
---
Best Lunch Restaurants at Cocoa Beach
Pita Paradise
Yelp: 4.5 | Trip Advisor: 5.0 | Google: 4.6
This Lebanese-Mediterranean Grill offers up scrumptious home cooking with appetizers, salads, vegetarian, and more. Enjoy eggplant, falafel, kibbeh, hummus, spinach pie, lamb chops, gyros, kabobs, beef kafta pita, baklava and other Mediterranean specialties.
---
The Tiny Turtle
Yelp: 4.5 | Trip Advisor: 4.5 | Google: 4.7
Wake up your taste buds with the sofrito flavor of Puerto Rican mixed with a touch of Caribbean fusion. Eat inside or outside and enjoy sofrito nachos and burritos, BBQ pork sliders, Island taco basket, sandwiches and burgers, or seafood like grilled Mahi.
---
Mexico's Grill
Yelp: 4.5 | Trip Advisor: 4.5 | Google: 4.5
Authentic Mexican fare created by chefs from various parts of Mexico - offering everything from chips & salsa and guacamole, tacos, gorditas and flautas to supreme nachos, chimichangas, tamales, burritos, quesadillas and fajitas with chicken, steak or shrimp.
---
---
Dinner at Cocoa Beach
Florida's Fresh Grill
Yelp: 4.5 | Trip Advisor: 5.0 | Google: 4.6
Specializing in fresh seafood, steaks, salads, and award-winning soups and desserts, this upscale casual restaurant features royal port redfish, gator & grits, fresh calamari, Dry Aged NY Strip, crab cakes, pasta alfredo, filet mignon and much more.
---
Fat Kahuna's Beach Side Grille
Yelp: 4.5 | Trip Advisor: 5.0 | Google: 4.8
Another casual, fine dining option featuring signature seafood selections, chicken and vegetarian options such as seared ahi tuna, coconut shrimp, salmon, porterhouse, malibu chicken, lamb chops, fresh salads and desserts like key lime pie.
---
The Fat Snook
Yelp: 4.5 | Trip Advisor: 4.5 | Google: 4.7
Casual elegance with fresh, local seafood, seasonal ingredients, hand-selected boutique-style wines and craft beers from around the world. Enjoy jumbo scallops, grilled oysters, lobster bisque, pesto shrimp, seafood pie, ribeye, grilled duck, and local catches.
---
---
Seafood Experiences at Cocoa Beach
Ideally located along the Atlantic Ocean, Cocoa Beach and neighboring Merritt Island are known for their many seafood restaurants offering fresh catches from local fishermen. Whatever your seafood craving, chances are you'll find it along the Space Coast - from oysters, scallops and fish & chips to blackened or grilled fish, crab cakes, fried shrimp, grouper tacos and seafood platters! Additional seafood restaurants in Cocoa Beach area include Longboards Tiki Beach Grille, Grills Seafood Deck & Tiki Bar, Fishlips Waterfront Bar & Grill, Jazzy's Mainely Lobster & Seafood, and the Old Fish House Restaurant.
Popular Restaurants
Florida's Fresh Grill
Fat Kahuna's Beach Side Grille
Pompano Grill
---
Cocoa Beach Restaurants on the Water
With so many restaurants along the beach, it's easy to find a meal with a view in Cocoa Beach and Cape Canaveral area. Many area restaurants offer great food with an equally great view of the ocean. You can enjoy a scenic beach and ocean view from Coconuts on the Beach, Longboards, Squid Lips, Fishlips, Pelican's Bar & Grill, Mambo's, Sunset Waterfront Grill, Captain J's, Rusty's Seafood & Oyster Bar and more.
Popular Restaurants
Pelican's Bar & Grill
Coconuts on the Beach
Longboards Tiki Beach Grill
---
Westgate Cocoa Beach Pier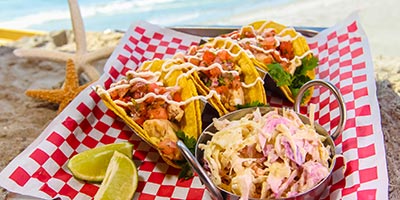 Another excellent option for grabbing a meal in Cocoa Beach is at the iconic Westgate Cocoa Beach Pier. Stretching out 800-feet over the Atlantic Ocean, the pier is home to a variety of delightful restaurants, bars and gift shops including Pelican's Bar & Grill, Rikki Tiki Tavern, The Boardwalk Bar and Sea Dogs.
---
---
---
Cocoa Beach Vacation Packages are Available Now!
We'll help you discover the very best Cocoa Beach has to offer
---