The search is over!
When it comes to water parks, there's simply no better destination than Orlando, Florida! There's a reason Florida is known as the sunshine state. And, there's a reason Orlando is the water park capital of the world. Whether you prefer a relaxing lazy river, thrilling drop slide, water slides, fast-paced tube rides, giant wave pools, or cool kiddie play areas, you'll find it at one of the numerous water parks in Orlando.
Walt Disney World Resort features their exclusive water park - Disney's Typhoon Lagoon. You can also choose from Aquatica by SeaWorld or the Volcano Bay water theme park at Universal Studios Orlando. Additional Orlando water parks can be found at area resorts such at Treasure Cove Water Park at Westgate Lakes Resort & Spa and Shipwreck Island Water Park at Westgate Town Center Resort. Let's take a closer look at the parks where you can take a break from the Central Florida heat to splish splash and enjoy some wet and wild fun and adventure.
Best Water Parks in Orlando
#1. Treasure Cove Water Park
Yelp: 5.0 | Trip Advisor: 5.0 | Google: 4.3
Address: 9500 Turkey Lake Rd, Orlando, FL 32819
Opening Hours: Vary by season
Ditch the busy crowds and create lasting memories with an aquatic pirate-themed adventure at Westgate Lakes Resort & Spa! Treasure Cove Water Park provides world-class fun & entertainment for all ages, featuring 60 feet of dueling water slides, a 575-foot lazy river to relax and unwind, 41,000 galloon wave pool, splash zone for the kids, aquatic jungle gym, sun deck for lounging, luxury private cabanas with all the perks, and Rikki Tiki Tavern Bar for much-needed refreshments. This state-of-the-art water park is home to the very first wave pool at an on-site Westgate water park!
---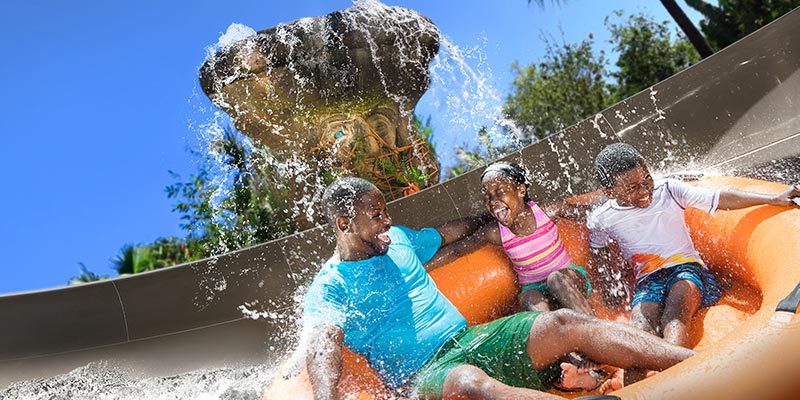 #2. Disney's Typhoon Lagoon
Yelp: 4.5 | Trip Advisor: 4.5 | Google: 4.7
Address: 1145 East Buena Vista Drive, Orlando, FL 32830
Opening Hours: Vary by season
According to Disney World legend, a furious storm once roared across the sea, hurling surfboards into trees, blowing small boats through roofs and throwing a shrimp boat onto the peak of a volcano. Yet amidst all that destruction, the typhoon left in its wake a water park filled with twisting tides, rip-roaring rapids, wacky waterways and relaxing lazy rivers. You'll find a wide range of aquatic activities for the entire family including the massive wave pool that intermittently serves up waves up to six-feet tall. You can also snorkel with live sharks and other tropical fish, experience a wide range of body slides and raft slides including the Humunga Kowabunga enclosed slides. Or you can hop aboard an inner tube and sail down a 2,100 foot lazy river, winding through rain forests, caves, grottos and waterfalls or visit the kid-friendly play area, Ketchakiddee Creek.
---
Subscribe today and access the best vacation deals
Vacation packages as low as $99 sent right to your email!
---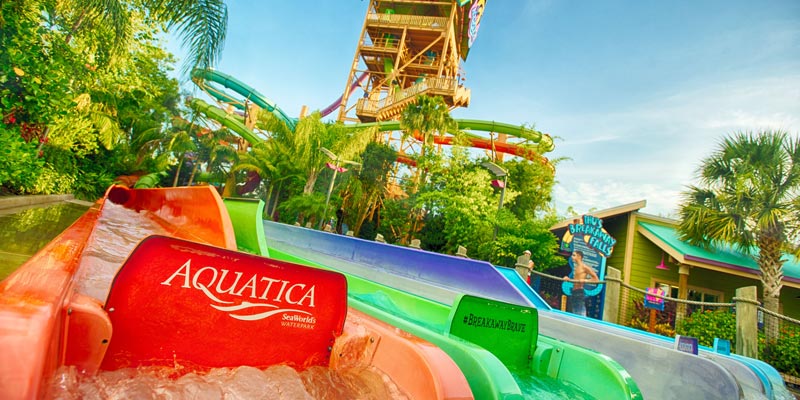 #3. Aquatica Orlando
Yelp: 3.5 | Trip Advisor: 4.0 | Google: 4.5
Address: 5800 Water Play Way, Orlando, FL 32821
Opening Hours: Vary by season
Located adjacent to SeaWorld and near Discovery Cove, family-friendly Aquatica blends up close animal experiences, waters from serene to extreme, high-speed thrills and wide, sandy beaches to create a unique experience. With nearly 60 acres of lush landscape inspired by the vivid color, stunning flora and carefree personality of a South Sea Islands. Crystal-blue rivers wind through hidden grottos and refreshing waterfalls, while rich greenery and bright flowers adorn towering rock formations. Live animals from lands all over the world including Commerson's dolphins, brilliant macaws and colorful fish bring to life the park's playful, high-energy nature. Aquatica features the most thrilling water rides in the world with 36 water slides, six rivers and lagoons, and more than 80,000 square feet of beach area.
---
---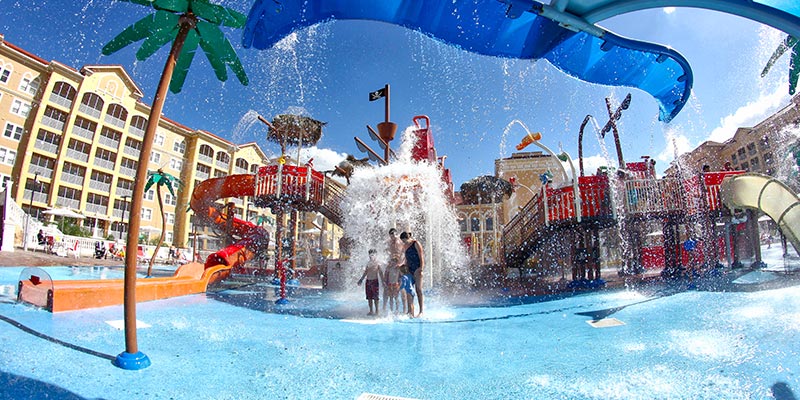 #4. Shipwreck Island Water Park
Yelp: 3.5 | Trip Advisor: 3.5 | Google: 4.0
Address: 7700 Westgate Blvd, Kissimmee, FL 34747
Opening Hours: Vary by season
Located on-site at one of the best Orlando family resorts with water park - Westgate Town Center Resort - is Shipwreck Island Water Park. Here, you can play without the huge crowds associated with Orlando's other water parks. The centerpiece of the multi-level water playground is a big pirate ship in the middle of the upper level. Black Bear's Pirate Ship is the ultimate pirate playground. Explore the ship and discover refreshing water fountains and slippery water slides. The park also features a lazy river that encircles the upper level, offering mysterious caves, splash zones and outlets to stop and play. Shipwreck Island includes a fully enclosed tube drop slide, water slides, a zero entry splash zone and multiple pool bars and restaurants, creating the perfect water park adventure for all.
---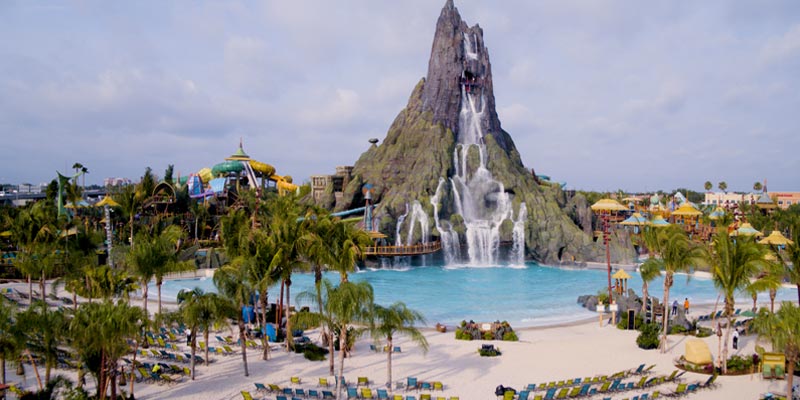 #5. Universal's Volcano Bay
Yelp: 3 | Trip Advisor: 3 | Google: 4.1
Address: 6000 Universal Boulevard, Orlando, FL 32819
Opening Hours: Vary by season
Anchored by a giant volcano at its center, legend has it that native islanders - the Waturi - traveled the ocean searching for the Kunuku. This mythical fish guided them to the island paradise of Volcano Bay and they made it their home, adding slides and experiences that celebrate water! The huge volcano - Krakatau, stands 200-feet tall and features streaming waterfalls and fiery lava effects. Climb to the top to experience the spectacular tube body slides and more. Volcano Bay also offers the unique TapuTapu wristband. Just tap it on the totem at any ride to save your place in line, then come back when it's your turn to ride! The park offers 19 different water attractions.
---
---
Water Park Vacation Packages are Available Now!
We'll help you discover the very best Orlando has to offer
---
Find Your Favorite Water Park in Orlando
When the Florida sun heats up, there's no better way to "wet" your appetite for fun than at one of Orlando's amazing water parks. From the kiddie zones to the thrilling vertical drops, you'll find something wet and wonderful for the entire family. And thanks to central Florida's sub-tropical climate, the major water parks are open year-round. Don't miss these must-do, one-of-a-kind experiences that'll keep you cool and refreshed while creating memorable vacation memories.
| | | | | |
| --- | --- | --- | --- | --- |
| Name | Yelp | Trip Advisor | Google | Total |
| Treasure Cove Water Park | 5.0 | 5.0 | 4.3 | 14.3 |
| Disney's Typhoon Lagoon | 4.5 | 4.5 | 4.7 | 13.7 |
| Aquatica Orlando | 3.5 | 4.0 | 4.5 | 12 |
| Shipwreck Island Water Park | 3.5 | 3.5 | 4.0 | 11 |
| Universal's Volcano Bay | 3.0 | 3.0 | 4.1 | 10.1 |
You May Also Like:
Share our Water Parks in Orlando Blog With Your Friends!