LEGOLAND + Peppa Pig: A Kid's Dream
You're planning a trip to Florida with your kiddos, searching for fun things to do at a great price. Then, you find yourself here. It takes you only but a second to add the 150-acre interactive theme park, LEGOLAND® Florida, and the world's first Peppa Pig Theme Park to your list.
From newcomers and kids at heart to the avid LEGO® and Peppa Pig fans, our Insider's Guide will help you make the most of your visit. From our POV we're covering everything from park hours and tips, how to get there, resorts & hotels in the area, and parking. No information to be left out! Plus, we'll give you a breakdown of the many rides and attractions you'll encounter at the parks. Keep in mind Peppa Pig Theme Park is on the same grounds as LEGOLAND® Florida Theme Park - though separate parks - and much of the details we'll cover are relatable to both parks, unless stated otherwise.
And to our favorite audience, our budgeters, we've got you covered with discount tickets options for both LEGOLAND® Florida and Peppa Pig Theme Park. Sit tight, the adventures are about to begin!
"Keep in mind Peppa Pig Theme Park is on the same grounds at LEGOLAND® Florida Theme Park - though separate parks - and much of the details we'll cover are relatable to both parks..."
LEGOLAND® Florida Park Hours
To make the most of your trip to LEGOLAND Florida Resort, knowing their operating hours is a must. The park is open 7 days a week, and may close Tuesdays - Thursdays depending on seasonality.
Normal Opening Hours:
LEGOLAND Florida Theme Park - 10:00AM (Daily)
LEGOLAND Florida Water Park - 11:00AM (Daily)
Park hours are always subject to change. You can easily check their schedule by using the Legoland app or visiting their website.
Peppa Pig Theme Park Hours
Normal Opening Hours:
Peppa Pig Theme Park: 9:00AM (Daily)
Again, park hours are subject to change. You can check hours of operation by visiting their website.
Good Times to Visit
It's safe to say visiting Orlando during the summer months can be a scorcher. Not only that, but it's particularly busy during March-August. February, May, September, October, and December (aside from the holidays) are noted as good months to visit. If you're specifically choosing months based on saving money, any month will do if you choose to vacation with Westgate Reservations, as we provide discounted pricing year-round.
Quick Tips & Good-to-Knows
Whether it be your first time at the parks or a veteran visitor, keep these tips on hand:
Pre-pay for parking for faster entry.
Skip the lines on 3 rides with FasTrack 3-pack or skip them all day with FasTrack Unlimited at LEGOLAND.
Visiting LEGOLAND Water Park? Book a cabana rental in advance.
Stroller, wheelchair, and ECV rentals are available on a first come basis.
Children aged 2 years and under can enter the parks for free!
No reservations are required for park entries.
Meet and Greet opportunities are found in Fun Town, Heartlake Theater, THE LEGO® MOVIE World, and LEGO® Kingdoms at LEGOLAND.
Buy the LEGOLAND Unlimited Digital Photos & Videos package online and save over 30%. Take unlimited photos and videos at select rides, green screens, meet and greets, and by official photographers located throughout the park. This add-on embodies a collection of memories you won't forget!
LEGOLAND Water Park is located within LEGOLAND Theme Park. But, LEGOLAND only tickets do not include admission to the Water Park. Upgrades with Water Park entry are available. You cannot purchase Water Park only tickets.
Peppa Pig Theme Park is a STANDALONE park just steps away from LEGOLAND®. Separate tickets are required.
LEGOLAND Florida has designed its level of thrill for kids up to age 12. Adults without kids are welcome, though if you're expecting rides and attractions like the other theme parks in Orlando, you may want to skip out.
Peppa Pig Theme Park is also geared towards younger kids, though all ages are welcome.
PLAN AHEAD if you want to save more money and limit the hassle. It's the best piece of advice we can provide!
---
Subscribe today and access the best vacation deals
Vacation packages as low as $99 sent right to your email!
---
---
How to Get to LEGOLAND from Disney, Universal and I-Drive
If you're planning a visit to LEGOLAND Florida from Disney, Universal or International Drive in Orlando, please consider your travel time. Located at One LEGOLAND Way, Winter Haven FL, 33884, LEGOLAND Florida is about 45 miles from the Orlando theme parks. Checking for traffic updates beforehand is a MUST. If an early wakeup time is in your cards, get to the parks when they open. Orlando traffic can get heavy if you're traveling during peak times, like rush hour!
Resorts and Hotels near LEGOLAND Florida
Finding a place to stay is crucial when exploring LEGOLAND Florida. Fortunately, we offer numerous resorts and hotels near LEGOLAND Florida and cater to families seeking comfort and convenience. Our resorts and hotels near LEGOLAND Florida include Westgate Lakes Resort & Spa, Westgate Town Center Resort, and Westgate Vacation Villas Resort, which all include water parks. Additionally, all of our Orlando resorts provide an extensive list of family-friendly activities that can be enjoyed after your theme park adventures.
Restaurants near Legoland Florida
Guests have many options when the whole family gets hungry. Though LEGOLAND does not have all day dining passes, the park does provide dining at their Burger Kitchen, Dragon's Den, Fun Town Pizza & Pasta Buffet, and for a treat, Firehouse Ice Cream. If park food isn't your thing, restaurants near LEGOLAND Florida include Azteca D'Oro, Tsunami Sushi, and Glory Days Grill. Staying on a Westgate Resorts Orlando property close to the theme parks? Our Westgate Resorts restaurants in Orlando like Drafts Sports Bar & Grill, Los Amigos Mexican Grill & Tequila Bar, and Villa Italiano Chophouse are open to both guests and the general public.
To continue, bringing food into the parks (yes, this is an option) is a great way to save money. Stop at your nearest grocer or enjoy the convenience of our on-property Marketplace & Deli to fuel up on your family's favorites!
Related Blogs: Ranked: We Reveal the Best Latin Restaurants in Orlando
Parking
LEGOLAND Florida Resort and Peppa Pig Theme Park share the same parking lot. The two parking options available are Standard Parking and Preferred Parking (closest to park entrance). As mentioned previously, you can and will save more time with pre-paid parking. This can be done on their official website. No car rental? No problem. Utilizing ride-sharing services like Uber or Lyft are always an available option. For potentially cheaper rates, choose to ride in the early morning, after lunch, or later in the evening (after rush hour).
Standard Parking: $30
Preferred Parking: $50
Campers/RVs: To be purchased on-site.
Motorcycles: To be purchased on-site.
Rides & Attractions at LEGOLAND Florida
It can be easily said that LEGOLAND Florida offers some of the best rides for kids in the Central Florida area. There are a whopping total of 14 Areas within the theme park: Duplo Valley, LEGO® NINJAGO®, The Beginning, Fun Town, The LEGO Movie World, MINILAND USA, LEGO® Kingdoms, Land of Adventure, LEGO City, Imagination Zone, LEGO Technic, LEGOLAND Water Park, Cypress Gardens, and Heartlake City. We've highlighted a few based on the recommendations from recent visitors:
Duplo Valley
If you're visiting LEGOLAND Florida with toddlers or preschoolers, Duplo Valley should be your go-to spot. Younger children aged 2-5 can exclusively enjoy interactive attractions like the Duplo Train and Tot Spot. If you are looking for places where your little ones can cool off on hot days, take them to the splash pad area that offers shade for parents. To make things more enjoyable for your kids, there are oversized DUPLO blocks scattered around this play area like hidden treasure.
LEGO® NINJAGO®
Ninjas unite! The chance to team up and blast away a powerful foe with animated fireballs and lightning is at LEGO® NINJAGO®. Kids can build their strength and endurance at Cole's Rock Climb, or work on balance at Kai's Spinners. If mastering your building skills is a challenge you'd like to accept, head over to Zane's Temple Build to build the NINJAGO Monastery.
Fun Town
Designed for young children and families alike, this section boasts attractions like the Lego Factory Tour that lets you peek behind the scenes of how your favorite blocks are made. And when tummies start rumbling, stop by one of Fun Town Treats stations!
Heartlake City
Discover the colorful and vibrant experiences that make up Heartlake City. Explore popular attractions like Heartlake Stepping Tones Fountain, Mia's Riding Adventure, and show off your camera-ready skills at Stephanie's News Room.
Imagination Zone
If you're seeking a playground for your imagination, head straight to the Imagination Zone. This hub of creativity invites visitors to design virtual roller coasters, experiment with robotics and build LEGO® creations.
MINILAND USA
Containing over 32 million LEGO® bricks, MINILAND USA lets you visit New York City, Las Vegas, California, and Washington D.C. - all in one day. Talk about quick coast to coast traveling!
Download the Official LEGOLAND® Florida Daily Entertainment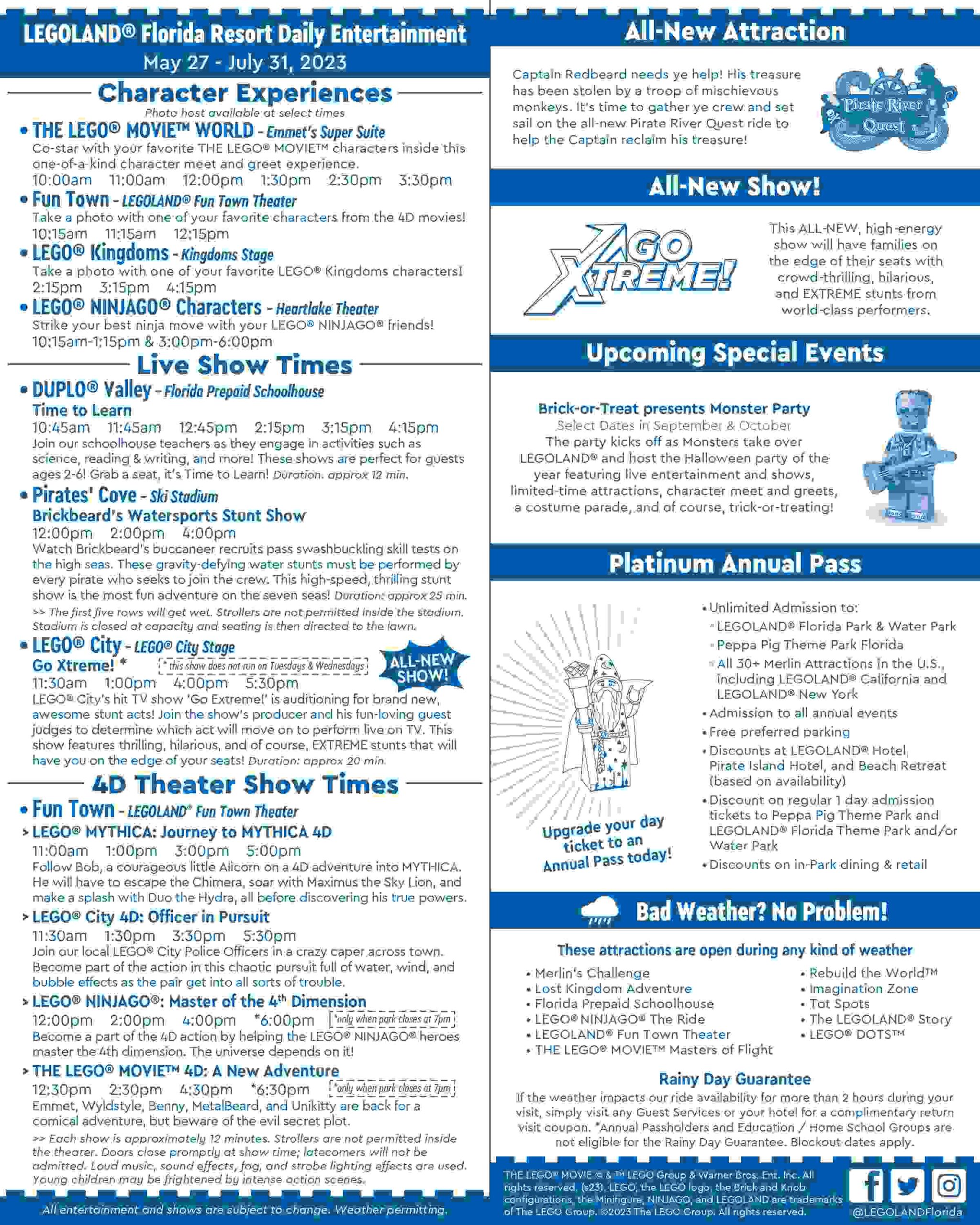 Download Now
Rides & Attractions at Peppa Pig Theme Park
The combined 6 interactive rides like Daddy Pig's Roller Coaster and Grampy Rabbit's Dinosaur Adventure, 6 playgrounds, character shows and indoor cinema makes up Peppa Pig Theme Park. Crafted for toddlers and preschoolers, the little ones can experience their first coaster rides plus FREE fair games at the Fun Fair. Read more on things to do at Peppa Pig Theme Park.
Gate Prices
We've gotten to the best park - entering the parks! Depending on the visitor's age and the time of year, prices may vary. From our research, general admission to enter both LEGOLAND + Peppa Pig Theme Park for 1 single day is $109 - $134 throughout peak season. However, there are ways to save money on ticket pricing. More on this below.
---
LEGOLAND Florida + Peppa Pig Theme Park Florida Discount Options
---
---
Legoland Florida Resort | Resort & Hotel Package Bundle
For an all-in-one family-friendly LEGOLAND Orlando vacation, consider booking our LEGOLAND Vacation Package that includes accommodations at Westgate Town Center Resort plus 4 park tickets. Truthfully, this offer is too good to pass up if you're looking to save money. Book in advance to avoid any surcharges due to limited availability at the resort.
Special Discounts
If you're a Teacher, First Responder, or Nurse, this is an excellent opportunity for you to save money on visiting Peppa Pig Theme Park Florida and LEGOLAND Florida Resort. With proof of career required, you can apply 10% off on LEGOLAND vacation packages with Westgate Reservations. Take advantage of this offer while you can!
---
---
And there you have it!
Your plans to visit LEGOLAND Theme Park and Peppa Pig Theme Park are almost complete. From park hours to accommodations, we've compiled all the essential information you need to make your trip a success. Now all you have to do is hit purchase, book, and you're ready to go!
Looking to visit Walt Disney World, Universal Orlando, and neighboring theme parks? View our secondary offers:
---
---
Ready to book today?
Let our vacation specialists do the work for you!
---