Legoland Florida
A unique theme park built brick by brick!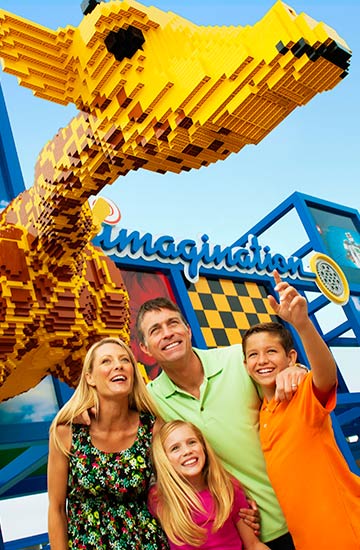 Central Florida is home to its share of world class theme parks. But only one has been built out of Legos!
Legoland Florida, located in Winter Haven just a short drive from Orlando, offers a unique theme park adventure to Lego fans and families. The 150-acre park, built on the refurbished grounds of the former Cypress Gardens, combines rides and roller coasters, special events, unique attractions and lots of Legos.
More than 50 rides and attractions!
Legoland Florida offers more than 50 rides, attractions and live shows, primarily geared toward families with young children ages 2 to 12.
One of Legoland Florida's attractions is the "Fresh From Florida Greenhouse" featuring hands-on learning opportunities that revolve around Florida's farming, as well as tomato, squash and strawberry gardens. The area also includes a Lego-built cornfield as well as a miniature Lego orange grove.
The Warner Brothers Game Zone features interactive games such as the popular Lego Harry Potter and Lego Batman games. Other park offerings include Fun Town – a Lego village; Miniland USA – home to seven specially themed areas; DUPLO Village – an area for toddlers; Lego Kingdoms – complete with a Lego castle; Land of Adventure – featuring hidden tombs where visitors can hunt for treasure and more.
Historic Gardens
Two holdovers from the days of Cypress Gardens are also prominent at Legoland Florida. Pirates' Cove features a water ski and stunt show while the original and historic Cypress Gardens have been preserved.
Fun-Sized Roller Coasters
Thrill rides include Coastersaurus, a fun wooden roller coaster formerly known as the Triple Hurricane in Cypress Gardens.
Extraordinary LEGO Creations
The extensive number of Lego creations at Legoland Florida is mind boggling. From the giant dinosaurs at the entrance to the tiny figures atop Legoland name tags, Legoland Florida visitors will find thousands of intricate models made from regular Lego bricks. The highlight is Miniland USA which offers a variety of American skylines and iconic buildings created out of Legos, including famous Florida landmarks such as Daytona International Speedway. A "Star Wars" section incorporates the use of more than 1.5 million Lego bricks and includes seven clusters – one for each of the saga's six films and one for the animated television series, "Star Wars: The Clone Wars."
Cool Off in the Water Park
Legoland Florida also includes a water park featuring a wave pool; imagination station; a Build a Raft lazy river that allows kids a chance to decorate their inner tube with giant Lego bricks; the Duplo Splash Safari, a shallow pool with giant Duplo animals geared to kids age 5 and younger; the Joker Soaker, an aquatic jungle gym with a 300-gallon bucket that dumps water regularly; a restaurant, changing rooms and more.
Water park tickets are an option only available in addition to the regular Legoland Florida admission.
Legoland Water Park
LEGO Wave Pool – Cool off and experience the gentle waves - just big enough for all ages to enjoy.
Twin Chasers – Rides tubes 375 feet down an intertwining pair of enclosed water slides before splashing into the pool below.
Splash Out – Thrill seekers will love heading to the tallest point in the park where you can choose from 3 unique slides that will speed down a 60-foot drop.
Joker Soaker – An interactive playground with various slides offering something for everyone in the family, plus a wading pool that includes a 300-gallon bucket spill.
Build-a-Raft River – Families imagine, design and build their own LEGO boat and float along a 1,000-foot-long lazy river.
DUPLO Splash Safari – Toddlers enjoy this special water play area with shorter slides and interactive DUPLO creatures.
Favorite Areas and Attractions
Fun Town – Grand Carousel, 4D theater, shopping and more.
Mainland USA – Daytona Int'l. Speedway, Florida, Kennedy Space Center, Pirate's Shores, California, New York, Washington D.C., Las Vegas, LEGO Star Wars.
DUPLO Valley – Train, farm, tractor, splash & play, tot spot.
LEGO Kingdoms – Royal Joust, Forestmen's Hideout, the Dragon, Merlin's Challenge.
Land of Adventure – Coastersaurus, Safari Trek, Beetle Bounce, Lost Kingdom Adventure, Pharaoh's Revenge.
LEGO City – Rescue Academy, Ford Jr. Driving School, Ford Driving School, Flying School, Boating School.
Imagination Zone – LEGO Mindstorms, Build and Test, Hero Factory, Kid Power Towers, WB Games Zone.
LEGO Technic – Aquazone Wave Racers, Project X, Technicycle.
Pirate Cove – Live water ski show.
Cypress Gardens – Beautiful and historic botanical gardens.
World of Chima – The Quest for CHI, Speedorz Arena, Cragger's Swamp.
---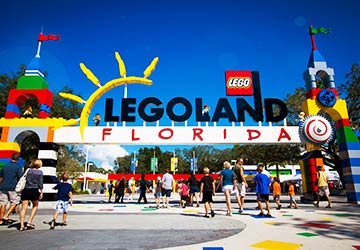 The World's Largest Legoland Park
Legoland Florida offers 150 acres of LEGO amazement for the entire family. Just 45 minutes from Orlando, the park features 11 distinct and uniquely themed fun zones where you'll find everything from roller coasters and interactive rides, water play areas, a 4D movie theater experience, character meet and greets, and more. Explore your own LEGO imagination at Legoland Florida.
READ MORE: LEGOLAND Florida and Peppa Pig Theme Park: The Ultimate Guide