Tips For Packing Lighter On Your Next Family Vacation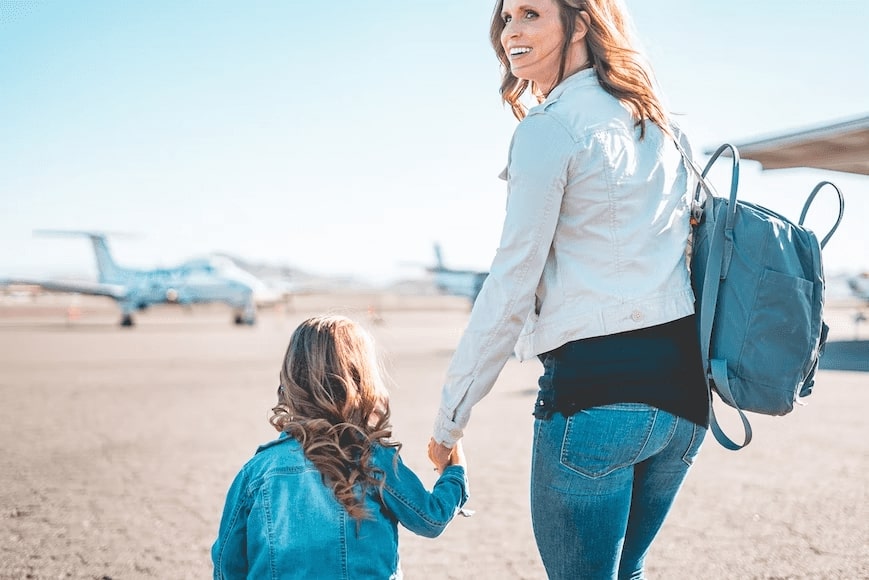 Source: Unsplash
Make Family Travel A Breeze With These Packing Tips
Planning a family trip is exciting. No matter the destination, your entire family looks forward to taking a break from everyday life to enjoy a well-earned vacation. But packing for your whole family can be overwhelming, especially if you are flying to your destination or taking a road trip with limited cargo space. And, with many airlines charging budget-busting fees for baggage, you may be looking for ways to cut costs and reduce the amount of luggage your family needs.
Fortunately, even families can take the minimalist approach when packing for a vacation and still have more than enough clothing, toiletries, and incidental items to get by!
How To Pack Light For Your Family Vacation And Still Have Everything You Need
Traveling with your family doesn't mean you must bring everything you own to be comfortable. With careful planning and ingenuity, you can take a minimalist approach that will help you save on bag check fees and valuable cargo space.
Here are some family travel tips to help you pack lighter and make the most of your upcoming trip.
#1. Consider Your Vacation Destination
One of the most common travel mistakes made by families is not considering the weather of their destination. This leads to needing to prepare for the temperature changes or weather events that may arise during your stay.
To avoid this unnecessary stress, always research to see what you can expect from mother nature during your family trip. Being prepared means being thoughtful about what you pack and ensuring you won't need to make costly, unnecessary runs to a local store to get your family what they need.
Here are some seasonal tips to consider when packing for your family vacation.
Summer: If you're traveling during the summer or to a tropical climate, you'll need to pack clothing that will help you have fun in the sun. Bring rain jackets or ponchos in case of sudden showers and soft hats to help keep the sun at bay. Check the outdoor section of your local store for items that take up minimal space in your luggage.
Winter: You may think packing for the cold means lots of bulky layers, and you're not far off. However, you can save baggage space by choosing thinner layers and having your family wear their warm, bulky boots while traveling.
Spring & Fall: Both of these seasons can be unpredictable. Be sure to pack layers, like long-sleeved t-shirts, thin sweaters, and thin rain jackets that you can fold into small pouches to save space.
---
Orlando Getaway + $100 VISA Gift Card
---
---
#2. Make A Minimalist Packing List
Travel planning is more about picking the right travel plan and researching the on-property amenities. You'll need to be meticulous about your pack if you want to travel lighter. The best way to do this is to prepare a list of everything you think you'll need to pack.
Here's a sample of what you can include on your family's packing list:
Toiletries: You'll need travel-size bottles of toiletries like lotion, deodorant, body wash, toothpaste, shampoo, and conditioner. Instead of packing one for each family member, decide which items can be shared. Don't pack the whole first aid kit; many resorts have one on-site, so stick with some band-aids and antibacterial cream.
Undergarments: Everyone will need enough pairs of underwear, accessories, and socks for each day you're there. For underwear and socks, bring one pair for each day plus one, just in case. For diapers, consider buying enough to make it to your destination and then hitting a local store to buy what you'll need.
Clothing: Plan out how many outfits and pairs of shoes each person will need for the duration of the trip. Limit shoes to one pair of sneakers and flip-flops per family member. Don't forget to account for travel days!
Daily necessities: The little things that help our days run smoothly often go overlooked when packing for a trip. Chargers, sunscreen, a refillable water bottle, and a toothbrush are small items that, if forgotten, could put a wrench in your vacation. Car seats, strollers, and carriers: Traveling with little ones means traveling with all their things. Add their car seats, strollers, and how many diapers they need each day to your list.
Once you have your list prepared, go through it and do some hard edits. Figure out the minimum amount of items you'll need to enjoy your vacation.
#3. Choose Your Packing Approach
Next, decide how you will pack your family's belongings.
If your family is taking to the skies, will you be attempting the holy grail of sticking to a carry-on suitcase or two? Will you be checking in large bags to minimize the amount of luggage you will need to carry throughout the airport? If you're hitting the road, how much available trunk space do you have? Will anything fit in the passenger area, or will you need that space for your children's personal items?
Remember, if you're flying, each passenger is allowed one approved-size carry-on and one personal item, such as a small backpack, purse, or diaper bag. These bags can act as overflow and carry essential items that won't fit in your suitcase. However, if you are juggling multiple children, the fewer bags you have to worry about, the better. It may be worth the fee to pack one large suitcase to check in and carry a change of clothes and necessities in your personal bag.
If you are taking a road trip, canvas your vehicle for hidden nooks that can be used for storage. For instance, some cars have undercarriage storage. You can also place important luggage on the floor in front of any car seats, so it's easy to access.
#4. Pack Versatile Items That Can Be Worn Multiple Times
Choose items that can be worn multiple times without needing to be washed. Swimsuits can be dried in your hotel bathroom and re-worn. Hoodies, sweaters, and pajamas can be worn over several days without needing a wash.
Of course, many resorts and hotels have on-site laundromats, which means you can do a quick load of laundry during your downtime. This means you can pack less and save valuable space in your luggage. Also, if your children get messy or have an accident, you can simply wash the outfits your family wore that day and wear them again a few days later.
Subscribe today and access the best vacation deals
Vacation packages as low as $99 sent right to your email!
---
#5. Use Packing Cubes
Reusable packing cubes are an excellent investment for any family that enjoys traveling. They are reusable, zippered storage bags that help you bring order and harmony to your suitcase. Packing cubes come in various sizes, so you can arrange your belongings by category, making them easier to find and keep organized.
Not only do packing cubes allow you to save space and fit more into your luggage, but they can help separate dirty and wet clothes from clean ones. This prevents cross-contamination and makes it easy to find what you need.
#6. Choose A Color Scheme For Easy Mixing And Matching
A memorable family vacation is only complete if someone gets a little messy while traveling or at your final destination. But if you pack a series of curated outfits, you may find yourself or your children having to scrap a whole set of clothes after a spill. Pick a streamlined color scheme so your whole family can mix and match without being limited to a single outfit choice. This will also allow you to bring fewer pairs of shoes, saving lots of room in your baggage for other necessities.
#7. Ship Items Ahead Or Wait To Purchase
If you are going to stay in a resort or hotel, you can pack a box full of supplies and clothing to ship to the front desk. This is an excellent alternative to carting your belongings as you travel and allows you to have bulky items, like snacks and diapers, available as soon as you arrive at your final destination. Note: Make sure to call your resort to confirm this is OK and tell them to expect a package to arrive for your room. The front desk team will accept and hold the box until you arrive.
If you have access to transportation, like your own car or a rental, consider waiting to purchase toiletries and diapers until you arrive at your destination. This will allow you to buy full-size items for your family to share, which is more cost-effective than buying multiple TSA-approved travel-sized items. Many vacation spots have drug stores and other familiar chains close by, so you can pick up your family's tried and true staples without finding space in your luggage.
Travel Light For Your Family's Next Trip
Vacations are about relaxation and spending time with family. So you shouldn't be worried about juggling lots of luggage. Packing light for your next family trip means less stress and more time to focus on making memories.
So, whether you're traveling to our resorts or hitting the road for a road trip, use these packing hacks to streamline your vacation prep to enjoy it and all it has to offer fully.
Frequently Asked Questions
Make a checklist, edit what you choose, and buy toiletries when you arrive to avoid overpacking for a trip.
---
---
Want to share our Family Travel Tips post on your blog or social media?
Go ahead! All that we ask is that you include a link back to this post so your readers can view the full article.
You May Also Like: