Find Resorts Near Disney!
Vacation Packages Resorts Nearby FAQs
Disney's Animal Kingdom Orlando
Immerse yourself in a world teeming with wonder and adventure at Disney's Animal Kingdom in Orlando, FL. Far from an ordinary zoo, this extraordinary park melds the awe of nature with the magic of Disney storytelling. Encounter over 2,000 animals spanning 300 species, from majestic lions and tigers to towering giraffes and playful apes.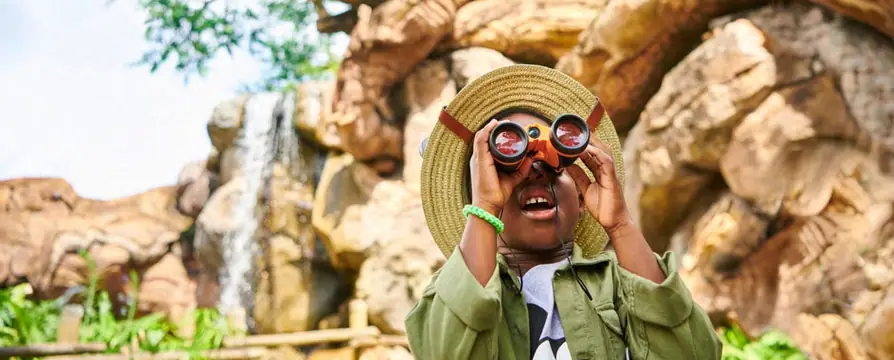 Unearth thrilling surprises at every turn, whether it's the roar of a lion, the chilling presence of a Yeti atop Mount Everest, or the thrill of a dinosaur encounter. Enjoy an exotic jungle trek, bask in the splendor of the natural world, and marvel at the captivating creatures who call it home with your family! No trip to Disney World is complete without a day to enjoy Animal Kingdom; it's a testament to the diversity of life and a celebration of the magic inherent in nature.
---
Explore The Lands Of Animal Kingdom
Oasis
The park's main entrance, Oasis features a variety of animal habitats while offering up several main paths that lead deeper into the park. Exhibits include African Spoonbills, Australian white ibis, buffleheads, scarlet macaws, swamp wallabies and more.
Discovery Island
The park's central hub, located in the middle of the Discovery River waterway, this island connects the other sections of the park. The highlight is the towering Tree of Life, a 145-foot tall, 50-foot wide, sculpted, man-made Baobab tree. The tree features more than 300 intricate animal carvings, including lion, deer, eagle, monkey, pelican, rhino, hippo, bear, lemur and dolphin. Inside the tree, you'll find It's Tough To Be A Bug, a comical 4D film.
Africa
Representing a fictional east African village, this area offers animal exhibits, the Harambe Wildlife Preserve - fictional home of the Kilimanjaro Safari attraction, the Pangani Forest Exploration Trail and the Festival of the Lion King live show. Animals in Africa include elephants, black rhino, blue wildebeest, cheetah, lions, mandrills, okapis, hippos, warthogs, sable antelopes, reticulated giraffes, gorillas, colobus monkeys, and more.
Magical Disney Vacation Packages
Rafiki's Planet Watch
Dedicated to younger children, this section offers the narrow gauge Wildlife Express Train, Conservation Station, the Affection Section petting zoo, and more. Animal exhibits include ball pythons, butterflies, central bearded dragons, chinchillas, cockatoos, emperor scorpions, tarantulas, hermit crabs, opossums, pygmy goats, snakes, tawny owls, sloths, parrots and more.
Asia
Visit the kingdom of Anandapur where you'll find two small villages and the towering sight of Mount Everest - home to the thrilling Expedition Everest roller coaster. The Maharajah Jungle Trek takes you through the forests and ruins outside the village where you'll find animals such as Bengal tigers, blackbucks, Eld's deer, iris lorikeets, Komodo dragons, Malayan flying foxes, and more. The nearby Kali River Rapids is another fun-filled river ride along the fictional Chakranadi River.
Discount Disney packages are available now! Call 1-877-288-7422
Dinoland, U.S.A.
Explore the Dino Institute, home to DINOSAUR, a thrill ride offering a trip back in time to the Late Crustaceous Period where you'll come face-to-face with a terrifying T-Rex. This area also features Finding Nemo - The Musical, a live musical stage show, plus carnival games, the TriceraTop Spin ride, the Boneyard play area and animals such as American crocodile, Abdim's stork, Asian brown tortoise and red legged seriemas.
Pandora - The World of Avatar
Step into the enchanting realm of Pandora- The World of Avatar at Disney's Animal Kingdom. Be captivated by its breathtaking beauty, thrilling rides, and alien wildlife. Experience the magic of Pandora, an unforgettable journey beyond belief! It's important to note that the rides in Pandora usually see a significant wait time, especially in the morning after Animal Kingdom opens. It's advised to get Genie+ or Lightning Lane for Flight of Passage, and be sure to ride Na'vi River Journey as early as possible to avoid long lines.
Need Help? Contact Us!
---
MON-FRI:
9:00AM - 10:00PM EST
SAT
10:00AM - 6:00PM EST
SUN
Closed
Looking For Resorts Near Disney's Animal Kingdom?
What could be better than staying just moments away from the magic of the Disney Parks? We've got you covered with our resorts near Disney World that will put you right in the heart of it all.
Tips & Tricks For Your Next Adventure In Animal Kingdom
At Disney's Animal Kingdom, exhilarating rides transport you to the heart of the wild! Plunge into riveting adventures that whisk you away from towering mountain peaks to prehistoric jungles. While Animal Kingdom is an unforgettable experience, there are some things you should keep in mind before visiting the park. Here are some of our favorite tips and tricks to help you and your family have the best experience possible.
Disney Tickets

Park Tickets For:
Magic Kingdom Park
Animal Kingdom
Hollywood Studios
Epcot
Purchase
Park Hopper option: Available
Park Hopper Plus option: Available
Water Park and Sports option: Available

Use Disney Genie+ & Lighting Lanes
Maximize your adventure at Disney's Animal Kingdom with Disney Genie+ & Lightning Lanes! This optional add-on lets you bypass regular lines and enter the swift Lightning Lane, ensuring a seamless theme park experience. Plan your day with ease, reserving one ride at a time. This is especially important if you want to experience one of the great rides in the Animal Kingdom Pandora land. After each thrilling ride, book your next, optimizing your exploration of the wild without having to spend hours waiting in the next line.
Use The Rainforest Cafe Entrance
Worried about getting stuck in a long line to enter Animal Kingdom? Well, a little-known trick is that you can enter Animal Kingdom with ease by using the Rainforest Cafe entrance. Simply pass through the gift shop, exit from the back, and voila! You're near the park entrance, bypassing the usual crowd. Enjoy a smooth, stress-free start to your wild Disney adventure, even on bustling days!
Ride The Safari Early
Elevate your Animal Kingdom adventure with an early ride on the famed Kilimanjaro Safari! Dodge the crowds, savor cooler temperatures, and witness the vibrant activity of the animals during the morning hours. Make this iconic attraction a sunrise must-do for an unforgettable experience!
Another tip to escape the heat during the safari is jumping on the attraction while it is raining. The animals tend to be more active after it rains because it should be cooler out. So try to plan your safari ride around the expected weather during your visit!
Use The Animal Kingdom Map
Navigate your wild journey through Disney's Animal Kingdom easily using the park map! Discover paths to thrilling rides, exotic animal habitats, and mesmerizing shows. The map — your key to unlocking a world of adventure. Make every moment count!
Need Tickets? Get Discount Disney Tickets Today
Frequently Asked Questions

What unique experiences does Disney's Animal Kingdom offer? Beyond a traditional zoo, Animal Kingdom offers immersive storytelling, thrilling rides, live shows, and close encounters with over 1,700 animals, making it an adventure-filled destination for all ages. How can I make it easy to navigate Disney's Animal Kingdom? Utilize the park map or Disney's mobile app for real-time information on attractions, animal encounters, showtimes, and dining options. Both tools aid in the seamless navigation of this expansive kingdom. Are there dining options available at Disney's Animal Kingdom? Yes, from quick bites to immersive dining experiences, Animal Kingdom offers a variety of options that cater to different tastes and dietary needs, adding another layer of enjoyment to your adventure. Can Animal Kingdom be done in one day? As one of Disney's biggest parks, walking the entirety of Animal Kingdom can be a lot. But, with a good pace, you can certainly check off your list of must-sees.
Helpful Links
---
3 Days/2 Nights
+ $300 VISA Gift Card $259
Plan your Disney World Vacation at a fraction of the cost!
Call Today 1-877-288-7422