Disney's Hollywood Studios

When you walk through the gates of Disney's Hollywood Studios theme park onto Hollywood Boulevard, reality quickly turns into fun-filled fantasy. You'll be met by an eclectic mix of architecture, ranging from neon and chrome to iconic art deco. Welcome to Hollywood, Disney style.
Lights, camera, action! Disney's Hollywood Studios at Walt Disney World near Orlando, FL offers a unique salute to the world of show business — where you'll find all your favorites, from old school Hollywood classics to the best in popular entertainment. Best of all, you're the guest star, so get ready to take center stage on adventures that range from rock 'n' roll fantasy to Broadway-style spectaculars. You'll even find opportunities to go behind the scenes.
Magical Disney vacation packages
6 Themed Areas (and Counting)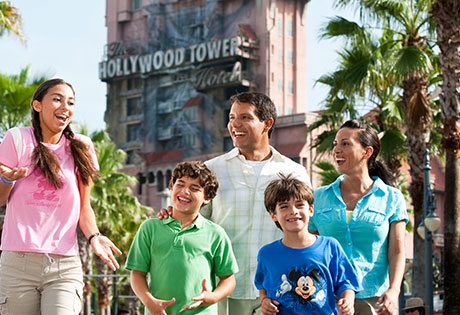 Hollywood Boulevard
The park's main entrance, the boulevard is lined with shops, in a style reminiscent of Hollywood Boulevard in Los Angeles. The street also features parades and attractions such as the replica of the landmark Chinese Theater, The Great Movie Ride and a replica of the Brown Derby restaurant.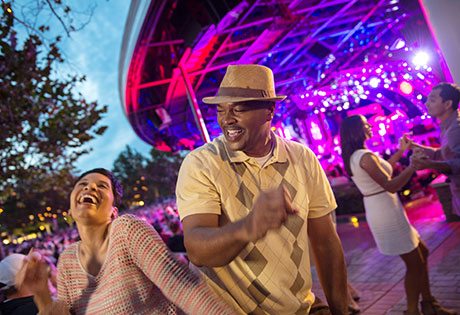 Streets of America
Originally a working backlot set, this area features facades that resemble New York City and San Francisco. Attractions include MuppetVision 3D, Honey I Shrunk the Kids: Movie Set Adventure, and Lights, Motors, Action! Extreme Stunt Show.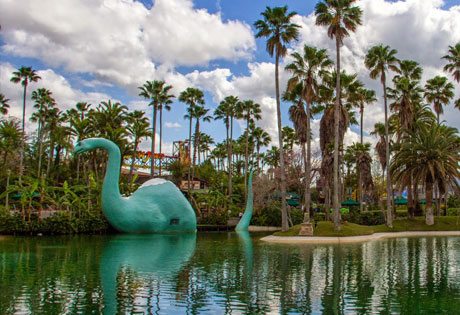 Echo Lake
Representing the "California Crazy" architecture from Hollywood's Golden Age, this area features a small lagoon shaped in the form of one of Mickey's ears. Key attractions include an ABC Sound Studio, Star Wars Star Tours - The Adventures Continue, The Jedi Training Academy, Indiana Jones Epic Stunt Spectacular, Steven Spielberg's Raiders of the Lost Ark stunt show, the Sci-Fi Dine-In Restaurant and more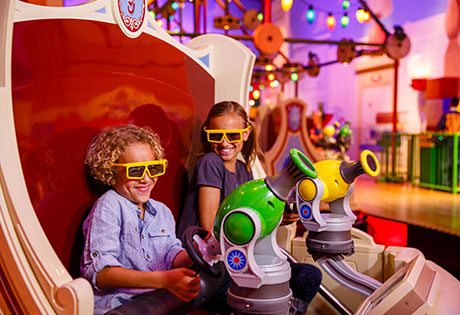 Pixar Place
An area based on the popular Pixar characters, toys and movies. Modeled after the studio's California campus, the area features Toy Story Mania. An interactive one-of-a-kind 4D attraction, Mania allows guests to ride along and blast moving targets in a midway style shooting game. It is also home Luxo, Jr. a 6-foot audio-animatronic version of Pixar's mascot that performs periodic daily shows.
---
Yes, you can customize your own vacation package!
Call us now 1-877-288-7422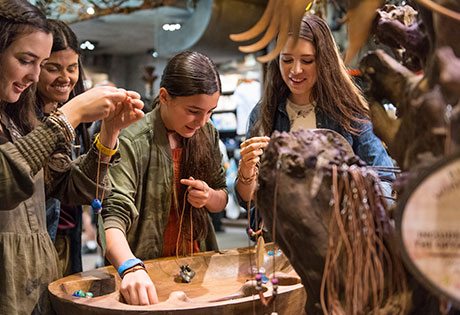 Animation Courtyard
This is home to films and characters created by Walt Disney Animation Studios and includes The Magic of Disney Animation, a walk through exhibit, Walt Disney: One Man's Dream, Disney Junior Live on Stage, Voyage of the Little Mermaid and more.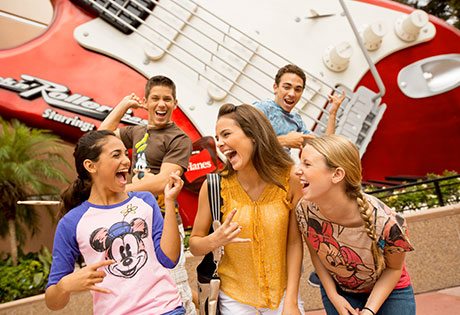 Sunset Boulevard
Based on the real Sunset Boulevard, the highlight of this area is the iconic attraction, The Twilight Zone Tower of Terror. Other attractions include the popular coaster - Rock 'n' Roller Coaster Starring Aerosmith - a thrill ride with speeds up to 60 MPH, Beauty and the Beast Live on Stage, and the nighttime show, Fantasmic!
---
---
---
A Galaxy Far, Far Away
---
Star Wars fans will find a galaxy far, far away right here at the Lake Buena Vista, FL theme park. A variety of Star Wars experiences are available in the expansive new Star Wars: Galaxy's Edge - a 14-acre Star Wars land filled with your favorite Star Wars adventures. Enjoy incredible rides, visit Star Wars locations on planet Batuu, meet Star Wars characters, discover Star Wars movie props and shop for plenty of Star Wars merchandise.
"Star Wars: A Galaxy Far, Far Away" is performed on Center Stage in front of the park's iconic Chinese Theater and features memorable moments from the Star Wars film saga. Guests can also expect appearances from Star Wars characters such as Darth Vader, Chewbacca, Darth Maul and Kylo Ren.
The live action stage show is just one of the new attractions at theme park. Keep your eyes peeled for the excitement as a Stormtroopers procession takes place several times a day. Captain Phasma will lead a platoon of Stormtroopers from the new Star War Launch Bay attraction through the park to the Center Stage.
The park also features the fireworks show, "Star Wars: A Galactic Spectacular." The nightly tribute features fireworks, pyrotechnics, video projections and special effects including a tower of fire and spotlight beams that create giant lightsabers in the nighttime sky.
Star Tours

The Adventures Continue – updated with details from Star Wars: The Force Awakens film.
Launch Bay

View replica movie props, models & costumes and meet & greets with star-studded Characters like Chewbacca and Darth Vader.
---
Disney's Largest Themed Expansion
Star Wars: Galaxy's Edge at Disney's Hollywood Studios is the largest, single-themed expansion ever added to a Disney park. Filled with extraordinary rides, attractions, character greetings, restaurants, shops and entertainment, the land immerses guests in a Star Wars universe that is home to an array of rogue traders, adventurers and smugglers. Experience rides like Star Wars: Rise of the Resistance and Millenium Falcon: Smugglers Run. Build your own custom lightsaber at Savi's Workshop, Build a droid at Droid Depot, eat at Oga's Cantina or shop at the Creature Stall.
Additional Entertainment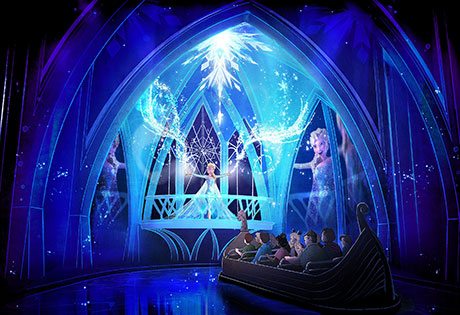 Experience plenty of Frozen Fun - Despite the warm Florida sunshine, you'll find plenty of FROZEN fun at Disney's Hollywood Studios. Join stars Anna and Elsa from the Disney blockbuster film "Frozen" in a special musical extravaganza - For the First Time in Forever: A Frozen Sing-Along Celebration. The royal sisters are also featured in a special procession through the park.
---
---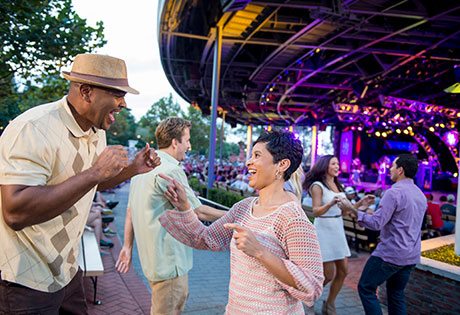 Enjoy Live Performances - You'll also find plenty of other Disney Hollywood Studios stage performances, including Beauty and the Beast – Live on Stage, Disney Junior – Live on Stage, Indiana Jones Epic Stunt Spectacular, and the revved up car adventure, Lights, Motors, Action! Extreme Stunt Show, a fiery extravaganza featuring stunt cars, motorcycles, jet skis and more.
---
---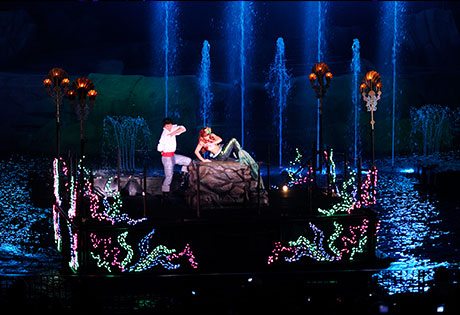 Fantastic Fantasmic! - One of the ultimate highlights at Disney Hollywood Studios Florida is Fantasmic! The mixed media show is staged on an island opposite a massive amphitheater that can hold close to 10,000 guests. The show, starring Mickey Mouse as the Sorcerer's Apprentice from Fantasia, combines lasers, projected images, fireworks, lighting and music to create a stunning spectacle filled with virtually every Disney Character.
---
---
On-site dining options at Disney's Hollywood Studios include quick service and table-service options such as PizzeRizzo, Dine with an Imagineer, The Hollywood Brown Derby, The Trolley Car Cafe and more.
Additional Disney Links
---
---
---
3 Days/2 Nights
+ $300 VISA Gift Card $259
Plan your Disney World Vacation at a fraction of the cost!
Call Today 1-877-288-7422