Disney's Hollywood Studios
Experience the magic of show business at Disney's Hollywood Studios, located in the heart of Walt Disney World near Orlando, FL. From the moment you and your family enter Hollywood Boulevard you will be amazed as the mundane world transforms into a technicolor dream. You will be teleported back in time to a whimsical fusion of neon, chrome, and art deco of classic Hollywood.
At Disney's Hollywood Studios, you're more than a spectator — you and your little ones are the stars! Journey from the golden era of Hollywood to the forefront of entertainment. Revel in a world where rock 'n' roll fantasies come to life, and Broadway-style performances ignite your imagination. You'll be enthralled by the unique blend of nostalgic classics and contemporary entertainment. Indulge in the ultimate Hollywood experience, complete with exclusive opportunities to peek behind the scenes. Unveil the enchanting realm of Tinseltown, Disney-style, and savor your starring role in this unforgettable adventure!
---

---
Areas Around Disney's Hollywood Studios
Experience a kaleidoscope of cinematic wonder at Disney's Hollywood Studios, where eight distinct themed areas await exploration. Each provides an immersive journey through different facets of film and TV. Unveil the magic of Hollywood, embracing the charm of yesteryears and the allure of today's entertainment world in this unforgettable adventure!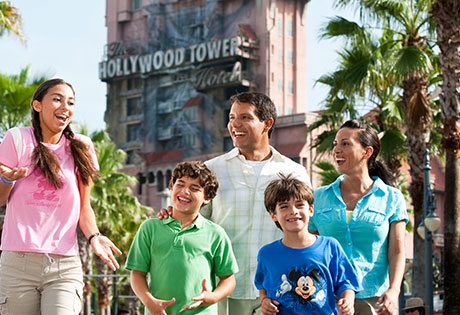 Hollywood Boulevard
The park's main entrance, the boulevard is lined with shops, in a style reminiscent of Hollywood Boulevard in Los Angeles. The street also features parades and attractions such as the replica of the landmark Chinese Theater, The Great Movie Ride and a replica of the Brown Derby restaurant.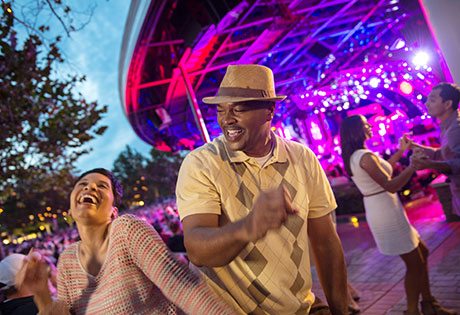 Grand Avenue
Originally a working backlot set, this area features facades that resemble New York City and San Francisco. Attractions include Muppet Vision 3D and dining such as PizzeRizzo and BaseLine Tap House.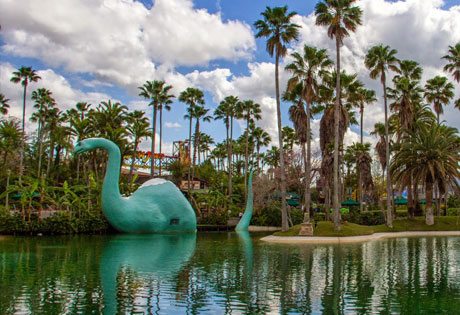 Echo Lake
Representing the "California Crazy" architecture from Hollywood's Golden Age, this area features a small lagoon shaped in the form of one of Mickey's ears. Key attractions include an ABC Sound Studio, Star Wars Star Tours - The Adventures Continue, The Jedi Training Academy, Indiana Jones Epic Stunt Spectacular, Steven Spielberg's Raiders of the Lost Ark stunt show, the Sci-Fi Dine-In Restaurant and more.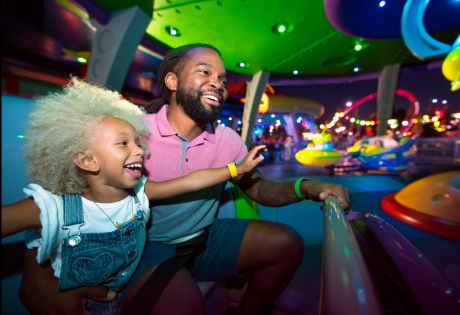 Toy Story Land
Shrink down to the size of a toy as Toy Story Land is filled with playful theming, whimsical details, and toy-inspired structures. You'll find oversized versions of familiar toys like building blocks, game board pieces, and a life-size Woody! Main attractions include Slinky Dog Dash, Alien Swirling Saucers, and Toy Story Mania!
---
Yes, you can customize your own vacation package!
Call us now 1-877-288-7422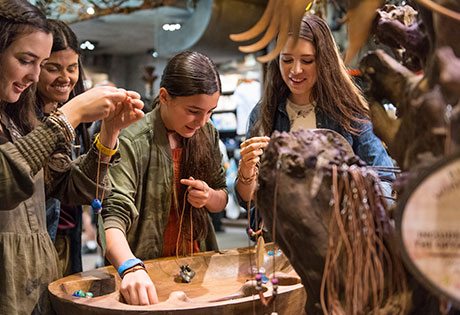 Animation Courtyard
Immerse yourself in the magic of Animation Courtyard at Disney's Hollywood Studios. Unearth Walt Disney's creative legacy, journey through mesmerizing exhibits, and get enthralled by enthralling stage shows like Voyage of the Little Mermaid.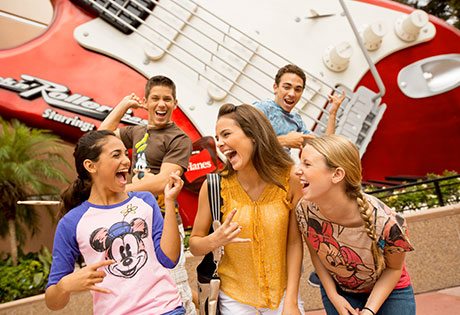 Sunset Boulevard
Based on the real Sunset Boulevard, the highlight of this area is the iconic attraction, The Twilight Zone Tower of Terror. Other attractions include the popular coaster - Rock 'n' Roller Coaster Starring Aerosmith - a thrill ride with speeds up to 60 MPH, Beauty and the Beast Live on Stage, and the nighttime show, Fantasmic!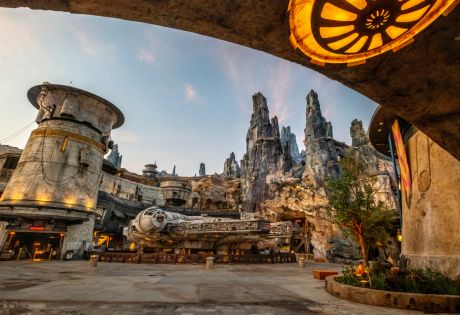 Star Wars: Galaxy's Edge
Venture into Star Wars: Galaxy's Edge at Disney's Hollywood Studios. Immerse yourself in a galaxy far, far away. Pilot the Millennium Falcon, join the Resistance, or sample exotic galactic cuisines—experience Star Wars like never before in this epic adventure. Be sure to check out the great rides and attractions, along with the famous drinks and food courts!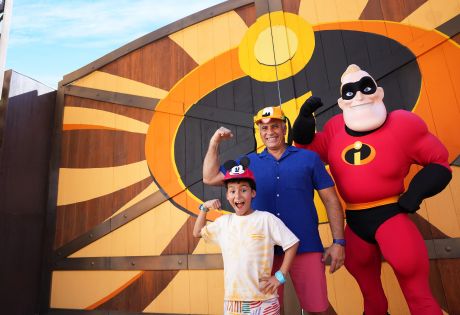 Commissary Lane
Embark on a delightful detour down Commissary Lane at Disney's Hollywood Studios! Immerse yourself in the glitz of golden-era Hollywood, savoring tantalizing cuisines and engaging attractions. Experience this charming avenue that keeps the classic spirit of Tinseltown alive!
---
Magical Disney Vacation Packages
Additional Entertainment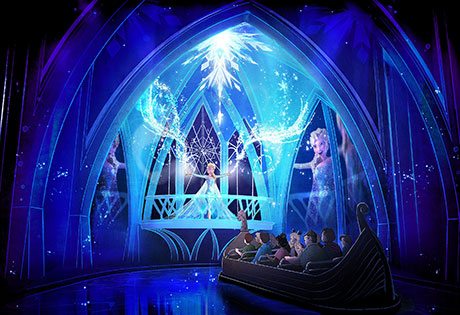 Experience plenty of Frozen Fun - Despite the warm Florida sunshine, you'll find plenty of FROZEN fun at Disney's Hollywood Studios. Join stars Anna and Elsa from the Disney blockbuster film "Frozen" in a special musical extravaganza - For the First Time in Forever: A Frozen Sing-Along Celebration. The royal sisters are also featured in a special procession through the park.
---
---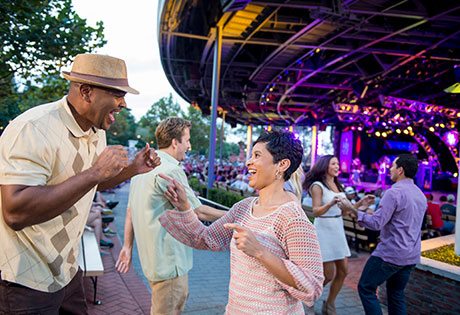 Enjoy Live Performances - You'll also find plenty of other Disney Hollywood Studios stage performances, including Beauty and the Beast – Live on Stage, Disney Junior – Live on Stage, and Indiana Jones Epic Stunt Spectacular.
---
---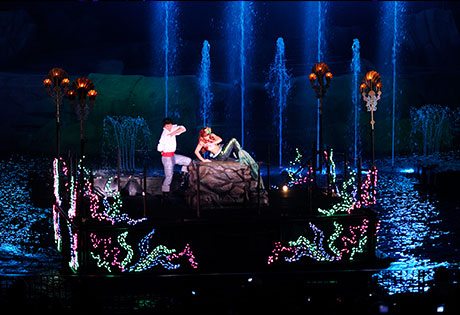 Fantastic Fantasmic! - One of the ultimate highlights at Disney Hollywood Studios Florida is Fantasmic! The mixed media show is staged on an island opposite a massive amphitheater that can hold close to 10,000 guests. The show, starring Mickey Mouse as the Sorcerer's Apprentice from Fantasia, combines lasers, projected images, fireworks, lighting and music to create a stunning spectacle filled with virtually every Disney Character.
---
---
On-site dining options at Disney's Hollywood Studios include quick service and table-service options such as Hollywood & Vine, 50's Prime Time Café, Mama Melrose's Ristorante Italiano, and Roundup Rodeo BBQ.
Looking For Resorts Near Disney Hollywood Studios?
What could be better than staying just moments away from the magic of the Disney Parks? We've got you covered with our resorts near Disney World that will put you right in the heart of it all.
---
Tips to Have a Great Trip to Disney Hollywood Studios
From shortening wait times to savoring must-try treats, we've curated strategies for an unforgettable adventure. Let us guide you through Hollywood, Disney-style, for an experience that will truly be worthy of the spotlight with a brief overview of the main policies that will impact your experience in Disney Hollywood Studios.
Parking at Hollywood Studios: Parking at Hollywood Studios is efficient and convenient, perfect for those bringing their own vehicles. Trams shuttle visitors from distant parking spots to the front gate, ensuring a seamless start to your Hollywood adventure.
Outside Food: Bring your favorite snacks along for the day! Note that glass containers and alcohol are not allowed, and for Animal Kingdom's safety, straws are also forbidden. Stay fueled for your magical journey!
Coolers: Pack your picnic in a small cooler that doesn't exceed 24″ by 15″ by 18″, and be sure to check that your cooler doesn't exceed the park's size guidelines. Remember, loose or dry ice isn't permitted, so opt for an ice pack to keep your items cool.
Wagons: For the safety and comfort of all guests, items pulled behind you, including wagons, are prohibited. This ensures a smooth, unhindered Disney experience for everyone.
Selfie Sticks: Please leave your selfie sticks at home. They're not permitted in Disney World parks, allowing for safer, unobstructed views of the magic around you.
Frequently Asked Questions

What does Disney Hollywood Studios include? Disney's Hollywood Studios has over 20 rides and live shows, as well as characters that roam the park for a quick picture. Is Disney Hollywood Studios worth it? Absolutely. Even if you're not a Star Wars fan, there are tons of things to do and rides to enjoy. Are there restrictions on what I can bring into Disney's Hollywood Studios? Certain items, including wagons, selfie sticks, and large coolers, are not allowed for safety and comfort reasons. Check Disney's official website for a complete list to ensure a seamless park entry. What is the best way to navigate Disney's Hollywood Studios? Utilize the park map and Disney's mobile app to guide your exploration. Both provide real-time information on showtimes, dining, attractions, and more to help you maximize your Hollywood Studios experience.
Additional Disney Links
---
---
---
3 Days/2 Nights
+ $300 VISA Gift Card $259
Plan your Disney World Vacation at a fraction of the cost!
Call Today 1-877-288-7422