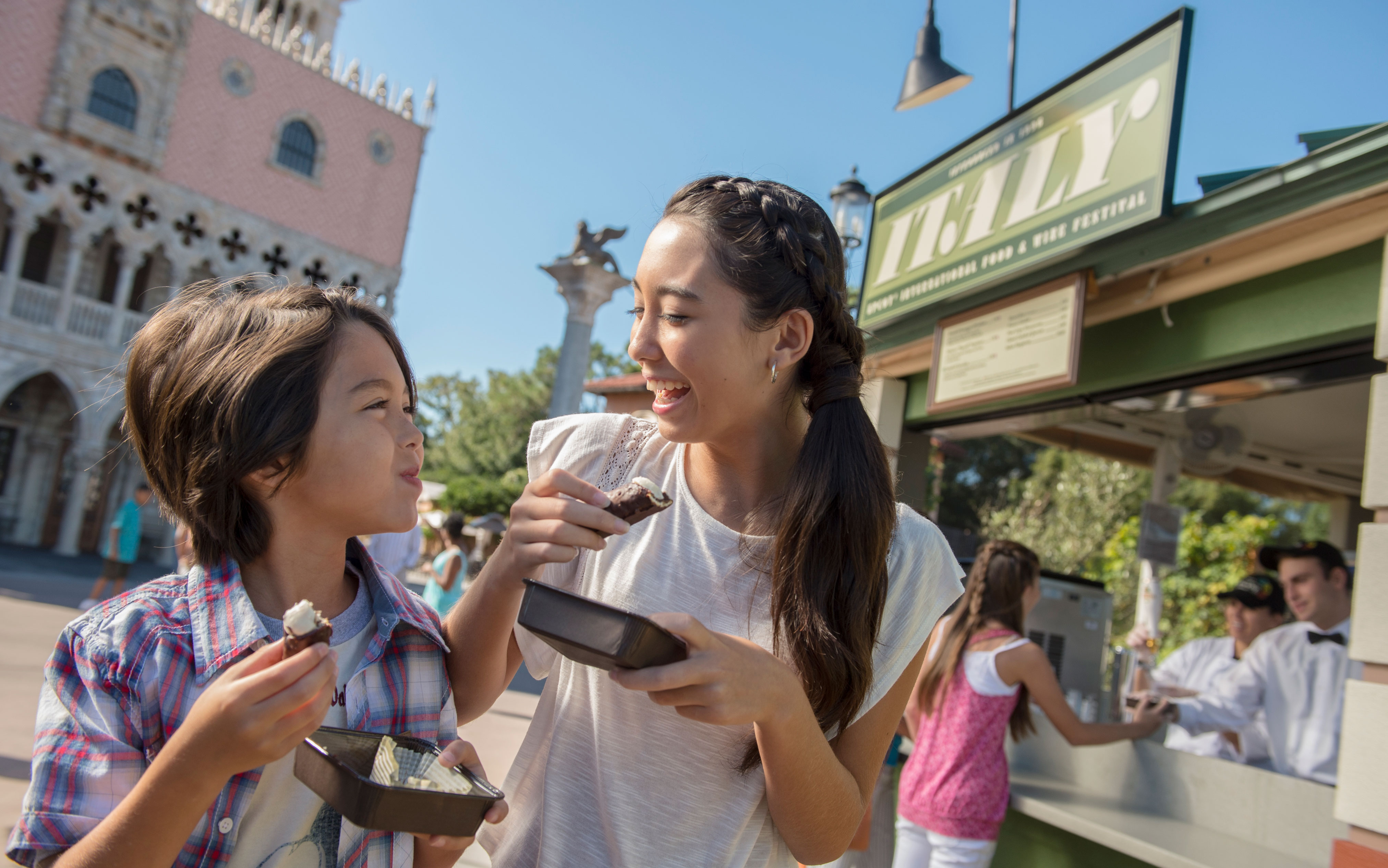 ---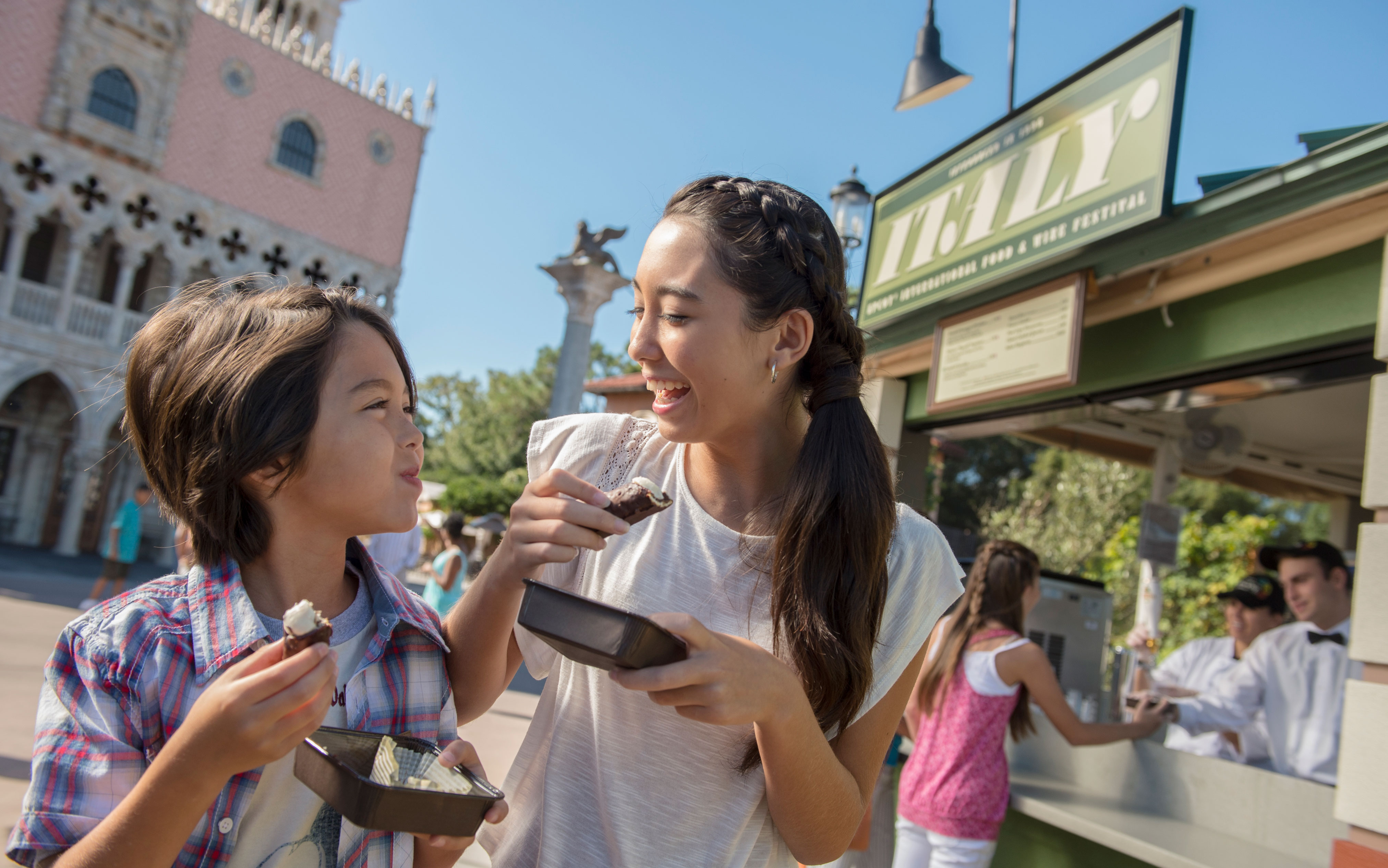 ---
---
Epcot - Walt Disney World
Discover EPCOT, Disney's captivating realm where imagination meets the world's diverse cultures. This great destination seamlessly blends futuristic innovations with rich global traditions.
Contrary to what some would believe, Epcot is not just a Disney World Resort theme park for mom and dad. In fact, it's a park with some spectacular rides, unique animal interactions, exciting live shows and a spectacular nighttime display the entire family will enjoy. Epcot is also home to two of Disney's most popular annual events - the International Flower & Garden Festival and the International Food & Wine Festival.
Here, every corner promises discovery, from tantalizing world cuisines to immersive country pavilions. Prepare for a world of wonder only Disney can offer.
---
Lowest Rates on Disney Vacations
---
Explore the Neighborhoods of EPCOT Disney
EPCOT at Disney allows you and your family to journey through four neighborhoods, each with its own enchanting destinations, where reality dances with the fantastical, igniting a passion for exploration. Let's dive into the EPCOT experience and be part of the magic!
---
World Celebration
Experience the heartbeat of EPCOT at World Celebration! Journey through a tapestry of cultures where families unite in global festivities. Sample exotic cuisines, be captivated by authentic performances, and immerse in traditions from far-off lands. Perfect for the curious family seeking wonder and connection in every corner. With so many exciting attractions to visit, we wanted to highlight some of our favorite spots to visit:
Spaceship Earth: Journey through time inside EPCOT's iconic geodesic sphere, where the history of human communication unfolds in a mesmerizing tableau. Spaceship Earth is the symbolic heart of Disney's vision.
Connections Eatery: Satiate your wanderlust at Connections Eatery. Experience global-inspired dishes in an ambiance echoing EPCOT's unified spirit. A culinary voyage celebrating global connections.
Creations Shop: Discover EPCOT-inspired treasures at Creations Shop. From exclusive merchandise to imaginative souvenirs, it's a modern marketplace celebrating creativity and the magic of Disney.
---
World Discovery
Discover tomorrow, today, at EPCOT's World Discovery! Propel into the future with cutting-edge attractions and exhilarating experiences. This EPCOT neighborhood is designed for curious families and thrill-seekers, where innovation meets imagination. Embark on adventures that blend science's wonders with Disney's magic! Here are a few of the favorite attractions to visit while at World Discovery in EPCOT:
Guardians of the Galaxy: Rocket into an interstellar adventure with the Guardians. This thrilling attraction merges storytelling and groundbreaking tech for a cosmic ride that's truly out of this world.
Test Track: Rev up for exhilaration on Test Track. Design a virtual concept car and test its mettle on the track's demanding circuits. It's high-octane fun meets innovation!
Space 220 Restaurant: Dine among the stars at Space 220. Experience gastronomic wonders while gazing at panoramic cosmic vistas. Elevate your culinary journey to intergalactic heights!
Mission: SPACE: Prepare for liftoff! Experience the awe and intensity of space travel on Mission: SPACE. Train like an astronaut and embark on a breathtaking journey to the Red Planet.
---
World Nature
Discover World Nature at EPCOT, a mesmerizing tribute to Earth's beauty. Families can dive into enchanting environments, from lush landscapes to aquatic wonders. Perfect for those seeking both education and wonder, it's a journey that celebrates our planet's magnificent tapestry, ensuring memories that last a lifetime. Families enjoy all of the attractions in this area of EPCOT, like:
Turtle Talk with Crush: Dive into interactive fun with Crush, the animated sea turtle. In this immersive, fantastic chat, engage in real-time, undersea conversations and experience ocean wonders!
The Seas with Nemo & Friends: Embark on an underwater quest with Nemo and pals. Glide through vibrant marine habitats, discovering beloved characters and the mysteries of the deep blue.
Soaring' Around the World: Take flight on a breathtaking aerial tour! From majestic landmarks to hidden gems, Soarin' offers a panoramic journey across our planet's most iconic vistas.
Coral Reef Restaurant: Dine amidst a mesmerizing aquatic backdrop at Coral Reef. Savor gourmet dishes while watching vibrant sea life glide past expansive underwater windows—a feast for all senses!
---
World Showcase
Discover the magic of World Showcase at EPCOT! Journey through 11 countries in one day, savoring authentic cuisine, thrilling performances, and ageless traditions. A family favorite, this EPCOT gem invites you to globe-trot without leaving Disney, creating memories and sparking curiosity in every heart. Experience the wonders that only Disney can offer with some of the top attractions in World Showcase like:
Remy's Ratatouille Adventure: Whisked into Remy's culinary world, embark on a tantalizing journey. Shrink to rat-size, navigating a bustling Parisian kitchen—inspired by Pixar's classic, Ratatouille. A delightful dash of Disney magic!
Frozen Ever After: Sail through Arendelle's enchanted waters. Relive Elsa, Anna, and Olaf's magical moments in this frosty adventure, where songs and snowflakes captivate at every turn.
Gran Fiesta Tour Starring The Three Caballeros: Join Panchito, José, and Donald Duck on a lively boat ride. Dive into Mexico's rich heritage, vibrancy, and festive spirit. A serenade of culture and color awaits!
EPCOT Forever: Look to the skies as EPCOT's legacy illuminates the night. EPCOT Forever is a tribute to fireworks, celebrating dreams and tomorrows. A mesmerizing spectacle, lighting the way to the future.
---
---
---
---
Start Planning your Orlando Resort Experience!
Need Help? Contact Us!
---
MON-FRI:
9:00AM - 10:00PM EST
SAT
10:00AM - 6:00PM EST
SAT-SUN:
Closed
Tips to Have a Great Trip to EPCOT Disney
Plan Ahead with FastPass+
Unlock the best of EPCOT by leveraging the power of FastPass+. With attractions in high demand, this tool lets you reserve access to select shows, attractions, and character meet-and-greets. By planning your day's adventures ahead of time, you not only ensure a smoother park experience but also optimize your family's magical moments. The FastPass+ can be a lifesaver for families with younger children or who travel in a larger group. Always remember: the sooner you book, the more options you'll have available!
Discover Kidcot Fun Stops
Transform your EPCOT adventure into an educational escapade with Kidcot Fun Stops. Scattered throughout World Showcase, these stations offer children engaging activities, teaching them about the respective country's culture. As they collect stamps and create themed crafts, your little explorers will have an enriching experience, all while you revel in the global ambiance. It's a delightful blend of fun and learning that can keep younger children (and adults) entertained and motivated to see more of EPCOT!
Take Advantage Of Early Entrance
Consider arriving right at the park opening to make the most of EPCOT's wonders. The early hours often mean shorter lines, cooler weather, and a quieter ambiance. This early-bird approach allows your family to experience top attractions without the typical afternoon crowds, and you can avoid the hot weather of Central Florida afternoons. Plus, starting early gives you a head start on your itinerary, ensuring a relaxed daily pace.
Visit On Weekdays
Seeking a more tranquil EPCOT experience? Opt for a weekday visit. Weekends, especially during special events or festivals, can draw larger crowds, meaning longer wait times at your favorite attractions. By choosing a weekday, you'll likely encounter shorter wait times, fewer visitors, and a more relaxed atmosphere. This way, your family can savor each attraction, show, and dining experience without feeling rushed or overwhelmed.
Download The Disney App
Empower your EPCOT adventure with the official Disney World app. This digital companion offers real-time wait times, mobile food ordering, virtual queues, and park maps. Stay updated on show character appearances, and even locate the nearest restrooms. This tool will streamline your day, helping your family navigate EPCOT with ease and confidence.
EPCOT Disney FAQs
Can I bring my own food and drinks into EPCOT?
Yes, guests can bring their own snacks and non-alcoholic drinks. Ensure items are not in glass containers and avoid large coolers.
Is EPCOT suitable for young children?
Absolutely! EPCOT offers attractions for all ages, including kid-friendly rides, interactive experiences, and entertaining shows. Kidcot Fun Stops are a particular highlight for little ones.
How much time should we allocate for a visit?
Ideally, dedicate a full day to explore EPCOT thoroughly. With Future World and World Showcase combined, there's plenty to see, do, and savor for the entire family.
How much is parking at Epcot?
Standard Parking for all Walt Disney World theme parks is currently $25 per car, per day.
---
Start Planning your Orlando Vacation
Resort Stays just minutes from Disney