Typhoon Lagoon Orlando
Twisting tides, roaring rapids and giant waves!

According to Disney legend, a furious storm once roared across the sea, hurling surfboards into trees, blowing small boats through roofs and throwing a shrimp boat onto the peak of a volcano. Yet amidst all that destruction, the typhoon left in its wake a water park filled with twisting tides, rip-roaring rapids, wacky waterways and relaxing lazy rivers – Disney's Typhoon Lagoon!
Visitors enjoy free parking and a short walk into the park. With the warm Florida sunshine and lush greenery, you'll quickly feel transported into a tropical oasis. Winding pathways take you from attraction to attraction but with ample shade and water sprinkling onto the pathways your bare feet will stay cool.
While surrounded by thrilling slides and other aquatic adventures, the centerpiece of Typhoon Lagoon is a massive surf pool that ranges from gentle waves to giant, cresting 6-foot waves.
Magical Disney vacation packages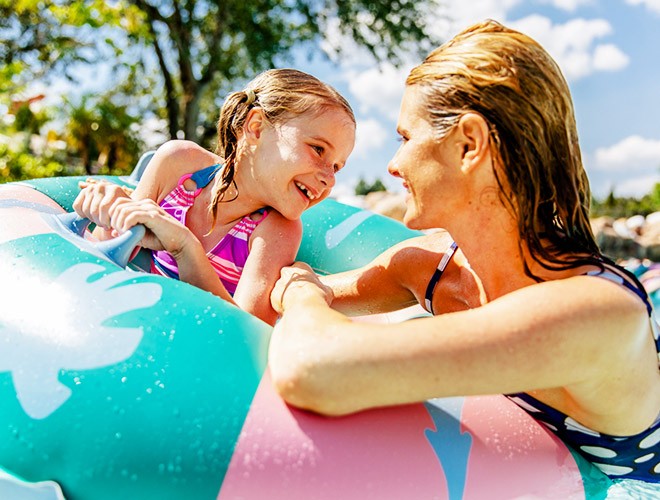 Castaway Creek – Hop aboard your inner tube and sail down as 2,100-foot continuous river raft ride, winding through Typhoon Lagoon rain forests, caves, grottos, waterfalls and more.
Gangplank Falls – The entire family can climb aboard this giant inner tube and then careen down rushing rapids and through some wet and wacky water effects that are sure to get everyone good and soaked.
Humunga Kowabunga – Get ready for a wild ride as you reach speeds up to 30 mph while racing down one of the three enclosed slides and through caves on this 214-foot ride.
Crush "N" Gusher – Wind your way through an abandoned tropical fruit processing center, then climb into a raft and choose from three different slides. You'll be propelled through twists and turns, tunnels and spillways as you fly toward a final thrilling plunge into Hideaway Bay.
Mayday Falls – Travel down the "soft foam" slides and enjoy the Typhoon Lagoon scenery along the way.
Shark Reef – This coral-reef environment features an observation area, both above and under the water. This is your chance to snorkel with live sharks and other tropical fish.
Storm Slides – This series of body slides propels guests through caves, waterfalls, geysers and features a 36-foot drop into bubbling pools.
Wave Pools – Surfs up at this body-surfing wave pool with waves up to six feet tall. A continuous two-hour cycle begins when the park opens and features 90 minutes of surf waves, five minutes of calm, ten minutes of bobbing waves, five minutes of calm, ten minutes of bobbing waves and finally ten minutes of calm.
Ketchakiddee Creek – This Typhoon Lagoon children's play area – for those under 48 inches tall – features 10 different activity areas with slides, floating boats, music and ball fountains, waterfalls and squirting animals.
---
3 Days/2 Nights
+ $300 VISA Gift Card $259
Plan your Disney World Vacation at a fraction of the cost!
Call Today 1-877-288-7422