Vacation Packages Resorts Nearby FAQs
Disney's Blizzard Beach Water Park Orlando
Cool off at the hottest beach in Orlando Florida!
As you take that short, delightful stroll into this magical paradise within Walt Disney World Resort, prepare to be transported into a whole new world! Behold, a mesmerizing landscape unfolds before your very eyes, adorned with whimsical faux snow banks and a majestic ski jump reaching for the sky.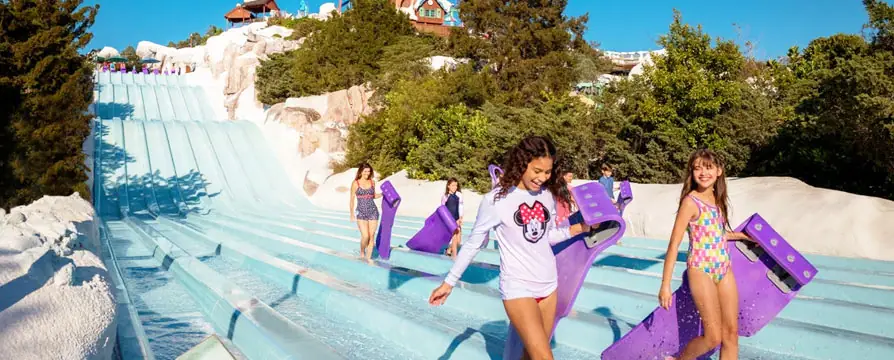 At the top of the jump, you'll find Blizzard Beach's centerpiece, Summit Plummet - a near-vertical drop slide - one of the tallest and fastest freefall body slides in the world. Reached by stairs or ski lift, you can head to the top of Mount Gushmore for a chance to enjoy a 12-story plunge with your speed recorded by a digital stop clock.
Need Tickets? Get Discount Disney Tickets Today
Magical Disney Vacation Packages
Discount Disney packages are available now! Call 1-877-288-7422
Need Help? Contact Us!
---
MON-FRI:
9:00AM - 10:00PM EST
SAT
10:00AM - 6:00PM EST
SAT-SUN:
Closed
Looking For Resorts Near Disney's Blizzard Beach?
What could be better than staying just moments away from the magic of the Disney Parks? We've got you covered with our resorts near Disney World that will put you right in the heart of it all.
Discover Disney's Beach Water Park Orlando Attractions
Downhill Double Dipper – Shoot the tube and blast down parallel, 230-foot-long slopes at 25 mph! These side-by-side paths will send you down a double dip hill on an your inner tube before disappearing into a tunnel and then re-emerging just before a final splashdown.
Wave Pool- Step into a world of aquatic wonder at Blizzard Beach's Wave Pool. Feel the thrill as you ride the waves, mimicking the gentle ebb and flow of the ocean. Whether you choose to relax on a raft or dive right in, this wave pool is sure to make a splash.
Cross Country Creek- Embark on a scenic journey along the meandering Cross Country Creek. lazy river. Hop onto an inner tube and let the current carry you through lush landscapes and hidden grotto around the entire park. Take in the stunning views as you float by, feeling completely immersed in nature's beauty.
Ski Patrol Training Camp- Calling all aspiring snow enthusiasts! Make your way to the heart of Blizzard Beach and join the Ski Patrol Training Camp. This interactive play area is perfect for young adventurers (age 5-11) looking to hone their winter skills. Test your agility on the T-Bar drop, navigate the challenging ice flows, and conquer the slippery slopes of the zip line. With each obstacle conquered, you'll feel a rush of triumph as you train alongside Disney characters and embrace the spirit of adventure.
Blizzard Beach Chair Lift Gondola- Soar above the park in the iconic Blizzard Beach Chairlift. Take in breathtaking views of the water slides, wave pool, and lazy river as you glide through the air. Feel the wind in your hair and the excitement building as you get a bird's eye view of all the fun happening below. It's an experience like no other and a great way to capture unforgettable memories of your visit to Disney's Blizzard Beach Water Park Orlando.
Slush Gusher – Got a need for speed? Try sailing down the 90-foot tall Mount Gushmore where two humps create brisk fun-filled ups and downs on your journey to the bottom of the powder-capped mountain.
Summit Plummet – Only the bravest dare challenge this vertical plunge from the top of the world's tallest and fastest free-fall body slide. This towering, 120-foot ski jump of a thrill ride sends you hurtling down the slopes of Mount Gushmore at 55 miles per hour along the 360-foot long track.
Tobaggan Racers – Race in one of eight side-by-side toboggan lanes that shoot you swiftly down a snowy mountain terrain. Grip your mat and sail across the fun-filled dips as you make your final charge to the finish line.
Snow Stormers – Hop on a slippery mat and race your friends and family down the slopes and through a curvy path marked by the ski-style slalom gates. Choose from one of three different downhill courses, but rest assured they all finish with a refreshing plunge into a pool at the bottom.
Tike's Peak – Little ones at Blizzard Beach will love this polar-themed play area with pint-sized slides, a mini inner-tube slide, and other aquatic fun and activities for those under 48-inches tall.
Cross Country Creek - This tranquil lazy river winds its way around the entire water park, offering guests a chance to unwind and enjoy the scenic surroundings.
Runoff Rapids- Get ready for an exhilarating water adventure at Disney's Blizzard Beach Water Park in Orlando! As you embark on your thrilling journey, hop on your inner tube and experience the excitement of dipping down a hill before disappearing into a tunnel, only to re-emerge just in time for a final splashdown.
Toboggan Racers- Experience the adrenaline rush as you compete against your friends and family in the exhilarating Toboggan Racers at Disney's Blizzard Beach Water Park in Orlando. Take your position on one of the eight side-by-side lanes and launch yourself down a snowy mountain terrain. Feel the wind in your hair as you speed through dips and turns, gripping your mat with determination. Push yourself to reach the finish line first and claim victory in this thrilling race.
Snow-Castle Fountain Play Area- At Disney's Blizzard Beach Water Park in Orlando, the Snow Castle Fountain Play Area is a magical kingdom for little ones. They will be enthralled by the towering snow castle with its cascading waterfalls and interactive fountains. Watch as their imaginations run wild while they splash and play in this whimsical wonderland.
Melt-Away Bay- Dive into relaxation at Melt-Away Bay, a tranquil oasis amidst the excitement of Disney's Blizzard Beach Water Park in Orlando. Float lazily on an inner tube or wade through the crystal-clear waters as gentle waves roll by.
Read:
The Ultimate Packing Guide Visiting Water Parks With Family
Frequently Asked Questions
Are There Characters At Blizzard Beach?
Yes, there are characters at Disney's Blizzard Beach Water Park! Get ready to meet some of your favorite Disney friends as they make special appearances at the water park. From Mickey and Minnie Mouse to Goofy and Donald Duck, you never know who you might encounter while splashing around in the magical world of Blizzard Beach.
Does Blizzard Beach Provide Towels?
Yes, Blizzard Beach provides towels for guests to use for a small fee. So you don't have to worry about if you forgot to pack extra towels for your water park adventure. Simply grab a towel upon arrival and enjoy your day of fun in the sun at Disney's Blizzard Beach Water Park in Orlando.
How Many Slides Are At Blizzard Beach?
Is Blizzard Beach Included In A Park Hopper Pass?
How Can I Get To Blizzard Beach From Universal Studios?
To get to Disney's Blizzard Beach Water Park Orlando from Universal Studios, you can take a taxi, use a rideshare service like Uber or Lyft, or take advantage of the various transportation options provided by Disney World, such as buses or the Disney Skyliner.
Helpful Links
---
3 Days/2 Nights
+ $300 VISA Gift Card $259
Plan your Disney World Vacation at a fraction of the cost!
Call Today 1-877-288-7422