Blizzard Beach Orlando
Cool off at the hottest beach in Orlando!

With free parking and a short walk into the park, visitors to Disney's Blizzard Beach water park are greeted with Florida's warm sunshine and lots of lush green landscaping. But venture a little deeper into the Blizzard Beach park and you'll soon discover a much different world, highlighted by faux snow banks and a towering ski jump.
At the top of the jump, you'll find Blizzard Beach's centerpiece, Summit Plummet - a near-vertical drop slide - one of the tallest and fastest freefall body slides in the world. Reached by stairs or ski lift, you can head to the top of Mount Gushmore for a chance to enjoy a 12-story plunge with your speed recorded by a digital stop clock.
Magical Disney vacation packages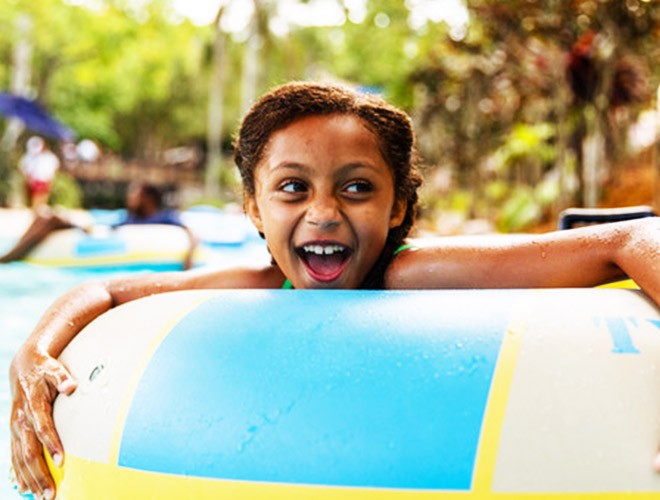 Downhill Double Dipper – Shoot the tube and blast down parallel, 230-foot-long slopes at 25 mph! These side-by-side paths will send you down a double dip hill on an your inner tube before disappearing into a tunnel and then re-emerging just before a final splashdown.
Slush Gusher – Got a need for speed? Try sailing down the 90-foot tall Mount Gushmore where two humps create brisk fun-filled ups and downs on your journey to the bottom of the powder-capped mountain.
Summit Plummet – Only the bravest dare challenge this vertical plunge from the top of the world's tallest and fastest free-fall body slide. This towering, 120-foot ski jump of a thrill ride sends you hurtling down the slopes of Mount Gushmore at 55 miles per hour along the 360-foot long track.
Tobaggan Racers – Race in one of eight side-by-side toboggan lanes that shoot you swiftly down a snowy mountain terrain. Grip your mat and sail across the fun-filled dips as you make your final charge to the finish line.
Snow Stormers – Hop on a slippery mat and race your friends and family down the slopes and through a curvy path marked by the ski-style slalom gates. Choose from one of three different downhill courses, but rest assured they all finish with a refreshing plunge into a pool at the bottom.
Tike's Peak – Little ones at Blizzard Beach will love this polar-themed play area with pint-sized slides, a mini inner-tube slide, and other aquatic fun and activities for those under 48-inches tall.
---
3 Days/2 Nights
+ $300 VISA Gift Card $259
Plan your Disney World Vacation at a fraction of the cost!
Call Today 1-877-288-7422