Food, Drink and Entertainment - it's all part of the fun at the annual Epcot International Food & Wine Festival at Walt Disney World, running August 29-November 23, 2019. Don't miss this amazing celebration of global cuisines, popular music and theme park adventure.
In addition to spectacular fall weather in central Florida, you'll enjoy flavorful foods, craft beers and wines, celebrity chef cooking demos and unique dining opportunities. Discover amazing menus and new culinary trends. Meet master mixologists, wine experts and celebrated chefs. Attend beverage seminars or cheese seminars. Or simply kick back and experience the sounds of the '70s, '80s and '90s at the outdoor Eat to the Beat Concert Series. There's even a special Sunday Brunch where guests can dine with a culinary TV personality and discover the secret ingredients to their success. Held at the World ShowPlace Events Pavilion, the Brunch is an ideal opportunity for foodies to enjoy a spread of flavorful dishes while enjoying a meet and greet with the celebrity chef.
The popular culinary celebration is included with regular Epcot admission and the party seems to get bigger and better every year! While many of the festival events are free of charge, some premium experiences, as well as food and beverage tasting, comes at an added cost.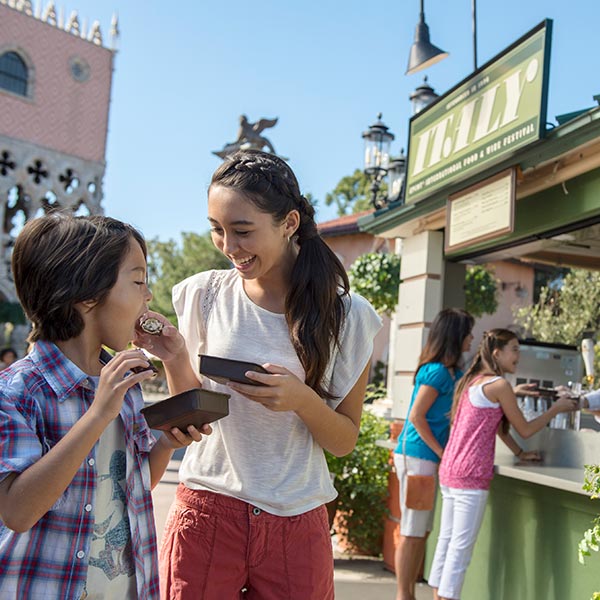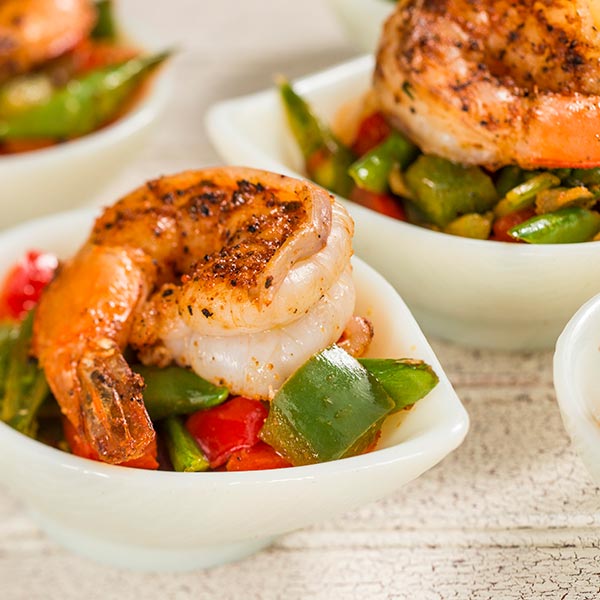 ---
Explore a World of Flavors
Taste your way around the world with a seemingly endless selection of food and flavors. You can please your palate with mouth watering samples of international favorites. Visit Africa for Kenyan Coffee Barbecue Beef Tenderloin with Sweet Potato and Corn Mealie Pap and Kachumbari Slaw. Try the Grilled Sweet and Spicy Bushberry Shrimp with Pineapple, Pepper, Onion and Snap Peas at Australia. Fill up on Beer-braised Beef served with Smoked Gouda Mashed Potatoes in Belgium or taste the Le Cellier Wild Mushroom Beef Filet Mignon with Truffle-Butter Sauce from Canada. Other culinary stops offering epicurean delights include Brazil, China, the south Pacific, France, Germany, Greece, Hawaii, India, Ireland, Islands of the Caribbean, Italy, Japan, Mexico, Morocco, Polynesian, Latin, Norwegian, New Zealand, Spain and Thailand. You can also try craft brews, fine wines, mimosas, spicy bites, healthy snacks, chocolate confections, seafood, sushi, non-alcoholic drinks and more.
You'll find more than 30 global marketplace food booths and kiosks located within the World Showcase. Just see what looks taste tempting. Appetizer-sized portions generally range in price from $4-$8 and drinks range from $3-$6. Disney Dining Plan credits can be used for many items. Or you can purchase an event gift card to use along your way.
Discover Events for Every Interest
Beyond the food and beverages, you'll find plenty of other options as you traverse Epcot's Future World and World Showcase. Get an event map and shop for special event merchandise, trading pins, apparel and decor at the Festival Center. Meet celebrity chefs and personalities like Aarti Sequeira, Brad Kilgore, Claudia Sandoval, Fabio Viviani, Jamie Simpson, Derek Paradise and many others. Sharpen your own cooking or mixology skills at culinary demonstrations where you'll learn special tips and tricks from the pros while savoring the exquisite flavors from each presentation. Pop a cork on your wine tasting skills with adult beverage seminars. Explore fun food and drink preparation techniques. Learn to make tasty treats for your next football tailgate with Tailgate Tasting inspired by ESPN's Monday Night Football! Meanwhile, the kids can dance and play with Disney Characters at the Disney Du Jour Dance Party, eat what they make at the hands-on Junior Chef Kitchen, or enjoy Remy's Ratatouille Hide 'n' Squeak Scavenger Hunt. Kids can even learn to roll their own sweet sushi treats with a Disney chef at Candy Sushi presented by Adventures by Disney.
---
---
You can meet celebrity chefs and personalities like Aarti Sequeira, Brad Kilgore, Claudia Sandoval, and others.
Epcot admission also gives you access to all of the park's many fun filled rides and attractions. So when you're not eating specialties off the hibachi, sampling cheese and wine, learning how to make chimichurri or taking a sip from a craft beer, you can enjoy thrill rides like Test Track and Mission:SPACE. For milder fun, you can enjoy attractions like Soarin' a simulated hang gliding ride, head to the Living Seas Pavilion for Turtle Talk with Crush, or board an ancient Norwegian vessel and explore the wintery world of Frozen. Sail off to Arendelle, come face-to-face with Olaf and Kristoff's Troll family, enjoy your favorite songs and finally, meet with Anna and Elsa inside a cozy cabin.
And like every day at Epcot, there's also a spectacular fireworks show. IllumiNations: Reflections of Earth that is performed nightly at Epcot featuring fireworks, pyrotechnics, water fountains, lasers, fire effects and search lights.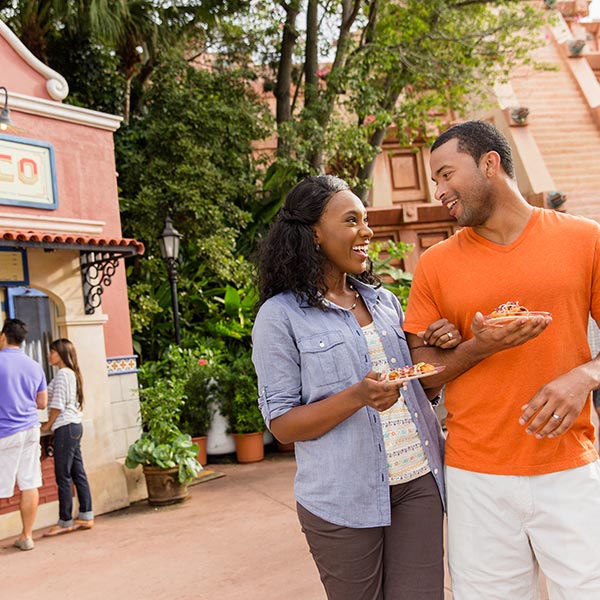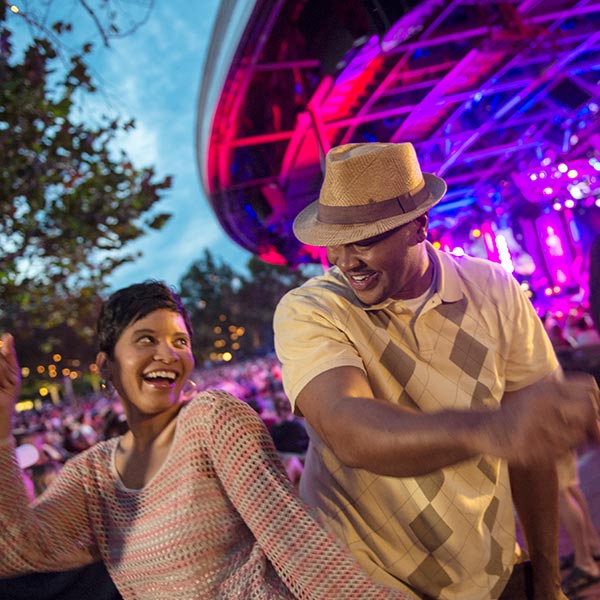 ---
Here's How the Festival Works
The Epcot International Food & Wine Festival is ideal for the entire family. One of Disney's best events, it's a festival that's enjoyed regularly by annual passholders as well as first time visitors. Since the first event back in 1995, the festival continues to grow bigger and more popular by the year. Arrive early to make the most of your time, as you can typically expect large crowds at the most popular events. Although the festival runs throughout the fall, you can still expect to experience plenty of central Florida's warm sunshine so bring your sunscreen and hats.
Since the first event back in 1995, the festival continues to grow bigger and more popular by the year.
Get started by visiting the Festival Center to get a festival map and a better idea of how to plan your day - you can browse merchandise and see what demonstrations and events will be held that day. You'll also want to pick up a festival passport - then add country stickers to the passport as you wind your way around World Showcase. You'll also want to book your favorite premium events/demonstrations as early in the day as possible. Some of the premium events fill up fast but you can book some of those experiences online before you ever get to Orlando.
Once you've planned your events, just enjoy the day. Wander from country to country then eat, drink and be merry! There will be far more food options than you can possibly eat so choose wisely and look for your favorite options. And, of course, at any time during the day, you can slip away from all that food to experience the wild side of Epcot - including the roller coasters, rides and other attractions.
2019 Eat to the Beat Concert Series
Top off your day with an amazing concert - held at the American Gardens Theater near the American Adventure section of World Showcase. Concerts are performed three times each evening, at 5:30pm, 6:45 pm and 8:00 pm.
Aug 29-31 Plain White T's
Sept 1-2 Sawyer Brown (NEW)
Sept 3-4 MercyMe
Sept 5-6 Grace Kelly (NEW)
Sept 7-8 Zach Williams (NEW)
Sept 9-10 Lauren Daigle (NEW)
Sept 11-12 Jimmie Allen (NEW)
Sept 13-15 Tiffany
Sept 16-17 The Allman Betts Band
Sept 18-19 Everclear
Sept 20-22 Starship featuring Mickey Thomas
Sept 23-24 Postmodern Jukebox
Sept 25-26 Blue October
Sept 27-29 Mark Wills
Sept 30-Oct 2 Sugar Ray
Oct. 3-4 Taylor Dayne
Oct. 5-6 INDIA (NEW)
Oct. 7-9 98°
Oct. 10-11 Boyce Avenue (NEW)
Oct. 12-13 Southern Avenue (NEW)
Oct. 14-15 Kenny G
Oct. 16-17 38 Special
Oct. 18-20 Baha Men
Oct. 21-22 Billy Ocean
Oct. 23-25 Sheila E.
Oct. 26-27 High Valley
Oct. 28-30 Hanson
Oct 31-Nov 1 Sheena Easton
Nov 2-3 Kris Allen (NEW)
Nov 4-6 Boyz II Men
Nov 7-8 The Hooters
Nov 9-11 Big Bad Voodoo Daddy
Nov 12-14 TBD
Nov 15-16 BBMak (NEW)
Nov 17-18 Spanish Harlem Orchestra (NEW)
Nov 19 DCappella (NEW)
While the international food and exceptional craft beer and wine makes for an amazing day, a trip to Walt Disney World is made even better by visiting other parks including Magic Kingdom, Disney's Animal Kingdom and Disney's Hollywood Studios - home to the new Star Wars: Galaxy's Edge. And for more Disney fun, check out Disney Springs, a unique shopping, dining and entertainment complex.
Do you need more ideas for your Orlando Fall Vacation?Then check out our list of Fall Events and Festivals in the area!
Share this blog post with all your friends!