Epcot Orlando
Discover a world of fun

Contrary to what some would believe, Epcot Orlando is not just a theme park for mom and dad. In fact, it's a park with some spectacular rides, unique animal interactions, exciting live shows and a spectacular nighttime display the entire family will enjoy. Epcot is also home to two of Disney's most popular annual events - the International Flower & Garden Festival and the International Food & Wine Festival.
Celebrate the fascinating cultures and wonders of the world through dazzling shows, interactive experiences and amazing attractions. Marvel at the power of the human imagination. Experience the joys of Soarin', a ride that'll send you 40-feet in the air in an amazing free-flying attraction. Then gather around the World Showcase Lagoon for a true nighttime spectacular – a laser light show complete with fireworks!
Magical Disney vacation packages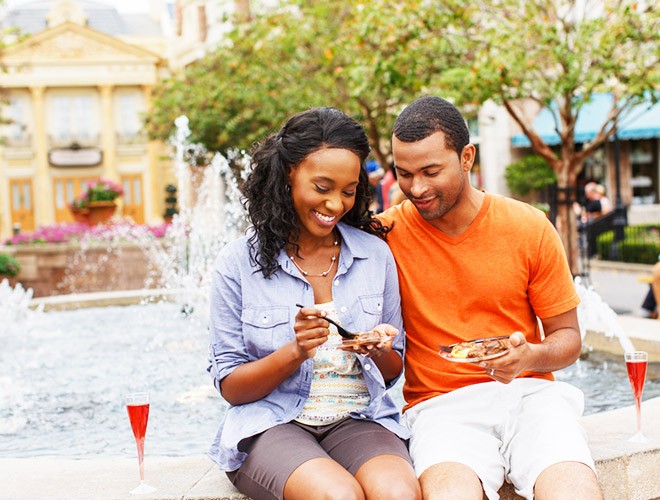 Two Unique Lands of Adventure
At Epcot Orlando, discover intriguing attractions, experience thrilling rides and visit enchanting international pavilions while exploring two unique realms - Future World and World Showcase. Enjoy the rides but be sure to take time to experience the gardens, music and new technologies, and to try some new foods and refreshments from around the world.
World Showcase
Clustered around a beautiful lagoon, Epcot Orlando's World Showcase is loaded with cultural adventures and experiences. Sample the culture and cuisine of Mexico, Canada, China, Norway, Germany, Italy, Japan, Morocco, France, United Kingdom and the United States. Most countries offer table and counter serve style restaurants and cast members come from the "country" you are visiting. Be sure to return to World Showcase in the evening to experience the spectacular IllumiNations: Reflections of Earth, Epcot's nightly fireworks, laser and water show all choreographed to an inspirational musical score.
Future World
Future World offers up more thrills such as Mission: Space, a space shuttle simulator ride, Soarin', an exhilarating "hang gliding" adventure offering breathtaking views of California, and Test Track, a high-octane thrill ride that reaches speeds up to 65 mph.
Character Greetings
Like the Magic Kingdom, Epcot Orlando is a popular place for Character greetings. Meet Mulan in China; Snow White in Germany; Winnie the Pooh & Friends and Mary Poppins in the United Kingdom; Donald Duck in Mexico; Belle and Aurora in France; Aladdin & Jasmine in Morocco; and Mickey & Minnie near the Epcot Character Spot.
---
3 Days/2 Nights
+ 2 Disney Tickets in Orlando from $199
Plan your Disney World Vacation at a fraction of the cost!
Call Today 1-877-288-7422