Discover Cocoa Beach, Florida Vacation Rentals
Find your Dream Vacation!
---
Discover Cocoa Beach, Florida Vacation Rentals
Find your Dream Vacation!
---
View Our Cocoa Beach Resort
---
---
Book Your Florida Hotel Rental Today
Florida vacations can include anything from world famous Disney theme parks like Epcot and Magic Kingdom to natural attractions like the Everglades. But for pure family fun, Florida beach vacations still rate near the very top of the list! There's nothing quite like the feel of sand between your toes, splashing in the surf and the calming sound of the ocean waves. And if you're looking for a beach adventure, look no further than beautiful Cocoa Beach, FL.
Cocoa offers a wide range of furnished vacation rentals with an ocean view of the Atlantic. From Cocoa Beach Condos to specialty resorts and hotels, you can find a property type that fits your family's needs and budget. So get ready to enjoy the surf, sand and sun of Cocoa Beach, FL!
---
---
---
Top Hotels & Resorts in Cocoa Beach
---
---
Explore Cocoa Beach, Florida Vacation Rentals
Cocoa Beach Featured Property: Westgate Cocoa Beach Resort
With so many oceanside condominiums and vacation rentals, Cocoa Beach, FL is a great location for a family beach getaway or vacation. Regardless of which beachside property type you choose, chances are you'll enjoy an easy check-in and check-out. Accommodations such as the fully furnished and newly renovated Westgate Cocoa Beach Resort.
Westgate Cocoa Beach Resort Amenities:
2-Bedroom suites
Full kitchen
Heated pool
Hot tub
Air conditioning
High-speed wi-fi
Direct beach access
Tropical garden courtyard
Complimentary shuttle to Cocoa Beach Pier
Cocoa Beach: The Perfect Vacation Rentals Destination
Located in Brevard County along the Atlantic coast of Florida and just a short drive from Orlando, Cocoa Beach is an oceanfront paradise that offers everything from sandcastles and fishing to surfing, shopping, dining and nightlife. Like most tourist destinations in Florida, you'll find a wide range of vacation rentals available for your Cocoa Beach vacation.
When driving through Cocoa Beach, FL, you'll travel down N Atlantic Ave and see an extensive array of Cocoa Beach vacation rentals available year round. From town homes and condo rentals to Cocoa Beach apartments to family-friendly hotels and motels, chances are you'll find a great place at a great price with a fabulous ocean view. You can rent anything from a quaint and romantic studio suite to a large beachfront Cocoa Beach Condo with a master bedroom, a condo that sleeps 4, sleeps 5, sleeps 6 or find an accommodation that sleeps even more!
Enjoy a Unique Family Experience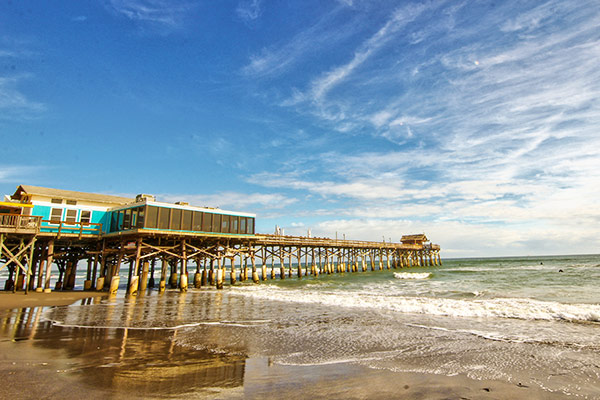 Cocoa Beach Pier
Ron Jon Surf Shop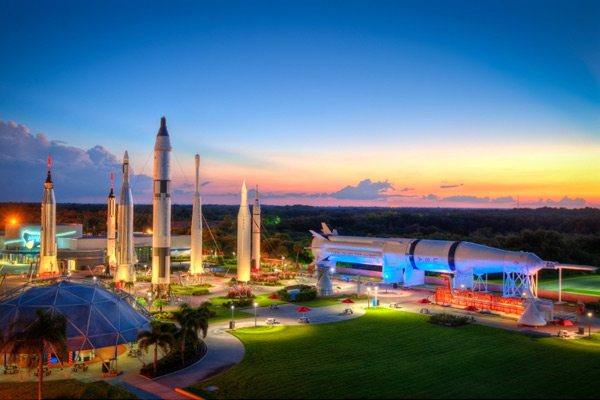 Kennedy Space Center
At Westgate Cocoa Beach Resort, you can create a special and memorable family vacation. The spacious two-bedroom suites offer plenty of elbow room for everyone and privacy for mom, dad and the kids. You can skip those cramped hotel rooms and enjoy the luxury of a large space that includes a fully equipped kitchen. It's the perfect place to fix a quick snack or grab a refreshment after spending time out on the beach. You can even save money on dining by fixing some meals in your suite rather than having to eat every meal in restaurants.
The outdoor pool is another place to relax and enjoy a swim when you've had your fill of beach sand and salty ocean water. Or just relax in the spectacular garden courtyard. Westgate Cocoa Beach Resort also offers a complimentary shuttle to the nearby Cocoa Beach Pier where you'll find great views, fishing, restaurants, bars, a game room and more. Cocoa Beach Pier restaurants include:
Pelican's Bar & Grill
Rikki Tiki Tavern
Keith's Oyster Bar
The Boardwalk Bar
Sea Dogs
Find Tickets to the Best Attractions
Cocoa Beach vacation rentals also put you close to two other popular nearby areas - Port Canaveral and Cape Canaveral. Known as the Space Coast, Cocoa Beach is the ideal place to enjoy attractions such as the cruise port in Port Canaveral. The port is home to a large number of cruise ships owned and operated by Disney Cruise Lines, Carnival and Royal Caribbean. Meanwhile, the Space Coast lives up to its name with the nearby Kennedy Space Center in Cape Canaveral. Orlando may offer lots of theme parks and attractions, but Kennedy Space Center is the place to learn about space, space exploration and more. Ask us about discount tickets to Kennedy Space Center Visitor Center and other nearby attractions including Walt Disney World Resort.
Family vacationers will also discover a number of other popular things to do in Cocoa Beach such as a trip to the Ron Jon Surf Shop where you can rent surf boards, body boards, paddle boards and other equipment, find an extensive array of clothing and souvenirs, or even take surfing lessons. When you find oceanfront vacation rentals, you'll want to spend lots of time on the beach and you can also find beach and fishing equipment rentals at Cocoa Beach Pier as well as other oceanfront locations.
Frequently Asked Questions
With its subtropical climate, any time of year is a great time to visit Cocoa Beach. The Space Coast offers plenty of sunshine year round. Ocean water temperatures do cool off during the winter months, so if you're planning to spend time in the surf, you may want to consider visiting during the warmer months of April thru September.
Yes, absolutely. All of our vacation packages provide you the option of extending your stay for additional nights (based on availability), upgrading rooms or purchasing a wide range of discount attraction tickets. Call and see how we can create the ultimate vacation package for you and your family.
Cocoa Beach is the closest beach to Orlando – located a little over an hour's drive to Disney World. Cocoa Beach is also less than an hour from Orlando International Airport and just minutes from Port Canaveral, where you can embark on a variety of world class cruise ships, including Disney Cruise Line, Carnival and Royal Caribbean.
---
---