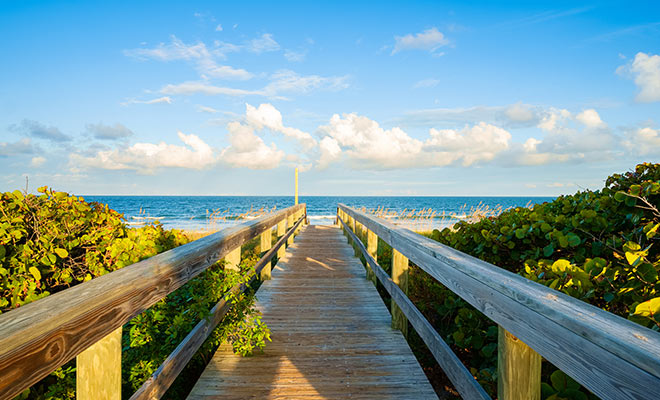 ---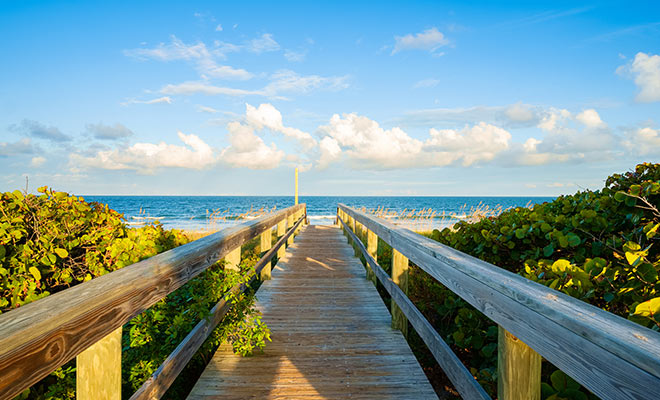 ---
---
Ocean View Hotels in Cocoa Beach
Planning a beach vacation along Florida's beautiful Space Coast near Port Canaveral and Cape Canaveral? Look no further than spectacular Cocoa Beach, Florida where you'll find a wide range of Cocoa Beach hotels, suites, resorts and accommodations with an oceanfront view!
---
---
---
Find A Resort in Cocoa Beach
---
---
Cocoa Beach: Your Window to the Atlantic Ocean
There's always something special about staying near the ocean. The distinct smell of the salt water from the Atlantic. The calming sounds of the waves crashing onto the beach. The sight of seagulls and pelicans swooping over the water. Watching the sun come up over the horizon. It's all waiting for you in Cocoa Beach, your window to the Atlantic Ocean.
Cocoa Beach area hotels and resorts along N Atlantic Ave with an oceanfront view include Doubletree, Sheraton, Westgate Cocoa Beach Resort, Comfort Inn, LaQuinta Inn and Suites Cocoa Beach Oceanfront, Courtyard by Marriott, Econo Lodge and many others. Ask us about all the special offers currently available in Cocoa Beach where you'll enjoy easy check-in and check-out, oceanfront views, exclusive amenities and easy access to area shops, restaurants and nearby attractions such as Kennedy Space Center.
---
---
---
Westgate Cocoa Beach Resort - A Beachfront Treasure
---
---
Featured Ocean View Hotel Specials
Explore what Cocoa Beach has to offer
There's Nothing Like Oceanfront Accommodations
---
If you're heading to the beach, you might as well stay on the beach - especially in Cocoa where the beach and surf are the area's most popular attractions. You'll find a plenty of hotel options up and down the Cocoa Beach area and even into Cape Canaveral and Port Canaveral. Simply decide on the oceanfront option that best meets your family's unique needs and budget. You can even choose from a long list of amenities and hotel options in Cocoa Beach such as an oceanfront balcony, a view of the ocean, king bed, kitchenette, family suite, poolside activities, outdoor swimming pool, free parking, fitness center, beachfront pool or BBQ, tiki bar, jacuzzis, business center, high-speed free WiFi, pet-friendly, flat screen televisions, smoke free accommodations and more.
One of the most popular destinations in Cocoa Beach is Westgate Cocoa Beach Resort. Conveniently located in the heart of Cocoa Beach,, Westgate Cocoa Beach Resort offers spacious and comfortable 2-bedroom Cocoa Beach suites where the entire family can stretch out and relax.
The family-friendly Westgate Cocoa Beach Resort features a spectacular tropical garden courtyard, high-speed Wi-Fi, a beautiful heated, outdoor pool, king beds, on-site BBQ and picnic area, beachside volleyball court, 24-hour front desk, non-smoking guest rooms and more. You'll also enjoy a fully -equipped kitchen where you can fix a quick snack or a full meal. And, of course, you'll appreciate the easy and direct access to the beach so you can come and go as you please! There's even a convenient, complimentary shuttle to and from the nearby Cocoa Beach Pier.
Why You'll Love It
The iconic Westgate Cocoa Beach Pier offers shopping, dining, entertainment and epic views
---
Explore the Historic Westgate Cocoa Beach Pier
The iconic Pier offers a number of restaurants and bars, amazing ocean views, and rentals of Cocoa's popular surf boards. In fact, the Cocoa Beach Pier is one of the best areas for surfing anywhere along the Brevard beaches and many annual surfing competitions are held near the Pier.
Restaurants at the historic and recently renovated Pier include Pelican's Bar & Grill, Rikki Tiki Tavern, Keith's Oyster Bar, The Boardwalk Bar and Sea Dogs. Grab a drink and a bite to eat and enjoy the ocean views. The Pier is also a great place for fishing, shopping, relaxing or you can even check out the on-site Mission Control arcade and game room or rent a variety of beach equipment and accessories.
---
Discover more about the moon and the International Space Station at the Kennedy Space Center
---
Enjoy the Space Coast near Cocoa Beach, Florida
Cocoa Beach oceanfront hotels also put you on the doorstep to Kennedy Space Center in Canaveral. Plan to spend a full day exploring the vast universe of space at this exceptional attraction. Stroll through a rocket garden filled with towering rockets, meet a real astronaut, learn about our space program - past and present - including the Apollo, Gemini, Saturn and space shuttle programs. Take a behind the scenes tour of launch facilities, see a space shuttle up close, or experience what it feels like to blast into space. It's all waiting for you along the space coast.
You might even have an opportunity to see a live rocket launch. There are plenty of places to watch a launch along the coast - you can even enjoy a beachfront view from your Cocoa Beach resort or hotel. Imagine playing in the ocean all day and then seeing a rocket launch from the beach, swimming pool or your hotel balcony! Those are the possibilities when you vacation in beautiful Cocoa Beach, Florida!
---
Set sail on a luxury cruise - Port Canaveral is your gateway to an ocean of adventure
---
Cruises - Sail Away from Nearby Port Canaveral
Set sail from the world's most popular cruise port! Cocoa Beach is just minutes from Port Canaveral – the gateway to the Atlantic Ocean and the fun-filled Caribbean! And Cocoa Beach beach-port hotels are the perfect place to begin your cruise vacation.
Port Canaveral is conveniently located close to Orlando International Airport and just an hour's drive from Orlando's extraordinary theme parks and attractions, including Walt Disney World Resort. The port is also home to a variety of world-class cruise lines. Enjoy a luxurious cruise to the nearby Bahamas, the Eastern, Western and Southern Caribbean, or to other tropical destinations aboard popular cruise lines like Disney Cruise Line, Norwegian Cruise Line, Royal Caribbean and Carnival Cruises. Or you can experience one of the 3-hour or 5-hour casino gaming cruises departing daily with Victory Casino Cruises.
---
---
---
Stay at Westgate on your Family's next Cocoa Beach vacation
Direct beach access, close to all the popular attractions. Discount tickets available!