Great Pumpkin LumiNights at Dollywood
Colossal pumpkins and glowing trees. Mouth-watering festive foods. Handmade crafts from world-class artisans. Brilliant fall colors and dazzling displays. These are just a few treats to look forward to at Dollywood Theme Park, as America's Best Fall Destination celebrates the changing of season with its return of their annual fall event. And this year, brand-new excitement is making its way to this Tennessee favorite.
What is Great Pumpkin Luminights?
Great Pumpkin LumiNights is a special evening event taking place during Dollywood's Harvest Festival. Once the sun sets, thousands of jack-o-lanterns across 160 acres light up the crisp night sky, creating a beautiful centerpiece for the theme park's festivities. This all-encompassing experience in the heart of the Smokies is underway for the 2023 season.
2023 Harvest Festival Dates
Presented by Covenant Health and Humana, Dollywood's award-winning fall festival runs from Sept. 24 through Oct. 30, 2023 on select dates. Guests get to skip the hassle as entry is included with theme park admission!
Who is Great Pumpkin Luminights for?
This event is for every adult, child, and family looking for a lively, yet not-so-spooky experience. Halloween enthusiast or not, you are bound to be amazed as the Smoky Mountain forests come alive with vibrancy and color, its breeze carrying the smell of apple and pumpkin goodies throughout the theme park. For those looking for an atmosphere of fun, family-friendly festivities and friendliness for all ages, this is it!
Returning: Hoot Owl Hollow
As 12,000 illuminated pumpkins and pumpkin icons cast their radiance, it's now your task to discover a towering glowing owl and her family. As legend has it, they can be found in their hideaway within the enchanted grounds of Dollywood. Dozens of these nocturnal creatures will be roosting in the trees, buildings, and hillsides. Hoot Owl Hollow is a spectacle for all who visit during Great Pumpkin LumiNights.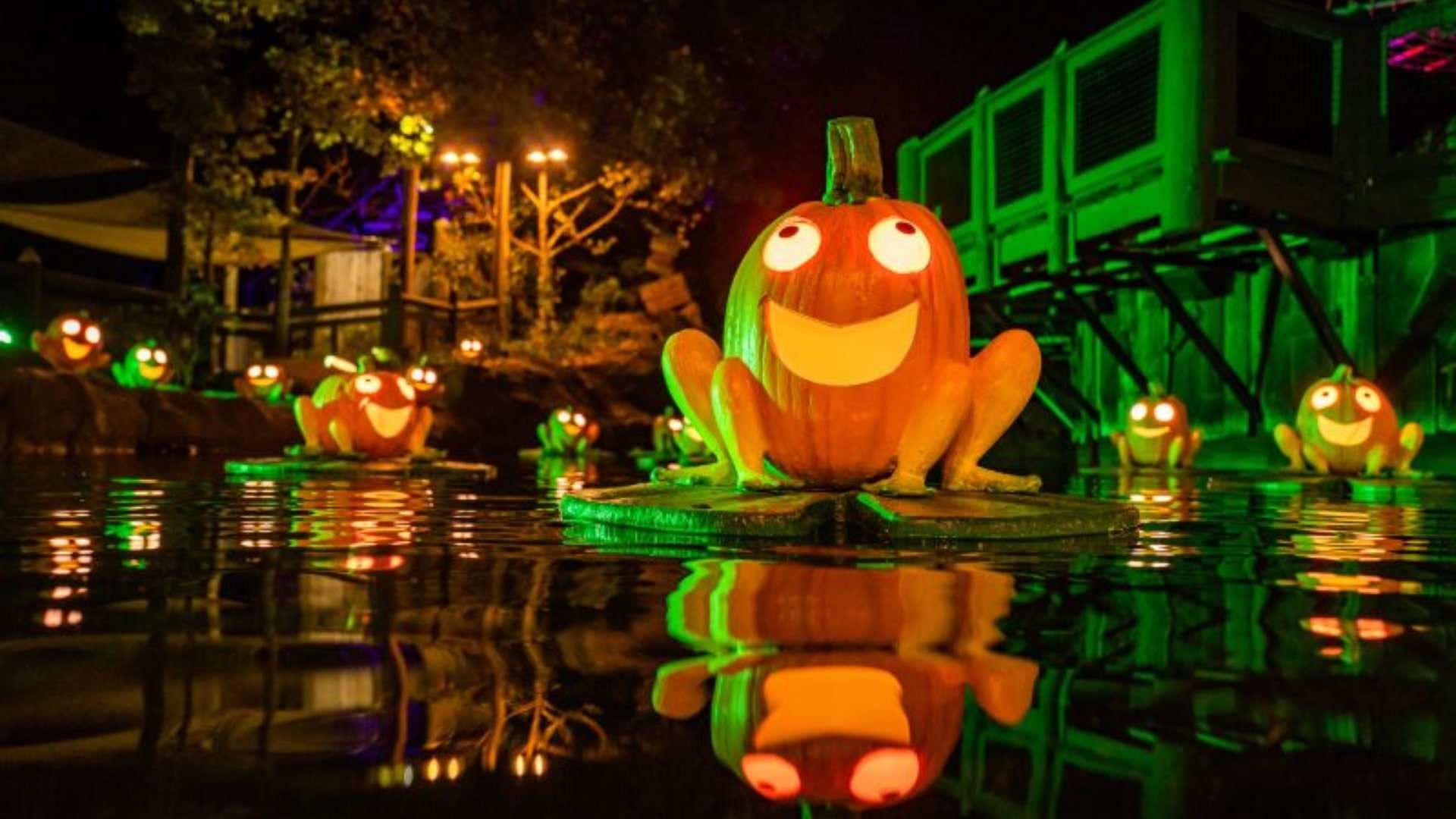 Other Seasonal Surprises
Harvest Festival Tasting Pass
Pumpkin Spice Iced Coffee. Pulled Pork Sandwiches with Pumpkin BBQ Sauce. Smoked Sausage Mac & Cheese. Wassail. Maple, Bacon & Walnut Funnel Cakes. The supple tastes of fall are right around the corner, and they all can be experienced at Great Pumpkin Luminights with their Harvest Festival Tasting Pass! With over 25+ beverages, savory bites and sweets, you'll get to taste up to 5 festival exclusive foods at a great low price.
Looking for more options? Aunt Granny's Restaurant offers casual, family-style meals (with unlimited bread service and complimentary Coca-Cola® beverages). Front Porch Café© is a Dolly favorite, showcasing her favorite meals at this, yet another, family-style restaurant. You can also find tasty fall treats and baked goods at Spotlight Bakery and homemade candies, fudge, and caramel apples at the Dollywood Sweet Shoppe.
The Pumpkin Path
Pumpkins, they're everywhere! Tons of glowing pumpkin sculptures illuminate throughout the park. Pumpkin spiders. Pumpkin frogs. Musical pumpkins. A 40-foot tall centerpiece, known as the pumpkin tree.
And as the festival continues to grow, so do the crowds. There are a couple paths to enter Dollywood's Great Pumpkin LumiNights, but to steer away from the masses, we recommend entering through Craftsman's Valley to enjoy the absolute best views of the lighted décor and pumpkin displays.
Subscribe today and access the best vacation deals
Vacation packages as low as $99 sent right to your email!
---
Live Music
Echoing alongside the Great Smoky Mountains, music of Southern gospel, bluegrass, and country music will fill the fall air, and your ears. Throughout September and October, expect special performances from bands and artists like Mike Snodgrass, The Isaacs, Jeff and Sheri Easter, The Hoppers, Rhonda Vincent and the Rage, and Jeannie Seely.
Insider Tip! Download the Dollywood app to see the latest showtimes during the festival.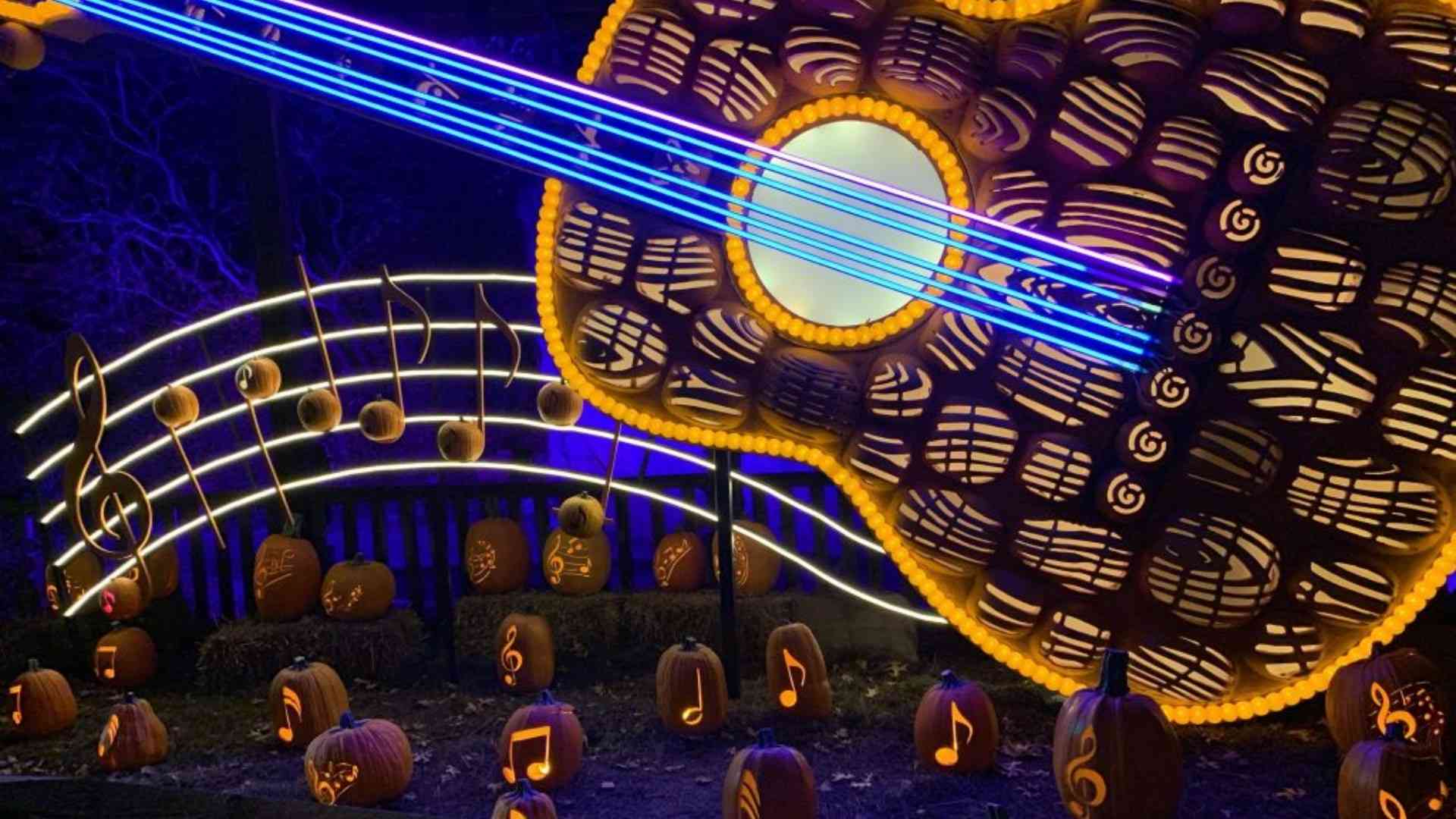 Rides & Attractions
Let the wild adventures take flight with a journey through the Grove! Wildwood Grove is Dollywood's largest park expansion and is home to the best rides and attractions, including the new Big Bear Mountain. You can look forward to riding coasters like the twisting Dragonflier, the exhilarating Lightning Rod and its 165-foot drop, Tennessee Tornado, Wild Eagle at Wilderness Pass, Mystery Mine, and Blazing Fury, an indoor coaster. There's also plenty of kid-friendly rides to enjoy during your time at Great Pumpkin LumiNights, including Frogs & Fireflies, Busy Bees, Black Bear Trail, and other Pre-K attractions for the little ones.
Insider Tip! Purchase a TimeSaver Pass to bypass long wait times at select rides and participating theaters. This is an optional add-on with your admission.
New! Big Bear Mountain at Dollywood
This coaster is officially the longest ride found at Dollywood. Found inside Wildwood Grove, Dollywood's biggest park expansion, is Big Bear Mountain and its exhilarating twists and turns. The onboard audio transports riders into an high-speed adventure aboard four-wheel drive SUVs in search of the Grove's most popular inhabitant, Big Bear.
Fun Activities for Kids
From previous years, the annual festival has offered an array of things to do for kids, including character meet and greets, park souvenirs, and glow-in-the-dark face painting booths! And, the family fun continues as kids can dress the part with their favorite Halloween costumes! All guests are asked to follow Dollywood's dress code guidelines. These include avoiding inappropriate graphics and messages, torn clothing, and no Halloween masks.
---
Current Dollywood Map
---
Frequently Asked Questions
You bet! Majority are hand-carved, beautifully designed, and real.
Thousands! If you're in search for them all, you'll be surprised to know there's over 12,000 pumpkins to add to the festive, fall-themed decor.
The nighttime festival is within Dollywood Theme Park. All you need is park admission, and you'll have access to their Fall Harvest Festival by day, and Great Pumpkin LumiNights by night.
Sort of. Although Dollywood is closed on Halloween day, the festivities can be felt at Great Pumpkin LumiNights, which runs from Sept. 24 through Oct. 30, 2023. Dollywood has also been named "Best Theme Park Halloween Event" by USA Today in previous years!
---
Truth is, you're in for a treat. Dolly Parton and the town of Pigeon Forge take pride in creating an incredible experience along with unforgettable memories for all who enter the park's 160 acres of land. As America's Best Fall Destination awaits you this season, so do we!
A Dollywood experience isn't complete without a visit to Westgate Smoky Mountain Resort & Water Park, where you'll continue to relish in the festivities of the fall season in the heart of Gatlinburg. Cabin-style luxury can be found at Westgate Smoky Mountain, with villa accommodations offering cozy fireplaces, fully-equipped kitchens, private balconies, and all the comforts of home. You'll also enjoy a wide range of amenities including the infamous Wild Bear Falls Indoor Water Park, dining options like Southern Comfort, full service Spa, an Outdoor Adventure Center, mini golf, popular resort activities, and other things to do in Gatlinburg.
Gatlinburg Vacation Packages:
---
You May Also Like:
Share our Dollywood Great Pumpkin LumiNights post with your friends and family!