Dollywood Theme Park
Thrills and Excitement in the Smoky Mountains
Thrilling roller coasters, daring water excursions, family rides, kiddie rides, live shows, delightful restaurants and more – it's all part of the fun at Dollywood theme park. Situated in the heart of the Great Smoky Mountains in Tennessee, Dollywood remains a favorite destination near Gatlinburg.
Popular Annual Festivals
Dollywood Theme Park also features five of the South's largest annual festivals between March and December, each offering a unique blend of family entertainment and adventure.
Dollywood theme park's Festival of Nations provides five weeks of cultural events by performers from around the world. Bring your appetite to the Barbeque & Bluegrass Festival, featuring the biggest names in bluegrass music while you savor the country's tastiest barbeque. Join your kids for a fun-filled day at Dollywood's Great American Summer Festival. Southern gospel music takes center stage while master craftsmen demonstrate their skills at the National Southern Gospel & Harvest Celebration. And bring the entire family for a special holiday celebration during Dollywood's Smoky Mountain Christmas.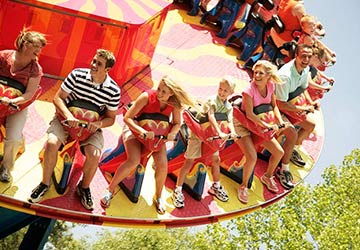 High-Flying Rides
Rides and attractions at Dollywood theme park include the Wild Eagle, America's first wing coaster which takes riders soaring high above the Great Smoky Mountains; Daredevil Falls, a one-of-a-kind boat expedition through an abandoned logging camp; Smoky Mountain River Rampage, a white water adventure; Barnstormer, a swinging pendulum reaching 45 mph and 81 feet high; and Mystery Mine, a steel coaster with a hair-raising 95-degree, 85-foot vertical drop into darkness.
The Best in Live Entertainment
With a namesake like Dolly Parton, you can be sure that Dollywood offers plenty of exceptional live entertainment. Enjoy country, bluegrass, Southern gospel, classic rock and 50's music presented in various live stage shows. And Dollywood's master craftsmen and artisans proudly continue a centuries-old tradition of hand-making crafts in the Smoky Mountains with daily demonstrations such as blacksmithing, hand-blown glass making and more.
For even more adventure, visit Dollywood's sister park, Splash Country which features more than 23 water adventure slides, thrill rides and interactive children's play areas.
---