You sure don't want to miss this frightening annual event. This year, SeaWorld has taken the scare factor up a notch with their thrilling and chilling attraction, Howl-O-Scream. You'll finally get to face those lingering fears by venturing into haunted houses, soaring on adrenaline-pumping rides, and witnessing spine-chilling shows. We'll take you through everything you need to know about SeaWorld's Howl-O-Scream, from the origin and inspiration behind it to exclusive features only found at Howl-O-Scream. Let's get you tickets and prepare you for a night of frightful fun.
The Origin and Inspiration Behind Howl-O-Scream
Howl-O-Scream Orlando began its newly haunting journey in 2021. In recent years, the event has drawn inspiration from Busch Gardens Howl-O-Scream and Universal Orlando's Halloween Horror Nights, aiming to create an equally thrilling and spooky experience for guests. SeaWorld's Howl-O-Scream now brings this tradition to the Orlando area during the Halloween season, featuring haunted houses, scare zones, live shows, and good eats.
---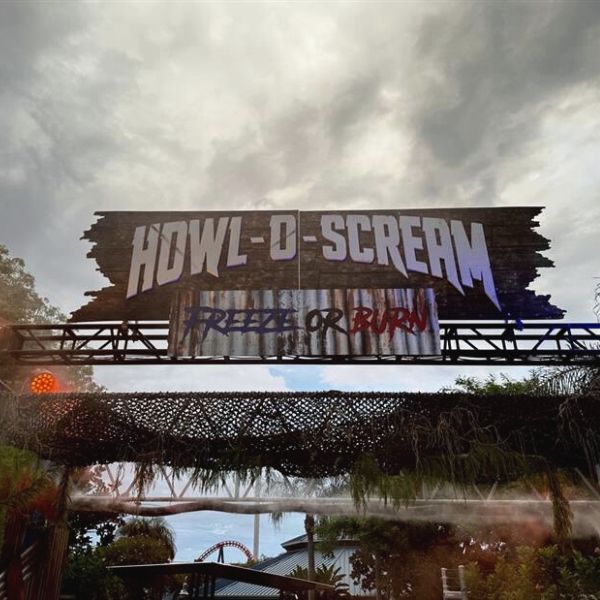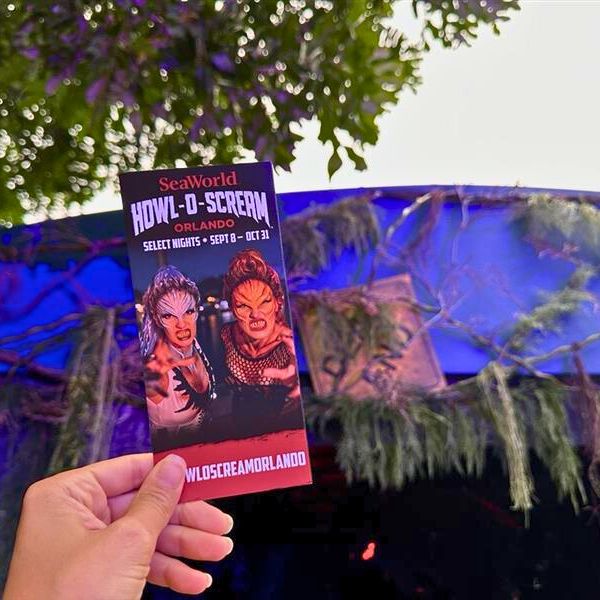 ---
---
Diving into the Horrors of Howl-O-Scream
With 5 haunted houses and 7 scare zones, guests can immerse themselves in the spooky atmosphere while encountering terrifying characters like The Sirens, Siren Minions, and Camo. You'll also experience captivating street shows and sit-down shows, including voodoo and pirate-themed performances. Rest assured, SeaWorld has implemented safety measures to ensure everyone's enjoyment and security during all roaming haunts.
---
---
Highlighting the Major Attractions at Howl-O-Scream
Once you enter the park you'll have the choice to go left or right. Going left will take you to CarnEvil Pier, CarnEvil Curiosities, Longshoremen Tavern, Blood Light District, and Blood Beckoning. Going right will prompt you to D3LER1UM666, Beneath the Ice, Tormented, and Toxic Turmoil. See below for a full list of haunted houses, scare zones, shows, and themed bar experiences.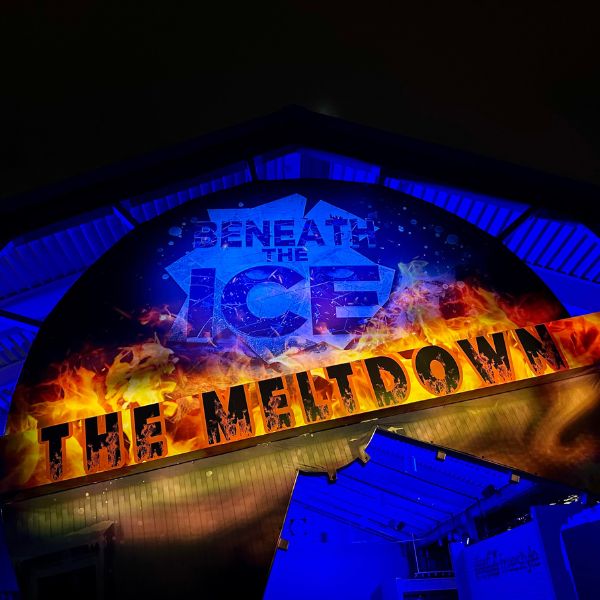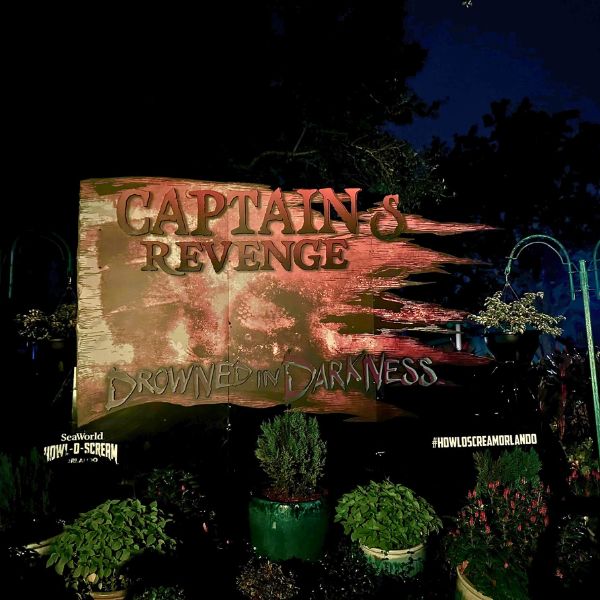 ---
5 Haunted Houses:
D3LER1UM666 Laboratories - As you emerge from a ride on an "elevator", you'll encounter lots of props, insanely detailed masks, and a disorienting spinning tunnel at the end.
Dead Vines: Nawlins Nightmare - Plant ladies and gentlemen will appreciate this house, which includes lots of plant life and camouflaged characters. This is known as one of the best houses.
Beneath the Ice: The Meltdown - Expect some pretty awesome characters and LOTS of noise like banging and popping.
Captain's Revenge: Drowned in Darkness - Great visuals and lots of character movement.
Blood Beckoning - Scratch is out for you. Don't you dare upset her!
---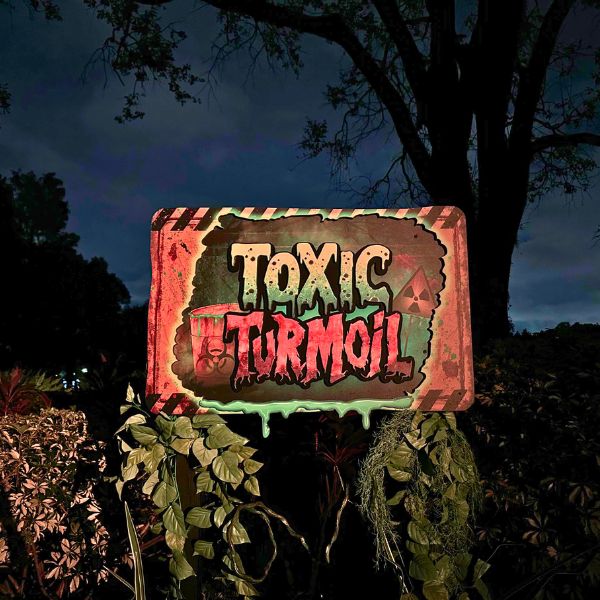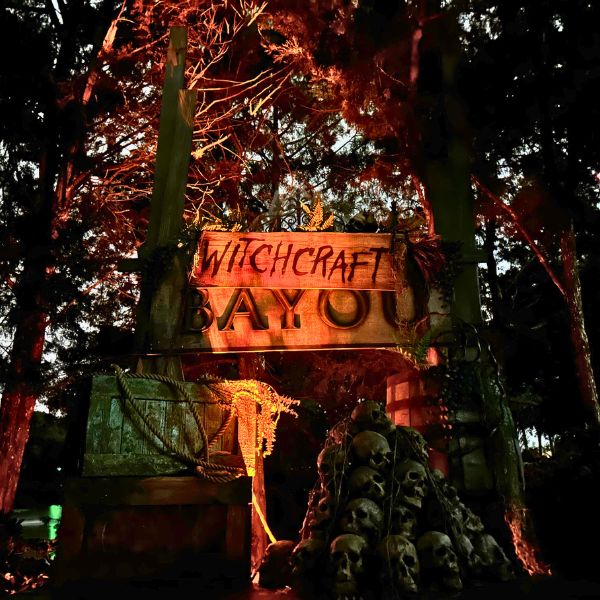 ---
7 Scare Zones:
Portal of Passage - The unknown is scary, but it is real. Choose to find out for yourself. Note this area is where you'll hang out before the gates open to Howl-O-Scream. Enjoy performances, shopping at the Shop of Horrors, food and more.
Blood Light District - Try not to be tricked by their beauty, for it is a fool's decision.
Toxic Turmoil - Here roams mutated humans, creatures, and plants. What more could one want?
CarnEvil Pier - What's a carnival without games? Step right up and choose your destiny! And watch for clowns, they'll be lurking.
Frozen Terror - Alive in the Ice - Frozen or not, the inhabitants of this land are looking for you.
Witchcraft Bayou - There's no way around this dark magic. Beware for the things you cannot see.
Terrors of the Deep - A cursed pirate crew has taken over, and they're guarding their treasures.
---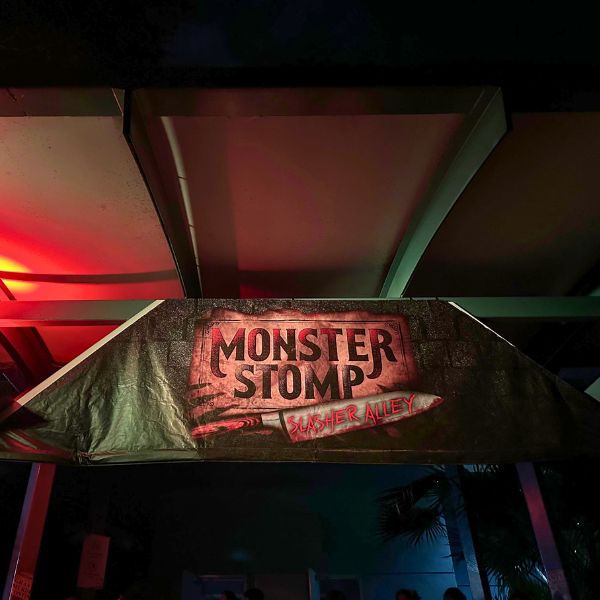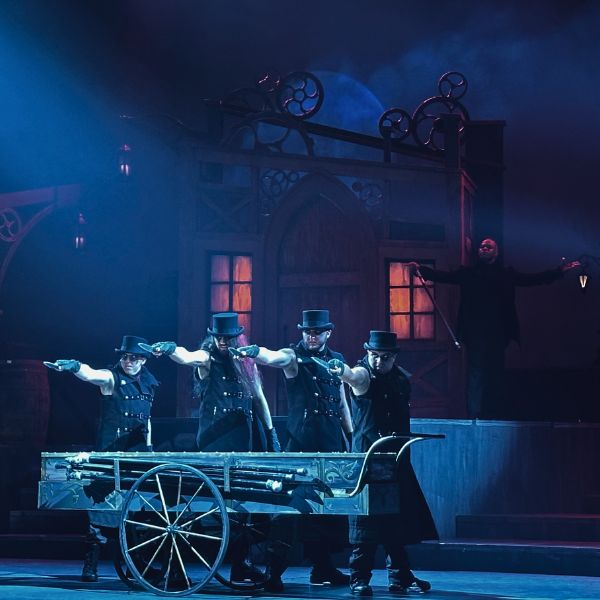 ---
3 Terrifying Shows:
Cursed Lagoon - Located in Forever Pearls next to the Sky Tower, you'll meet face to face with an underwater Siren during this outdoor performance.
Sirens Song - Fall into the trance of a group of Sirens as they sing their way to your heart. This is an outdoor show located next to the Beneath the Ice: The Meltdown haunted house.
Monster Stomp - Located indoors, Monster Stomp is a group musical performance with main character Jack the Ripper, and a "sharp" performance at the end.
---
5 Themed Bar Experiences:
CarnEvil Curiosities - Come one, come all and order The Ringmaster, CarnEVIL Candy Apple, and Side Show Slasher.
Longshoremen Tavern - The inhabitants of this area are dying to meet you.
Tormented - Refuel with a Frost Cocktail, Poison Apple, or Pumpkin Ginger Fizz.
Poison Grotto - This unearthly lounge is a quick escape from the thrills.
Sirens' Last Call - Get lured by this bar's most popular drink, The Siren's Kiss.
*Note there is a great option to purchase a food & drink sampling lanyard which includes 3-5 full size drinks and 1-2 food items of your choice depending on the package purchased. For more information on the additional cost view their Evil Upgrades online or purchase during the event.
It's an obvious added plus that the most popular rides at SeaWorld are still open during the event. Feel the rush of adrenaline as you brave the belly drops and flutters of Mako, one of Florida's top roller coasters. Other rides that are open and worth hopping in line for are Manta, Pipeline, and Ice Breaker SeaWorld.
---
Exclusive Tips to Know
Howl-O-Scream Orlando has a separate entrance from the SeaWorld gate. Don't make the mistake of walking to the front entrance only to be turned around! Once you park, listen for the spooky sounds, and sure enough you'll find your way to its Halloween signage (to the right of the main SeaWorld entrance).
A portion of the park is closed during the Halloween event, including the Seven Seas Lake Bridge.
If you're easily spooked, be aware of the "skate people". These are awesome yet terrifying characters that zoom across the floors on skates attached to their knees. We were spooked many times!
The lines tend to be way shorter towards the beginning of the night. We suspect guests wait until the sun goes down before entering the park.
Ask for a Howl-O-Scream map and use this as your ultimate guide. It's easy to get lost, especially in the dark. You'll find there are many dead-ends due to portions of the park being closed, and these areas are where the haunted houses are mainly located.
A popular park favorite are turkey legs, which you can find at quick kiosks. This is a great way to increase your protein intake to keep you satiated throughout the night. Less time at the concession stands provide more time to enjoy the haunts around you!
You can't always expect sunny days in Florida when rain showers are always looming, so dress accordingly!
Lockers can be rented for a few hours to all night if necessary.
SeaWorld Orlando is a cashless park. Credit cards and mobile payment may be used within the park, and you can use their nifty Cash-to-Card kiosk to convert your cash to a VISA prepaid debit card.
---
---
When is the Best Time to Experience Howl-O-Scream?
The thrills and scares of Howl-O-Scream run on select dates from September 8 until October 31. Saturdays and Sundays are recommended for maximum enjoyment, though if your goal is to experience it all with the benefit of shorter wait times, we recommend visiting on a Thursday or Friday. You'll also get to decide how early you want to arrive, as the terrors begin promptly at 7:00PM until midnight. That said, we suggest getting there when it begins as people tend to wait until it gets darker. This is a great opportunity to hop in line for a haunted house or two, and when the sun sets, you can navigate the scare zones in their natural setting: darkness.
Evaluating the Cost of Howl-O-Scream
When planning your visit to Howl-O-Scream at SeaWorld Orlando, it's essential to consider the cost of park admission and what your intentions are. If you're set on experiencing it all in one night, it's best to purchase a single-night ticket starting at $44.99. If you're looking for more of a, shall we say "boujie" experience, their VIP Terror Tour will cost you $299.99 (but for good reason, as this includes everything you'd desire in a theme park ticket).
Parking needs to be taken into consideration as well. Currently, VIP Parking is $60, Preferring Parking is $45, General Parking is $30, and RV Parking is $45.
Are there any Special Packages or Discounts for Howl-O-Scream?
If you're looking for a combination of single-night tickets plus resort stay, our discounted Howl-O-Scream vacation package will do the trick. Otherwise, you can explore their ticket options ranging from Unlimited Admission and Any Night Ticket to a Fear Pass and VIP Terror Tour. For more information on tickets visit their website.
Exclusive Features Only Found at Howl-O-Scream
Aside from the insane details decking out the park, a cool drink feature only found at Howl-O-Scream is their blood bag infused with vodka, pomegranate, dragon fruit, and lime juice. Another is their Chipotle Cricket Sandwich and Grasshopper Tacos which, as you'd guess, have real bugs in them. Do you dare sample these creepy crawlies?
Another great feature is the Coca-Cola Freestyle station located next to Ice Breaker roller coaster, where you can enjoy free refreshments. Grab a cup, fill up on your favorite Coca-Cola product, and continue on.
Can You Survive the Entire Night at Howl-O-Scream?
Absolutely, so we think. Not only will you challenge your courage with a night of heart-pounding scares at Howl-O-Scream, but you'll have ample time to enjoy all there is to see and experience. Arrive early, have your map in hand, and keep your eyes peeled for what lurks behind the shadows. Only then will you confidently be able to walk away to tell the story.
For those who are iffy about Halloween events, we can guarantee you'd have a great time at SeaWorld's big Halloween event. Though the characters are scary, they also take into consideration everyone's scare factor, and are trained to know when to hit the pause button.
Preparing for an Unforgettable Night at Howl-O-Scream
Ready for the best tip to prepare for Howl-O-Scream? Dress comfortably. In order to fully enjoy the running, screaming, and heart-pounding excitement, you'll want to feel good doing so, especially if it happens to rain. To minimize wait times, you'll also want to arrive early. Grab your loved ones and experience the terrifying adventure together. Stay hydrated and energized throughout the night by bringing or purchasing snacks and water. And most importantly, remember to follow all safety guidelines and be aware of any specific rules or restrictions such as no costume masks and flash photography.
What Else Can You Explore at SeaWorld?
Looking for more than just scares? Aside from the rides and thrills, the Halloween festive environment offers up fantastic decorations and sightseeing opportunities. Make sure you take some time to stop and be present to the scenery around you. Bask in the beautiful bright lights that illuminate waterfront views of the park's lake. Indulge in delicious food and drinks available throughout the park. If you have time, capture memories with a photo or two to look back on.
How to Purchase Tickets for Howl-O-Scream?
To purchase tickets for Howl-O-Scream, you have two options. You can buy them directly from SeaWorld Orlando or through Westgate Reservations. Enjoy Howl-O-Scream tickets and accommodations with over 65% in direct savings! It is advisable to purchase in advance to secure your preferred dates and times.
Is Howl-O-Scream Worth the Scares and Screams?
As one of Central Florida's premier Halloween events, Howl-O-Scream Orlando is definitely worth the visit. Howl-O-Scream has even garnered recognition from USA Today's 10Best Theme Park Halloween events! It's at SeaWorld Orlando where you'll enjoy a unique combination of a theme park and haunted house experience, creating unforgettable spooky moments with your partner(s) in crime. The spirit of Halloween with its scares, screams, and thrills is waiting for you.
---
---
Let the Frights Begin
To wrap up, this SeaWorld Halloween event is the ultimate uncanny experience that promises unforgettable festivities. With its unique attractions, exclusive features, and diverse offerings for mature age groups, it notoriously sets itself apart from other Halloween events. Whether you're a horror enthusiast or simply looking for a fun night out, Howl-O-Scream has something for all. So, gather your courage, prepare for a night of frights, and get ready to create memories that will haunt you for years to come at SeaWorld's Howl-O-Scream.
If your need is an event for the entire family, be sure to check out SeaWorld Spooktacular to enjoy the Halloween fun alongside Elmo, The Count, Big Bird, and friends.
You May Also Like:
Share our Guide on SeaWorld Orlando's Howl-O-Scream with your friends and family!