Wild Bear Falls Water Park
Aquatic adventures in the heart of Gatlinburg!
Gatlinburg, Tennessee is filled with outdoor activities and gorgeous views of the Great Smoky Mountains, but did you know that it also happens to be the home of some cool theme parks and water parks? That's where Westgate's exciting Wild Bear Falls Indoor Water Park comes in! This incredible indoor/outdoor water park features a retractable roof that allows you to splash and swim on your Tennessee vacation regardless of the weather or the season.
Wild Bear Falls Water Park
With more than 60,000 square feet of fun aquatic attractions featuring more than 300,000 gallons of water, Wild Bear Falls in Gatlinburg, TN is considered the largest indoor water park in the southeast region! It is safe to say that this is not your average water park and you are in for a treat during your
Gatlinburg vacation
with Westgate Resorts. The park is one of the many special amenities at Westgate Smoky Mountain Resort & Water Park. The resort features luxurious, cabin style accommodations with amazing mountain views. What better place to begin your Gatlinburg family vacation!
At Westgate Smoky Mountain Resort, we offer a wide range of exclusive resort vacation package options for you and your family. You can choose packages that include Wild Bear Falls Water Park tickets, not to mention the beautiful views of the Great Smoky Mountains and our many other resort amenities & activities.
---
Gatlinburg Vacations with Water Park Tickets: Main Water Park Attractions:
Little Pigeon River
The park is ideal for all ages and the littlest ones will enjoy this fun and kid-friendly, zero-depth spray playground that is designed specifically for toddlers
Moonshine Hollow

Water Depth: 3'6"

Unwind and enjoy the view with this indoor/outdoor hot tub
The Swimming Hole

Water Depth: 3'6" - 4'6"

This is one swimming pool you won't want to miss; perfect for water activities such as basketball and volleyball and recommended for all ages
Cades Cove

Water Depth: 3'6"

Float along on a tube around a 900-foot long and very relaxing Lazy River that will remind you how beautiful the Smoky Mountains are! Perfect for all ages.
Clingman's Dome

Min height: 48 inches

Looking for thrills? Get ready for this exciting, 350-foot long tube slide that will give you a glimpse of the adventures Gatlinburg has to offer.
Laurel Falls

Min height: 48 inches

More thrills await on this fully enclosed body slide featuring a heart-pounding, 300-foot drop that will give you an adrenaline rush like no other!
Ramsey Cascade

Water Depth: 1'6"

Enter this interactive tree house that includes a 300-gallon bucket, two wild slippery slides, and areas where you can control the flow of water spouts. Be ready to get completely soaked once the bucket fills up and releases water all over the tree house!
Wild Bear Falls Private Cabanas are also available! Equipped with HDTV, Snack, Water Bottles & Mini Fridge. Advance reservations are suggested (but not required).
Wild Bear Falls is a world-class indoor / outdoor aquatic playground for families with kids of all ages, located in Gatlinburg. More than your average pool, this mountain-themed attraction features a state-of-the-art retractable roof and guests enjoy perfect, comfortable conditions any time of year, even during the coldest winter months. The park offers a safe, secure and supervised environment that includes a variety of water slides, play areas, a lazy river, an electronic game room and even a mezzanine restaurant where you can grab a quick snack or a full meal. The Roaring Fork, located on the second level, offers up a quick burger, hot dogs, pizza and sandwiches as well as fresh salads and other snacks.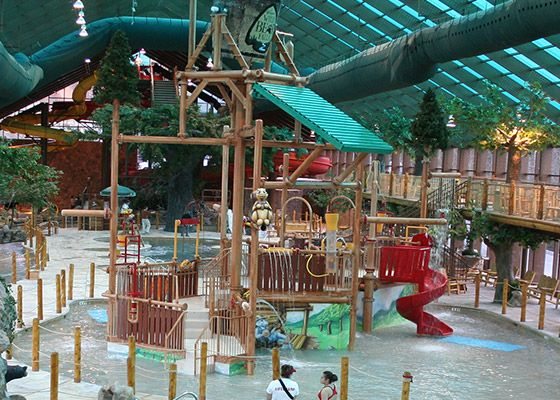 Ramsey Cascade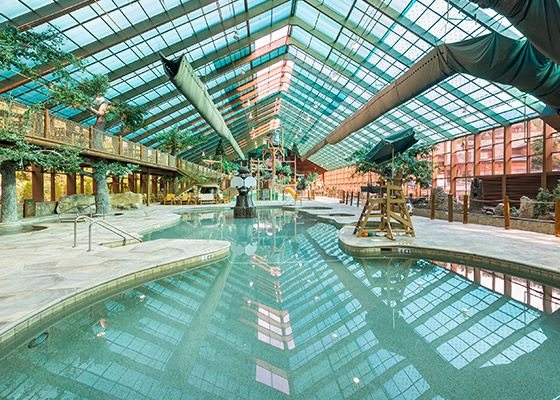 Swimming Hole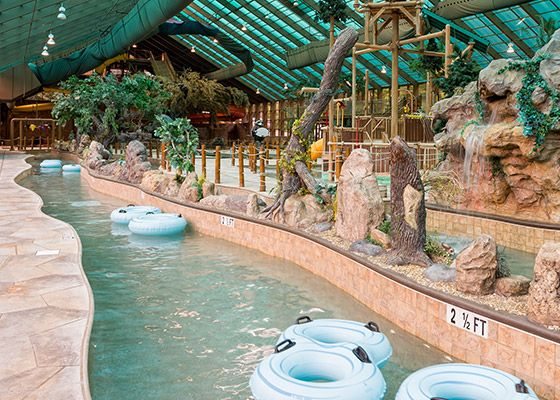 Lazy River
Laurel Falls Slide
As you can see by the names of the attractions listed, the adventure park pays homage to its surroundings by playing off places you'll find in Great Smoky Mountains National Park.
Getting There:
Wild Bear Falls Indoor Water Park offers a convenient location just minutes from downtown Gatlinburg and the nearby Pigeon Forge area. The park is inside the Westgate Smoky Mountain Resort & Water Park, situated adjacent to the main entrance to the Great Smoky Mountains National Park. The resort is located at 915 Westgate Resort Road, Gatlinburg, TN 37738.
Severe Weather Policy
The Water Park will remain open during rainy weather unless lightning or thunder is present in the area. In the event of severe weather or lightning/thunder, the park will close for a mandatory 30 minute period. Once a full 30 minutes has passed without a recurrence of lightning or thunder, the park may re-open. To ensure a safe and friendly atmosphere for all guests, please follow the general rules and regulations posted at the park.
Start planning your Gatlinburg water park vacation today!
Call Today 1-877-288-7422
---
Admission Prices
Under 3 years of age: Free
One-Day Admission: $24.95 + tax
Three-Day Admission: $53.85 + tax
Five-Day Admission: $84.75 + tax
Children must be accompanied by an adult at all times

Visitors must be at least 42" tall to ride the water slides, with the exception of the children's pool area. For other areas, visitors must be at least 48" tall.
Hours of Operation
Fri-Sat
11:00 am - 8:00 pm
Sun-Thur
11:00 am - 7:00 pm
Owners
get early park admission at Wild Bear Falls one-hour prior to park opening

---