It's time for your annual family vacation. Destination Orlando! You pack the suitcases, gather up the kids and head off on a new adventure. Problem is, when you reach the hotel, that new adventure often turns into the same old chaos.
You open the door to your hotel room and find a couple of beds, a single television, a desk, and a chair – all crammed into one tiny space. Throughout the week you find yourselves tripping over suitcases, fighting for the bathroom, disagreeing about which channel to watch, struggling to eat dinner while sitting on the bed and wondering what to do at the end of the day when you get back to the room.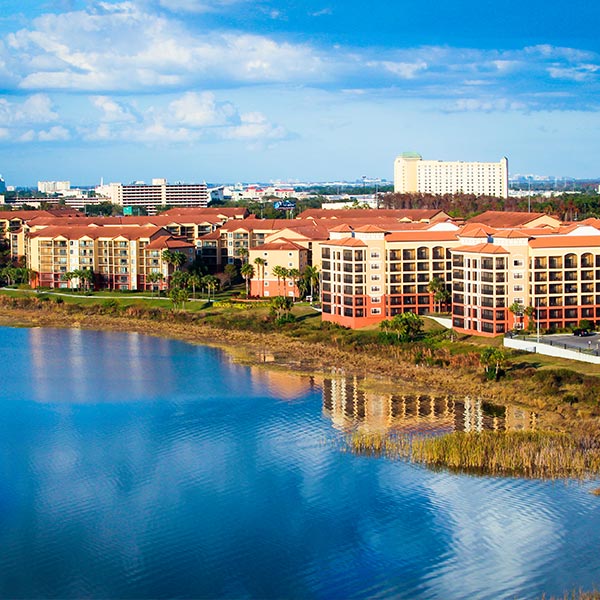 Then at night, there's no kitchen to find a tasty snack, everyone has to go to bed at the same time and mom and dad have absolutely no privacy. By the end of the week, everybody's ready to get back home and enjoy a little personal space! The solution?
Try taking the kids on an resort vacation!
A trip to Walt Disney World in Orlando might start with a stay at one of the nearby resorts. You can find resorts within a mile of the Disney gates. It's almost like staying on Disney property – without the extensive cost.
Many resort grounds offer a tranquil setting away from the hustle and bustle that surrounds Disney. Unlike your typical hotel, you're likely to find restaurants, shopping, arcades, playgrounds, miniature golf and swimming pools. Lots of swimming pools.
Choose options with as many as four bedrooms! unit
You'll also notice an entirely different look of wonder and excitement on the kids' faces. Resorts also give you roomy options. In fact you can choose options with as many as four bedrooms! But even a one-bedroom villa offers plenty of room. Much more than your standard hotel room. These expansive units are like a home away from home.
Amenities may include a separate bedroom, fully-equipped kitchen, jetted tub, and even a washer & dryer in the unit. The best part is that you'll notice how much more room you have with separate eating, living and sleeping areas.
The fully equipped kitchen is another luxury for a family vacation.
Rather than sitting awkwardly on beds, you can stretch out in comfort on a luxurious leather couch or chair. Or enjoy the Florida weather with a view from your private patio or balcony. Multiple large screen televisions and a DVD player may offer additional viewing options.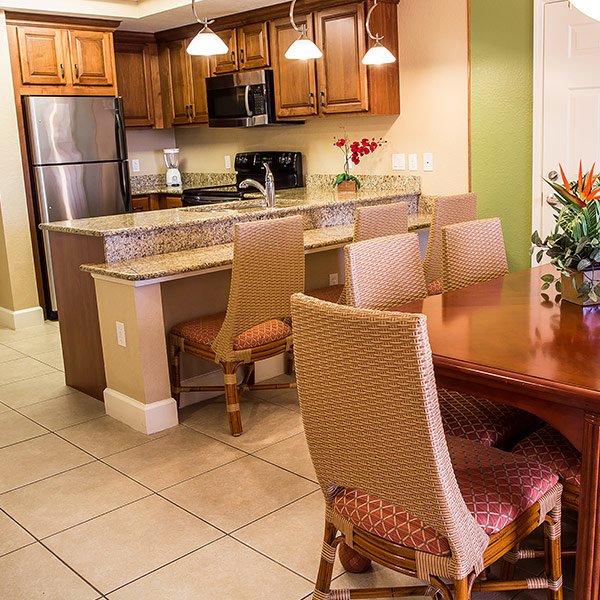 Over the course of a week, the cost of dining in restaurants can really add up. With a resort vacation, you have the option to cook breakfast, lunch, dinner or every meal in your own kitchen. You'll also have options whenever you're looking for a quick snack.
Thanks to the proximity to Disney, some resorts offer you an opportunity to come and go from the parks
If you prefer not to cook, you'll likely find a variety of dining options within the resort, ranging from snacks, ice cream and pizza to more full service restaurants. As with any good piece of real estate, location is everything. And thanks to the proximity to Disney, some resorts offer you an opportunity to come and go from the parks, as you please. Zip back to your villa for a meal or to give the kids a quick nap.
Of course, while Disney is your highlight, you might find spending the entire day at the resort just as much fun. While the hotel might have a small swimming pool, your resort may offer multiple, large, resort-style, heated swimming pools as well as hot tubs, pool bars and ample space for simply soaking up the sun.
While the kids may enjoy swimming all day, there are plenty of other amenities that are equally enticing. Who wants to play a round of miniature golf or head to the lakeside marina for some fishing, kayaking or paddle boating? Perhaps you'd like to go for a bike ride, play tennis, basketball or volleyball. You can visit the fitness center, take part in fun scheduled activities, or simply explore the beautifully landscaped resort grounds. bikesKids want a little time to themselves?
Why not send them off on their own – with a visit to the resort's Kids Club. They can enjoy a variety of crafts, games and activities in a safe, secure and supervised environment. The options and opportunities are virtually endless. And when you choose a Westgate Resorts getaway, chances are, your family vacations will never be the same again.