Discovery Cove
Swim with the Dolphins!

Adjacent to SeaWorld Orlando is Discovery Cove Orlando Florida, which offers a once in a lifetime opportunity to swim and interact with dolphins and other marine life!
One-of-a-Kind Resort
Discovery Cove Orlando Florida offers you a unique opportunity to interact with birds, fish, rays and dolphins while enjoying a slice of paradise that includes sandy beaches, coral reefs, tropical bird free-flight aviaries and grottos.
A personal Dolphin Swim is the centerpiece to your Discovery Cove Orlando Florida visit, providing a chance to talk, touch, play and swim with gentle and exquisite bottlenose dolphins.
All-Inclusive Resort Amenities
In addition to the animal interactions and activities, admission to Discovery Cove is all-inclusive and includes the use of lockers, wetsuit, towels and snorkel mask as well as free parking, shower amenities, souvenir snorkel, complimentary entry photo, continental breakfast, lunch, all drinks and snacks. You'll also receive a 7-consecutive day admission pass to either SeaWorld Orlando or Busch Gardens Tampa.
Limited Attendance
Park attendance at Discovery Cove Orlando Florida is limited to 1,000 guests per day so reservations are recommended to be made at least two months in advance of your visit.
Other Special Animal Encounters
The park's Freshwater Oasis offers guests a close-up encounter with Asian small-clawed otters and marmosets.
The marmoset habitat, referred to as Primate Island, offers access to the tiny monkeys. Guests can swim up to the side of the island and see marmosets frolicking amidst the trees and bushes. A moat and a grassy barrier is all that separates guests from the nine monkeys in the exhibit.
Other inhabitants of the Oasis include five otters that can play in a unique environment including a waterfall and fallen trees. The otters are separated from guests by a clear plexiglass wall that extends below the surface of the water offering underwater viewing, as well. Freshwater Oasis also includes the Sunken Terrace, an area to sit, relax and enjoy a drink from seats set in 18 inches of water.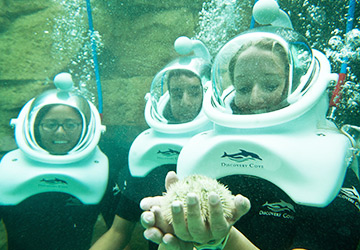 A Scuba Dive Style Experience
Yet another interactive animal experience is the Grand Reef SeaVenture attraction. Guests are invited to wear a wet suit and put on a dive helmet to experience a scuba dive type experience to get up close and personal with 8,000 marine animals. Following a quick training session, you'll follow a Discovery Cove guide down a ladder and into the Grand Reef waters, kept at a chilly 77 degrees. While the compressed air helmet keeps water out and provides oxygen to breath, you'll find yourself in an underwater world full of colorful fish.
Lead along the underwater handrail, you can view sharks behind a large, clear window while the guide writes on an erasable board the different breeds of shark. Another glassed off area is filled with poisonous fish. The rest of the Grand Reef is teeming with tropical fish and other creatures. The underwater adventure lasts nearly a half hour and is open to ages 10 and older.
3 Days/2 Nights + 2 Theme Park Tickets from $139
Create your own Theme Park Adventure with Westgate Resorts!
Call Today 1-877-288-7422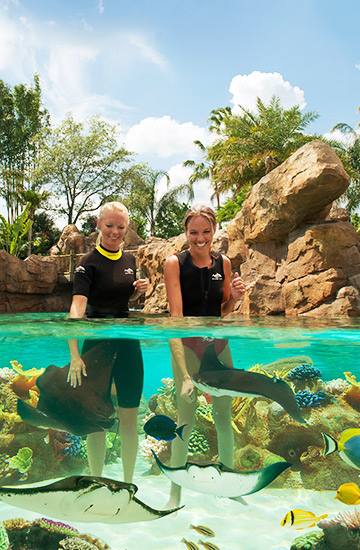 PERSONAL DOLPHIN SWIM EXPERIENCE
The true highlight of a day at Discovery Cove Orlando Florida is the signature, one-on-one dolphin encounter. First you'll learn more about dolphin behavior and communication. Then you'll have the opportunity to wade into the dolphin lagoon where you'll come nose to bottlenose with one of these fascinating and intelligent animals. Go ahead, grab hold of its dorsal fin and then get ready for the dolphin ride of a lifetime!
During this special 30-minute dolphin interaction, you and your small group will be accompanied by a trainer and have a chance to get acquainted with the dolphin through hugs, kisses and rubdowns. Then, you'll head into deeper water for the exciting dorsal fin tow ride back to shore.
---