SeaWorld Orlando
The World's Premiere Marine Adventure Park

The world's premier marine adventure park, SeaWorld Orlando features 200 acres of world-class shows, top-notch rides and unforgettable animal encounters. As a SeaWorld guest, you can get splashed by Shamu, dine with sharks, sleep next to manatees, touch a sting ray, feed a dolphin, be suspended mid-air on a state-of-the-art roller coaster, experience the life of a sea turtle and explore Antarctica and the icy world of penguins. And you can do it all in one exciting day.
SeaWorld Vacation Package
Thrills and Adventures
SeaWorld Orlando offers plenty of excitement for thrill enthusiasts. Try Kraken, Orlando's only "floorless" roller coaster. Kraken thrusts riders 15 stories in the air, traveling at speeds of 65 mph and turns you upside down seven times. Or climb aboard Manta – the flying coaster, where you can spin, glide, skim and fly like a giant manta ray while in a head-first, face down position. If you prefer water rides, check out Journey to Atlantis, an exciting coaster/flume ride with a thrilling final plunge. WAnt even more excitement? Try SeaWorld's newest thrill adventure - MAKO. Appropriately named after one of the world's fastest sharks, MAKO has grabbed the title as Orlando's fastest, tallest and longest roller coaster - stretching nearly a mile in length while rising 200 feet and screaming along at speeds up to 73 mph!
Live Shows
SeaWorld Orlando's live shows include A'Lure, The Call of the Ocean, a mariner's story brought to life with flying, gravity-defying acrobats and tumblers. If you prefer animal performers, experience Blue Horizons, a spectacular and colorful theatrical show featuring dolphins, tropical birds and acrobats. Or enjoy One Ocean, the popular Shamu show that entertains, educates and inspires while showing off the amazing power and grace of majestic killer whales.
Extraordinary Animal Encounters
Animal encounters remain the heart and soul of SeaWorld Orlando and you'll find plenty of opportunity. Feed a dolphin in Dolphin Cove, experience the Manta Aquarium, get close to sea lions and seals at Pacific Point Preserve, or come face to face with sharks at Shark Encounter.
Turtle Trek offers a unique chance to experience the life journey of a sea turtle and the many dangers and hazards they face from the time they hatch to maturing and laying their own eggs on the same beach.
The Coolest Place in Orlando
Despite Orlando's warm sunshine, the coolest place in Central Florida just might be SeaWorld Orlando's biggest, most expansive attraction – Antarctica: Empire of the Penguin. Kept at a bone chilling 32 degrees, this unique attraction provides an epic exploration of the mysterious and icy world of the South Pole as seen through the eyes of a penguin. In addition to an exhilarating ride, you'll get up close and personal with a colony of nearly 250 penguins.
3 Days/2 Nights + 2 Theme Park Tickets from $139
Create your own Theme Park Adventure with Westgate Resorts!
Call Today 1-877-288-7422
Special Events
Summer Nights – Summer Nights is a nighttime spectacular and the best place to be when the sun sets over SeaWorld Orlando. Celebrate the best of summer with exciting, nighttime shows, including an all-new Shamu® show and SeaWorld's thrilling coasters under the stars.
SeaWorld's Halloween Spooktacular – Put on your Halloween costume and stop by for a variety of special Halloween shows, a sea of trick or treating sweets, and lots of fun, family-friendly spookiness that's fun for the entire family.
SeaWorld's Christmas Celebration – Experience the holidays in Orlando! From Santa to Shamu®, SeaWorld's Christmas Celebration is where the season meets the sea. Enjoy a variety of special events, lights and more.
Special Exhibits
Dolphin Cove – Dolphin Cove at Key West features one of the largest interactive dolphin pools in the world. Here, you can watch a playful group of bottlenose dolphins both above and below the surface of the water.
Shamu Underwater Viewing – An ocean of amazement awaits you in this special underwater viewing area where you'll see SeaWorld Orlando's most famous residents. Watch and enjoy as giant killer whales glide effortlessly beneath the surface offering a mesmerizing up-close viewing experience.
Pacific Point Preserve – What's the difference between a sea lion and a seal? Enjoy close-up viewing and a special opportunity to learn more about these popular Californian comedians. You can even get a chance to feed these famously fun animals in this unique exhibit.
Shark Encounter – Enter into a fascinating journey through one of the world's largest underwater viewing tunnels where you'll enjoy a rare, up-close look at these intimidating, prehistoric predators whose ancestors dominated the sea over a hundred million years before dinosaurs walked the earth.
---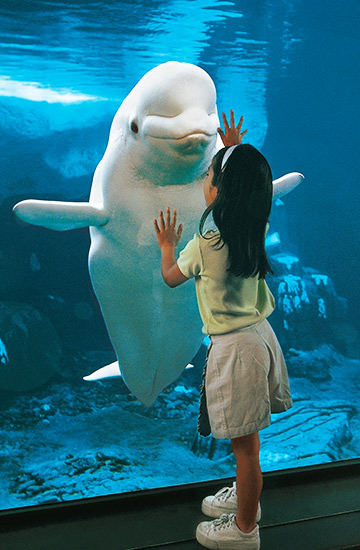 A Commitment to Conservation
From thrilling rides and unique animal encounters with seals, sharks, penguins and more to exciting live shows featuring dolphins and killer whales, SeaWorld Orlando offers a unique and extraordinary adventure for the entire family.
Through up-close animal encounters, educational exhibits and innovative entertainment, SeaWorld provides guests with a heightened sensitivity to the world around them and an awareness of the plight of animals in the wild. The parks' commitment to research and conservation also has led to advances in the care of animals in both zoological facilities and wild populations around the world.
---