Aquatica
SeaWorld's Water Park

SeaWorld's exciting Aquatica water park, blends up close animal experiences, waters from serene to extreme, high-speed thrills and wide, sandy beaches to create an all new theme park experience.
Vivid Colors and 36 Water Slides
With nearly 60 acres of lush landscape inspired by the vivid color, stunning flora and carefree persona of South Sea Islands, Aquatica is reminiscent of the rugged beauty of a land Down Under. Crystal-blue rivers wind through hidden grottos and refreshing waterfalls, while rich greenery and bright flowers adorn towering rock formations. Live animals from around the world including Commerson's dolphins, brilliant macaws and colorful fish add life to the park's playful, high-energy nature. Aquatica features the most thrilling water rides in the world with 36 water slides, six rivers and lagoons, and more than 80,000 square feet of beach area.
High Energy Rides and Animal Attractions
Distinct attractions will zoom, float and splash guests through amazing animal habitats and undersea adventures. Aquatica water park's signature attraction slides guests through clear tubes through a crystal-blue lagoon featuring black-and-white Commerson's dolphins. While similar in color to SeaWorld's icon, Shamu, these dolphins are also distinctly different. In addition to being much smaller, they are also fast, agile swimmers – making them the perfect inhabitants for this lively park. Aquatica water park's attractions offer equal emphasis on high-energy thrill rides and immersive swimming experiences.
High Speed Thrills and Lazy Rivers
A colorful mix of racing tunnels, raft rides and rivers offer crashing surf and high-speed thrills, while pools, lagoons and lazy rivers invite guests at Aquatica water park to enjoy slower pace. Two giant wave lagoons create the world's only side-by-side wave pools that can be operated independently or together. Though side-by-side, each lagoon at Aquatica water park offers a very different experience: one with crashing waves and 5-foot swells, the other with a gently rolling surf. Nine different wave patterns can be created, including one immense wave, or even "dueling" waves.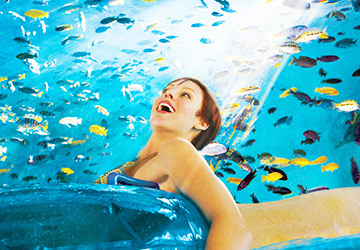 Winding rivers offer two different journeys from serene to extreme. One river carries guests through gentle waterfalls, past exotic birds and into an undersea grotto with thousands of colorful fish. The other jets riders through rolling rapids and racing waters. Colorful eight-lane racing slides, triple-drop raft rides, double inner tubes, and a 6-story family ride round out the mix of thrills.
Fun for the Little Ones
Even the littlest swimmers will enjoy one-of-a-kind attractions at Aquatica water park. One of the world's largest interactive water play areas includes a colorful rain fortress that towers 60 feet above a 15,000-square-foot pool. The entire family can zoom together on slides and blast water cannons. In a separate children's pool, even those Aquatica water park guests not old enough to walk can still slide down tubes with Mom and Dad in specially built rafts.
3 Days/2 Nights + 2 Theme Park Tickets from $139
Create your own Theme Park Adventure with Westgate Resorts!
Call Today 1-877-288-7422