Busch Gardens Tampa
An African Adventure!

Just a short drive from Orlando, Busch Gardens Tampa Florida offers a unique taste of Africa and plenty of thrills! Enjoy up-close encounters with amazing animals, take an unforgettable safari across the Serengeti Plains, enjoy a stage show or experience one of the park's ultra-exciting roller coasters.
High Speed Adventures
SheiKra
puts you on the edge of your seat with a ride that'll take you 200 feet up, then 90 degrees straight down! For additional thrills, there's
Gwazi
, the high flying wooden coaster and Kumba, a roaring steel coaster. Or experience the speed and power of the park's longest thrill ride,
Cheetah Hunt
, a triple launch coaster that soars high then races down through a rocky gorge.
Unique Animal Interactions
Of course, Busch Gardens Tampa Florida is also full of other experiences, as well. Take a trek across the wild African plain on an unforgettable Serengeti Safari featuring hundreds of animals like zebras, giraffes, ostriches and more. See and learn about hippos, lions, hyenas, lemurs, meerkats, crocodiles, vultures or visit Cheetah Run where you can witness the magic of the world's fastest land animals.
Live Entertainment
If you like live entertainment, experience Madagascar Live! Operation: Vacation, an original musical show with singers, dancers and a live band.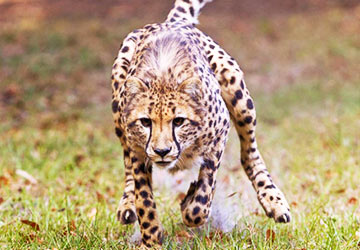 Iceploration, is a 30-minute show that combines world class figure skaters, larger-than-life puppets, amazing costumes, original music and animal stars. This amazing ice show tells the story of Austin, who puts down his cell phone and technology and explores the world, including the Serengeti, Great Barrier Reef, the Arctic and the Amazon Rainforest.
Big Adventures for the Little Ones
Kid-friendly attractions at Busch Gardens Tampa Florida include the Sesame Street Safari of Fun, a kid-sized land of rides, cool water fun, and memorable adventures. Soar with Grover on his plane, look for The Count on a special car ride, fly high with Snuffy, go for a spin on a carousel with Elmo, try Cookie Monster's Canopy Crawl and more.
Annual Extravaganzas
Annual Events you won't want to miss at Busch Gardens Tampa Florida include the popular Halloween event,
HOWL-O-SCREAM
, as well as the park's special Christmas celebration,
Christmas Town
.
3 Days/2 Nights + 2 Theme Park Tickets from $139
Create your own Theme Park Adventure with Westgate Resorts!
Call Today 1-877-288-7422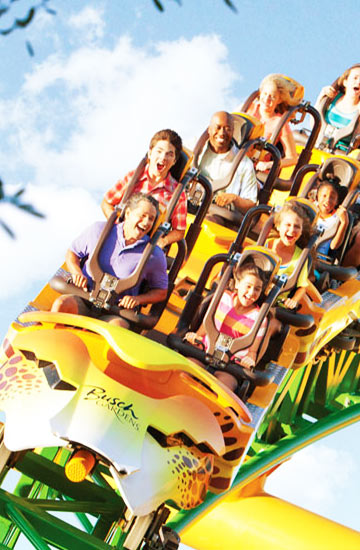 If you're an animal lover, you'll be thrilled to know that Busch Gardens Tampa Florida is one of the largest zoos in all of North America.
While the park offers award-winning roller coasters, world-class entertainment and live shows, Busch Gardens Tampa Florida is also home to more than 12,000 animals belonging to more than 250 species – more than 30 of which are listed as threatened or endangered. Animals include hippos, cheetahs, hyenas, tigers, Asian elephants, orangutans, Nile crocodiles and much more.
---