SeaWorld vacation packages
Thrills are a big part of a SeaWorld vacation package
SeaWorld Orlando may be best known for its high-flying dolphins, Shamu and a variety of other unique animals. But look closely today and you'll discover another side of SeaWorld. That's because SeaWorld now offers some of the most exciting thrill rides in central Florida!
Don't see a vacation package that fits your travel needs?
Give us a call at 1-877-288-7422
The world's most famous marine park, SeaWorld Orlando offers exclusive live shows, special exhibits, rides and unforgettable animal encounters. Consider the options. You can dine with sharks or Shamu, view manatees, touch a sting ray, experience the life of a sea turtle, and explore the frozen world of penguins in Antarctica. Yet today's SeaWorld vacation packages also provide some of the world's best rides!
---
Climb aboard Mako
SeaWorld Orlando is now a must-see stop for roller coaster enthusiasts on a SeaWorld Florida vacation. Kraken remains Orlando's only floorless roller coaster, reaching speeds of 65 mph and turning upside down seven times. Test your mettle on Manta, where you'll spin, glide and fly like a giant manta ray while in a head-first, face down position.
Water ride enthusiasts may prefer Journey to Atlantis, a coaster/flume ride. Yet the best of all just might be MAKO which has claimed the title of Orlando's fastest, tallest and longest roller coaster, reaching 200 feet into the air while traveling nearly a mile in length at speeds up to 73 mph.
---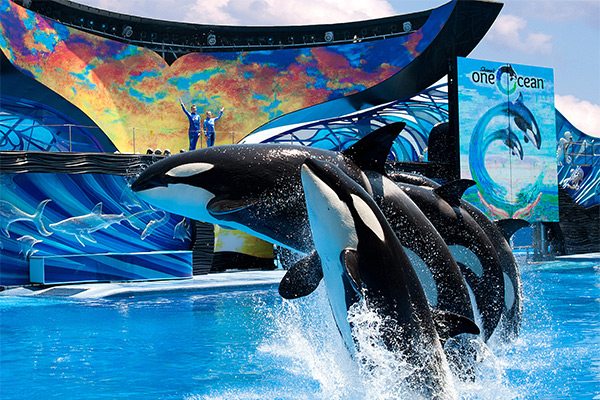 Relax with some laughs and a live show
After all those roller coaster thrills, you may need to catch your breath and relax on your SeaWorld Florida vacation. What better way to chill out than with a live show like A'Lure, The Call of the Ocean – featuring gravity-defying acrobats. If you prefer animal shows, you can choose Blue Horizons, a spectacle with dolphins and tropical birds.
Or One Ocean starring Shamu which displays the full power and grace of killer whales. For laughs on your SeaWorld vacation package, try Clyde and Seamore's Sea Lion High.
---
---
Extraordinary animal encounters

Animal encounters remain an essential focus at SeaWorld Orlando and you'll find plenty of opportunity with SeaWorld Orlando vacation packages. Feed a dolphin in Dolphin Cove, see 100 rays in the Manta Aquarium, get close to sea lions and seals at Pacific Point Preserve, or sharks at Shark Encounter. Yet the "coolest" encounter of all is Antarctica: Empire of the Penguin, a family adventure where you'll have a chance to get nose to beak with a colony of nearly 250 penguins.
Special exhibits, special moments
SeaWorld Orlando vacation packages with SeaWorld Orlando tickets are loaded with special memories and SeaWorld's unique exhibits provide some truly memorable moments. SeaWorld Orlando offers an extraordinary adventure for the entire family, with plenty of high-flying roller coaster thrills, as well!
---
Orlando Theme Park Vacation Packages
---
Start Planning your Orlando SeaWorld Vacation Today!
Call Today 1-877-288-7422
---
Call and save up to 70% on your dream Orlando vacation!
1-877-288-7422
---
Dolphin Cove
Manta Coaster PoV