Experience Universal Studios Orlando Mardi Gras
Mardi Gras. The name itself conjures up images of one big, crazy party. There's music, parades, floats, food and excitement – lots of excitement.
While Mardi Gras originated in medieval Europe way back around the year 1700, the first Mardi Gras parade wasn't held in New Orleans until Feb. 24, 1857. Today, that same New Orleans party remains one of the world's greatest and most famous celebrations – still offering music, parades and more, on a much grander basis.
The parade tradition of float riders throwing trinkets (doubloons, beads, cups and stuffed animals) into the crowds began in the 1870s. And it remains one of the most popular time-honored traditions, with revelers of all ages coming dressed in their craziest costumes and masks, wearing purple, green and gold while draping themselves in those same parade-tossed beads.
DID YOU KNOW?

Mardi Gras Colors: Purple stands for justice / Green stands for faith / Gold stands for power.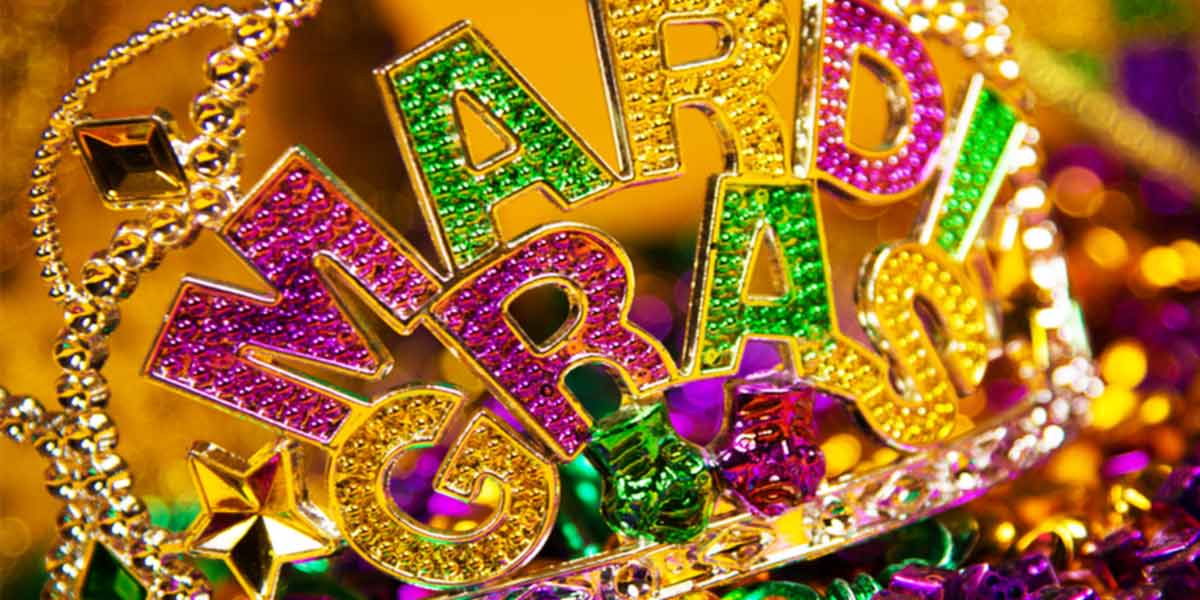 When is Mardi Gras?
The annual Mardi Gras bash corresponds directly to the Easter season. To make a long story short, Easter can fall on any given Sunday from March 23 to April 25 – the exact date coinciding with the first Sunday after the Paschal Full Moon following the spring Equinox. Yet, if that's not confusing enough, the Mardi Gras season officially kicks off on Fat Tuesday – which is the day before Ash Wednesday! And if you're wondering when Ash Wednesday is, it's always 46 days before Easter. Got it?
If not, don't worry about figuring it out on your own. A quick look at the calendar can tell you this year's Fat Tuesday / Mardi Gras falls on Feb. 9, 2016!
Mardi Gras at Universal Studios Florida
For those interested in getting a jump on the Mardi Gras season, one need only head to Orlando, FL where Universal Studios offers up its own family friendly version of Mardi Gras!
The annual theme park celebration kicks off Feb. 6 and runs on select days through April 16, 2016. At Universal, you can expect 14 exclusive concerts, a colorful and crazy parade, 1.7 million beads, outrageous street performers and some of the best spicy jambalaya, shrimp gumbo and other Cajun cuisine you'll find anywhere outside of New Orleans. Best of all, the Mardi Gras experience is included with regular admission to Universal Studios Florida.
On Mardi Gras days, the party begins each evening as a variety of joyful street performers take to the streets of Universal Studios. You can also head over to the French Quarter Courtyard if you'd like to gobble up some authentic Cajun food like spicy jambalaya or shrimp gumbo. Live music from bands straight out of New Orleans adds to the festive atmosphere. But just as you're starting to get a feel for the New Orleans style atmosphere, things really start kicking into gear.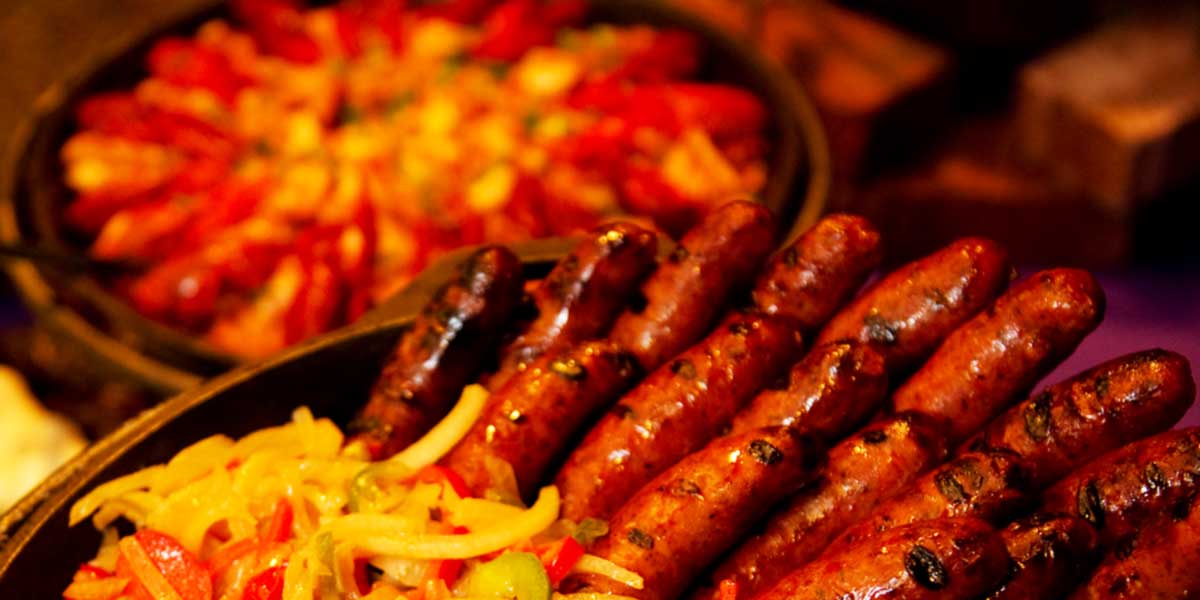 ---
Bring the Kids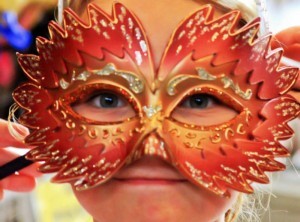 Universal's Mardi Gras is family friendly so yes, please feel free to bring the kids. Unlike the raunchier New Orleans version, The French Quarter Courtyard, pre-party atmosphere and parade are designed for everyone. Kids will love the atmosphere as stilt-walkers and other street entertainers and characters pass out colorful beads and doubloons. You will also find plenty of unique and colorful photo opportunities.
You'll even find a special parade viewing area for kids called the Little Jester's Parade Viewing Area. It's located next to the Terminator 2: 3-D attraction. The area opens an hour before the parade starts. It's also close to the park exit making it convenient to head home once the parade is done.
DID YOU KNOW?

Mardi Gras festivities at Universal Studios take place rain or shine. But remember – this is Florida – The SUNSHINE STATE!
The French Quarter
Experience a taste of New Orleans in the French Quarter Courtyard (located in the New York area of the theme park near Battery Park). Before the parade and concert, you'll find authentic New Orleans bands kicking out their soulful sounds, including blues, jazz and zydeco music. The French Quarter also offers a variety of New Orleans style food, ranging from jambalaya and gumbo to beignets, Andouille sausage, red beans and rice. The courtyard, located in the New York area of Universal Studios near Battery Park, also features music from bands straight out of New Orleans such as Remedy Krewe, Soul Project, Mississippi Rail Company, Cha Wa, Dirty Bourbon River Show and more. So sit back and experience the atmosphere before the parade and concert begin.
* If you want to enjoy Universal's exciting rides and attractions, be sure to arrive earlier in the day. All rides will close at the start of the parade.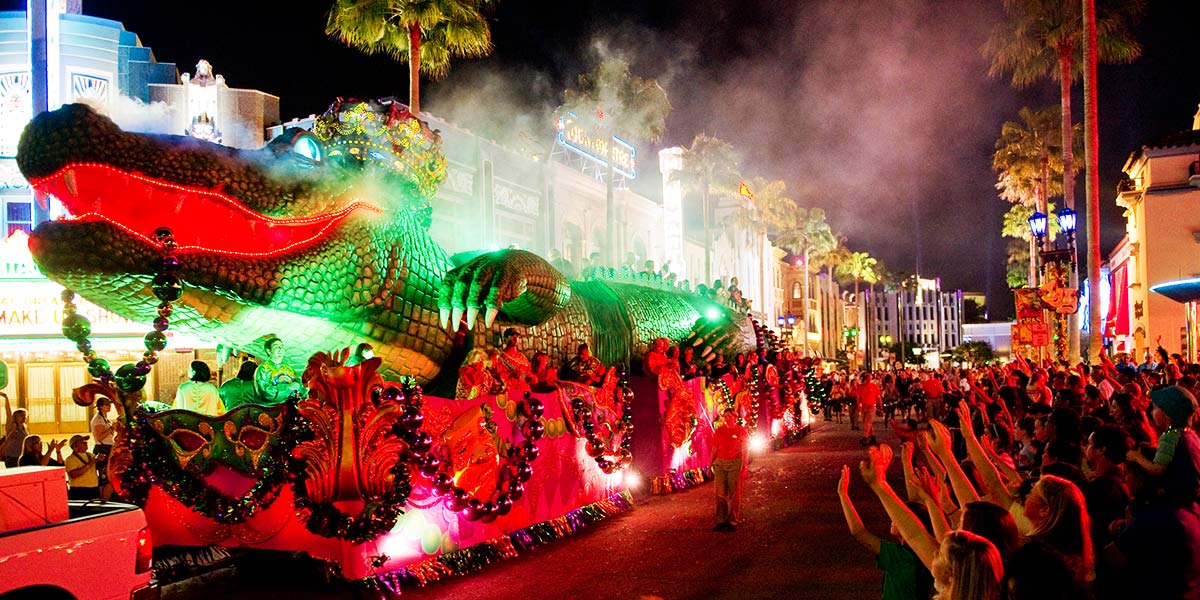 The Parade
The Universal Mardi Gras parade is filled with colorful street entertainers, dancers, towering stilt walkers, lively music and the amazing floats filled with celebrants ready to toss handfuls of beads along the parade route.
Universal's authentic parade floats are created by Blaine Kern, the company that has also created the New Orleans parade floats since 1947. Popular floats include King Gator, the Riverboat, Around the World in Eighty Days and the King & Queen floats. This year's parade also includes five new floats created to celebrate different cultures and festivals from around the world, such as the Venetian Carnival, Oktoberfest, 4th of July and the Rio de Janeiro Carnival.
The 25-minute long parade begins approximately 45 minutes before the scheduled concert time. So grab a good spot along the parade route and get ready to catch your share of those colorful Mardi Gras beads and doubloons as they are tossed from the floats.
If you really love a parade, or simply want to grab even more beads, it's possible to view the parade twice. Simply line up in front of Mel's Drive-In along Universal's Hollywood Boulevard – a spot where the parade begins and ultimately ends.
Parade Route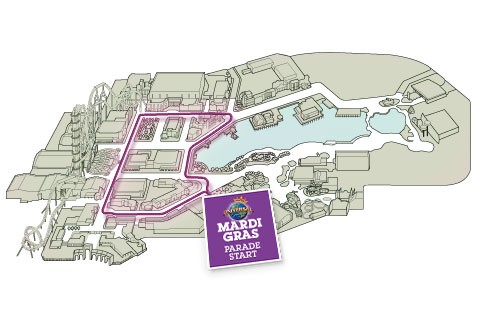 DID YOU KNOW?

When looking to catch the beads being tossed from parade floats, it's helpful to yell out, "throw me something, mister!"
The Concerts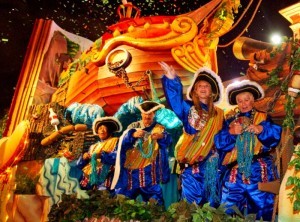 The highlight of the night… the Mardi Gras concerts bring some of the world's biggest names in rock, pop, country and R&B to the Universal Music Plaza stage. What a great way to see a top band perform, with no opening act and no special ticket to buy. But note, there is no seating and space around the stage is first come, first serve. You'll want to get there plenty early to be near the stage - especially for the bigger name concerts.
Don't worry about seating at the concerts because there is none! It's simply standing room only in front of the stage and personal chairs are not permitted.
You can enjoy both the parade and the concert, but to do so, you might want to catch the parade from the parade route closest to the stage. That way you can easily move from the parade route to the stage area. Of course, if you care more about the band, feel free to get to the stage area early and hang out in your preferred spot near the stage. Show up early enough and you can be in the front row.
Not all concerts are geared for kids and the area surrounding the Music Plaza Stage gets crowded. But you may choose to enjoy the music from a distance.
MARDI GRAS 2016 CONCERT LINEUP (subject to change without notice)
Saturday, February 6: Hunter Hayes
Saturday, February 13: Diana Ross
Sunday, February 14: Barenaked Ladies
Saturday, February 20: Nate Ruess
Saturday, February 27: Fall Out Boy
Saturday, March 5: Kool & The Gang
Friday, March 12: The Fray
Saturday, March 13: Adam Lambert
Saturday, March 19: Shawn Mendes
Sunday, March 20: 3 Doors Down
Saturday, March 26: REO Speedwagon
Saturday, April 2: T-Pain
Saturday, April 9: Jessie J
Saturday, April 16: Yandel
Concert times are either at 8:00pm or 8:30pm. The Mardi Gras parade is scheduled 45 minutes before the concert time.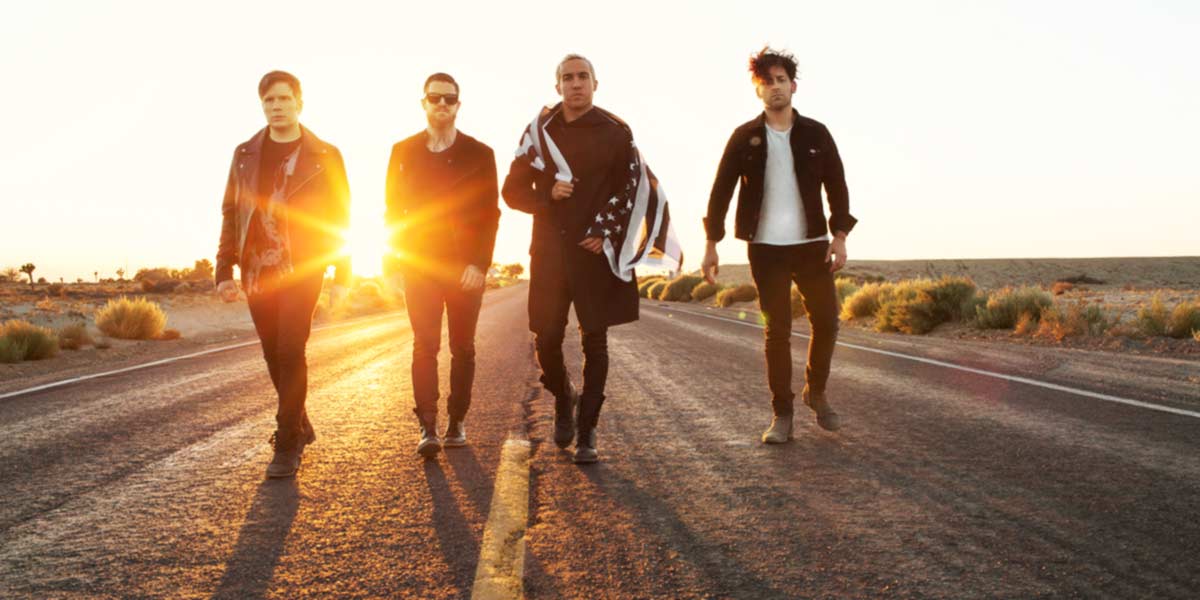 The After-Party
On Mardi Gras event nights, you can use your Universal Studios Florida theme park ticket to skip the cover charges at Pat O'Brien's and all the other rocking night clubs at Universal CityWalk. Pat O'Brien's is an exact replica of the famous New Orleans club where you can celebrate Mardi Gras every day of the year! CityWalk is open nightly til 2:00 am. Nightclub patrons must be 21 or older for admission.
The Recovery
After a long day at Universal Studios enjoying rides, entertainment, family fun and all the Mardi Gras excitement, you'll be in need of some rest and relaxation. So head up the road to nearby Westgate Lakes Resort & Spa where you'll discover a scenic and tranquil lakefront resort offering all the comforts of home!
Just minutes from Universal Studios, Westgate Lakes Resort & Spa offers spacious and luxurious villa accommodations ranging from studios that sleep 4 up to four-bedroom villas that sleep as many as 16. Whichever villa you choose, you'll enjoy comfortable leather furniture, large screen TV, a fully-equipped kitchen perfect for fixing a quick snack or a complete meal, a private balcony or patio and more.
You'll also find a wide range of exclusive resort-style amenities including 7 heated outdoor swimming pools and hot tubs, a state-of-the-art fitness center, on-site dining options like the award-winning Smokehouse Grill, scheduled activities, a lakeside marina with paddle boats and water sports, and even the world class Serenity Spa featuring signature massage and facial treatments and more.
3 Days/2 Nights
+ 2 Universal Studios Tickets in Orlando from $139
Put Yourself in the Middle of the Action at Universal Studios
Call Today 1-877-288-7422