Thanksgiving remains one of the most popular travel weekends of the year. While many are heading for grandma's house, many more are traveling to favorite vacation destinations like Orlando! A Thanksgiving trip to the sunshine state means thrills like Disney World and Universal Studios. It means Black Friday shopping at giant outlets, boutiques and internationally acclaimed malls. It means sunshine, fun and countless memories.
But what about Thanksgiving dinner in Orlando? A trip to the sun and fun doesn't mean you have to forego your traditional Thanksgiving Day feast.
When staying at Westgate Lakes Resort & Spa in Orlando, you can simply head over to the onsite Smokehouse Grill restaurant where they'll be serving up a home cooked Thanksgiving dinner from 2-10 pm. The menu includes salad, carved turkey, black oak ham, turkey gravy, salmon with lemon butter, mashed potatoes, green bean casserole, sweet potatoes, cornbread stuffing, roasted butternut squash, cranberry sauce, baked bread, fresh fruit salad and assorted pies and cakes. Cost is $29.95 adults and $15.95 for children 12 and under (owners) or $32.95 adults and $15.95 children (guests). Prices do not include tax and gratuity.
In the meantime, here are some additional options to make your Thanksgiving dinner in Orlando extra delicious.
OPTION #1 – Cook your own Thanksgiving feast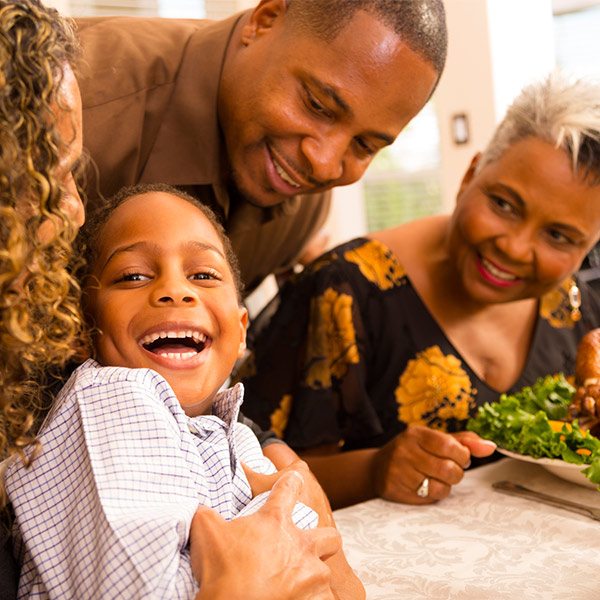 ---
Looking to cook your own Thanksgiving dinner in Orlando? One option is a stay at Westgate Lakes Resort & Spa. The resort is ideally located near Disney World and other area theme parks and attractions. Westgate Lakes also offers exceptional amenities like multiple swimming pools, mini golf and a lakeside marina. But the best feature for Thanksgiving is the spacious and luxurious villas that come complete with a fully-equipped kitchen.
Westgate Lakes is located near a Wal-Mart as well as grocery stores such as Publix. A quick shopping trip and you can pick up everything you need to cook a Thanksgiving dinner, including a disposable aluminum foil roasting pan for the turkey. Otherwise, you'll find your villa fully loaded with other necessary pots, pans, dishes and utensils. A fully prepared Publix Thanksgiving dinner can also be ordered complete with turkey and all the fixings.
Your villa also features a separate dining area so you can enjoy eating your Thanksgiving dinner at an actual table, not just sitting on a bed like you would in a standard hotel room.
---
---
OPTION #2 – Skip the kitchen cleanup by dining out
If you prefer to spend your Orlando Thanksgiving vacation in the theme parks rather than cooking over a hot stove, well you'll find more than a few restaurants ready, willing and able to provide a traditional turkey dinner with all the fixings. Here are just a few of the Thanksgiving restaurants Orlando options. Call ahead for reservations and to verify pricing and menu options.
---
---
Restaurants open on Thanksgiving in Orlando: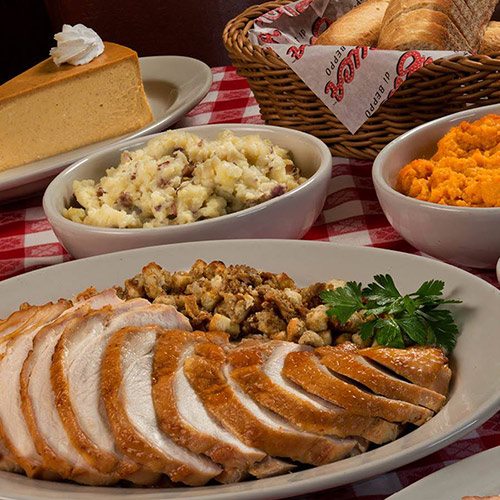 Source: Buca Di Beppo Maitland
Buca di Beppo
Address: 4700 Millenia Blvd #400, Orlando, FL 32839
Reservations: 407-622-7663
For those looking to enjoy a traditional family-style Thanksgiving Day meal, a visit to Buca di Beppo is always a fun-filled treat.
Menu items include:
Traditional Turkey Dinner Small (serves 3) - $68.99 Large (serves 6) - $134.99 - Sliced white meat turkey, homestyle gravy, roasted garlic mashed potatoes, spicy Italian sausage stuffing, green beans, cranberry sauce, pumpkin pie
Thanksgiving Feast To Go
Half Pan (serves 10) - $199.99
---
---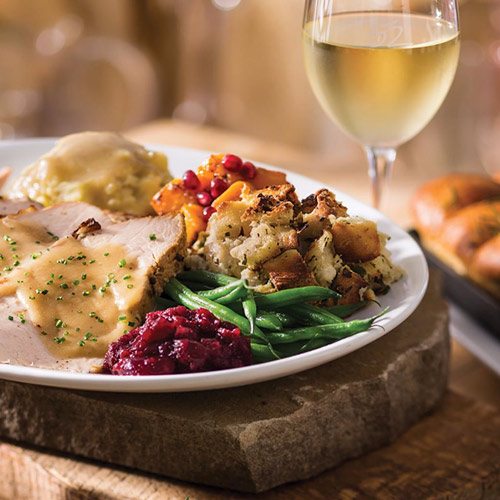 Source: Seasons 52 Orlando
Seasons 52
Address:7700 W. Sand Lake Road, Orlando, FL - Map Here
Reservations: 407-354-5212
Among other restaurants open on Thanksgiving in Orlando, the popular Seasons 52 offers up a traditional Thanksgiving dinner with all the trimmings, featuring turkey raised on family farms and never, ever given antibiotics.
Adult Entrée - $26.90 Child's Portion- $12.90
---
---
Source: The Capital Grille Orlando
The Capital Grille
Address: 4200 Conroy Road, Orlando, FL - Map Here
Reservations: 407-351-2210
---
Address: 9101 International Drive, Orlando, FL - Map Here
Reservations: 407-370-4392
Both Capital Grille locations in the Orlando area will serve a traditional Turkey Day meal.
Cost: Adults - $43 Children under age 12 - $15.
Pumpkin cheesecake dessert is also available for an additional cost.
---
---
OPTION #3 - Prepared Thanksgiving Dinners for Carry Out
If roasting your own Thanksgiving turkey sounds like too much work and you don't want to dine out, you can always find some Thanksgiving dinner Orlando options for carry out. Two locations near Westgate Lakes include:
Publix
Address: Plaza Venezia, 7640 Sand Lake Road, Orlando, FL
Phone: 407-226-3315
Publix supermarket offers fully-cooked turkey Thanksgiving dinners that can be ordered through the deli. (Confirm details and price with your local store):
Regular Publix Turkey Thanksgiving Dinner (serves 7-10 people) $49.99
: Includes fully-cooked 10-12 lb. turkey plus all side dishes listed below.
Large Publix Turkey Thanksgiving Dinner (serves 14-18 people) $89.99:
Includes fully-cooked 16-18 lb. turkey plus all side dishes listed below (2 containers of each side).
Side Dishes with Publix Turkey Dinners (each container has 4-6 servings):
Dressing, 2.5 lb
Yukon Gold Mashed Potatoes, 2.5 lb
Gravy, 32 oz
Marshmallow Delight, 28 oz
Cranberry-Orange Relish, 16 oz
You can also add Potato Rolls, pies and appetizers for an additional cost
Walmart
Address: 8990 Turkey Lake Road, Orlando, FL
Phone: 407-351-2229 (Confirm details and price with your local store)
Located near Westgate Lakes, Walmart Thanksgiving Catering allows you to order a ready-made Thanksgiving feast.
Menu items include: cooked turkey, ham, macaroni & cheese, yams, collard greens, mashed potatoes, and other dinner entrees. A variety of pies, cakes and ice cream is also available.
[/column]
---
---
OPTION #4 - Prepared Thanksgiving Dinners Delivered to Your Door!
Westgate Lakes Resort & Spa features an award-winning restaurant that will deliver a fully cooked Thanksgiving feast directly to your villa! Order ahead and Westgate's Smokehouse Grill will bring Thanksgiving to you. For just $95 plus tax and a $5 deliver fee, you'll enjoy a dinner that serves 6-8 people.
Thanksgiving Dinner - delivery available from 11 am to 7 pm:
Whole roasted 12-14 pound turkey with traditional herb stuffing
One quart roasted garlic mashed potatoes
One quart green bean almondine
One pint turkey gravy
One pint cranberry sauce
One dozen dinner rolls & cornbread
One whole pumpkin or apple pie
Additional sides: candied yams/mashed potatoes/gravy/vegetables/stuffing - $5.95 per pint
Dinner rolls - $3.95 per dozen
Cranberry sauce - $3.95 per pint
Pumpkin or apple pie - $8.99 each
Orders must be placed by 12 noon on Wednesday, November 22, 2018
You May Also Like:
Share these Thanksgiving ideas with all your friends!