From mysterious mansions and haunted houses to scary stories and unexplained phenomenon, the Halloween season is full of friendly frights in the Great Smoky Mountains of Gatlinburg, TN.
The rolling hills of the Great Smoky Mountains have long been filled with old traditions, folklore and ghost stories shared by Appalachian residents. And when autumn rolls around, some of those stories are brought to life in haunted mansions and attractions throughout the Gatlinburg area. So get ready to enjoy some family fun by exploring haunted houses, secret passageways and enjoying must-see ghost tours and other haunted adventures.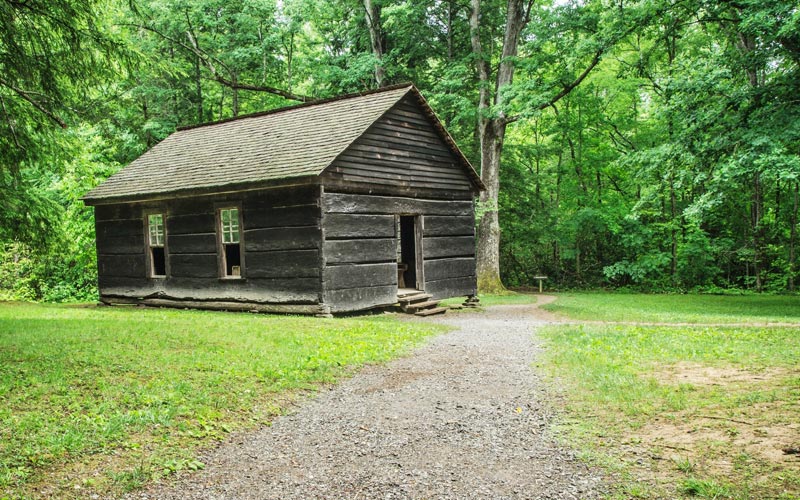 Haunted Houses in Gatlinburg, TN
1. Mysterious Mansion
424 River Rd., Gatlinburg, TN 37738
Dare to step inside Gatlinburg's oldest and scariest haunted attraction, a turn of the century mansion where you'll take an unguided tour through secret passages, dark corridors, winding staircases and chilling chambers of horror. Oh, and did we mention you might also meet up with some equally terrifying residents lurking around corners or even behind you.
---
---
2. Wheatlands Plantation
2507 Boyds Creek Hwy, Sevierville, TN 37876
This colonial era plantation has seen more than its share of bloodshed and draws constant attention from paranormal teams. Open for tours and occasional ghost hunts, the property was the site of Revolutionary and Civil War battles and has see more than 70 murders and deaths, including an estimated 28 Cherokees massacred in the Battle of Boyd's Creek, 69 African slaves and 2 Revolutionary War soldiers.
---
---
3. White Oak Flats Cemetery
Downtown Gatlinburg, TN near The Village
Located just a short walk from the Village of Gatlinburg, this 1830 cemetery remains a popular tourist spot and is the final resting place for many of the pioneering ancestors that founded Gatlinburg, including Wiley Oakley, a legendary wilderness guide known as the Will Rogers of the South. Nestled in the heart of downtown, this historical cemetery is secretly located but can be found by following the path up the hill from back of the Village shopping area.
---
---
4. The Devil's Courthouse
Blue Ridge Parkway, Milepost 422, North Carolina
A short drive from Gatlinburg, TN is the Devil's Courthouse, a bare rock profile that offers a sinister appearance and plenty of local folk tales. A short and strenuous trail takes you up a half-mile to the peak where you'll find spectacular views. Within the mountain is a cave and Cherokee lore says that is where the devil holds court and it is the private dancing chamber and home to a slant-eyed giant called Judaculla. The area is also home to many rare, high-altitude plants and even peregrine falcons.
---
---
5. The Greenbrier Restaurant
370 Newman Rd, Gatlinburg, TN 37738
The Greenbriar offers up some delicious food and some haunted history. In 1939, a young woman named Lydia who lived in the lodge was jilted by her fiance at the alter. It's said that she rushed from the church to the lodge, and hanged herself in her wedding dress. The fiance's body was found days later after being mangled by a mountain cat (or perhaps Lydia's vengeful spirit). Diners are said to occasionally see a sad figure on the staircase or feel a sad presence in the restaurant.
---
---
Ghost Tours in Gatlinburg, TN
By day, Gatlinburg is filled with fun and festive restaurants, shops, and attractions plus lots of scenic mountain views. But this popular Smoky Mountains area is also filled with stories and legends of past settlers, pioneers, loggers, soldiers and others who met heartbreak, misery and death. You'll find a variety of Gatlinburg ghost tours that bring those stories to life and will take you to the places where these events and sighting took place. Enjoy many of the unexplained, strange tales and discover some of the haunted hotels and buildings in the downtown area featuring paranormal activity.
Appalachian Ghost Walks - Enjoy a scare with these nightly, lantern-led walks that take you on a journey to discover the history and hardships of Gatlinburg's earliest settlers and their spirits.
Ghost Walk of Gatlinburg - take a stroll along the dark streets, alleys buildings and even a historical cemetery of Gatlinburg and enjoy tales of the unexplained in the Smokies.
Ghost & Haunt Tours of Gatlinburg - Dare to explore the supernatural while learning of the historical pioneers and settlers of Tennessee and their haunted stories.
---
Other Haunted Attractions
In the Great Smoky Mountains, you can face your fears every night of the year - not just during the Halloween season. In fact, some of the best haunted houses and scare adventures are open year round - 365 days. So get your tickets and visit your favorite haunting spots for a good scream today.
Ripley's Haunted Adventure - Ripley's is a fun-filled fright-fest where live actors lurk around every corner or a creepy, renovated mansion.
Outbreak: Dread the Undead - Explore (if you dare) this haunted biotech lab, ruined morgue and rotting basement filled with throngs of undead zombies while trying to rid the world of Alpha Strain outbreak.
---
Frequently Asked Questions
The two most popular months to visit Gatlinburg are July and October. In July, the town is at its busiest with many tourists crowding into shops and restaurants, while weekends in October bring out large crowds who want to catch a glimpse of the autumn leaves before they turn brown or frosted over!
The mountains, valleys, and foothills of Gatlinburg begin to show their change in color from early to mid-October. During this time expect to see colors of red, orange, and yellow, a beautiful fall spectacle.
Gatlinburg doesn't just welcome visitors, but encourages them to explore its little town. The people of this mountain town are friendly and eager for you experience all that it has to offer - from world-class dining options or cookie-making classes with the kids; there really isn't anything Gatlinburg won't make sure your visit includes!
Hiking in the Great Smoky Mountains National Park is an experience like no other, with 800 miles of trails combining sweeping panoramic views, cascading waterfalls, and pure nature!
---