What to expect at Westgate Town Center Resort
Westgate Town Center Resort sits elegantly in the heart of Kissimmee's popular attractions corridor, just a mile from the main gates to Walt Disney World Resort. While many central Florida shops, restaurants and attractions are just getting reopened following Covid-19 virus shutdowns, Westgate Town Center has remained open for guests and Owners.
But staying open hasn't meant business as usual. In fact, Westgate Resorts has done more than simply react, and has been proactively dealing with ongoing government health mandates and new cleaning procedures and health policies. The health and safety of our guests and team members remains our number one priority.
When you arrive at the resort
Arriving at the gate at Westgate Town Center, you'll be greeted by a personable guard ready to check you through. This is also the first health and safety checkpoint as the guard will take temperatures with an electronic thermometer. All Westgate employees are required to wear face masks. While guests are encouraged to wear them, as well, they are not required. If you do not have a mask and would like one, the guard will be happy to provide them.
Once through the gate, you'll have two options for check-in. You can walk into the lobby to check-in, or you can utilize a convenient new mobile check-in procedure that allows you to check-in without leaving your vehicle.
Without interfering with your ability to enjoy the resort and open amenities and activities, you'll also discover many subtle additions and protocols that have been implemented with your health in mind. Here are just some of the things you can expect when visiting the resort.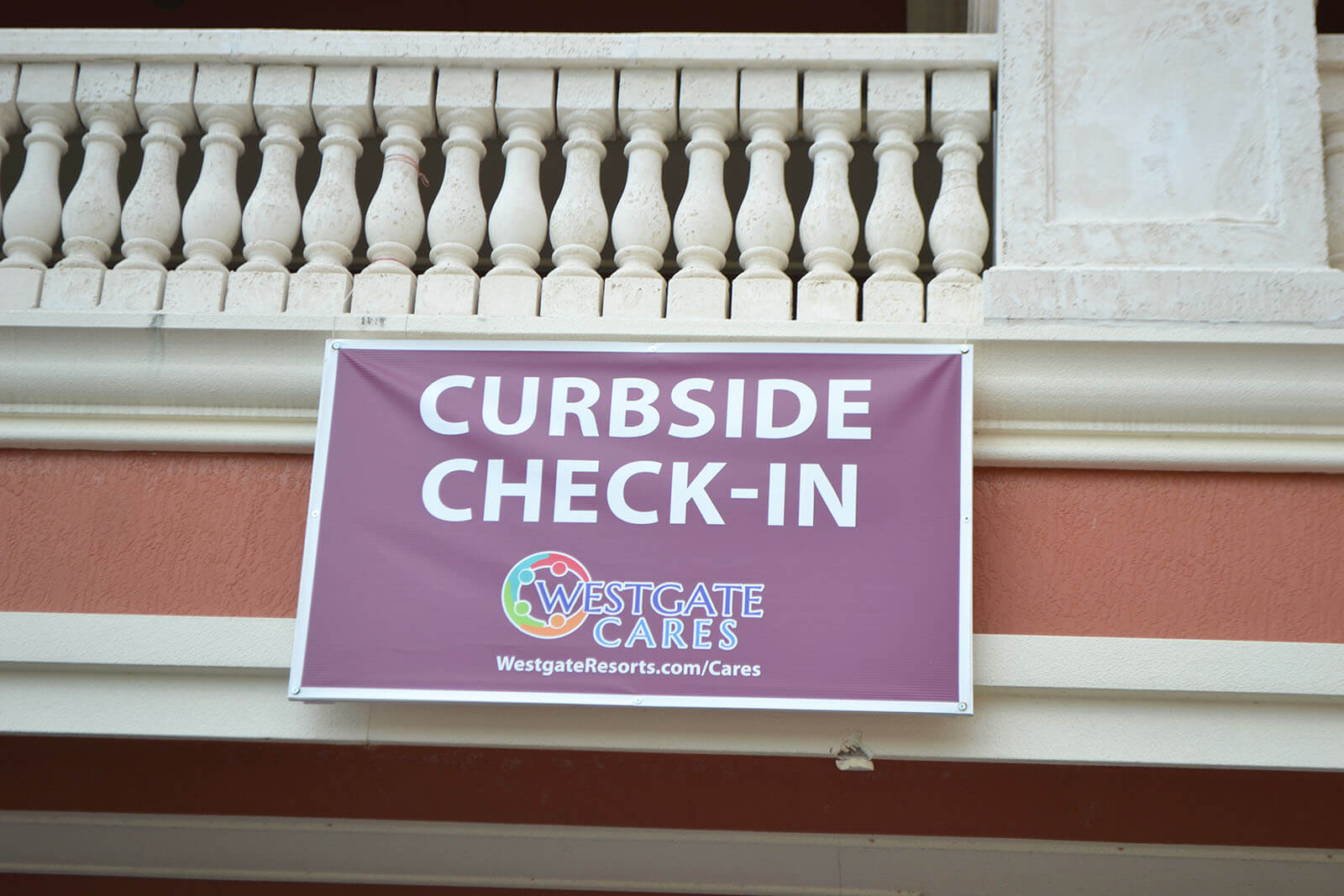 ---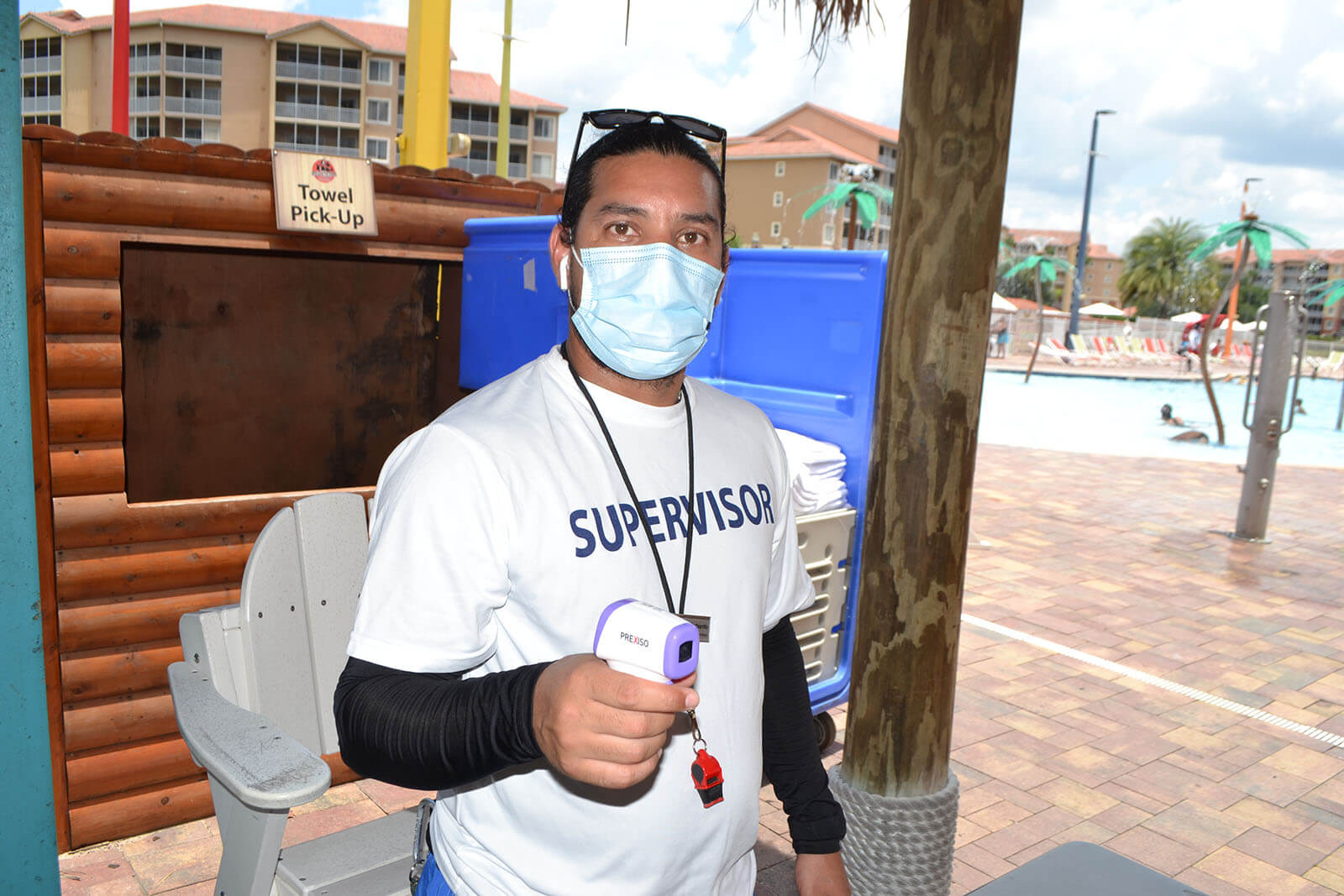 ---
---
Dive into fun! Shipwreck Island Water Park is open!
Always one of the most popular destinations on property, the water park at Westgate Town Center has a wide range of new protocols in place. To start, everyone entering the water park will again have to pass a temperature check. And while the park currently is limited to 50% capacity, you'll find social distancing reminders throughout, such as signage and floor stickers set 6-feet apart wherever there may be lines. This includes the queue area for entering the park, as well as near the entrance to all rides and slides.
Employees are regularly cleaning and wiping down all surfaces while also moving tables and chairs to keep parties a minimum of 6-feet apart in dining areas and on the sun deck. Tables near the pool bars also feature a QR Code that can be scanned with a smart phone to get an electronic menu. Drinks are only being served in souvenir cups or single-use plastic cups.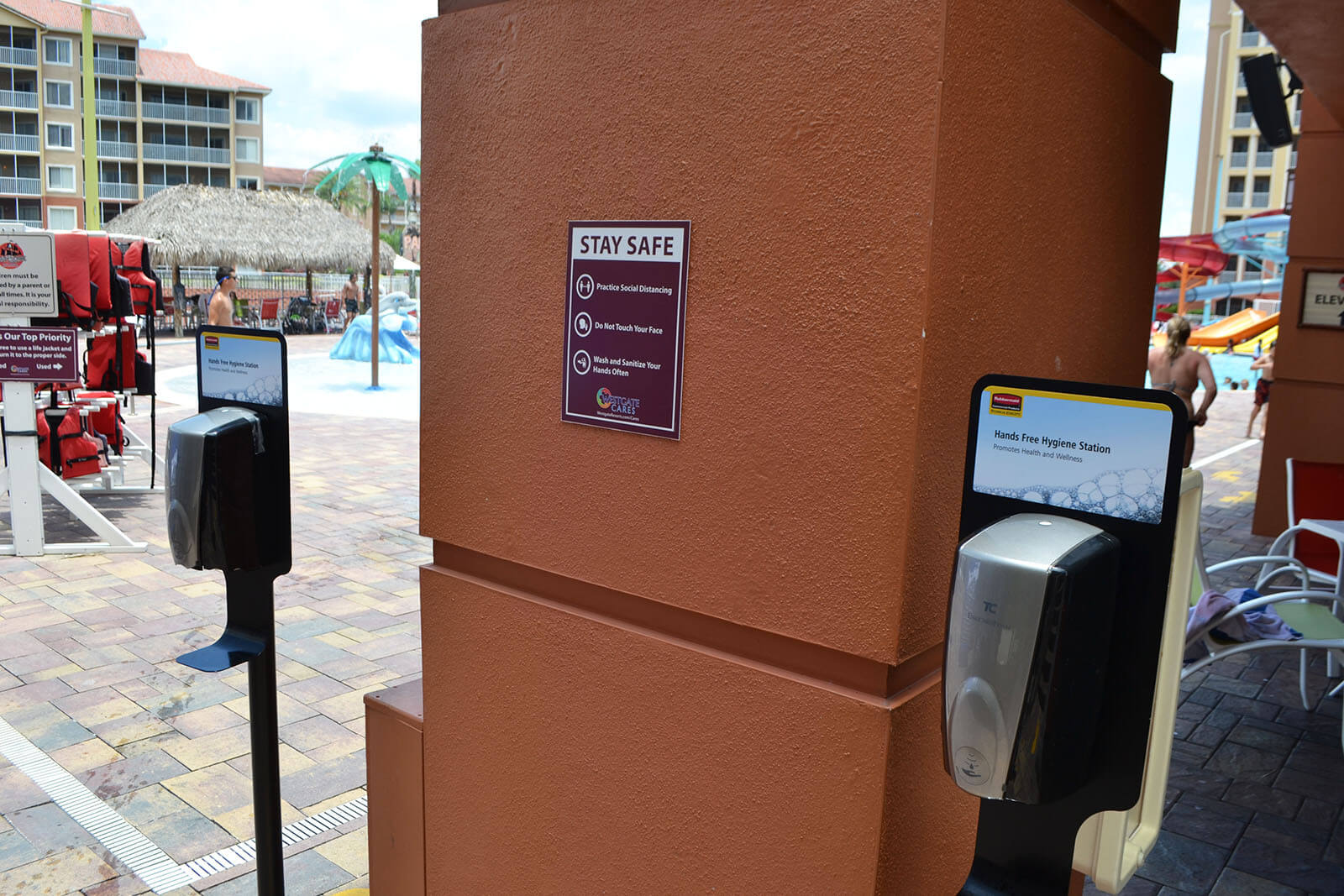 Hand Sanitizing Stations
Additional hand sanitizing stations can be found at the entrance to the water park, as well as numerous other locations throughout the water park, on both the upper and lower levels.
---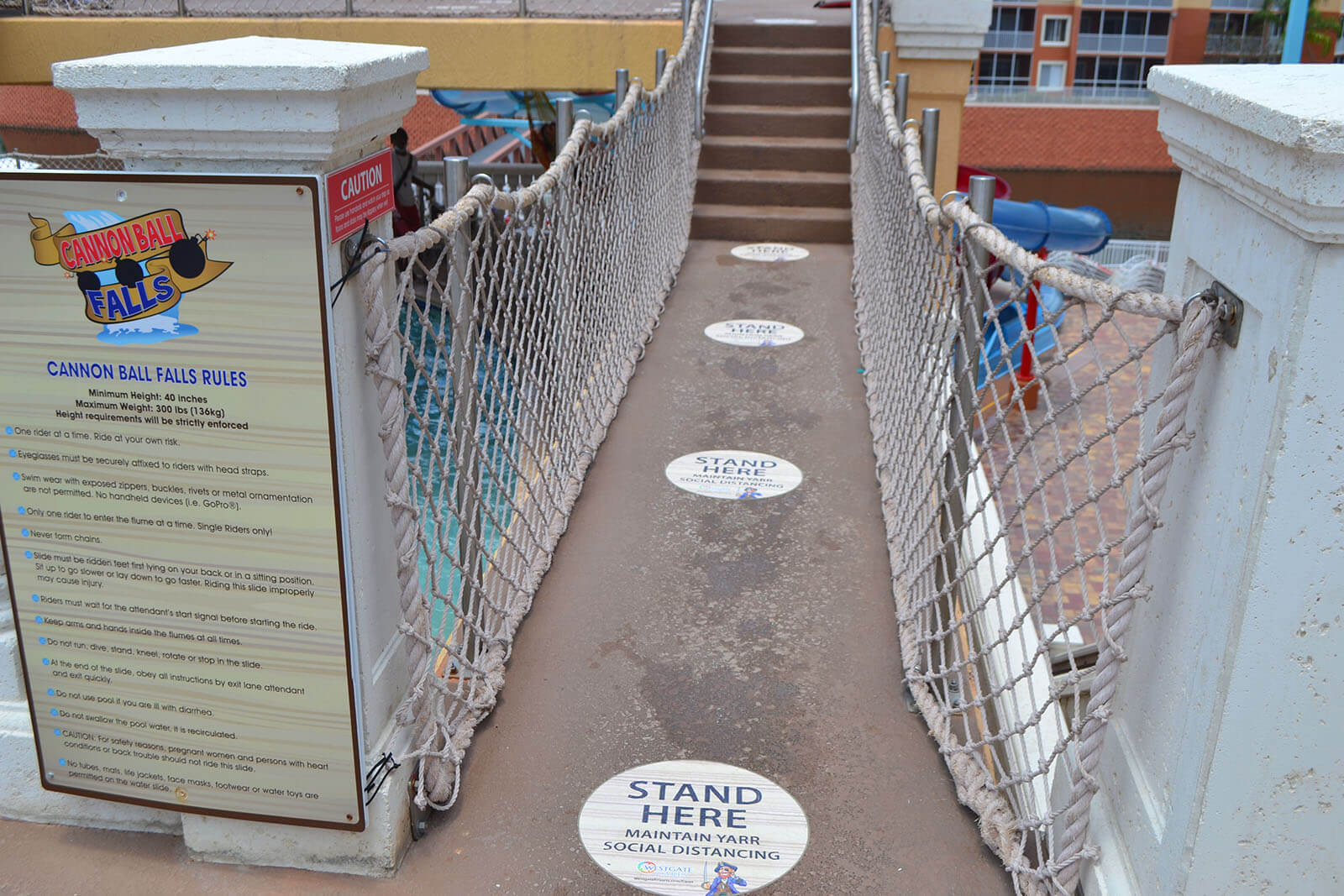 Social Distancing Markers
Social distancing markers spaced 6-feet apart can be found at the water park entrance and throughout the water park near ride queues and other areas where guests may line up.
---
Enjoy our delicious onsite restaurants
Restaurants at Westgate Town Center like Drafts Sports Bar & Grill will also require a temperature check prior to entering and there is a hand sanitizing station outside the front door. There's another hand sanitizing station as soon as you walk in, and you'll find social distancing markers on the floor. Tables are set up a minimum of 6-feet apart. The middle of each table includes a QR Code that can be scanned for an electronic menu. Drinks are only being served in souvenir cups or single-use plastic cups.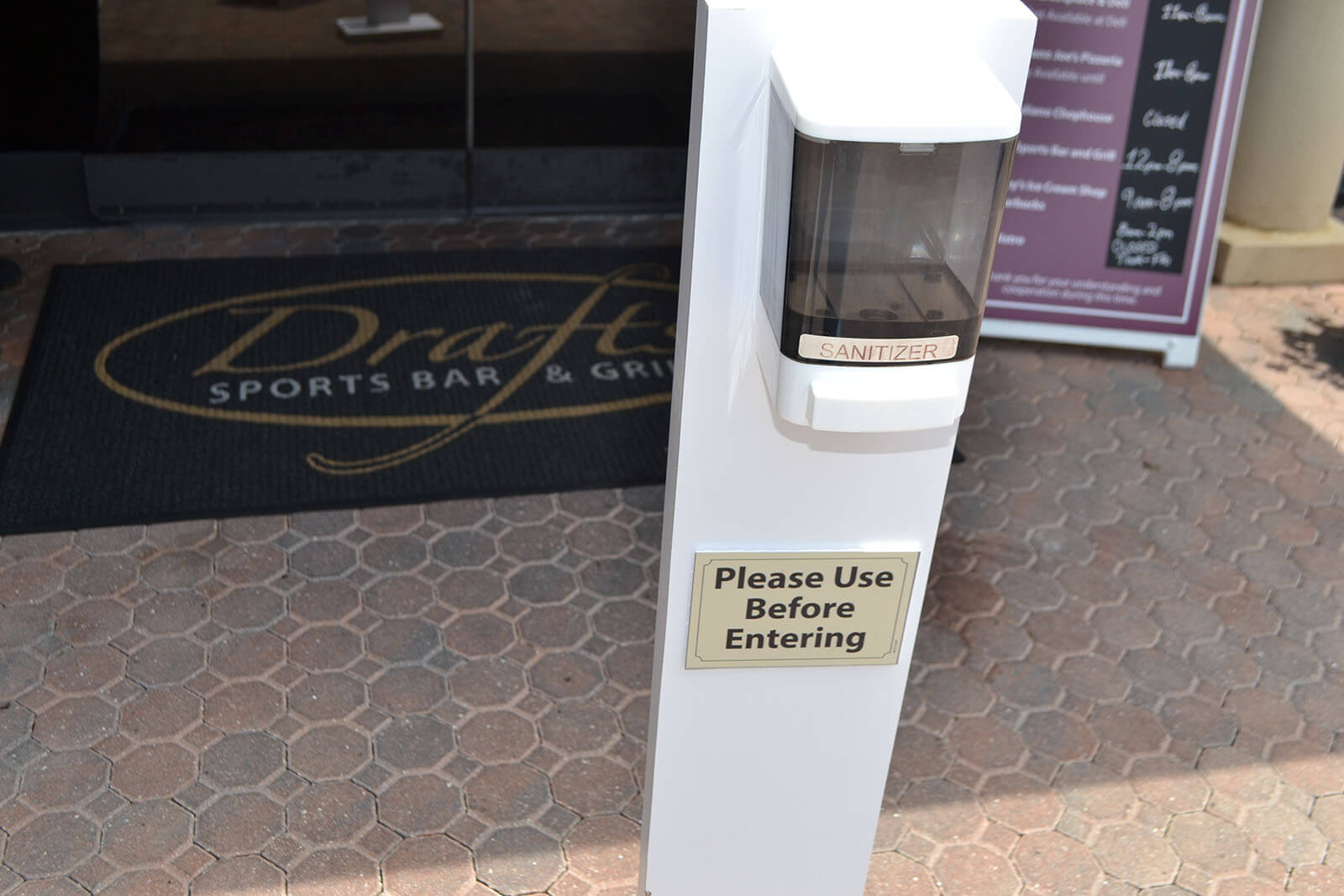 Hand Sanitizing Stations
Drafts Sports Bar & Grill offers hand sanitizing outside the front door and also at the reception desk when you walk in.
---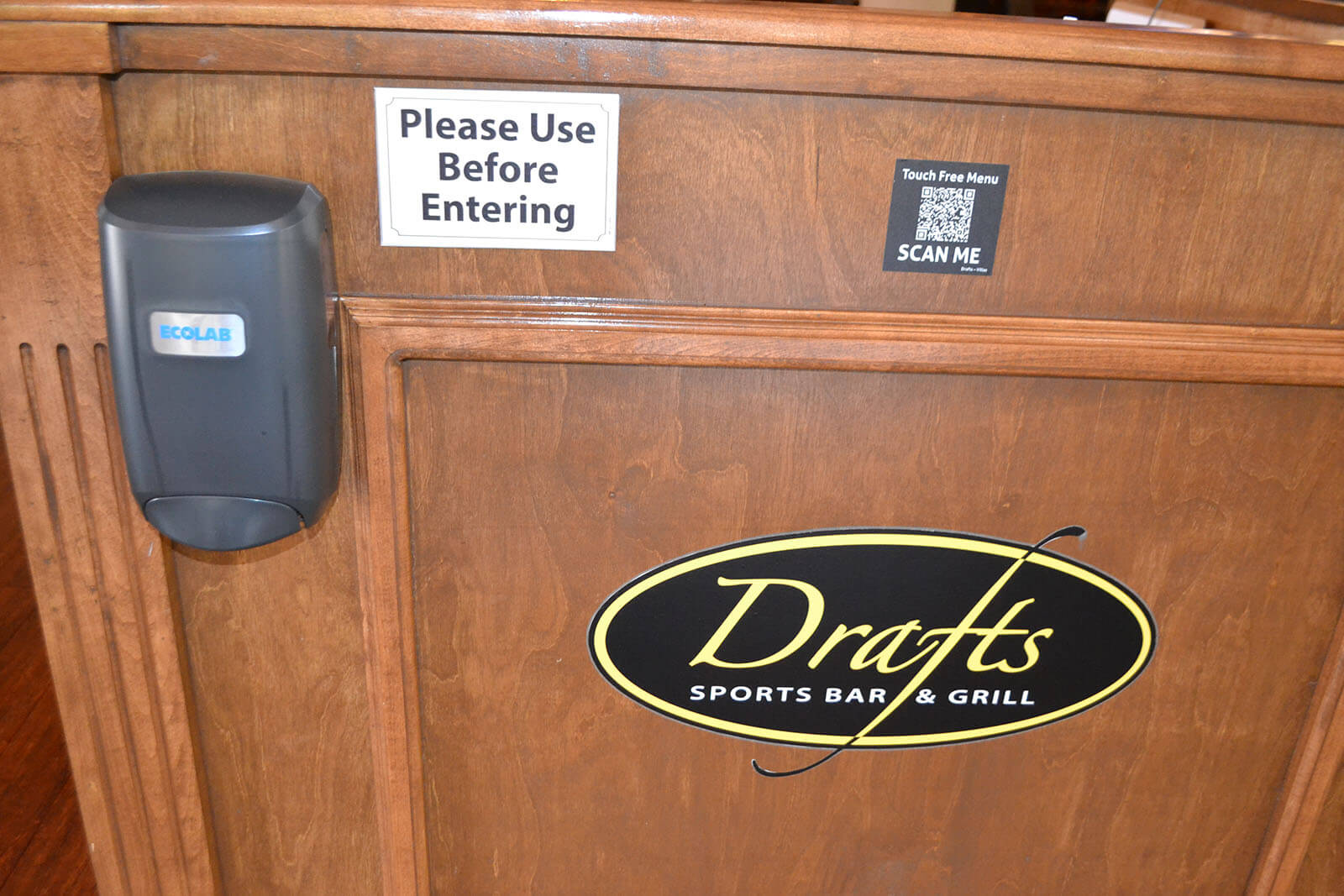 Touchless Menu - QR Code
Onsite dining locations such as Drafts offer touchless menus. You'll find a QR code on the reception desk and on top of each dining table. Simply scan the code with your phone to receive an electronic menu.
Please note that all employees and guests will be required to wear facemasks when entering the onsite food Marketplace.
---
---
High traffic resort areas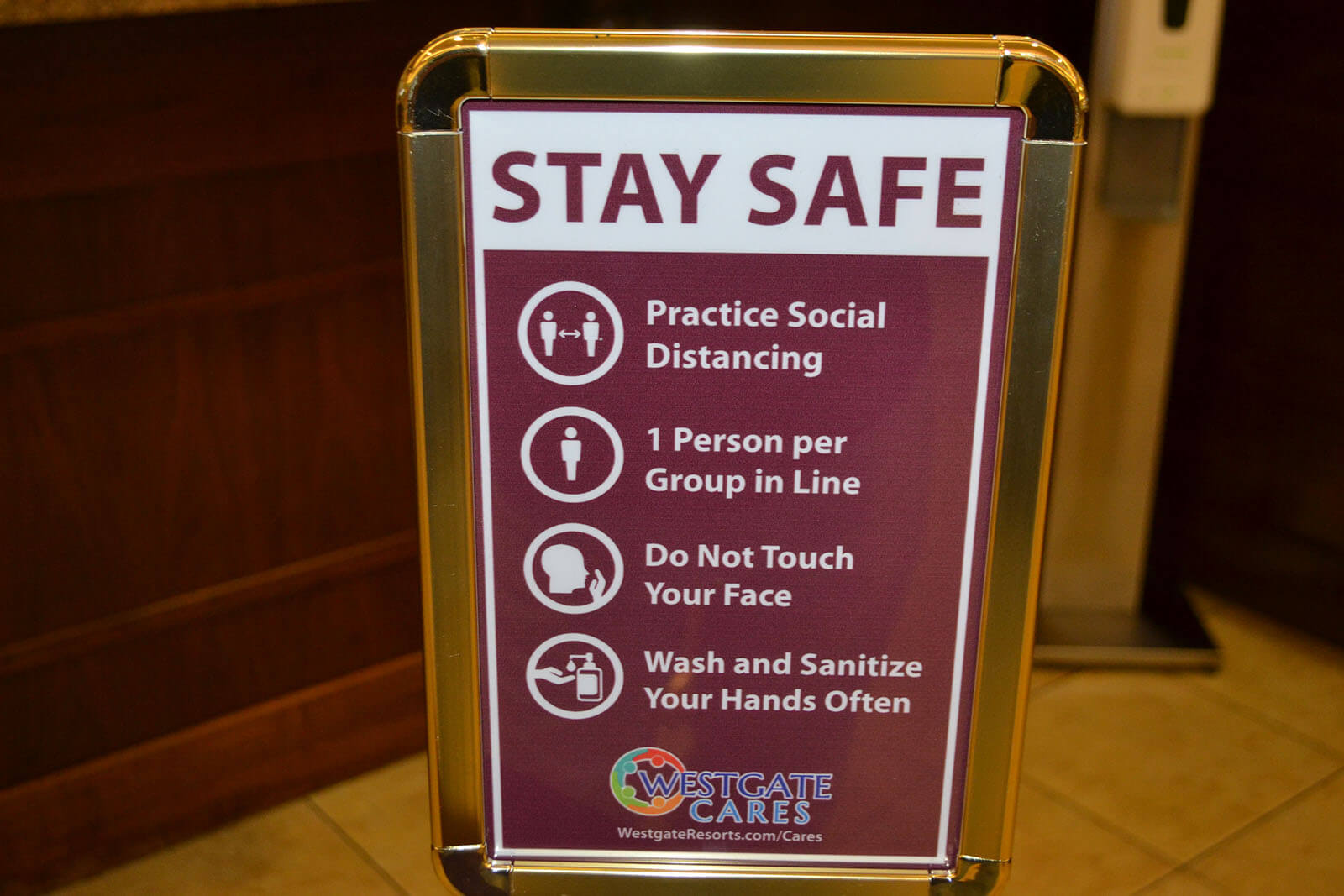 Throughout the lobby, Welcome Center, Gifting Room and other high traffic areas of the resort, there is signage reminding you to adhere to social distancing guidelines, as well as floor marker reminders placed 6-feet apart. When possible, you may also find employees with gloves happy to open doors so you won't have to make contact with door handles. You will also find a number of hands-free, hand sanitizing stations throughout the resort property.
---
See ALL of our enhanced cleaning processes and procedures
Restrooms are cleaned and wiped down frequently and will undergo deep sanitization every 24 hours. Additional hands-free paper towel dispensers can be found next to each sink.
For a complete run-down of Westgate's enhanced cleaning processes and procedures for all touchpoints and surfaces, including guest rooms, lobby areas, restrooms, shuttles, pool & spa areas, offices, administrative areas and more, please visit our Westgate CARES page here.