A Natural Family Getaway
Wekiwa Springs State Park is an amazing 6,400-acre getaway spot with a natural springs right outside of Orlando, Florida. Wekiva Springs offers some recreation opportunities for everyone in your family for any Florida vacation destination.
The crystal clear natural spring is the staple of the State Park, and it is large enough to host some families and swimmers at once. Right in front of the natural springs is a large picnic area where I saw several families set up tents and chairs to enjoy the afternoon.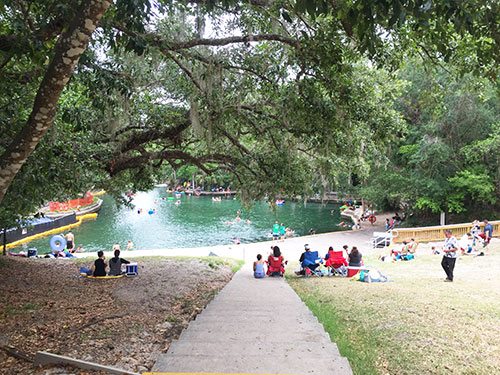 Wekiwa Spring is a great spot for family recreation and adventure. Everything from canoeing and kayaking, to swimming and hiking, your family will love the Florida environment. Wekiva Springs provides family fun no matter what you are looking for during the day.
The first time I visited Wekiwa Springs State Park was on Saturday, May 20, 2017. It was a humid, overcast day, so it was a perfect day to go hiking and enjoy the natural beauty of Florida.
I arrived at 9:00 AM in the morning, and there were already numerous families parked and setting up in the picnic area in front of the natural spring. I recommend you get there early to find a parking spot and so you can claim the best spots near the spring.
---
After finding a parking spot, I walked around the surrounding area to get a feeling of Wekiwa Springs. I was impressed by how well the grounds are maintained and the numerous recreational activities offered. About a dozen people were out in the Wekiwa River fishing, canoeing, or taking pictures in a kayak. In the area sectioned off, I saw several people enjoying the quite natural environment while swimming in the natural spring.
The Walking Trails
I loved going on long hiking treks when I lived in Montana, I was excited to experience Wekiwa Springs State Park and find a natural getaway right here in Orlando.
Wekiwa Springs has four trails readily available for hikers and two multi-use trails. The span of each and every trail varies from 5.3 miles to 13.5 miles. Since it was my first time on the trails, I chose to go with the orange and white hiking trail on their hiking map.
Overall, the hiking trails are clearly marked and well kept. Even as you hike aways from the natural springs, you can find yourself immersed in the natural Florida beauty.
As long as you stick to the main trails and follow the route you will have a great time as you journey through multiple biomes and experience the natural beauty that Florida has to offer. I saw several deer and other animals throughout the hike, so keep your eyes open as you stick to the trail.
Things To Remember Before You Head Out
No matter what recreation you choose for the day, you and your family will love the natural beauty and excellent facilities of Wekiwa Springs State Park. However, I wanted to share some suggestions to ensure you have the best experience possible.
Wear bug block spray. I forgot to bring bug repellent during my hike, but luckily it was pretty early in the year, so I was not getting swarmed. However, as the weather heats up you will experience lots of bugs by the springs and as you hike through the various trails.
Bring a waterproof ziplock bag to put your essentials in if you plan to stay by the springs.
Wear a hat and wear plenty of sun block. The hiking trails around the springs and surrounding area don't offer much shade so you should bring lots of sun block since you will be in direct sunlight for most of your time at Wekiwa Springs.
Keep to the designated trails. The hiking trails are well marked, and you can get turned around quickly if you stray from the beaten paths.
Enjoy Florida's Natural Beauty In A Fun Environment!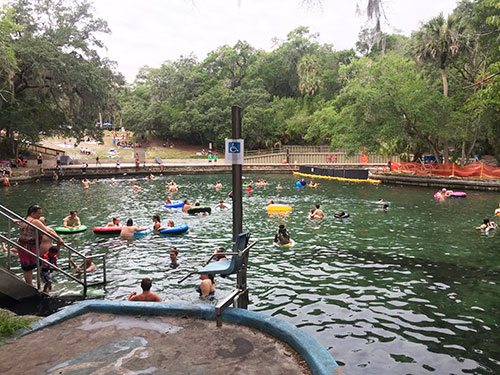 My experience at Wekiwa Springs State Park was both enjoyable and refreshing. The maintenance of the park is well kept, and the surrounding areas are perfect for families. Whether you are looking for a day getaway for the kids, or want to take a hike away from modern civilization, Wekiwa Springs State Park has everything you are looking for!
---
Wekiwa Springs State Park F.A.Q.
How much does it cost to get into Wekiwa Springs?
The friendly rangers at Wekiwa Springs will collect $6.00 per vehicle, for 2-8 people. However, if you choose to come alone like I did, you will only be charged $4.00 for single occupant vehicles.
What type of rentals are offered at Wekiwa Springs?
The friendly staff at Wekiwa Springs will help you find the perfect rental craft for your needs. Here is an overview of pricing that I found:
Canoe: $19.15/ first 2 hours. $5.33 for each additional hour.
Single Kayak: $19.15/ first 2 hours. $5.33 for each additional hour.
Double Kayak: $24.81/ first 2 hours. $5.33 for each additional hour.
Standup Paddleboards: $20/ first hour, $34/ 4 hours. $10.65 for each additional hour or $65 for a whole day.
Overnight Rentals: $80/ first night. $40 for each additional night.
The park stops renting canoes at 6:30 P.M. from June - September, and at 3:30 P.M. from October through May. You need to return all rentals back to the facilities by closing time. For more information be sure to check out the official Wekiwa Springs website.
Are there camping sites at Wekiwa Springs? If so, how much is camping?
Camping spots are located at various spots along the Wekiwa River and hiking trail. They are several miles away from the main natural spring, and the camping grounds looked to have great amenities right off the main road and hiking trail. This means you have easy access and an enjoyable time if you choose to camp at the Wekiwa Springs for the weekend.
Camping fees are only $24.00 per night, plus a non-refundable $6.70 reservation fee. This includes water and electricity.
Does Wekiwa Springs State Park have primitive camping?
Yes, there are several primitive camping spots along the Wekiwa river. The main primitive camping grounds are Camp Cozy, Big Buck Camp, and Otter Camp that are right along the river. However, there are also smaller camping grounds like Big Fork Camp.
Primitive camping at Wekiwa Springs State Park will only cost you $5.00 per night, plus tax.
Book your Orlando Family Vacation today:
Want to share our post on your blog or social medial?
Go ahead! All that we ask is that you include a link back to this post so your readers can view the full article.
---
You May Also Like: