Blockbuster movies. Thrill rides. Stunning shows. Eclectic nightlife. Miniature golf. Dazzling parades. Iconic restaurants. Exclusive events. Magnificent music. It's all part of the excitement at Universal Orlando Resort. Anchored by the popular nightlife and entertainment district, Universal CityWalk, Universal Orlando Resort offers twice the fun with two extraordinary theme parks: Universal Orlando Florida® and Universal's Islands of Adventure®.
Universal Orlando Florida
Where else can you ride your favorite movies! Universal Studios Florida brings the big screen – and the small screen – to life by creating rides, shows and attractions out of your favorite motion pictures and TV shows. More than a theme park, this working film and TV studio production facility puts guests in the heart of the action. Universal is also home to a second Harry Potter wonderland – Diagon Alley!
Universal's Islands of Adventure
From The Wizarding World of Harry PotterTM to a variety of other uniquely themed islands, you'll find plenty of adventure with cutting edge rides, shows, interactive attractions and other epic adventures featuring favorite comic book heroes, cartoons, dinosaurs, Dr. Seuss characters, myths and tales. But just how do these two fun-filled Universal theme parks stack up against one another? Let's take a closer look across a wide range of categories. We'll share our view on which park wins each category, but feel free to make your own determination!
UNIVERSAL STUDIOS FLORIDA vs. ISLANDS OF ADVENTURE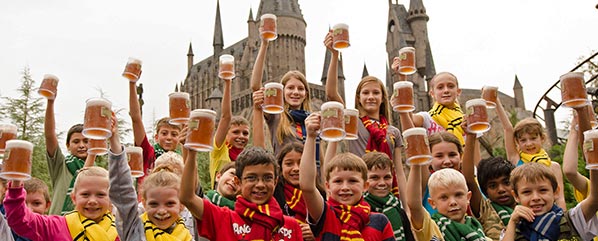 HARRY POTTER EXPERIENCE
Universal Studios • The Wizarding World of Harry PotterTM – Diagon Alley – Enter Diagon Alley from the streets of London and prepare to stock up on all your Wizarding supplies. You can dine at the Leaky Cauldron or watch a wand choose a wizard at Ollivanders Wand Shop. • Harry Potter and the Escape From Gringotts – Experience the exciting thrills of Harry Potter and the Escape From Gringotts – a multi-dimensional and pulse-pounding thrill ride that puts you in the heart of the action as you navigate through the Gringotts vaults. Islands of Adventure • The Wizarding World of Harry PotterTM – Hogsmeade – From the mysteries inside HowartsTM Castle to the intriguing shops of HogsmeadeTM and a variety of thrill rides, The Wizarding World of Harry Potter brings the Harry PotterTM stories to life. Shop at places like Dervish and BangesTM, get Chocolate FrogsTM at HoneydukesTM, or taste ButterbeerTM at the Three BroomsticksTM. • Harry Potter and the Forbidden JourneyTM – Wander through the classrooms and corridors of HogwartsTM School of Witchcraft and Wizardry then soar above the castle grounds with Harry Potter and friends on an amazing adventure filled with magical creatures.
The winner is: Tie: Islands of Adventure and Universal Studios
It's impossible to choose between either of these epic Harry Potter adventures. And with the Hogwarts Express train boarding at Platform 9 ¾ and traveling between both Hogsmeade and London, this is one vote for a Park-to-Park admission ticket that allows you to see it all! Order a Butterbeer and visit King's Cross Station, Quality Quidditch Supplies, Magical Managerie, Three Broomsticks, Honeydukes, Dervish and Banges and more!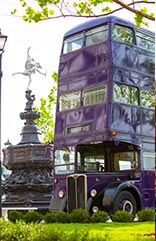 ROLLER COASTERS & THRILL RIDES
Universal Studios • Hollywood Rip Ride Rockit® – Choose your own music and enjoy an adrenaline pumping climb, straight up, then rock out while hitting speeds of 65 mph on Orlando's tallest coaster. • Revenge of the Mummy® – The mummy has awakened and is ready to unleash his wrath on all who dare enter the sacred temple. Hit speeds up to 45 mph through total darkness with terror all around you. Islands of Adventure • The Incredible Hulk Coaster – Strap in and accelerate from zero to 40 mph in two seconds flat before experiencing a weightless "zero g" roll on this high speed coaster. • Dragon ChallengeTM – Choose your dragon – the aggressive Chinese Fireball or the ferocious Hungarian Horntail – then hold on tight as the dragons twist and loop in a intertwining coaster chase. Each dragon is a different ride. • Doctor Doom's Fearfall® – When the countdown clock hits zero, you'll rocket skyward, 185 feet into the air, then be hurled back down faster than the force of gravity.

The winner is: Islands of Adventure
Universal has two solid and exciting coasters in Revenge of the Mummy and the incredible Hollywood Rip Ride Rockit. But Islands of Adventure matches those with the incomparable trio that includes Hulk, Fearfall and Dragon Challenge.
3-D & INTERACTIVE RIDES
Universal Studios • MEN IN BLACK™ Alien Attack™ – Zap aliens and save the galaxy as you protect the Earth on this interactive ride through the streets of New York. • Shrek 4-D – Shrek and Donkey take you on a fun-filled adventure as they attempt to save Princess Fiona from the ghost of Lord Farquaad. • Terminator 2®: 3-D – Join forces with the Terminator in this battle against cyborgs. Experience 360-degree action in an apocalyptic wasteland.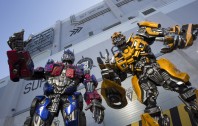 • TRANSFORMERS: The Ride-3D – Prepare for battle in an ultra-immersive, next generation thrill ride that puts you on the front lines of an intergalactic war between Autobots and Decepticons. Islands of Adventure • The Amazing Adventures of Spider-Man – stunning 3-D effects and high-def animation highlight this mind-blowing ride experience that includes a simulated 400-foot free fall.
The winner is: Universal Studios
Spider-Man remains one of the world's most iconic and mesmerizing rides, but Universal answers with a fun array of interactive experiences full of action. Universal Studios gets another huge boost in this category with epic Transformers 3D ride!
WATER RIDES & OTHER ATTRACTIONS
Universal Orlando • Despicable Me Minion Mayhem – Join Gru, Margo, Edith, Agnes and the mischievous minions on an unforgettable 3-D experience • Disaster! – A Major Motion Picture Ride…Starring YOU – Go behind the scenes and learn the secrets of disaster films as you experience a cataclysmic earthquake. • E.T. Adventure® – Board your own flying bicycle and soar on this epic adventure with the unforgettable E.T. • The Simpsons Ride™ – Enjoy a surprise filled ride along with your favorite Simpsons as they visit the low budget theme park called Krustyland. • TWISTER…Ride It Out® – Experience the dangers of a real storm chaser as you ride out the power of a wicked twister in this action-packed adventure. Islands of Adventure • Jurassic Park River Adventure® – A quiet journey to see dinosaurs in their natural habitat veers off course and into a restricted area where raptors and a giant T-Rex stalk your every move before you plunge 85-feet in total darkness. • Popeye & Bluto's Bilge-Rat Barges® – Set sail on this twisting and turning raft ride that sends you hurtling through white water rapids in an adventure that's sure to get you completely soaked. • Dudley Do-Right's Ripsaw Falls® – This popular log ride through a saw mill is filled with puns and jokes, and ends with an incredibly steep plummet down Ripsaw Falls!
The winner is: TIE – Universal Studios and Islands of Adventure
New experiences like Despicable Me mix with older classics like E.T. and Twister to create an entertaining day of movie-related adventure at Universal. But on a hot summer day in Orlando, if you want to get soaked as part of your theme park fun, Islands of Adventure should be your destination. The Bilge-Rat Barges are your best bet if you want to soak up some watery excitement.
KIDS' STUFF
Universal Studios • Woody Woodpecker's Nuthouse Coaster® – Hop aboard this nutty, kid-sized roller coaster for a wild ride through Woody's nut factory. • A Day in the Park with Barney • Curious George Goes to Town – The mischievous monkey highlights this play area where little ones can explore, throw foam balls, or even spray friends with water. • Fievel's Playland® – Get a mouse-eye view of the world in this playful area filled with oversized props where kids can jump, run, climb and bounce. Islands of Adventure • Caro-Seuss-elTM – Hop on one of the unusual Dr. Seuss characters featured on this wacky carousel. You can even animate your character's eyes, ears or head. • The Cat in the HatTM – Ride a couch through the pages of this Dr. Seuss book – spin, swerve along with the Cat in the Hat and Thing One and Thing Two. • The High in the Sky Seuss Trolley Train RideTM – enjoy a bird's eye view of Seuss Landing on this twin-tracked ride that shows you multiple Seuss stories. • Pteranodon Flyers® – Glide and soar through the air on this kid-friendly attraction that suspends guests beneath the 10-foot wingspan of a Pteranodon. • One Fish, Two Fish, Red Fish, Blue FishTM – This lovable children's book comes to life as kids take the controls to steer their fish up and down. • Camp Jurassic® – Kids love these dinosaur capture nets, themed slides and suspension bridges and a water cannon fight area. • If I Ran the ZooTM – Interactive play area offers tunnel slides, caves, a wet play area, and other fun-filled play zones. • Me Ship, The Olive® – Explore the decks of Popeye's seagoing vessel that offers three decks of passageways, slides, cargo nets, horns and more. • The Mystic Fountain – Carved of ancient stone, this mischievous water spirit lives, breathes and speaks, while squirting water at those brave enough to speak back. • Flight of the HippogriffTM – pass Hagrid's hut, follow his instructions on how to approach a Hippogriff; then enjoy a flight aboard this enchanting family coaster.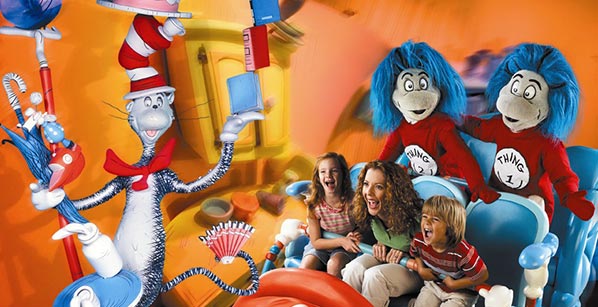 The winner is: Islands of Adventure
Universal Studios is a family friendly park with plenty the entire family can enjoy, including a kid-size coaster, play areas and a Barney show. But the vote here goes to Islands of Adventure. With a variety of Dr. Seuss classics, two great play areas, and other kid-friendly attractions featuring dinosaurs and Harry Potter, Islands of Adventure gets the nod.
LIVE SHOWS
Universal Studios • Animal Actors on Location! – A lively and funny mix of video, live animal performances and audience interaction featuring dogs, cats, birds, pigs and even orangutans. • Beetlejuice's Graveyard Revue™ – A live Rock 'n' Roll spooktacular featuring the wisecracking ghost BEETLEJUICE and his monster friends. • The Blues Brothers® Show – Get ready for a Chicago-style street party filled with the soulful sounds of The Blues Brothers, Jake and Elwood. • A Day in the Park with Barney™ – Kids can meet Barney, Baby Bop and BJ at this live, sing-along musical that is super-de-dooper. • Fear Factor Live – The most extreme audience participation show ever pits guests in a head-to-head competition. Take part in the stunts of watch from the audience. • Lucy – A Tribute – Have a ball watching this loving tribute to the red-headed queen of comedy, Lucille Ball. • Universal Orlando's Horror Make-Up Show – Go behind the scenes and see how Universal mike-up and special effects artists create some of Hollywood's strangest creatures. Islands of Adventure • The Eighth Voyage of Sindbad Stunt Show – A stunt show of heroic proportions features breathtaking stunts and feats as Sindbad and Kabob attempt to rescue Princess Amoura from the evil witch Miseria. • Poseidon's Fury – Venture deep inside a mysterious temple beneath the sea where you'll be caught in the middle of a battle between ancient titans Poseidon and the evil Lord Darkenon featuring massive fireballs, lasers and explosions. • Oh! The Stories You'll Hear! – Dr. Seuss stories are brought to life through musical renditions of favorite stories featuring Sam I Am, The Cat in the Hat, Thing One and Thing Two, the Grinch and the Lorax.
The winner is: Universal Studios
Another competitive category, but Universal Studios gets the win thanks to its rich variety of show adventures that includes live animals, singing spooks, I Love Lucy, Blues Brothers, Barney and the extreme participation show, Fear Factor Live.
PARADES & ENTERTAINMENT
Universal Studios • Universal's Superstar Parade – Get down with your favorite characters like minions, Dora and Diego, SpongeBob and more during this lively, interactive parade. • Universal's Cinematic Spectacular – Experience 100 years of movie memories. The stars come out in this nighttime show featuring Universal's most iconic films. Islands of Adventure • None
The winner is: Universal Studios
This is an easy one as Universal takes the prize with a colorful and energetic daytime Superstar parade and its nighttime Cinematic Spectacular. You won't want to miss either of these events.
ANNUAL EVENTS
Universal Studios • Mardi Gras – This spring ritual features high energy concerts with star power, an authentic Mardi Gras parade, authentic Cajun food (available for purchase) and beads by the handful. • Summer Concert Series – On select Saturday nights, guests can rock out to some of the biggest names in musical entertainment. • Rock the Universe – Experience Florida's biggest Christian music festival, a two-night event featuring some of the biggest names in Christian rock take the stage at Universal Studios.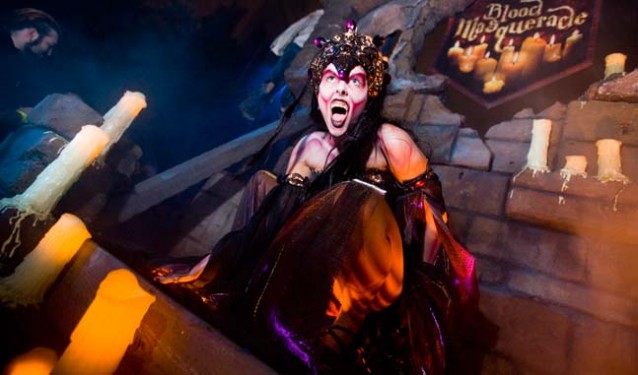 • Halloween Horror Nights® – On select nights in September and October, your worst nightmares will take shape as Universal Studios Florida is transformed with terrifying scare zones and haunted houses. Don't miss the nation's premiere Halloween event. • The Macy's Holiday Parade™ – This holiday extravaganza features giant floats and balloons direct from The Macy's Thanksgiving Day Parade® in New York City, plus marching bands, entertainers, Santa and more. Islands of Adventure • Grinchmas™ – During this special holiday event, Seuss Landing™ is transformed into a wintry wonderland complete with appearances by The Grinch™ and lots of Who's from Whoville.
The winner is: Universal Studios
Again, Universal Studios wins easily based on pure quantity, with special events happening in spring, summer, fall and winter. Westgate Reservations is your home to Orlando and Central Florida's world famous theme parks and attractions. With Disney World, SeaWorld and Universal Studios in our backyard, we can offer the inside scoop on your favorite theme parks. Here we take a closer look at Universal's two amazing parks, and provide an insider's analysis of each.