As the number one tourist destination in the world, Orlando offers exceptional vacation opportunities any time of year. Valentine's Day is no different. So if you're looking for an ideal destination to spend Valentine's Day with your family or special loved one, here are 10 reasons to visit Orlando!
1. Wake up to sunshine – While most of the country is tiring of yet another long, cold and dreary winter, the weather in Orlando in February is typically superb. In fact, the average high temperature on Valentine's Day is a near perfect 72 degrees F. So put away the winter boots, hats and coats and start packing your flip flops and sunscreen. Nothing puts a little more pep in your step than a day in Orlando's fabulous sunshine!
2. Enjoy a bird's eye view – What could be more romantic or more exciting than a thrilling helicopter tour of the Orlando area! Imagine climbing high into the sky for a flight over Orlando's world famous theme parks. Whether you want to fly over Walt Disney World for a view of Cinderella's Castle and Downtown Disney, soar over SeaWorld Orlando and Universal Studios or sail above Florida's spectacular Butler Chain of Lakes, you'll experience breathtaking views and a truly exhilarating ride.
3. Dinner and a show – Why settle for just dinner and a movie when you can enjoy one of Orlando's fun-filled dinner shows? You'll be treated to a delicious feast while choosing from a variety of highly entertaining options ranging from pirates and gangsters to mysteries and magic. Options include Pirate's Dinner Adventure, Sleuth's Mystery Dinner Shows, Treasure Tavern, Capone's Dinner & Show, The Outta Control Dinner Show and more.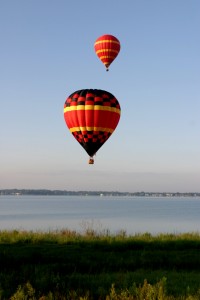 4. Up, Up and Away – See the world like you've never seen it before, with an exhilarating and romantic hot air balloon ride. Choose a sunrise or a sunset flight complete with a champagne toast, then head up, up and away in a beautiful balloon! You'll float effortlessly and peacefully above the central Florida landscape, enjoying panoramic vistas of the area lakes, theme parks, wildlife, and city skylines.
5. Travel around the world – Jules Verne took readers around the world in 80 days. You can do it in a single day with an enticing visit to Walt Disney World's Epcot theme park. Epcot's World Showcase features 11 countries scattered around a beautiful reflective lagoon. As you make your way around the world, you transition from one country to the next, with each offering its own unique architecture, attractions, cuisine, souvenirs and more. Even the cast members come from the country you are visiting, and they are always eager to talk about their home country.
6. Relax and rejuvenate – Few experiences are more romantic than a couple's massage. Serenity Spa at Westgate Lakes Resort in Orlando offers the ultimate in relaxation, rejuvenation and renewal of mind, body and spirit. The professionals at Serenity aim to wrap guests into an unforgettable chrysalis of comfort and relaxation. It's all part of an exceptional collection of spa services, products and therapies. Choose from signature facials, body treatments, massages, airbrush tanning, hypnosis and spa generation services.
7. Fine dining with a twist – Every city offers an array of fine dining options. But Orlando offers fine dining amidst some of the world's most epic attractions. Wine and dine your loved one at Emeril's Lagasse's signature restaurant located at Universal CityWalk. Climb aboard the replica riverboat and enjoy seafood specialties at Fulton's Crab House in the heart of Downtown Disney. Or experience a fascinating view of sharks and marine life inside Sharks Underwater Grill at SeaWorld. Orlando is filled with unique dining options and fun-filled themed restaurants.
8. Fill the sky with fireworks – Visit one of Orlando's popular theme parks and enjoy an entertaining day filled with live shows, thrilling rides and roller coasters, souvenir shopping, parades, music and entertainment. Whether you visit one of the parks at Disney World, Universal or SeaWorld, chances are you can also cap off the night with your eyes fixed to a sky filled with fireworks and laser light shows.
9. Dance the night away – From Universal CityWalk and Downtown Disney to world famous International Drive and downtown Orlando, you can find an exceptional array of nightclubs and nightlife options that will keep you and your loved one dancing the night away. In addition to dance clubs, you can enjoy Disney's Splitsville bowling alley, miniature golf, karaoke at CityWalk's Rising Star, or even catch a late-night movie.

10. Soak in a resort hot tub – Make your Orlando Valentine's Day even more romantic and memorable with a resort stay at Westgate Lakes Resort & Spa or Westgate Town Center Resort. Spacious and luxurious villas feature all the comforts of home, including separate sleeping and living areas, private balconies and patios, fully-equipped kitchens and your own marble, jetted hot tubs. With dozens of exclusive resort style amenities such as water sports, on-site dining, spa services, heated swimming pools and hot tubs, pool bars and more, there's no reason to even leave the resort property!