 Busch Gardens Williamsburg
promotion expires in:
---
---
3 Days 2 Nights in Williamsburg
$69
Starting Package Price
Luxury Studio Suite
Lowest price – guaranteed
Located in the Heart of Historic District
Upgrade options available
Call Today
1-877-288-7422
Busch Gardens Tickets
Buy One Get One at No Extra Cost
$49
For 2 Tickets
Gate Price: $80 • YOU SAVE: $111
Two 1-Day Busch Gardens Tickets
Upgrade Options Available
Official Busch Gardens Ticket Seller
Call Today
1-877-288-7422
3 Days 2 Nights + Busch Gardens Tickets
$139
Starting Package Price
Two 1-Day Tickets
Luxury Accommodations
Official Busch Gardens Ticket Seller
Upgrade options available
Call Today
1-877-288-7422
---
---
Busch Gardens Williamsburg BOGO! Now just $49!
Buy one Busch Gardens Williamsburg theme park ticket for $49 and get one at no extra cost.
Today Williamsburg looks much as it did during colonial times. It's a place where you can be enchanted by the sights, sounds and stories of yesteryear, and the birth of America. But while the historic district offers an amazing living history museum, Busch Gardens delights with modern day conveniences and plenty of thrills for all.
Experience the thrills of epic roller coasters. Enjoy unique animal encounters. Witness amazing live shows and entertainment. Participate in fun-filled family activities and adventures. Meet your favorite Sesame Street characters. It's all part of the excitement at Busch Gardens Williamsburg.
And now you can enjoy it all for less – with our special BOGO ticket package! Simply buy a single day Busch Gardens ticket for a discounted price of just $49 and get a second single day ticket at no additional cost! You just won't find a better deal anywhere for a fun-filled day at Busch Gardens Williamsburg!
Right now, you can purchase a one-day/one-park ticket for your favorite Walt Disney World park for only $100 and you'll get a second identical ticket at no additional cost. That's a savings of $110! Eligible theme parks include Magic Kingdom, Epcot, Disney's Animal Kingdom and Disney's Hollywood Studios.
---
Don't see a vacation package that fits your travel needs?
Give us a call at 1-877-288-7422
Exciting rides and adventures at Busch Gardens theme park in Williamsburg, VA
Busch Gardens Williamsburg theme park features a variety of thrilling coasters, including the exciting world class wooden coaster – INVADR! The park's first-ever wooden coaster, INVADR offers up 9 air-time hills, including a 74-foot plunge at speeds approaching 50 mph.
Busch Gardens Williamsburg roller coaster enthusiasts will also thrill to Apollo's Chariot – one of the top 10 steel coasters in the world; Alpengeist – featuring al alpine climb of 195 feet, six inversions and speeds up to 67 mph; Verbolten – a launch coaster that takes riders on a dash through foreboding woods and ends with a terrifying 88-foot plunge; and Tempesto – a ride that takes guests through tight turns at 63 mph and a complete inversion while 154-feet in the air.
Of course, Busch Gardens also has attractions for every member of the family, with kid rides like Der Autobahn Jr., Der Roto Baron, Elephant Run, and Sesame Street favorites such as Bert and Ernie's Loch Adventure, Elmo's Castle, Prince Elmo's Spire, and the Sesame Street Forest of Fun.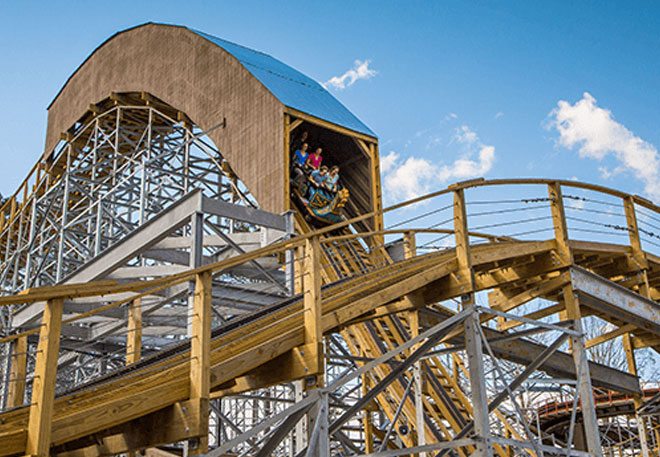 ---
Additional Ticket Package Deals
When visiting Williamsburg, VA you can choose Busch Gardens single-day tickets or one of the park's other tickets or pass memberships. The best deal is when you choose from our discount tickets package - BOGO single day tickets for just $49. However, Busch Gardens also offers a Fun Card which allows you to unlimited visits from March 25 through September 4, 2017 (The Fun Card does not include parking). Or you can choose the season pass membership that features unlimited visits year round plus exclusive benefits.
Exciting Seasonal Events at Busch Gardens in Williamsburg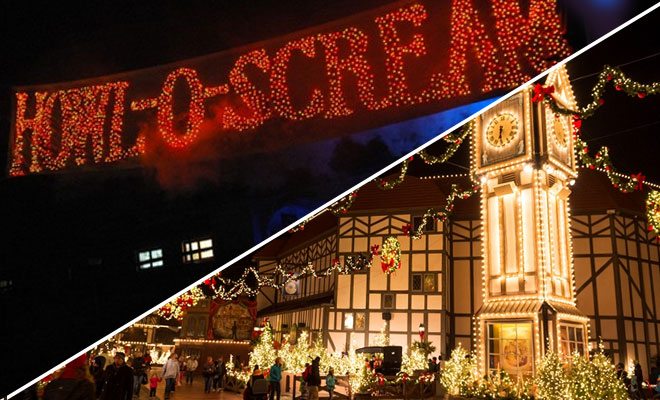 Dare to attend this iconic Halloween celebration that takes place on select nights from September 14-October 27, 2019! Guests can enjoy their favorite rides and attractions all day. But all the kids attractions close at 5 pm and at 5:45 pm, the Halloween spooks come to life and the park become's home to a host of creepy creatures ready to scare unsuspecting guests. Fear takes a grip throughout the park as guests wander through elaborate haunted houses, immersive scare zones, challenging escape rooms and darkly entertaining live shows. It's truly a spooky holiday experience you won't want to miss. Due to frightening elements, families with young children should use discretion when visiting the park after 5:45 pm.
Christmas in Williamsburg
shines its brightest at Busch Gardens unique Christmas Town celebration. The world's most beautiful theme park shines even more with more than 8 million Christmas lights - the largest light display in North America! Guests will enjoy heart-warming holiday shows that bring the spirit of the season to life. Of course, there's also festive food and drink, holiday shopping opportunities, and other Christmas festivities. Take time to enjoy a mug of the park's delightful peppermint fudge hot chocolate. Watch Christmas come to life on the ice in a special ice skating performance by world champion figure skater, Elvis Stojko. And don't miss out on your chance to visit and get a picture taken with Santa at his North Pole workshop. It's all waiting for you at Christmas Town.
---
Cool off at Water Country USA!
Williamsburg, VA and Busch Gardens vacation packages won't be complete without a visit to Water Country USA, Virginia's largest water park. Admission to Water Country USA lets you slide into summer fun with a wide variety of aquatic adventures including water slides, high speed raft adventures, swimming pools and lazy rivers.
Located just 3 miles from Busch Gardens, Water Country USA Williamsburg offers a flashback to the "surfin' safari" days of the 1950s and 60s.With more than 30 attractions, you'll find something for everyone. The Aquazoid water raft sends groups down an enclosed pipeline and more than 20 feet per second before a final splashdown. The Jet Scream offers four flumes, each speeding down 400-feet of aquatic excitement at speeds up to 25 mph. The Rampage is a thrilling surf-toboggan run down a steep slide. Meanwhile, the younger set will enjoy slower options like Cow-A-Bunga, H2O UFO, Kritter Korral and more. And the entire family can cruise together along the Hubba Hubba Highway, a 1,500-foot long lazy river with lots of surprise geysers, sprayers and more. When in Williamsburg, ask us about tickets and passes to Busch Gardens or Water Country USA - we offer discounts on single-day, 1-park, 2-park and other valid adult and child age tickets.
Don't see a vacation package that fits your travel needs?
Give us a call at 1-877-288-7422
Westgate Historic Williamsburg Resort
Busch Gardens and Water Country USA are both ideally located near Westgate Historic Williamsburg Resort. This family-friendly Virginia hotel resort property lies in the heart of Williamsburg near the historic district. It's the perfect place to start your Williamsburg vacation in Colonial Williamsburg and the is famed historic triangle that also includes Jamestowne and historic Yorktown.
Colonial Williamsburg, Virginia provides a unique glimpse at life as it was more than 220 years ago during the beginning of the America Revolution. As the nation's largest living history museum, Colonial Williamsburg features 500 buildings, homes, stores and taverns - all reconstructed and restored to their 18th century glory. You'll discover historic buildings and battlefields, meet character actors portraying famous colonial Americans and events and you can wander though 90 acres of beautiful gardens.
---