Nightlife in Miami
Exciting and Vibrant South Beach

Light Up the Night
From nightclubs and bars to exquisite dining, live music and sports, nightlife in Miami is exciting, vibrant and offers something for everyone. With its eclectic neighborhoods, international restaurants and trendy club scene, Miami/South Beach remains renowned for its activity after dark. You'll find upscale lounges, beach bars and pubs, club events, and lots of live entertainment.
High Energy After the Sun Goes Down
Whether you prefer a casual beach bar with a surfer theme or one of the many dance clubs and cafes that offer a Latin salsa beat, it's hard to go anywhere in Miami without experiencing the city's extraordinary energy and thumping music. Miami offers some of the world's sexiest beaches and when the sun goes down, the beautiful people head out on the town where the party never stops. Nightlife in Miami is wide-ranging. If the nightclubs aren't your scene, you can step out to one of the many popular restaurants. From casual oceanfront dining to exquisite restaurants, the area offers a cultural feast of tastes from around the world.
Exciting Professional Sports, Arts & Entertainment
Miami is also home to professional sports teams including the Miami Heat (NBA), Miami Dolphins (NFL), Miami Marlins (MLB) and Florida Panthers (NHL). You'll also find a wide range of performing arts and entertainment venues offering everything from live concerts, stand-up comedy and Opera to Broadway musicals.
4 Days/3 Nights in Miami from $99
From South Beach to Orlando, Florida is full of exciting nightlife!
Call Today 1-877-288-7422
Add Title Here
---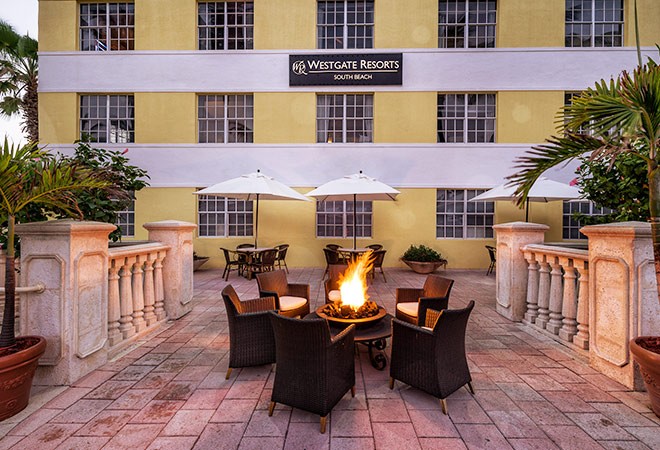 Westgate South Beach Resort
Close to historic Art Deco District
Direct access to beautiful South Beach
Close to Miami's trendy shopping, dining & nightlife
Outdoor swimming pool close to beach
Fully-equipped kitchens
Westgate South Beach
---
---
---
Westgate South Beach Resort offers spectacular views and puts you just steps away from one of the world's prettiest and most popular beaches. Walking distance to Miami's most trendy shops, dining and nightlife, you'll also enjoy easy access to Miami Beach, Coconut Grove, Coral Gables, Key Biscayne, Little Havana and a wide range of museums, galleries and children's attractions.
---