---
Lazy River
Stay at one of the few waterpark hotels in Orlando! At Shipwreck Island, you can grab a colorful tube and float around the lazy river that circles the park's upper deck. Explore mysterious caves, splash zones and enjoy outlets to stop and play along the way.
---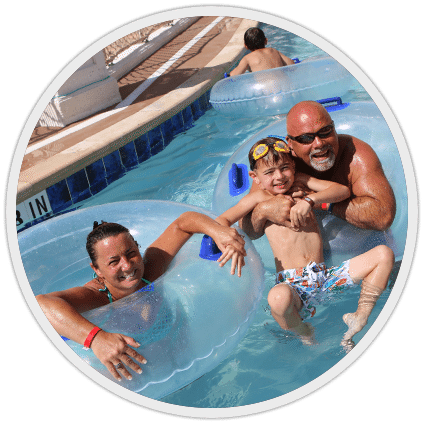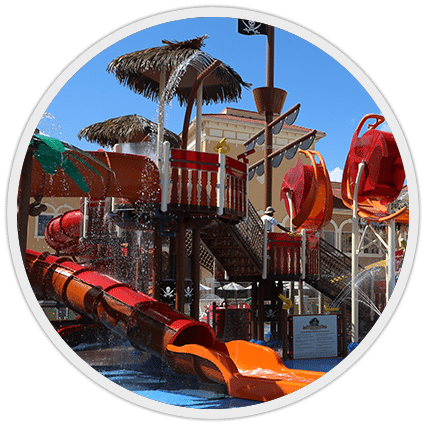 Black Beard's Pirate Ship
The centerpiece of the water park at Westgate Vacation Villas and Town Center Resort & Spa is a big pirate ship in the middle of the upper level. Black Bear's Pirate Ship is the ultimate pirate playground. Explore the ship and discover refreshing water fountains and slippery water slides. Start a water fight by firing from the multiple water cannons. But look out from above as a giant water bucket slowly fills before ultimately dumping gallons of water on the unsuspecting!
---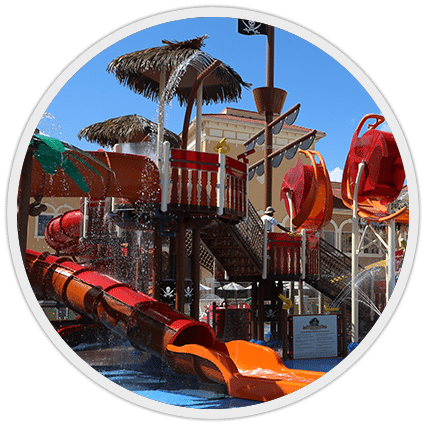 Cannon Ball Falls
Westgate Town Center is an Orlando hotel with lazy river, but Shipwreck Island water park is much more. You'll enjoy a pirate-themed, multi-level playground where kids and adults alike can enjoy a wide range of water slides including Cannon Ball Falls. These two fully enclosed tube slides – one red and one blue – offer a twisting and turning descent from the upper level. Grab a partner and race to the bottom in these dueling water slides!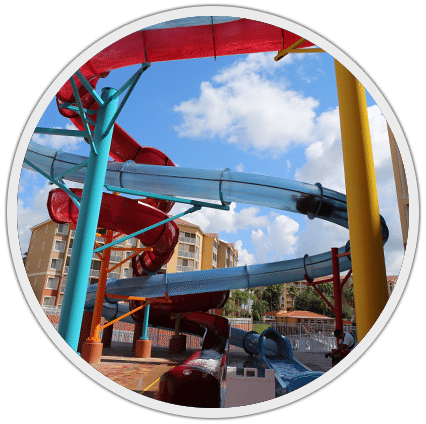 ---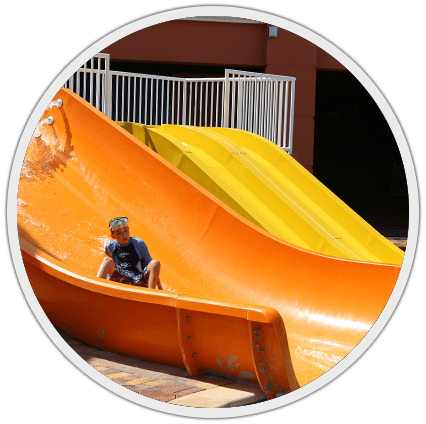 Pirate's Plunge Drop Slide
Aye, aye, mate! It's time to walk the plank. Those who dare can walk the plank…then plunge down a fully-enclosed, see-through drop slide. Riders will shoot through the Jolly Roger's Galley and into the shallow pool waters below. Don't worry, finding your way back to the top is simple – just follow the giant painted footsteps back to the top to do it all over again.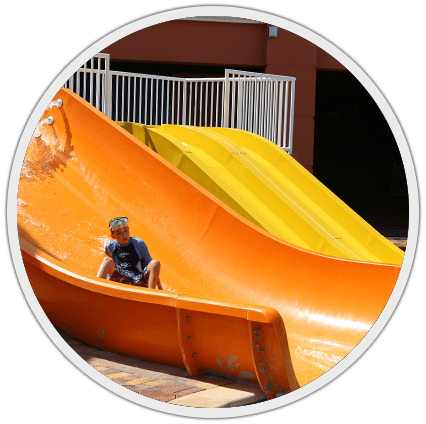 Paradise Cove
Westgate Town Center is an Orlando resort for kids and adults alike! A true water park resort, this is one of the few water park hotels in Orlando. Sure, there are other water parks in Orlando, Florida, but you don't even have to leave the resort to enjoy Shipwreck Island!
While Westgate Shipwreck Island Water Park features a pirate ship on the upper level, the lower level is also a refreshing paradise for all. Paradise Cove features everything from wading pools and water slides for the littlest ones to an expansive sun deck for tanning and relaxing. But you'll also find ample shade where you can grab a tasty drink or an appetizing bite to eat.
Huge zero-entry pool
Lagoon splash pad
Water fountains
---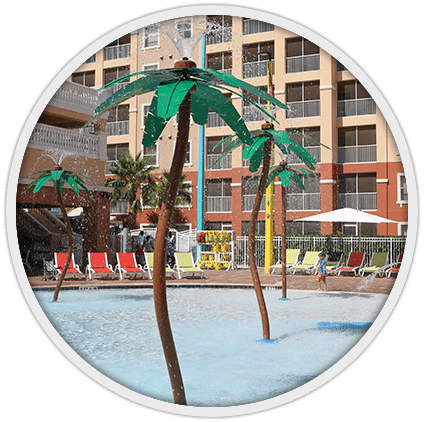 ---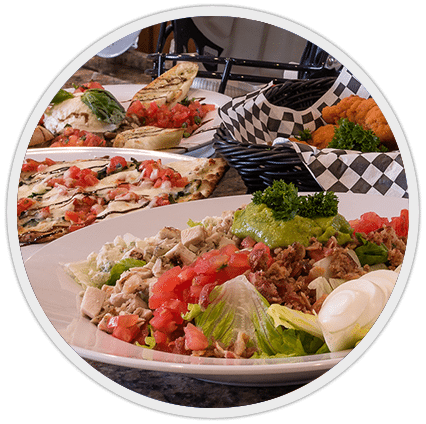 Jolly Roger's Galley
Located on the lower deck of the Westgate Town Center water park, Jolly Roger's Galley serves a selection of specialty appetizers, savory burgers, crispy flatbreads, fresh salads, Captain Jack's Boneless Wings tossed in a choice of sauces, signature Shipwreck Nachos and sweet treats like a Frozen Banana or Key Lime Treasure!
---
View Menu
---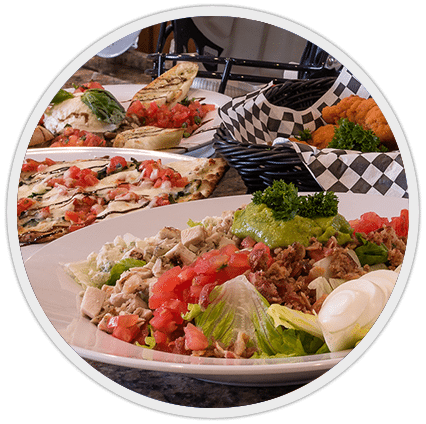 Sea Dog's Bar
Escape the warm Florida sunshine by grabbing a relaxing spot in the shade while enjoying a delicious specialty cocktail like the Pirate's Punch, Tipsy Parrot or Rum Runner or an ice cold draft! The Crow's Nest Bar (upper level) and the Sea Dog's Bar (lower level) both offer a convenient lunch, a quick snack or a tropical drink or draft beer. Our frozen and specialty drinks are served in a take-home souvenir cup including a Pirate coconut, surfboard pilsner, 42-oz margarita, 15-oz hurricane or classic tiki cups. (Park admission is required for dining at the water park.)
---
View Menu
---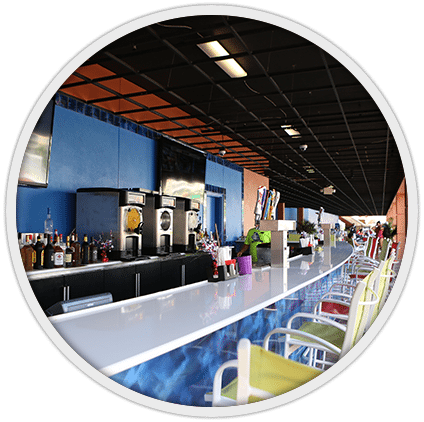 5-Star Rating:
Luxurious properties offering the highest degree of service, elegance and amenities. Rooms are equipped with leather furniture, large screen televisions, quality linens, DVD player, marble jetted tub, fully-equipped kitchens. There are multiple restaurants on site with extensive menus and room-service, a fitness center, concierge service, complimentary shuttle service and exclusive amenities.
4-Star Rating:
Exceptional resorts with excellent service and amenities. Very high quality resort accommodations located near area attractions, entertainment, shopping and restaurants. Resorts offer beautifully furnished rooms, on-site dining, room service, fitness center, concierge and extensive amenities.
3-Star Rating:
Quality accommodations located near attractions, shopping and dining. These properties offer nice, spacious rooms, decorative lobbies, on-site amenities, room service, pool, concierge and more.
2-Star Rating:
Smaller hotels that offer consistent quality and limited amenities. They are small to medium in size and limited room amenities such as a phone and TV.
1-Star Rating:
Expect a small hotel with a personal atmosphere and basic accommodations. Restaurant service and entertainment should be within walking distance, as well as nearby public transportation.
Pet Policy
---
The following Pet Policy is for River Terrace Resort & Convention Center, Westgate Branson Lakes Resort, Westgate Branson Woods Resort, Westgate Flamingo Bay Resort, Westgate Historic Williamsburg Resort, Westgate Lakes Resort & Spa, Westgate Myrtle Beach Oceanfront Resort, Westgate Painted Mountain Golf Resort, Westgate River Ranch Resort & Rodeo, Westgate Smoky Mountain Resort & Spa, Westgate Towers Resort, Westgate Town Center Resort, Westgate Tunica Resort, Westgate Vacation Villas Resort, and Wild Bear Inn. All other resorts do not allow pets.

One dog or one cat is allowed per unit. Pet must not exceed 60 pounds. The following breeds are not allowed on property: Pit Bulls, Rottweilers, German Shepherds, Huskies, Alaskan Malamutes, Doberman Pinschers, Chow Chow and Presa Canario. The Pet/Cleaning Fee is $170.00. Additionally, we require a refundable pet deposit of $100.00, which is returned if there is no damage to the unit. At check-in, guests are required to advise the Front Desk that they have a pet. If the guest does not advise the Front Desk that they have a pet, and a pet is found in the room, they will be charged $190.00, in addition to the $100.00 deposit. Guests are fully responsible for their pet's actions and any damages that may occur. While the pet is in the unit it is expected to be supervised at all times. At the time housekeeping services are provided, the housekeepers will not service the unit if the pet is left unattended. It is the guest's responsibility to confirm with the resort Front Desk staff as to the locations outside of the guest's unit where pet will be permitted. When pet is out of the unit and on property, it is expected that the pet be on a leash and under the control of the handler. It is expected that the handler will pick up and properly dispose of any pet deposits. In the event a pet soils or stains fabric, additional charges may be assessed accordingly. Pet must not disturb other guests. The pet is not allowed in the Restaurants, Spa, Marketplace, Pool Areas, Game Rooms, and/or common retail space or amenities. This policy does not apply to service animals. Owners and Guests with service animals are not charged any of the above fees. Service animals are permitted at all resort locations whether they have a pet unit or not.
Westgate Reservations is part of the CFI group