Westgate Town Center Room Types
Studio
---
---
1 Queen Bed
1 Queen Sleeper Sofa
592 Sq Ft
Kitchenette
Full Bath
The 592-square foot Studio Suite accommodates up to 4 guests and offers a comfortable queen bed plus a queen size sleeper sofa. Save time and money with a fully equipped kitchenette complete with microwave and mini refrigerator. Relax and enjoy a private balcony or patio, 27-inch color cable TV with DVD player, Wi-Fi access and full bath.
---
---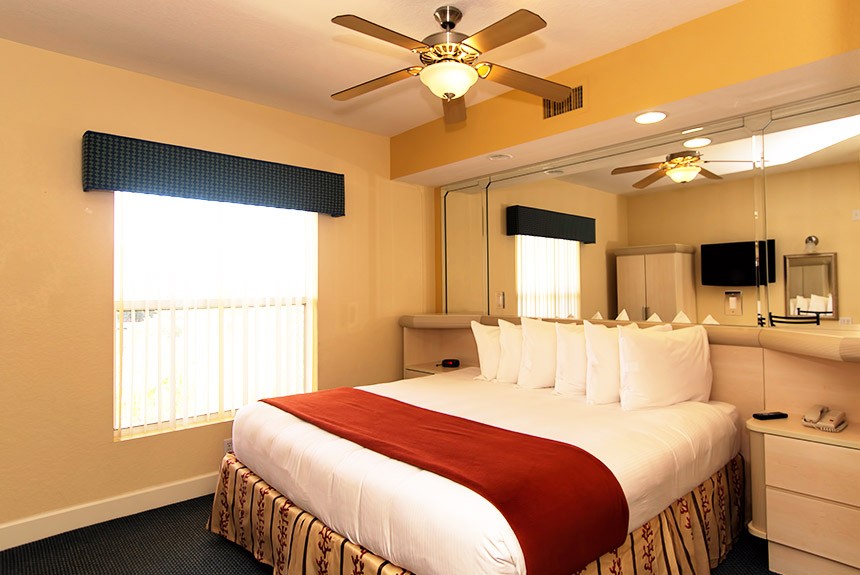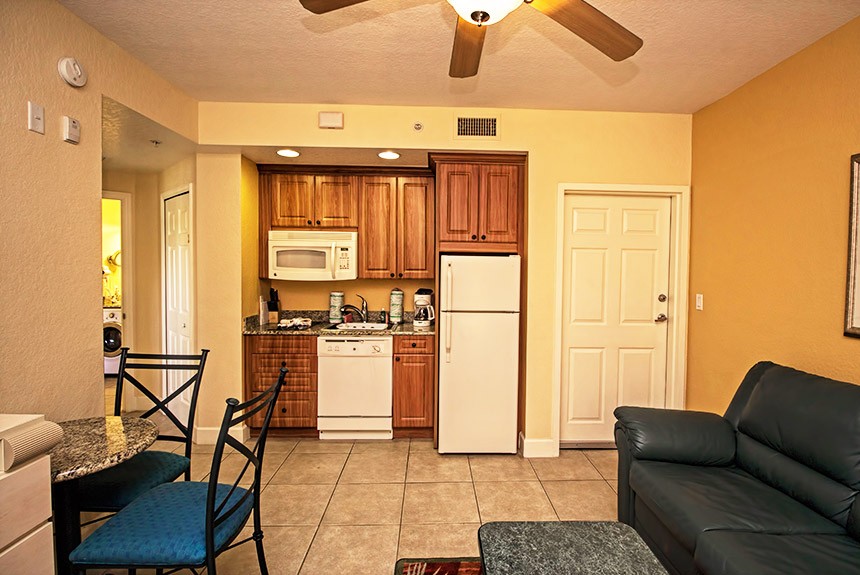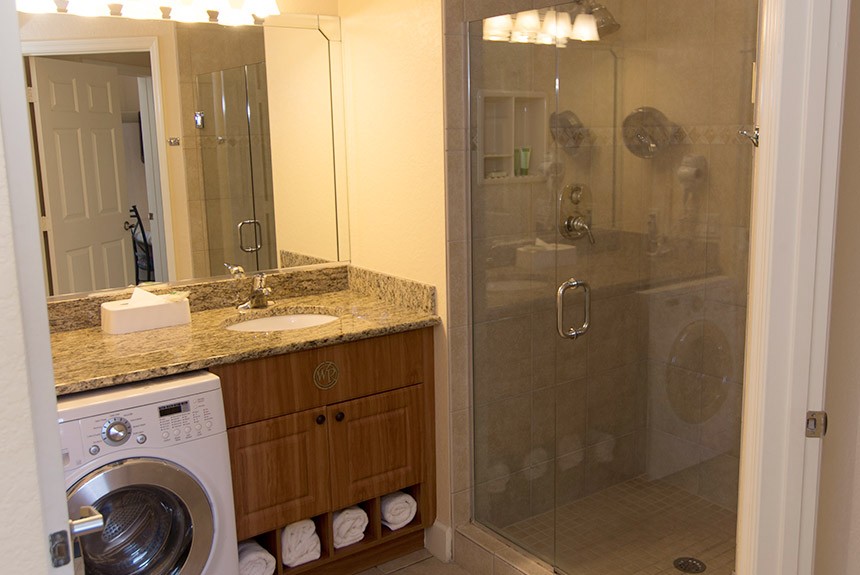 ---
1 King Bed
1 Queen Sleeper Sofa
Full Kitchen
Full Bath - Jetted Tub
These luxurious and spacious villas accommodate up to 4 guests and feature a queen bed plus a queen sleeper sofa in the living room. Amenities include a full kitchen with full-size refrigerator, microwave, coffee maker, full bath, shower/jetted tub, flat screen color TV with DVD player, private patio or balcony, Wi-Fi access and more.
Accessible Features (Upon Request Only)
Limited Kitchen
Lowered Countertops
Near Elevator
Tub With Handrails
---
---
---
1 King Bed
2 Double Beds
1 Queen Sleeper Sofa
690 Sq Ft
Full Kitchen
Full Bath
Washer/Dryer
This huge villa offers 690-square feet of living space while accommodating up to 8 guests. These exceptional villas feature a king bed in the master bedroom, twin double beds in the second bedroom, and a queen sleeper sofa in the living area. You'll also enjoy a fully equipped kitchen, large flat screen TV with DVD player, WiFi access, balcony or patio, full bath with jetted tub and washer/dryer and a variety of other comforts to make you feel right at home.
Accessible Features (Upon Request Only)
Counter, Sink & Appliances Lowered
Handrails in Bathroom
Roll-in Shower
---
---
Three Bedroom
---
---
1 King Bed
1 Queen Bed
2 Double Beds
2 Sleeper Sofas
Full Kitchen
3 Bathrooms
Washer/Dryer
Balcony or Patio
Space is never an issue with the beautifully adorned three-bedroom, three-bath deluxe villa at Westgate Town Center. With over 1,800-square feet of living space, this huge villa accommodates up to 12 guests by providing one king bed, one queen bed, two double beds and two sleeper sofas. You'll have ample room to roam with separate living and sleeping areas, a private furnished balcony, fully equipped kitchen, dining area, washer/dryer and three bathrooms and a jetted tub in the master. Other comforts of home include leather furniture, flat screen television, 27-inch color TVs in bedrooms, WiFi access, DVD player and more.
---
---
Westgate Town Center rooms come in a wide range of spacious and luxurious options. Choose from a magnificent Westgate Town Center studio or enjoy even more family space with a one-bedroom, two-bedroom or even three-bedroom villa! Westgate Town Center Kissimmee offers an ideal destination for your Orlando vacation by providing exceptional accommodations with a convenient location just one mile from Disney World and close to many other popular central Florida theme parks and attractions. Be sure to check out our Westgate Town Center reviews for additional insight on the many great resort features and amenities.
Start Planning your Orlando Vacation at Westgate Town Center!
Call Today 1-877-288-7422