While much of 2020 has been a year to forget thanks to the Covid-19 pandemic, there's still time to make the rest of the year memorable in a good way! And it all starts at Westgate Lakes Resort & Spa in Orlando, FL.
Located in the heart of the Orlando attractions area, just a stone's throw from SeaWorld Orlando and near both Walt Disney World Resort and Universal Orlando Resort, Westgate Lakes offers an oasis of fun and family adventure.
While the theme parks are open and always a tempting treat, you can escape to Westgate Lakes for a vacation like no other. Best of all, you can kick back, relax, and have a great time without ever leaving the spectacular lakefront resort property.
Unlike a typical, cramped hotel room, Westgate Lakes Resort & Spa features spacious villas with multiple bedroom options capable of sleeping 4, 6 or even 12 guests. Imagine vacationing in your own home away from home - complete with everything you need. Enjoy a private patio or balcony with a view. Leather furniture and large screen televisions. Separate dining, living and sleeping areas. And a fully-equipped kitchen so you can avoid going out to area restaurants and fix whatever you want in your villa - anything from a quick snack to a full meal.
---
Vacationing is all about having fun and Westgate Lakes offers plenty of that, too! You'll have a seemingly never-ending variety of options to enjoy and keep the entire family smiling from ear-to-ear.
Let's start with Big Sand Lake and the resort waterfront. You can enjoy a leisurely walk around the resort property and experience the sunshine and nature along the paved pathways that follow the lakefront. Head over to the Marina where you'll find an array of watercraft, including paddle boats, kayaks and more. A helpful attendant will assist in getting you all set up for some peaceful time on the water. And when you've had your fill of boating, you can grab a cane fishing pole and try your luck fishing from the marina dock. Again, your attendants can offer some fishing tips, and even help you identify the fish as you catch and release them back into the lake. And for more fish fun, kids will love the Feeding Frenzy where they can feed the fish!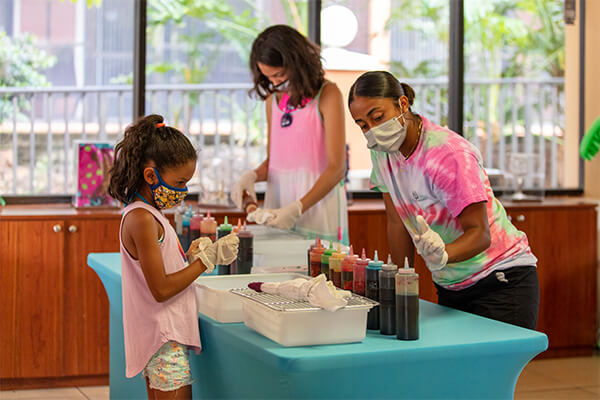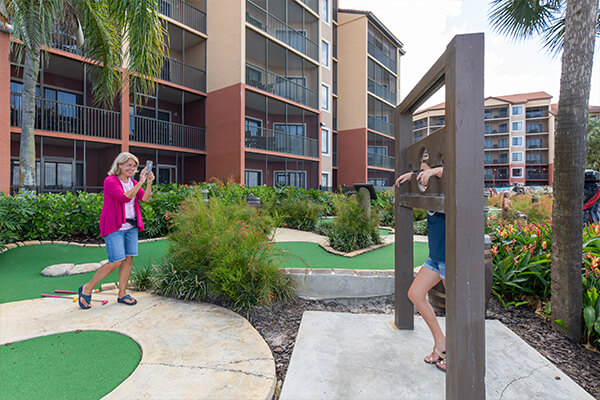 ---
You can rest easy knowing that all the boats and equipment are carefully and thoroughly sanitized before every use. Westgate Resorts has been a leader in the industry with its Westgate CARES program designed to provide the safest, cleanest resort experience possible.
When you turn in your boating life vest, you can also pick up your putters and golf balls for the adjacent pirate-themed miniature golf course. Test your putt-putt skills and along the way take some pictures with the many scurvy pirates hanging around the course!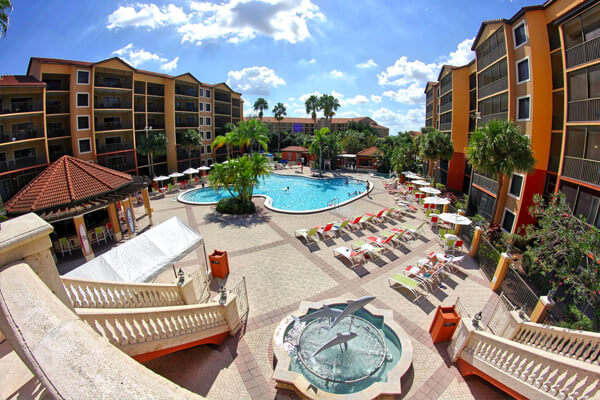 What's a vacation without some swimming? Westgate Lakes Resort & Spa has not one, but seven beautiful, tropical swimming pools. Cool off in the refreshing waters or sit back and relax and enjoy the Florida sunshine on the pool deck where lounge chairs are spread apart for proper social distancing.
---
Several pools also offer pool bars where you can order a delightful tropical cocktail or your favorite non-alcoholic beverage. And don't forget to check the daily activities guide as the pools are often the site for special games and activities such as a beach ball pool party, water aerobics, karaoke, limbo, Name That Tune contest, or even a Movie Night.
With so many activities to choose from, you'll probably work up a big appetite. No worries. There are plenty of food and drink options around the resort, from full-service restaurants to Create Your Own Sundae ice cream parties.
Drafts Sports Bar & Grill is a fun, on-site restaurant featuring indoor or outdoor seating. Choose from gourmet burgers and sandwiches made to order, delicious jumbo wings, Chicago-style hot dogs, fresh soups, salads and more. And with flat screen TVs throughout the place, you can also catch your favorite team's game while relaxing with an ice-cold beer or specialty cocktail.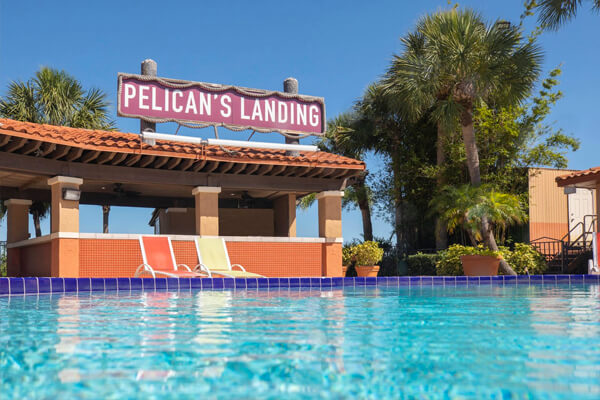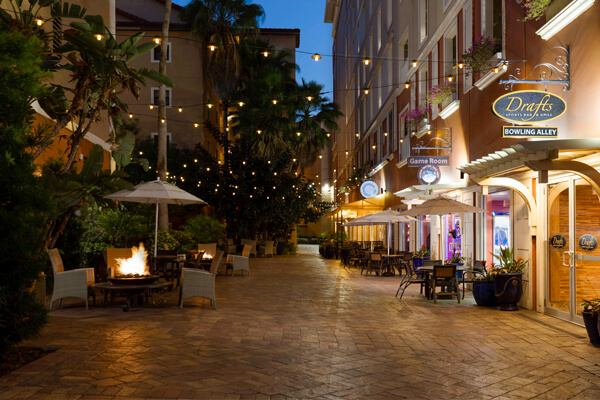 ---
Located within the Pavilion, you'll find Sid's Bistro offering up a special selection of Hershey's® ice cream and frozen yogurts, including ice cream cones, shakes, smoothies, sundaes, banana splits and homemade cookies!
Craving pizza? Cordovano Joe's Authentic New York Style Pizza is available for pick-up or it can be delivered directly to your villa or even poolside.
Meanwhile, the onsite Marketplace & Deli offers groceries, dairy items, snacks, pasta, and deli meats plus made-to-order sandwiches and subs, Krispy Kreme donuts, Starbucks coffee, baked goods, and Pepsi products. You'll also discover a large selection of bottled wine, liquor, bottled water and juices.
With your hunger satisfied, it's time to tackle some more activities! Another great way to explore the resort is by bicycle. Grab a bike and head down the paved paths around the lakefront. Along the way, you might also come across a variety of other options, including tennis courts, basketball courts, shuffleboard, horseshoes and a playground. There's also the Mission Control Game Room - a huge arcade filled with electronic games, air hockey and lots of opportunities to win tickets redeemable for prizes!
But wait, there's more. Just when you think you're starting to run out of things to do, there's always something else. Westgate Lakes also offers a wide assortment of scheduled activities for kids and adults alike, some with a minimal fee. Create your own tie-dye t-shirt or paint a ceramic dinosaur. Even adults can partake in a special wine & design art project. Or you can try out the pyrography session featuring wood burning art.
Still have a little energy to burn? Head over to the onsite fitness center where you can get in a healthy workout. You'll find a variety of state-of-the-art fitness training equipment for your use.
And when you're finally ready to really relax, visit the world-class Serenity Spa by Westgate for the perfect manicure/pedicure or other spa treatments.
A getaway at Westgate Lakes Resort & Spa can be whatever you make of it. Sit back at the pool and soak up the sun, or partake in the myriad amenities and scheduled activities. Whichever route you choose to follow, you're sure to have an amazing time. We want you to live life to the fullest, while knowing that we are doing everything we can to keep all of our guests and team members safe through extensive cleaning protocols, social distancing and more. To see all of our safety measures and procedures for Covid-19, please visit https://www.westgatereservations.com/cares/.