Family Vacation in Gatlinburg, TN
---
---
Gatlinburg Vacation Specials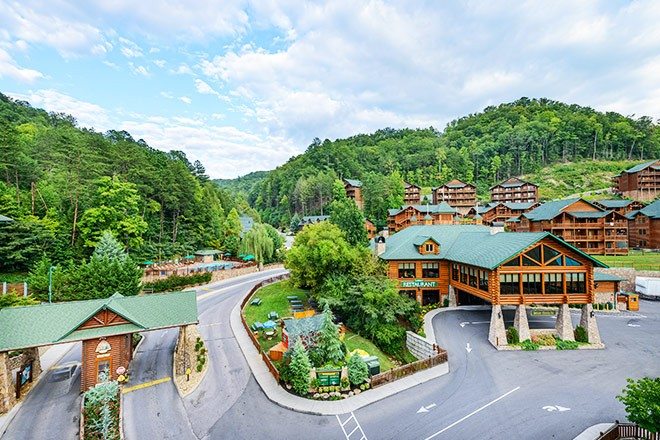 4 Days & 3 Nights at Gatlinburg Smoky Mountains
From:

$99

Save:

$120

Luxury Studio Suite
Lowest price – guaranteed
Additional nights & tickets
---
---
View Special
---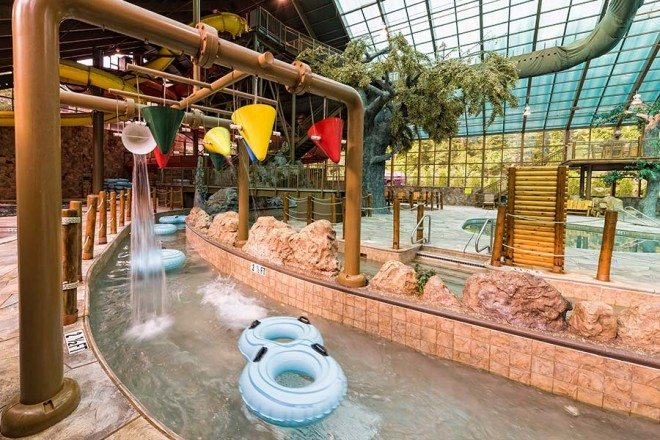 3 Days 2 Nights in Gatlinburg + 2 Wild Bear Falls Tickets
---
---
View Special
---
---
Family Fun on a Gatlinburg vacation
Outdoor recreation abounds in scenic Gatlinburg!
There's nothing quite like soaking up the sunshine and fresh mountain air while roaming the spectacular Great Smoky Mountains on a Gatlinburg vacation. In fact, the area is teeming with exciting outdoor recreational opportunities and other family activities.
Feel free to start your Gatlinburg vacation with a visit to Great Smoky Mountains National Park. The most visited national park in the United States with more than 9 million visitors annually, the park straddles 70 miles of the North Carolina and Tennessee border, offering more than 520,000 acres of scenic wonder along the misty blue ridges. The National Park is also ideal for hiking, with more than 800 miles of trails ranging from beginner treks to more challenging. Whether you want to hike for an hour, a day or a week, you'll find an option that fits your Gatlinburg vacation plans. A Guided Nature Service can help provide a more educational and in-depth look at the Smoky Mountains. Or you can visit one of the park's many visitor information centers for help in planning the perfect hike.
While out on the trails, you might also want to look to the trees since the National Park is also a premier location for bird watchers. From the foothills to the higher elevations, the Smokies offer a wide variety of topographies to host an extremely diverse number of habitats and microclimates for birds. As a result, nearly 250 species of birds have been found in the park. Approximately 60 species are year-long residents of the park while 120 species breed in the park. Still other species use the park as a vital stopping point during migrations.
With hundreds of lakes, rivers, streams and ponds, a Gatlinburg vacation offers up some of the nation's best fishing, particularly for mountain trout. Drop a line in the water along the Little Pigeon River in downtown Gatlinburg. Another popular Gatlinburg vacation activity is biking. Pedal off to the Great Smoky Mountains National Park for a tour of beautiful Cades Cove. Bicycling around the Cades Cove loop provides one of the best ways to experience one of the most picturesque areas in the park. Additional recreational options include golf, horseback riding, and even white water rafting down the Big Pigeon River.

---
The lengthy list of things to do on a Gatlinburg vacation doesn't begin and end with the National Park and scenic beauty. The area is also filled with other family-oriented, fun-filled attractions such as Wild Bear Falls Indoor Water Park, Ripley's Aquarium of the Smokies, Sweet Fanny Adams Theatre, the Gatlinburg Sky Lift, Ober Gatlinburg Aerial Tram, Hollywood Wax Museum, Smoky Mountain Winery, and more.
---
Westgate Smoky Mountain Resort and Water Park
---
---
A PERFECT GATLINBURG GETAWAY
W
ith spectacular spring wildflowers, picture-perfect summers and some of the world's greatest fall colors, there's no secret why the Great Smoky Mountains National Park remains America's most visited national park. And with its convenient location adjacent to the park's entrance, it's no secret that
Westgate Smoky Mountain Resort and Water Park
is the perfect place to start your
Gatlinburg getaway
!
Visit Gatlinburg and surround yourself with one of nature's most amazing amazing landscapes. The Great Smoky Mountains get their name from the smoky mist that surrounds them, but look deeper and you'll discover 500,000 acres of magnificent Southern Appalachian wilderness. The heavily forested mountains are home to diverse wildlife, breathtaking streams, dazzling waterfalls and flowering plants. You'll also find a wide variety of activities throughout the year including 800 miles of trails and scenic routes for hiking, exploration and sightseeing.
Providing beautiful cabin-style luxury accommodations, Westgate Smoky Mountain Resort offers much more than a convenient location and scenic views. The spacious villas offer up a wide range of creature comforts including a working fireplace, fully-equipped kitchen, private balcony and large screen television. Explore the resort property and you'll find hiking trails, three heated outdoor pools (seasonal), the world-class Serenity Spa by Westgate, our award-winning Smokehouse Grill restaurant, and even a year-round, indoor/outdoor water park – Wild Bear Falls!
---
Highlights
Resort is pet-friendly – fees and restrictions apply.
Exquisite, full-service day spa offers a variety of services to relax, rejuvenate and renew your body, mind and spirit
On-site indoor/outdoor Wild Bear Falls Water Park
---
Check in: 4 PM
Check out: 10 AM
Parking: Free on premises
Service animals: Yes
Pets: Yes
---
Local Attractions
Great Smoky Mountains National Park
Dollywood Theme Park
Ripley's Aquarium of the Smokies
Ober Gatlinburg Ski Resort & Amusement Park
Gatlinburg Space Needle
---
River Terrace Resort & Convention Center
---
---
STAY IN THE HEART OF GATLINBURG
Looking for the ultimate Gatlinburg getaway? The 205-room River Terrace Resort & Convention Center is conveniently located in downtown Gatlinburg. River Terrace is right next door to Ripley's Aquarium of the Smokies and features majestic views of the Great Smoky Mountains and the Little Pigeon River as well as easy access to Gatlinburg's wide range of family attractions, specialty stores, arts & crafts shops, cafes, art galleries and more.
Guests enjoy private balconies overlooking a scenic river, an onsite restaurant and lounge, and an outdoor seasonal pool. Your choice of accommodations includes two queen beds or 1 king bed, microwave, coffee maker, refrigerator and panoramic views. Relax while feeding the ducks from your balcony or enjoy the breathtaking view of the Great Smoky Mountains.
The River Terrace also offers 25,000 square feet of flexible meeting space, including a ballroom, breakout rooms and a conference center. The Sales and Convention Services Staff will work to guarantee that your tour, seminar, conference, family reunion, business retreat, reception or convention will be a success.
---
Highlights
Two heated outdoor pools.
Trolley to Wild Bear Falls Indoor Water Park
Motorcoach parking
---
Check in: 4 PM
Check out: 10 AM
Parking: Free on premises
Service animals: Yes
Pets: No
---
Local Attractions
Great Smoky Mountains National Park
Wild Bear Falls Water Park
Ripley's Aquarium of the Smokies
Gatlinburg Arts & Crafts Loop
Ober Mountain Ski Resort and Amusement Park
---
Best Price Guarantee
Our Best Price Guarantee allows you to book your Westgate vacation package with complete and total confidence. As the OFFICIAL website of Westgate Resorts, we can provide incredibly low pricing that you simply won't find anywhere else – GUARANTEED!
---

Find a better deal?
Worried someone else might have a better price? If you see one, call us!

Call to verify
Verify the lower price with one of our knowledgeable vacation specialists.

Enjoy your trip
Boom! Receive and enjoy your new lower priced vacation. It's that easy.
---
---
Official Vacation Headquarters
As the official Westgate Resorts vacation website, we can offer you the lowest possible Westgate prices online. GUARANTEED.
Save by Touring a Resort
If you take a fun and entertaining, no-obligation discovery tour of one of our resort properties, you can save even more on your Westgate vacation package. We will even waive the daily resort fees.
---
---
We Match Any Offer
If you find a lower price online for the same Westgate Resort or Westgate vacation package, we will be happy to match the lower price.
Book Now and Save
Choose your vacation package and we allow you to lock in your low, discount price now and choose your actual travel dates later.
---
---
With resort properties in a variety of exciting travel destinations, we have a long list of retail travel partners eager to sell our most popular vacation packages. But only Westgate Reservations can offer you the most up-to-date inventory of available suites and villas in all of our Resort properties – all at the very best prices.
---
More things to do in Gatlinburg
Gatlinburg activities for families
The Great Smoky Arts and Crafts Community is one of the largest collections of independent artisans in North America. This historic eight-mile loop has been designated the Tennessee Heritage Arts & Crafts Trail. Established in 1937, you'll find artisans whittle, paint, sew, cast, weave and carve to create original collectibles and one-of-a-kind keepsakes. What better way to remember your Gatlinburg vacation.
For the best views on your Gatlinburg vacation, try the Gatlinburg Space Needle, a 400-foot high observation deck with a vivid 360-degree view of the mountains. The Gatlinburg Sky Lift gently glides you over the Little Pigeon River on a spectacular, 500-foot ascent to the top of Crockett Mountain. Meanwhile, the upper overlook at Douglas Reservoir Overlook provides an awe-inspiring view of the Great Smoky Mountains and Douglas Reservoir, while the lower overlook offers a picture perfect view of Douglas Dam and the French Broad River Basin.
---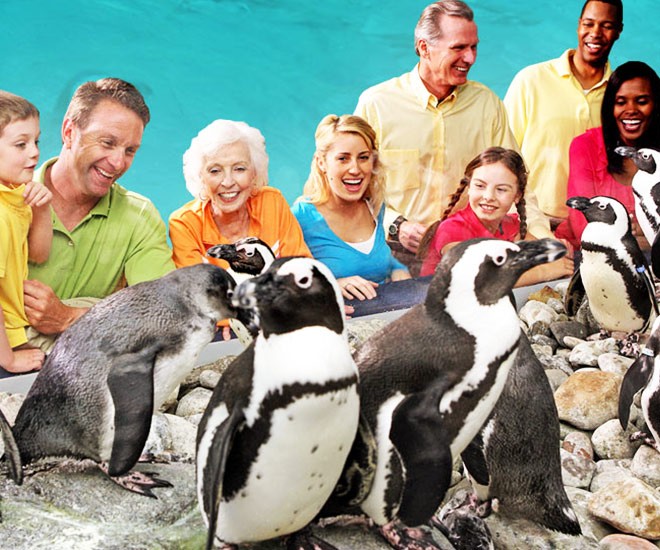 ---
Ripley's Aquarium of the Smokies
Great Smoky Mountains National Park offers thousands of acres of protected terrain that is home to one of the most diverse ecosystems in the world. Yet there in the heart of the mountains, you'll also find more than 10,000 exotic creatures comprising more than 350 species – from the sea! It's all part of
Ripley's® Aquarium
. Enjoy an extensive array of sea life and variety of fun and entertaining exhibits including the Tropical Rainforest, Ocean Realm, Touch-a-Ray Bay, Stingray Bay, Shark Lagoon, Indo-Pacific Coral Reef and Discovery Center with its hands-on interactive displays.
---
---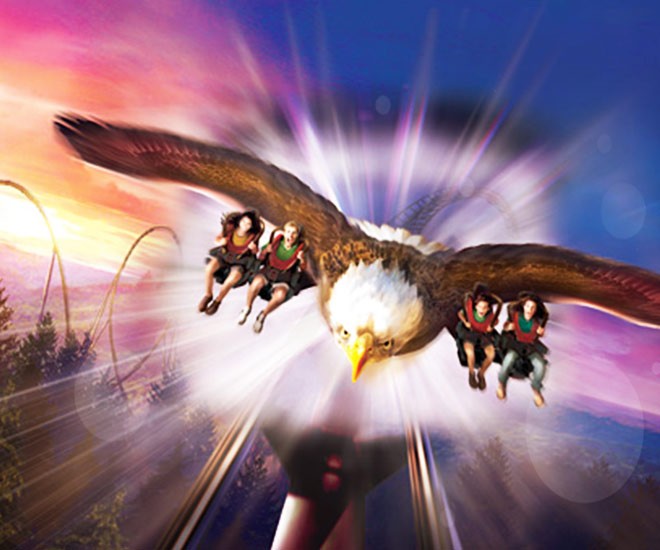 ---
Dollywood Theme Park
Thrilling roller coasters, daring water excursions, family rides, kiddie rides, live shows, delightful restaurants and more – it's all part of the fun at Dollywood. Situated in the heart of the Great Smoky Mountains, Dollywood also features five of the South's largest annual festivals between March and December, each offering a unique blend of family entertainment and adventure. Rides and attractions include the Wild Eagle, America's first wing coaster which takes riders soaring high above the mountains; Daredevil Falls, a one-of-a-kind boat expedition through an abandoned logging camp; Smoky Mountain River Rampage, a white water adventure; Barnstormer, a swinging pendulum reaching 45 mph and 81 feet high; and Mystery Mine, a steel coaster with a hair-raising 95-degree, 85-foot vertical drop into darkness.
---
---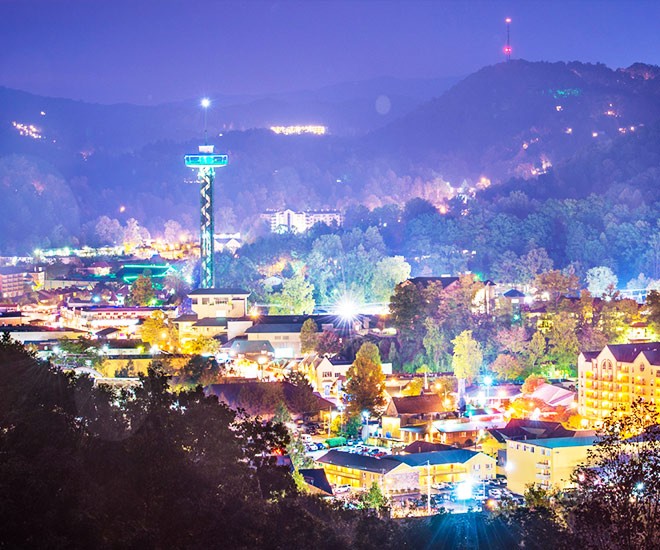 ---
Gatlinburg Space Needle & Sky Lift
Visitors can take a glass elevator more than 400 feet up to the top of the Gatlinburg Space Needle where an observation deck provides a vivid and wondrous 360° view of the surrounding Great Smoky Mountains. You'll also enjoy a distinct bird's eye view of Gatlinburg. The view is a panorama of beauty during any season, any time of the year. Another popular viewpoint is from the Gatlinburg Sky Lift. Climb aboard the Lift and you'll glide peacefully over the Little Pigeon River on a slow and spectacular 500-foot ascent to the top of Crockett Mountain. Be sure to keep your eyes peeled on the landscape below you as the mountain terrain is also home to a variety of wildlife.
---
---