Nearby Attractions

---
Things to Do
While gaming and nightlife are the main draws for Las Vegas visitors, the "city that never sleeps" is full of entertaining destinations and attractions for the entire family - from interesting museums to spectacular natural beauty. Las Vegas area attractions within a short drive include Hoover Dam, Red Rock Canyon and the Grand Canyon while you'll find a variety of other interesting options along the Vegas Strip. You'll also find Westgate Las Vegas Resort & Casino offers world-class entertainment featuring Barry Manilow, Soundtrack featuring Grammy-nominated artist Clint Holmes and Earl Turner, and Lifetime Achievement award-winning comedian George Wallace.
---
Hoover Dam
Walk down the world-famous Strip in Las Vegas, Nevada and it's easy to be overwhelmed by the immense grandeur of the resorts and casinos that make Vegas the world's largest adult playground. Yet one of the world's most intriguing architectural wonders is located about 30 miles southeast of Vegas - Hoover Dam - a massive concrete arch-gravity dam that sits in the Black Canyon of the Colorado River, on the border between Arizona and Nevada. When completed in 1936 after 5 years of construction, the dam was the world's largest hydroelectric power generating station and the world's largest concrete structure. Today it remains a working masterpiece of technology and architecture while also being a National Historic Landmark. Hoover Dam is considered one of the Top 10 Construction Achievements of the 20th Century and attracts more than one million visitors per year.
---
---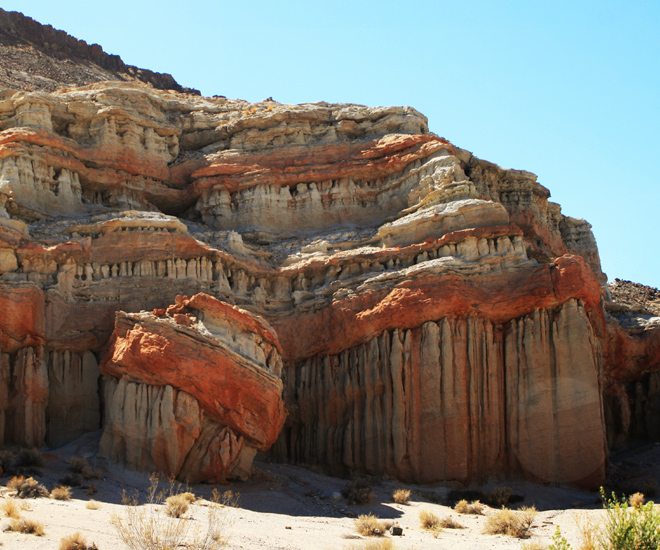 Red Rock Canyon
Red Rock Canyon was designated as Nevada's first National Conservation Area. Located 17 miles west of the Las Vegas Strip on Charleston Boulevard/State Route 159, the area is 195,819 acres and is visited by more than one million people each year. Escape from the bright lights of the Vegas Strip and discover a unique piece of nature that offers a 13-mile scenic drive, more than 30 miles of hiking trails, rock climbing, horseback riding, mountain biking, road biking, picnic areas, nature observing and a visitor center with exhibit rooms and a bookstore.
---
---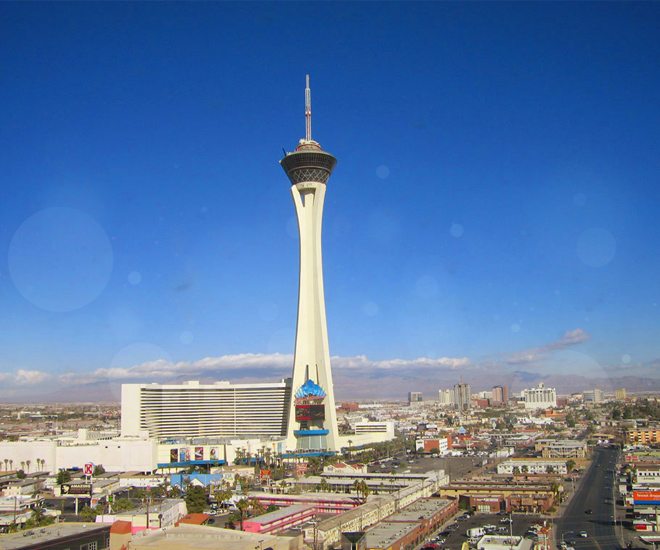 Stratosphere Tower
Since its opening in 1996, the 1,149-foot-tall Stratosphere Tower has captured the attention of celebrities and tourists alike with its rock star view. Set at an astounding 869 feet high with a 360-view of the city, the Stratosphere's outdoor observation deck is the tallest of its kind in the country. But the scenic view is just part of the fun. The tower also offers four unique (and sky-high) thrill rides, including the Big Shot, Insanity, X Scream and the controlled free-fall SkyJump.
---
---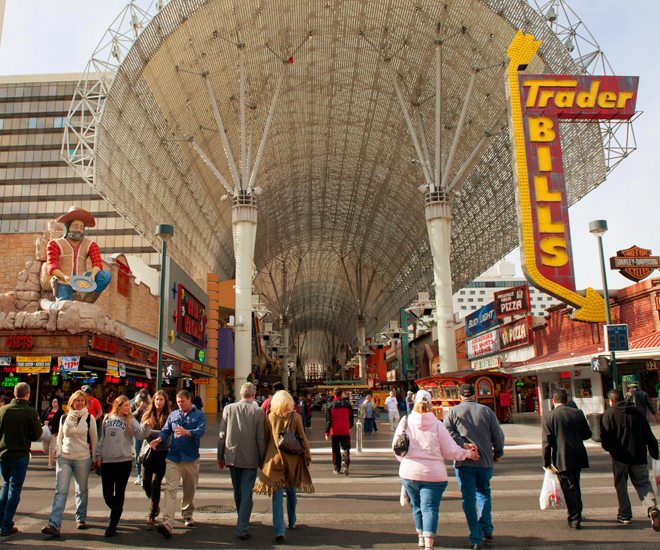 Fremont Street Experience
Located in Downtown Las Vegas, the Fremont Street Experience offers free nightly shows featuring 12.5 million lights and 550,000 watts of amazing sound at VivaVision. Enjoy free concerts and special events throughout the year. Times are 6pm, 7pm, 8pm, 9pm, 10pm, 11pm, 12am. You can also take a walk through the Neon Museum which hosts some of the old hotel's neon signs, or enjoy a variety of gaming, shopping and dining.
---
---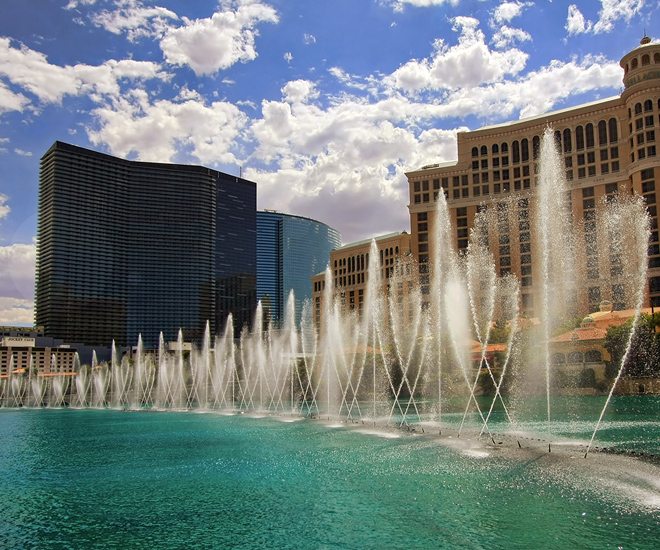 Fountains of Bellagio
One of the best (and free!) shows in Las Vegas! Every half-hour between 3 p.m. and 8 p.m., and every 15 minutes from then 'til midnight, an 8.5-acre lake in the middle of the desert explodes with 1,214 spritzers shooting water up to 460 feet in the air — the water rockets and dances, perfectly choreographed to Frank Sinatra or Gene Kelly or "One Singular Sensation" from A Chorus Line. The Bellagio Fountains offer up one of the more choreographically complex water features ever designed, providing a stunning show for all.
---
---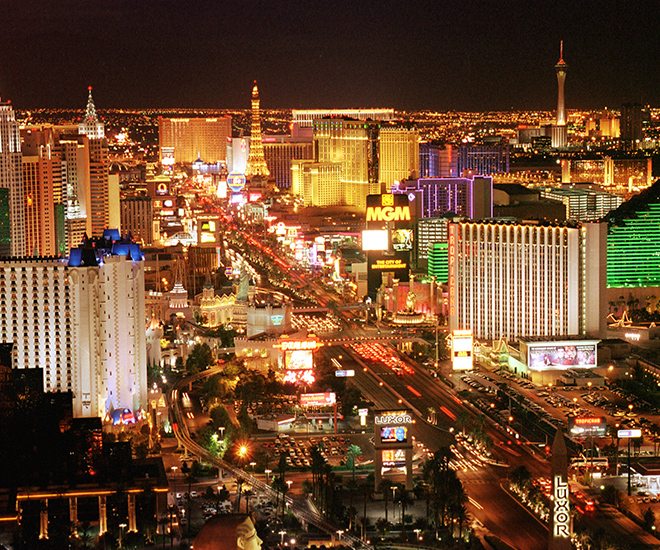 Walk the Vegas Strip
Nothing will ignite your senses like a simple walk up and down the famed Las Vegas Strip. From eye-popping casino/resorts to a seemingly ever-ending array of neon lights, to the constant sounds of casino gaming, there's never a lack of things to see or do along the Strip. Every resort offers up its own visual display - from pirate ship battles at Treasure Island and high wire acts at Circus Circus to a shark aquarium at Mandala Bay and the iconic fountains at the Bellagio. You can also find an Egyptian Sphinx at the Luxor, a Roman theme at Caesars Palace, the Eiffel Tower, the Grand Canal of Venice, and much more.
---
---
---
Vacation Packages and Discount Attraction Tickets Available.
For Additional Info Call 1-877-288-7422
---