Table of Contents
White Water Rafting in Gatlinburg
Upper River Rafting
Lower River Rafting
White Water Rafting Attractions
Know Before You Go
When it comes to rip-roaring outdoor adventures, there's nothing quite like riding the rapids! And with thrilling class-III and class-IV rapids, whitewater rafting in the Great Smoky Mountains is an adventure that's sure to bring plenty of exhilaration! As the gateway to the Smoky Mountains, the Gatlinburg and Pigeon Forge area is a great place to test the waters of whitewater rafting! Whether you're a first-timer or an experienced rafter, Gatlinburg has a whitewater raft trip that's just right for you!
White Water Rafting in Gatlinburg
What could be more entertaining than a white-knuckle ride on an untamed river in the Smokies! And you'll find plenty of thrills along The Big Pigeon River and several other regional rivers near Gatlinburg, TN. In fact, the Big Pigeon offers as many as 12 Class-III and 3 Class-IV rapids, featuring names like "Too Late," "Vegamatic," "Razor Blade," "After Shave" and "Lost Guide." Class III rapids feature high, irregular waves and narrow passages that often require precise maneuvering. Class IV rapids can be longer, more difficult rapids with constricted passages, often requiring complex maneuvering in turbulent water.
Rocking and rolling through the Tennessee mountains near Great Smoky Mountain National Park and the Cherokee National Forest, the Big Pigeon also offers some of the most exceptional views of the surrounding mountains and countryside.
Water levels on the Pigeon River are dam-controlled. Water is scheduled to be released on Tuesdays, Wednesdays, Thursdays and Saturdays throughout the summer (Memorial Day to Labor Day).
Upper River Rafting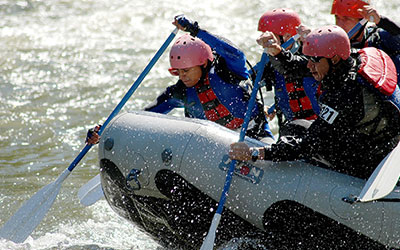 The Upper Pigeon River trip offers about 5 miles of wet and wild river ride and is a faster adventure geared to the more adventurous. The upper river features plenty of intermediate class III and class IV rapids and thrilling drops like Powerhouse, Big Rock, Roller Coaster, Lost Guide and Double Reactionary. No experience is necessary, but rafters do need to be at least eight years old or weigh at least 70 pounds. You do not need to know how to swim. All guests are issued a type 5, Coast Guard approved personal flotation device (lifejacket).
---
Lower River Rafting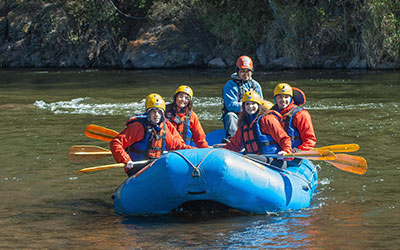 Rafting along the Lower Pigeon River is ideal for kids and provides a much more relaxed float-style trip with more time to enjoy the scenery. This easy going 5-mile raft trip offers a mild and mellow 2.5 hours on the river with some gentle Class I and Class II white water and an opportunity to play in the water. Children must be at least 3 years old to go on a Lower Pigeon trip. As with the upper river trip, you do not need to know how to swim. All guests are issued a type 5, Coast Guard approved personal flotation device (lifejacket).
---
Top White Water Rafting Attractions
Following are just some of the outfitters in Gatlinburg that can help help you book fun-filled and scenic white water trips. These rafting trips include an experienced guide and there will be a safety talk prior to leaving. These white water rafting trips are fully guided and put-in locations are located just a short drive from Gatlinburg.
Address: 813 East Parkway, Gatlinburg, TN 37738
Phone: 1-800-776-7238
All rafting trips include certified and trained guides, eager to share their knowledge and enthusiasm. Rafting in the Smokies was a pioneer outfitter on the Big Pigeon River back in 1978. The outfit even helped name many of the rapids back in those early days!
---
---
Address: 1138 Parkway, Gatlinburg, TN 37738
Phone: 1-828-785-5120
Visit the downtown Gatlinburg store and pick a whitewater rafting adventure on a wide range of area rivers, including Nantahala River, Ocoee River, Chattooga River, Pigeon River, French Broad River and Chattahoochee River.
---
---
Address: 103 Silverbell Lane, Gatlinburg, TN 37738
Phone: 1-800-771-7238
Smoky Mountain Outdoors is conveniently located in the heart of the Great Smoky Mountains, on the Pigeon River. Smoky Mountain Outdoors is a quick drive from Gatlinburg and Pigeon Forge and offers breathtaking scenery with exciting whitewater rafting thrills for the whole family.
---
---

Know Before You Go
When is the Best Time To Go White Water Rafting?
Spring and Fall rafting availability is based on local rainfall amounts and trips are available when seasonal rains bring the water levels up. Summer - from Memorial Day to Labor Day - is best. Summer whitewater trips are on Tuesdays, Wednesdays, Thursdays and Saturdays, as this is when water is regularly scheduled to be released from the dam.
What Should I Wear?
Rafting trip participants should dress in shorts and a t-shirt or or a swim suit (no denim or jeans), and wear secure fitting shoes (no flip flops or bare feet). Bring a dry towel, dry clothes and dry shoes for after the trip. Waterproof action cameras are welcome if they can be secured to a helmet. Remember, anything you bring on the river will get wet or possibly lost during the trip.
What if it Rains?
No worries! When it's raining, skip the hike and jump in a raft! Rafting happens regardless - rain or shine - and a white water rafting trip is actually a great rainy day activity since you'll be getting wet anyway! During inclement weather, trips may be delayed for a short time, if necessary, to allow a strong storm to pass.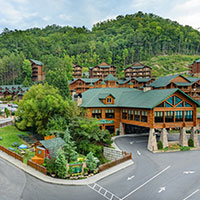 Book your Gatlinburg Adventure!
From whitewater rafting to hiking in Great Smoky Mountains National Park, now's the time to book a trip to beautiful downtown Gatlinburg and the amazing Great Smoky Mountains of Tennessee!
View All Gatlinburg Deals
---
Frequently Asked Questions
The best time to go river rafting in Gatlinburg is during the summer months, typically from May through August. This is when the water levels are highest and the weather is warmest, providing ideal conditions for a thrilling adventure on the rapids.
It is recommended that you wear quick-drying clothing made of synthetic materials such as nylon or polyester. You should also wear water shoes or sandals with a strap to ensure they don't come off in the water. Don't forget to bring a towel and a change of clothes for after your adventure!
Yes, there are age restrictions for river rafting in Gatlinburg. Most outfitters require participants to be at least 8 years old and weigh at least 70 pounds. Some sections of the river may have additional age or weight restrictions due to the difficulty of the rapids. Always check with the outfitter before booking to ensure you meet the requirements.
Prices vary by company due to seasonality and choice of lower or upper rapids, though all provide competitive and affordable rates!
---
Share this Whitewater Rafting Gatlinburg blog post with your friends!