Colonial Williamsburg, Virginia is the world's largest living history museum. But Williamsburg is much more than just a bunch of boring museum pieces with plaques. It's a fun adventure in history that every child will love. When you vacation in this historic American town, you'll find colonial adventure at every turn. Kids can walk the same streets once walked by George Washington. They can participate in period-based re-creations of historic moments. They can explore gardens and watch craftsmen such as candlemakers, blacksmiths and more. Or they can experience a wide range of fun filled attractions.
Williamsburg Attractions for Kids
Address: 1 Busch Gardens Blvd, Williamsburg, VA 23185
Opening Hours: Varies by season
While history is king in Colonial Williamsburg, you don't have to go far to find modern-day adventure. The World's Most Beautiful Theme Park - Busch Gardens Williamsburg - features thrilling roller coasters, seasonal festivals, live shows and entertainment, delicious dining and more. Themed around various European countries, the park offers 54 rides and attractions and 8 coasters including Griffon, Alpengeist and Apollo's Chariot. You'll also find animal attractions like Jack Hanna's Wild Reserve and Highland Stables with world-famous Clydesdale horses.
---
---
Book Today:
3-Day Stay + 2 Bush Garden Tickets from $139
---
Address: 6910 Richmond Rd, Williamsburg, VA 23188
Opening Hours: Varies by season
Strap in and go for the ride of your life in a fun and exciting go-kart. Choose from 4 tracks including Super Stockart Track, Figure 8 Track, Euro Track and the Rookie Track. Or choose one of the many other activities, such as Gold Rush Mini Golf, Blaster Boats, Bumper Cars, The DISK'O thrill ride, Pete's Shooting Gallery, Python Kiddie Coaster, Water Wars water balloon game, Gemstone Panning, Arcade, Toddler Town and more.
---
---
Address: 2001 Mooretown Rd, Williamsburg, VA 23185
Opening Hours: Varies by season
A popular family attraction, Pirate's Cove offers fun miniature golf mixed with adventure and tales of pirate lore. This scenic putt-putt course features a world of 18th-century buccaneers as well as a unique array of mountain caves, footbridges and even spectacular, cascading waterfalls. There may even be some stray cannon fire! Choose from two award-winning course designs and play among sunken ships, waterfalls, meandering streams, and gorgeous landscaping.
---
---
Address: 176 Water Country Pkwy, Williamsburg, VA 23185
Opening Hours: Varies by season
Cool off with wet and wild fun at the mid-Atlantic's largest water park. Enjoy everything from exciting, pulse-racing water slides and raft ride adventures to relaxing pools and lazy rivers. Experience epic slides, a giant wave pool and splash areas like the H2O UFO kid's play area. Try raft adventures like Aquazoid, Big Daddy Falls and Colossal Curl. Or fast and fun rides like Jet Scream, Malibu Pipeline, Rampage and Nitro Racer. Or test your courage on the amazing drop slide, Vanish Point.
---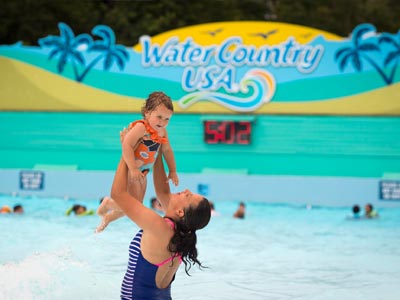 ---
---
Address: 5537 Centerville Rd, Williamsburg, VA 23188
Opening Hours: 7 am - Sunset
Freedom Park dates all the way back to the 1650s and is the site of an 18th century cemetery, the Revolutionary War Battle of Spencer's Ordinary (1781) and was home to one of America's first Free Black Settlements from 1803-1850. You'll also find hiking and biking trails, a beautiful Botanical Garden, the GoApe Treetop Adventure Course and Treetop Junior Course, an interpretive center, picnic shelters and more. You can even bring your pet as the park is Dog-friendly.
---
---
Address: 5537 Centerville Rd, Williamsburg, VA 23188
Opening Hours: Varies by season
Located in Freedom Park, the Go Ape Zip Line in a true treetop adventure. The treetop course takes you on a 2-3 hour aerial journey through the forest canopy. The high-ropes course includes suspended obstacles, plus swings, as well as the thrilling zip lines that will take your breath away. There's also a Treetop Junior adventure course, offering a 1-hour introduction to high-ropes activity. This course helps the younger ones build confidence, and problem solve through obstacles, climbs and lower-height zip lines.
---
---
Address: 101 S Henry St, Williamsburg, VA 23185
Opening Hours: Varies by season
The beautiful historic area offers more than 20 different guided or self-guided tours. You'll have a unique opportunity to visit some of the homes and gardens of Williamsburg's 18th-century residents. You can walk through the history of this amazing town and enjoy the stories as told by historical interpreters portraying real people from American history. Take a carriage ride, visit the stables and meet rare horses, or take a ghost walk. There's even a Ghost Walk Junior recommended for children ages 4-7.
---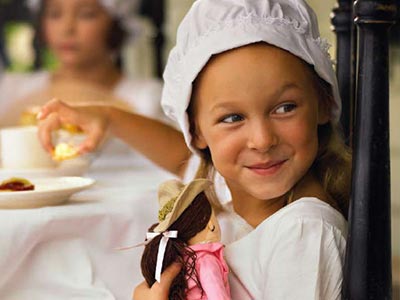 ---
---
Address: 1735 Richmond Rd, Williamsburg, VA 23185
Opening Hours: 10 am - 7 pm (11 pm weekends)
The Odditorium features plenty of strange and odd items including shrunken heads, a 12-toot tall robot sculpture made from car parts, unique artwork, hands-on, interactive exhibits, and an authentic vampire-killing kit. More than 350 exhibits and artifacts from around the world are just part of the fun. The Ripley's attraction also offers Catfish Cove miniature golf, a 4-D movie theater, and even a laser race course/maze daring you to go through a web of lasers as fast as possible.
---
---
Address: 12650 Patrick Henry Dr, Newport News, VA 23602
Opening Hours: Varies by day
Bounce, bounce, bounce. Experience a family entertainment center featuring an arena-style trampoline jumper with rebounding floors and angled rebounding side walls. In addition to the indoor trampoline experience, you can find Rick's 7D Dark Ride, In-the-Air Dodgeball, Basketball Slam, Foam Pit, Jump Arena, Ninja Warrior Course with three levels of difficulty, Jumpxtreme Tower, and more.
---
---
Address: 901 Airport Rd, Williamsburg, VA 23185
Opening Hours: Varies by season
Enjoy this 2,707-acre park located around a reservoir. The beautiful 360-acre lake is ideal for fishing, boating, pedal boating, canoeing, kayaking and more. A tunnel connects the upper and lower sections of the lake. You'll also find plenty of other recreational opportunities such as boat rentals, hiking trails, disk golf course, picnic shelters, dog park, playground equipment, fishing pier, ball fields, rod rentals plus bait & tackle, and more.
---
---
---
---
Williamsburg Vacation packages are available now!
We'll help you discover the very best Williamsburg has to offer
---
---
Frequently Asked Questions
Colonial Williamsburg offers a variety of attractions for kids, including the Great Hopes Plantation, where they can experience 18th-century farming life, and the Governor's Palace, where they can see how the governor and his family lived during the colonial era. Other must-see attractions include the DeWitt Wallace Decorative Arts Museum, the Abby Aldrich Rockefeller Folk Art Museum, and the Historic Area.
Yes, Colonial Williamsburg offers a range of family-friendly activities and events throughout the year, such as the Revolutionary City program, which features daily reenactments of key events from the American Revolution. There are also seasonal events like Grand Illumination, when the entire city is lit up with fireworks and candles, and Christmas Town, which features holiday-themed activities and decorations.
To make the most of your family vacation in Colonial Williamsburg, it's recommended that you plan ahead and prioritize the attractions that your kids will enjoy the most. Consider purchasing a multi-day pass so that you can see everything at a relaxed pace. You should also bring comfortable shoes and clothing, as there is a lot of walking involved. Finally, be sure to take advantage of the interactive exhibits and demonstrations, which are designed to engage kids of all ages.
Absolutely! You and your loved ones can freely stroll the Colonial area at no charge.
---
Join the Fun in Williamsburg
Williamsburg is definitely kid-friendly! Experience the rides and attractions at Busch Gardens. Splash and play at Water Country USA. Take on a band of pirates at Pirate's Cove. Or simply experience the wonder of traveling back in time in the Colonial Williamsburg historic area where kids can learn a trade in artisan shops, take a ghost tour, join the militia, play colonial-era games like hoop rolling, quoits and marbles, or even dress up in a Colonial costume.