How about spending the most wonderful time of the year in the happiest place (more like city!) on Earth? You know that place where Santa Claus definitely exists and the Grinch is not that bad after all. That place where you can find Christmas carols & stories in every corner, while fireworks and parades make you feel like a kid all over again.
Take a look at a bucket list of things to do during Christmas week. We promise that you (and your family, of course!) will like each and every one of them:
December 24 (Day 1)
Drink a Frozen Butter Beer at a Sunny (and snowy!) Hogsmeade:
Every wizard needs to try this tasty (alcohol-free) drink before exploring the shops at Hogsmeade!
Check out the famous Macy's Holiday Parade in Universal Studios:
That way your kids won't have to stay up all night to see Santa flying in his sleigh.
Try to catch the Grinch before he steals Christmas!
Actually he is pretty under control at Universal, just find him and take a picture with him.
Movie Night with Santa at the Palace
That just sounds awesome, doesn't it? At our Westgate Palace in Orlando we have a great movie theater perfect for catching a movie while drinking some Starbucks Hot Chocolate before going to sleep.
You can also get to meeting Mr. Claus himself and take a picture with him anytime from 6AM -8PM (Lobby area).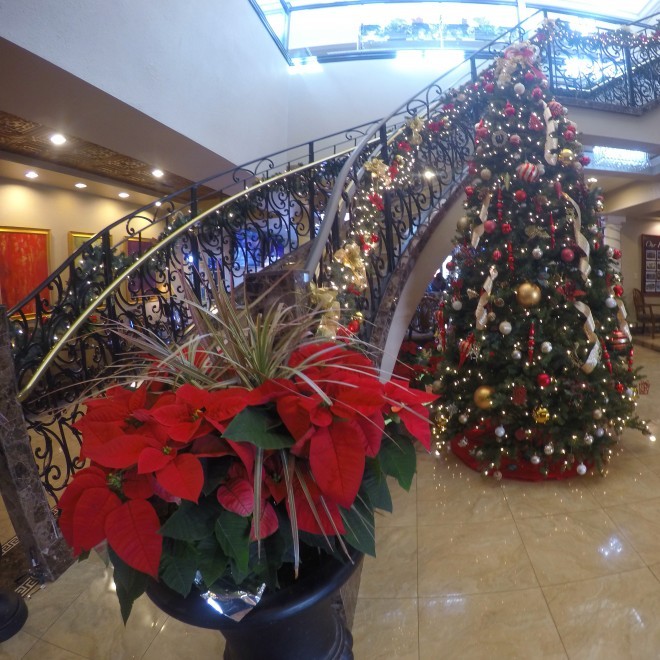 December 25 (Day 2)
Spend the Holidays around the World at Epcot!
Get to meet people from all over the world, hear their stories, taste their food, and learn about their holiday celebrations!
Star Wars
Star Wars is trending, so, why not visit some of the new Disney Star Wars attractions? Get to meet Darth Vader and Chewbacca, see concept arts, gadgets, ships, and more.
Osborne Spectacle of Dancing Lights
Be part of a 20 year-old tradition and see the Osborne Spectacle of Dancing Lights. Deck The Halls has had an epic meaning at Disney with the beautiful lights all around Hollywood Studios. This is the last year they will be up, so don't miss out!
December 26 (Day 3)
Enjoy the best view of Orlando in a Christmas Decorated Capsule:
Right now the Orlando Eye is featuring two very cool capsules, the Holiday and the Santa. Both of them include some amazing immersive experiences including decor, scent, beverages, you name it!
GoKart rides and Funnel Cakes at Fun Spot, anyone?
This Fun Spot is located in Old Town Kissimmee, which is an awesome place to have your kids enjoy the carnival-like attractions while you get to explore some classic stores and antique cars.