Orlando, FL is the Spring and Summer destination that attracts thousands of visitors from all over the world. Though, we have to admit Fall is by far one of the best times to visit. The temperatures become delightful and the theme parks are typically less crowded, making Central Florida an ideal spot for Fall Vacations and Thanksgiving celebrations. On top of that, all three of Orlando's major theme parks (Disney World, SeaWorld Orlando and Universal Orlando Resort) have fun festivals and events that make September, October, and November some of the best months to visit!
Fall Weather in Orlando, FL
Fall Festivals in Orlando
Travelers are already finding themselves planning out their Fall getaways. For adults, there are plenty of events happening in Orlando at the major theme parks, local breweries and businesses. As for finding the best Fall festivals and events for children, Orlando once again is providing many great options for families to enjoy the turn of seasons. From pumpkin patches to hayrides and harvest-themed activities, these family-friendly events offer endless fun and create cherished memories. Immerse yourselves in the spirit of Autumn and explore the vibrant tapestry of Fall festivals that Orlando offers.
---
Foodie Events
Calling all foodies! Fall in Orlando brings you a wide variety of culinary delights to savor. From food festivals to farmers' markets, this vibrant season offers a bounty of flavors and experiences that will tantalize your taste buds and create unforgettable memories for everyone who finds enjoyment in delicious cuisines.
Location: Disney's Epcot, Walt Disney World
Dates: July 27 - November 18, 2023
Dare we say this is Epcot's most popular event? Yes we do, because it is! With food and drinks inspired by Cuisine from around the World, you will fall in love with this annual event. Sample extraordinary food and beverages from places like Australia, Belgium, Africa, India, Ireland, Spain, and the list goes on and on. Watch some of your favorite celebrity chefs in action, dance to the sound of popular bands at the Eat to the Beat Concert Series, discover helpful cooking tips and so much more.
Beyond the food, the EPCOT International Food & Wine Festival offers a range of entertainment and activities suitable for the whole family. Live music performances, cultural demonstrations, and interactive exhibits provide a lively and immersive experience. When you're not preoccupied with the festival fun, hop in line for Spaceship Earth, Frozen Ever After, Guardians of the Galaxy: Cosmic Rewind, and plenty more.
Book Today:
Unlock the Magic of Disney! Receive $300 in Savings
---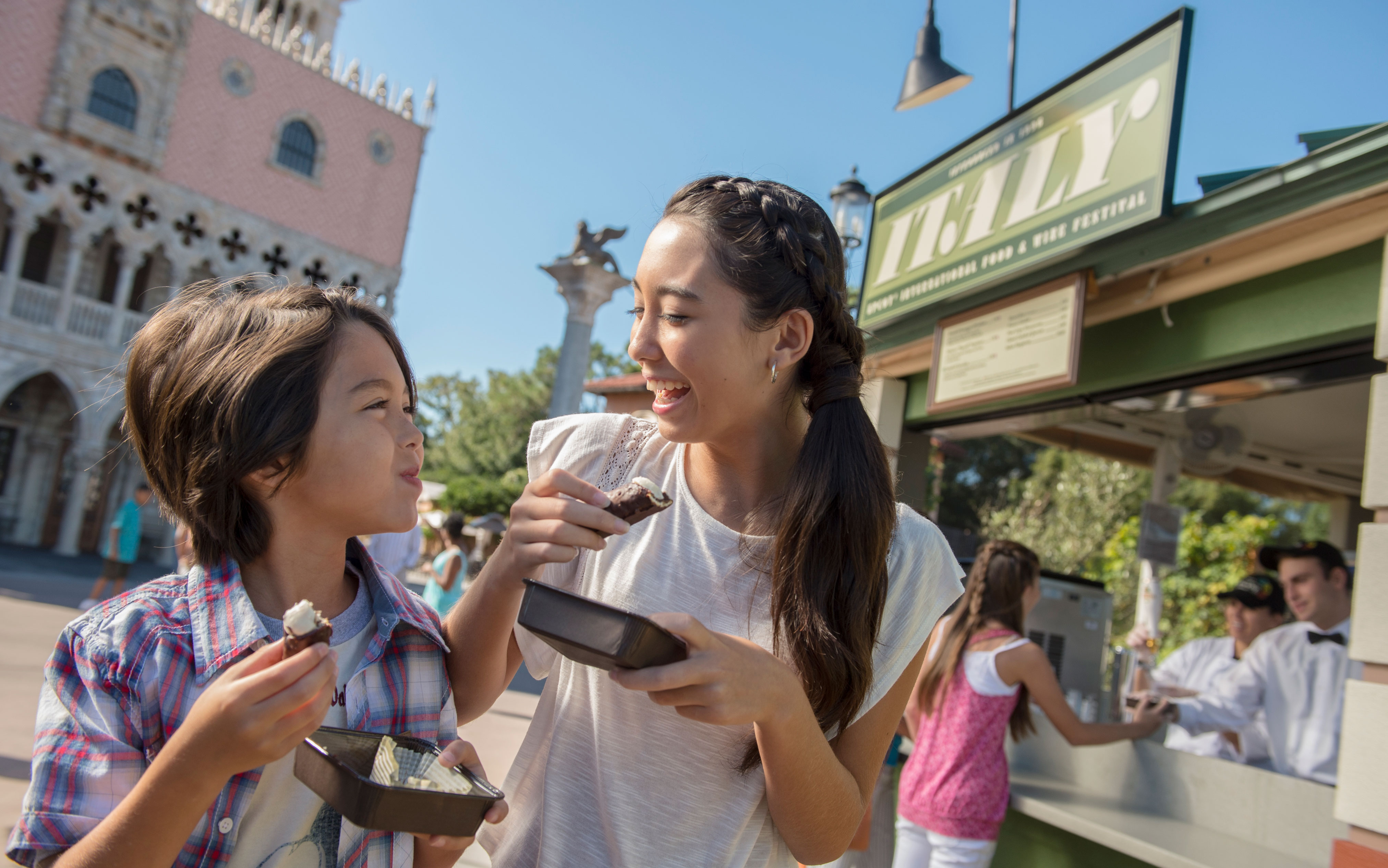 • Visit Orlando's Magical Dining
Location: Orlando, FL
Dates: August 11 through November 1, 2023
Orlando, FL is home to many exquisite restaurants featuring the most talented chefs, and each Fall we celebrate them with Visit Orlando's Magical Dining Month! This program, now in its 18th year, takes place every night for six weeks beginning in late August and includes more than 100 restaurants throughout the Orlando area. Why is this program so special? It allows you to enjoy an amazing three-course dinner (appetizer, entrée and dessert) for only $35 per person. It's important to mention that this only applies during the restaurants' dinner hours. To see the list of participating restaurants, click here.
In addition to the exceptional dining experiences, Magical Dining supports a charitable cause, with a portion of the proceeds going to local nonprofits. So, bring your loved ones and embark on a culinary adventure combining exquisite flavors and charitable giving!
---
Halloween Events
Orlando comes alive with enchanting festivities suitable for the whole family. From pumpkin patches and corn mazes to spooky-themed attractions and costume parties, Orlando offers a range of thrilling and kid-friendly activities to celebrate the season. Prepare for a bewitching adventure that will create ghostly memories for many ages.
• Mickey's Not-So-Scary Halloween Party
Location: Disney's Magic Kingdom, Walt Disney World
Dates: August 11 - November 1, 2023
With Halloween approaching, Disney's Magic Kingdom welcomes a wide range of eerie and scary creatures! Well, maybe not exactly. Mickey's Not-So-Scary Halloween Party (a separate ticket event) is the perfect kid-friendly celebration of Autumn and everything fun about Halloween. Expect to see some of your favorite Disney villains, an amazing Boo-to-You Halloween Parade, the Sanderson Sisters from Hocus Pocus, enjoy special treats and more. This is also the perfect opportunity to dress for the occasion so get your Halloween costumes ready! If you do decide to dress up, don't forget to check out Disney's official costume guidelines.
• Halloween Spooktacular at SeaWorld Orlando
Location: SeaWorld Orlando
Dates: Weekends, September 16 - October 30, 2023
If your kids are fans of Sesame Street then they are going to love SeaWorld's Halloween Spooktacular. This annual event celebrates sea animals but also your favorite not-so-spooky characters on Sesame Street including Elmo, Cookie Monster, The Count, and more. But there's so much more to this celebration! SeaWorld will also have lots of fun trick-or-treat stations, a Pet's Ahoy Halloween show, and a one-of-a-kind Dance party.
Book Today: 4-Day Stay + 3 SeaWorld Tickets
---
• Howl-O-Scream at SeaWorld Orlando
Location: SeaWorld Orlando
Dates: September 8 - October 31, 2023
Haunts and thrills are the main attraction at SeaWorld's Howl-O-Scream. More haunted houses and shows are expected to debut this year, along with scare zones like Blood Light District that'll have you running for more. Themed bar experiences are a highlight of this scary event, where aesthetic drinks are paired with an unearthly storyline of mythical creatures, wintry terrors or deadly mistakes. Always keep your eyes peeled, as roaming haunters lurk in the shadows of the park, camouflaged and all. Please note this event contains intense adult content such as violence, gore, and blood. Voted #1 Best Theme Park Halloween Event by USA Today's 10Best Readers' Choice Awards.
Book Today: Resort Stay + Tickets to SeaWorld Orlando & Howl-O-Scream!
---
• Brick or Treat at LEGOLAND Florida
Location: LEGOLAND Florida Resort
Dates: (Weekends) September 16 - October 29, 2023
LEGOLAND Florida is the place to have a very interactive and fun family Halloween celebration! With thousands and thousands of LEGO blocks, LEGOLAND has a unique Graveyard, Pumpkins, Pirate Boats and more. Add to that, a list of spooky and kid-friendly characters such as pirates, witches, goblins, vampires, and Mad Scientists. It is definitely the best way to celebrate an unusual and innovative Happy Halloween!
READ MORE: LEGOLAND Florida and Peppa Pig Theme Park: The Ultimate Guide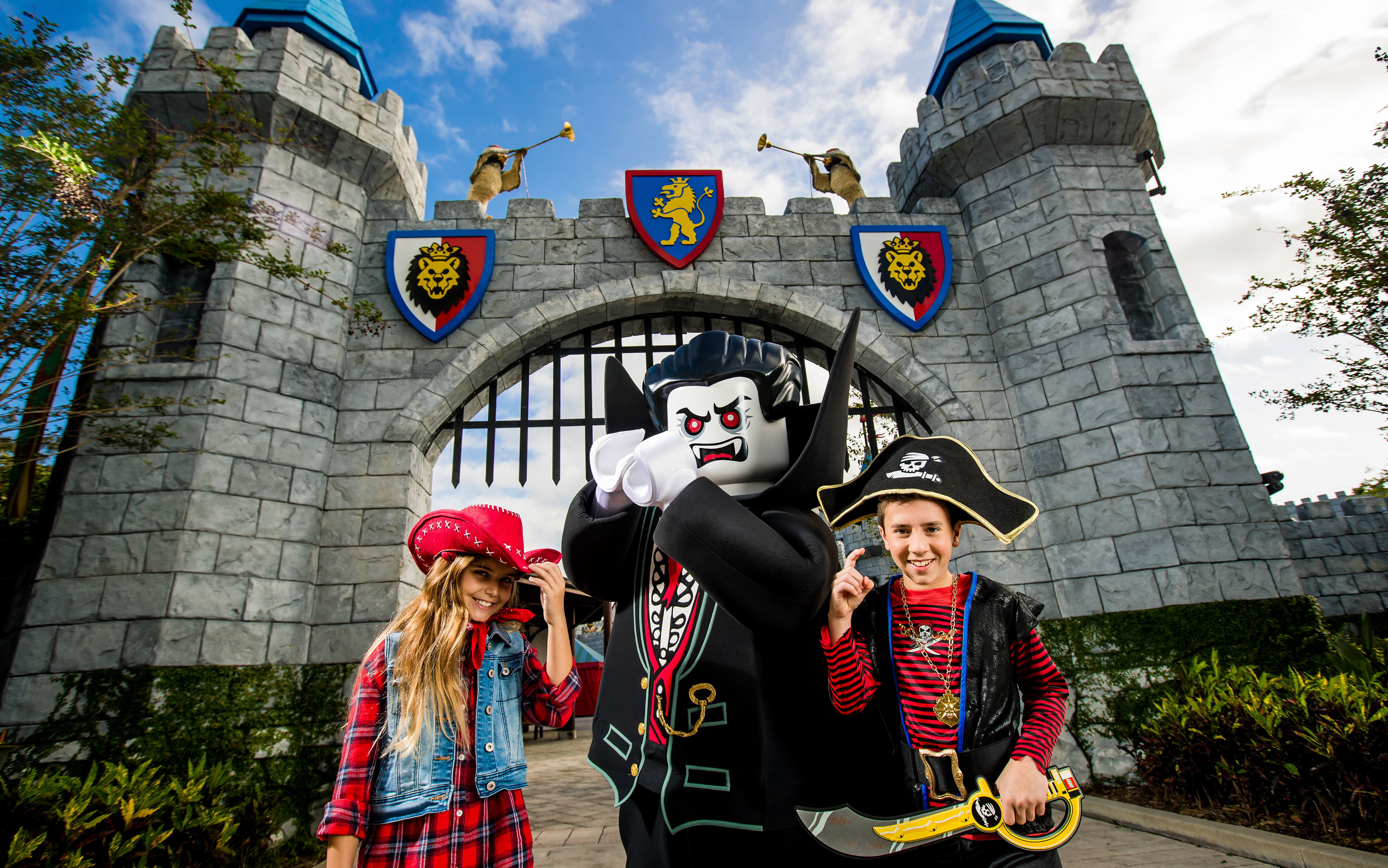 • Universal's Halloween Horror Nights
Location: Universal Studios Florida
Dates: Select Nights Sept. 1 - Nov. 4, 2023
If you are a fan of horror movies and suspenseful series, then this is the Fall event for you. Now in its 32nd frightful year, you'll discover 10 terrifyingly haunted houses inspired by some of the scariest movies and shows like Stranger Things and The Last of Us, all designed to fill you with horror and excitement. Oh, and did we mention there are also multiple scare zones throughout the park? Even when you are safe from the terror inside the haunted houses, you may still find some special frights. At the end of the day, it's an incredibly great and unique Halloween experience!
---
---
Art & Culture Events
This fall, immerse your family in the vibrant art and cultural scene of Orlando, FL. From art festivals to theater productions, the city comes alive with a myriad of events that celebrate creativity and inspire young minds. Discover local galleries, enjoy live performances, and engage in hands-on workshops, offering endless opportunities for your children to explore their artistic passions and expand their cultural horizons.
• Orlando Film Festival
Location: Cobb Plaza Cinema
Dates: October 26 - November 2, 2023
Created more than a decade ago, the Orlando Film Festival is an annual film festival where you get to see unique and experimental films! On top of that, many notorious and talented actors and people in the Film industry compete for Best Picture, Best Director, Best Screenplay and more. This is truly a beautiful annual event and who knows, you might see a future Oscar-winning movie!
• Winter Park Autumn Art Festival
Location: Central Park in Downtown Winter Park
Dates: October 7 - 8, 2023
Get to know over 180 talented artists in one day and it's all for free at this annual fall festival! With this year becoming the 50th time this event takes place, it's one of the most popular and best-known art festivals in the Central Florida area. You will not only get to appreciate Fine Art but your whole family is going to love the amazing live entertainment!
---
---
• IMMERSE
Location: Downtown Orlando
Dates: TBD
Dive into an extraordinary world of imagination and innovation at IMMERSE. This immersive arts and entertainment festival, held in the heart of Orlando, Florida, promises an unparalleled experience for visitors of all ages. Immerse yourself in a captivating fusion of live performances, interactive installations, and breathtaking visual displays.
Beyond the awe-inspiring performances, IMMERSE Orlando offers visitors opportunities to unleash their creativity. Workshops and immersive experiences invite participants to explore their artistic side and discover new talents. From painting to sculpting, attendees can unleash their inner artists under the guidance of skilled professionals.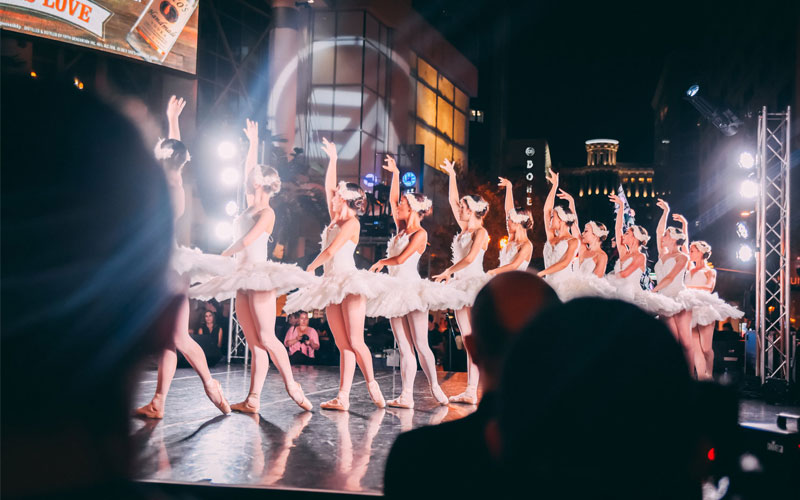 Source: IMMERSE
---
Kid-Friendly Events
Fall in Orlando, FL, is a season filled with fantastic kid-friendly events that will keep your little ones entertained and enthralled. There's something for everyone, from harvest festivals to pumpkin patches and hayrides.
• Disney Springs Kids Club
Location: Disney Springs
Dates: Saturdays at 10:30 AM, 11:15 AM and 12:00 PM
Get ready for a world of fun and excitement at the Disney Springs Kids Club. This enchanting event, located at Walt Disney World Resort in Orlando, Florida, is designed to create unforgettable moments for kids and make family outings even more magical.
From arts and crafts workshops to interactive storytelling sessions, the Kids Club provides a variety of hands-on activities that encourage creativity and exploration. Children can unleash their artistic talents, participate in scavenger hunts, and even meet beloved Disney characters, adding an extra touch of enchantment to the experience. Let your kids' imagination soar, watch their faces light up with joy, and create lifelong memories as you explore the magic of Disney Springs together.
• SeaWorld Christmas Celebration
Location: SeaWorld
Dates: Select dates, November 11 - January 3, 2023
Immerse your family in the magic of the holiday season at SeaWorld Christmas Celebration, an enchanting event that is perfect for creating treasured memories with your children. Held at SeaWorld parks across the country, this festive extravaganza offers a multitude of attractions and experiences that will delight both young and old.
One of the highlights of the SeaWorld Christmas Celebration is the breathtaking shows and performances that capture the essence of the season. Gather with your little ones to witness awe-inspiring ice skating performances where talented skaters glide across the ice in graceful movements. The park's famous killer whales also participate in a special holiday-themed show that combines stunning acrobatics, music, and storytelling, creating an unforgettable experience for the entire family.
Plan Your Fall Activities With Westgate Reservations!
Experience the magic of autumn in Orlando, FL, through a unique family adventure with Westgate Reservations. Witness the vibrant fall foliage while enjoying world-class theme parks, and making unforgettable memories with your loved ones. We not only offers family-friendly rooms at unbeatable prices, but also provide access to discounted tickets for a myriad of attractions.
Contact Westgate Reservations now, and let us be the architects of your perfect family vacation. Your autumnal adventure awaits!
Frequently Asked Questions
Of course there is! It definitely will not be cool as other areas of the country, but the fall festivals and events will continue their way through the Florida sunshine.
Orlando is boasting with adventure and seasonal fun. Not only are the major theme parks putting on some of the best fall events, but local businesses are chiming in with their rendition of the season. Orlando will still be warm, with cooler days ahead.
Orlando is way less crowded in October compared to the summer months. This becomes one of the best times to visit the Central Florida area and enjoy all there is to experience with shorter wait times at the parks.
Magical Dining starts in August and ends in October - that's six full weeks and 45 scrumptious days.
---
You May Also Like: